The World's Greatest Macaroni and Cheese
Beer, bacon & cheese. A little twist on the ultimate comfort food. What's not to love?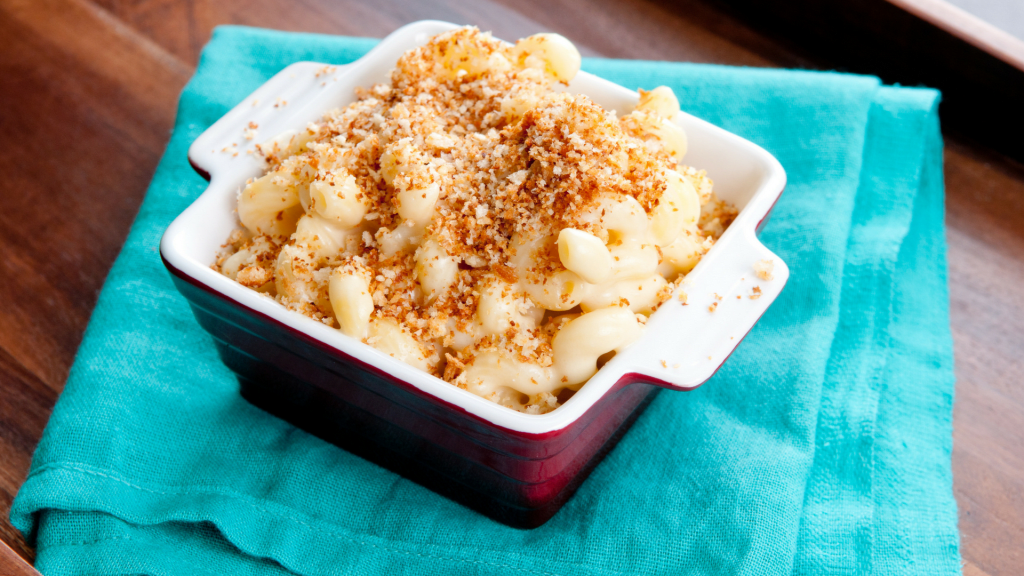 Dive into a big bowl of cheesy love.
When we think of comfort foods, we're often transported back to our childhood. Memories of delicious flavours that our parents, grandparents and families would make for us come flooding back. The soft delicious, safe foods that wrap you in their arms like a blanket and tell you everything is going to be okay. For some it's creamy buttery mashed potatoes, reminiscent of Thanksgiving dinners and afternoon naps. For others it can be a simple cheese sandwich with the crusts cut off. For me, that food is Mac & Cheese. There's something about the crispy, salty taste of the topping. The gooey, creamy pasta. The blatant disregard for calories. Something about it just works. After a long, tough day when I'm in desperate need of a pick me up my thoughts guide me towards cheese. My thighs do not. One of the best things about adulthood, besides setting your own bedtime, is taking the foods you love from childhood and giving them an extra special twist to elevate them into something gourmet. Mac & Cheese has been dressed up in all kinds of ways over the last few years, with crafty chefs adding soft pink lobster and fine french cheeses to the magical mix. My staple though will always be bacon and beer. Though not an entirely new combination, it's one that works time and time again. The beer in the roux adds a hoppy richness, which cuts through the creaminess of the sauce and gives it a tangy taste. The bacon, which should be crispy, gives an added dimension to the texture and a burst of umami flavour every other bite. Ingredients
Macaroni or your pasta of choice
Butter
Flour
Beer
Smoked bacon
Leeks
French mustard (optional)
As many cheeses as you can handle (I chose 3, but have been known to add up to 5)
Crusty bread
Method
Boil your macaroni in salted water and whilst it's simmering away, get started on making the sauce. I like to start by putting the bacon in a cold pan (no added fat or oil) and letting warm up gradually. This method has always ensured I get crispiest bacon possible so I'd highly recommend it. Once crispy, fry your leeks in the bacon fat to soften and brown then set aside. Meanwhile, make your roux for the sauce. Add butter to a pan, and melt it over a medium heat. Once everything is liquid add in a spoon of flour and cook it out, stirring it until you get a paste. It's really important that you take your time here otherwise, you'll end up with a sauce that tastes like raw flour so keep an eye on the pan. Stir it consistently and watch the butter darken. When your paste has taken on a golden brown colour, add in a cup of beer and stir in. Pause and feel free to take a sip of the beer (you've earned it) and return to the heat to incorporate. Keep stirring and you should have a thick paste. Gradually add milk, stir and return to heat.
Again, you will need to keep stirring until your sauce thickens up and you have a pan of warm white heaven. If it gets too thick, add more milk, and if you feel lumps use a whisk to break them up. Taste and season with salt, pepper and french mustard (if you want a little extra acidity) and add two generous handfuls of cheese. I used a sharp English cheddar and a mild more melty kind. Stir in your cheese and melt everything together, ensuring you have no lumps and then remove from the heat. Once you have everything mixed your bacon and macaroni should be ready. Chop the crispy bacon into little pieces and add to the sauce and mixing into your macaroni. Transfer everything into an ovenproof dish and top with your remaining cheese. I love to add parmesan and bread crumbs as it produces a really crispy topping. If you have crusty bread, roughly blitz it in a food processor to make rustic breadcrumbs. Finally, bake for 10-15 minutes to ensure all the cheese has melted and serve in a big bowl, wearing your favourite pyjamas and sipping on the remaining beer. Heaven.