The italian famous dish LASAGNA receipe for your home
LASAGNA
Title: A Taste of Tradition: Authentic Homemade Lasagna
Introduction: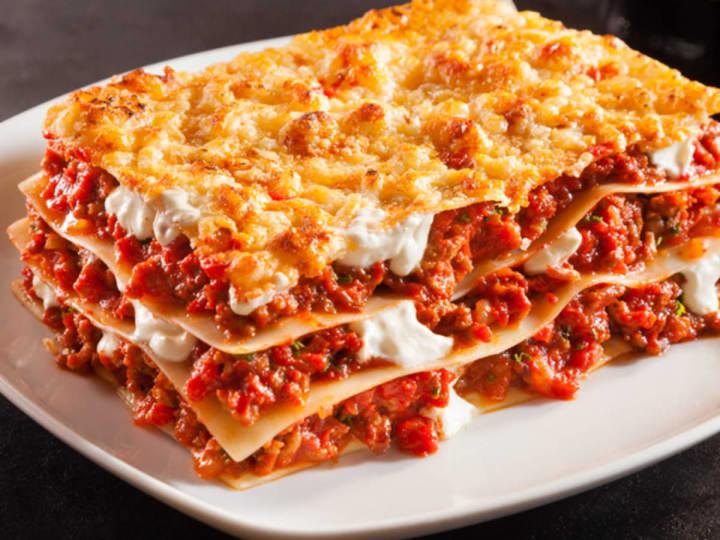 Italian cuisine is renowned worldwide for its rich flavors, vibrant ingredients, and time-honored traditions. Rooted in a deep appreciation for fresh, high-quality ingredients, Italian food embodies the spirit of simplicity, elegance, and passion. From the aromatic herbs and sun-ripened tomatoes of the Mediterranean to the delicate pastas and hearty meats of the northern regions, Italian cuisine offers a diverse and captivating culinary journey. Whether it's a comforting plate of pasta, a wood-fired pizza, or a refreshing gelato, Italian food is a celebration of the joys of good company, good food, and the art of savoring life's simple pleasures. So, come with us as we delve into the delicious world of Italian cuisine and discover the flavors that have enchanted taste buds for centuries.
Lasagna, a beloved Italian dish, is a timeless classic that brings together layers of pasta, rich tomato sauce, flavorful meats, and creamy cheeses. In this recipe, we will guide you through the process of creating a homemade lasagna that will transport you to the heart of Italy. Get ready to indulge in the comfort and satisfaction of this famous culinary delight.
Ingredients: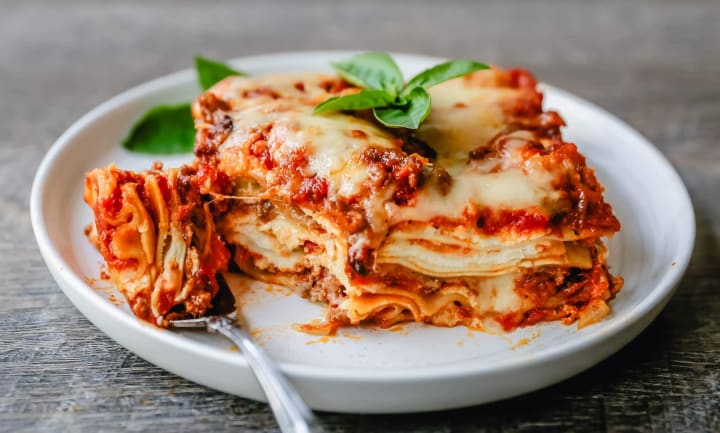 For the Meat Sauce:
1 pound (450g) ground beef
1 pound (450g) Italian sausage, casings removed
1 onion, finely chopped
3 cloves of garlic, minced
1 can (14 ounces) crushed tomatoes
1 can (6 ounces) tomato paste
1 can (8 ounces) tomato sauce
2 tablespoons olive oil
2 teaspoons dried basil
2 teaspoons dried oregano
Salt and pepper to taste
For the Cheese Filling:
2 cups ricotta cheese
1 cup grated Parmesan cheese
1 cup shredded mozzarella cheese
1 egg
2 tablespoons fresh parsley, chopped
Salt and pepper to taste
Other Ingredients:
12 lasagna noodles, cooked al dente
2 cups shredded mozzarella cheese
Fresh basil leaves for garnish (optional)
Preparing the Meat Sauce:
Heat olive oil in a large skillet over medium heat. Add the onions and garlic, sauté until translucent.
Add the ground beef and sausage to the skillet, breaking it up with a spoon, and cook until browned.
Stir in the crushed tomatoes, tomato paste, and tomato sauce. Season with basil, oregano, salt, and pepper.
Simmer the sauce for about 20-30 minutes, allowing the flavors to meld together. Set aside.
Preparing the Cheese Filling:
In a mixing bowl, combine ricotta cheese, Parmesan cheese, mozzarella cheese, egg, parsley, salt, and pepper. Mix well until thoroughly combined. Set aside.
Assembling the Lasagna:
Preheat your oven to 375°F (190°C).
Spread a thin layer of meat sauce on the bottom of a 9x13-inch baking dish.
Place a layer of cooked lasagna noodles on top of the sauce, slightly overlapping each other.
Spread half of the cheese filling evenly over the noodles.
Ladle a generous amount of meat sauce over the cheese filling, ensuring it covers the noodles entirely.
Sprinkle a layer of shredded mozzarella cheese over the sauce.
Repeat the layers, starting with another layer of noodles, followed by the remaining cheese filling, meat sauce, and shredded mozzarella cheese.
Finish with a final layer of noodles and top with the remaining meat sauce and shredded mozzarella cheese.
Baking:
Cover the baking dish with aluminum foil and bake for 25 minutes.
Remove the foil and continue baking for an additional 20 minutes or until the cheese is golden and bubbly.
Allow the lasagna to cool for a few minutes before serving.
Serving:
Garnish with fresh basil leaves, if desired.
Slice into generous portions and serve hot with a side of garlic bread and a fresh green salad.
Conclusion:
Indulging in a homemade lasagna is an experience like no other. The layers of tender pasta, savory meat sauce, and creamy cheese filling come together to create a symphony of flavors that will delight your senses. With this authentic recipe, you can now savor the taste
Reader insights
Be the first to share your insights about this piece.
Add your insights