Spicy BBQ Chicken Breast with Red Chilli Sauce
BBQ Chicken Breast & Red Chilli Sauce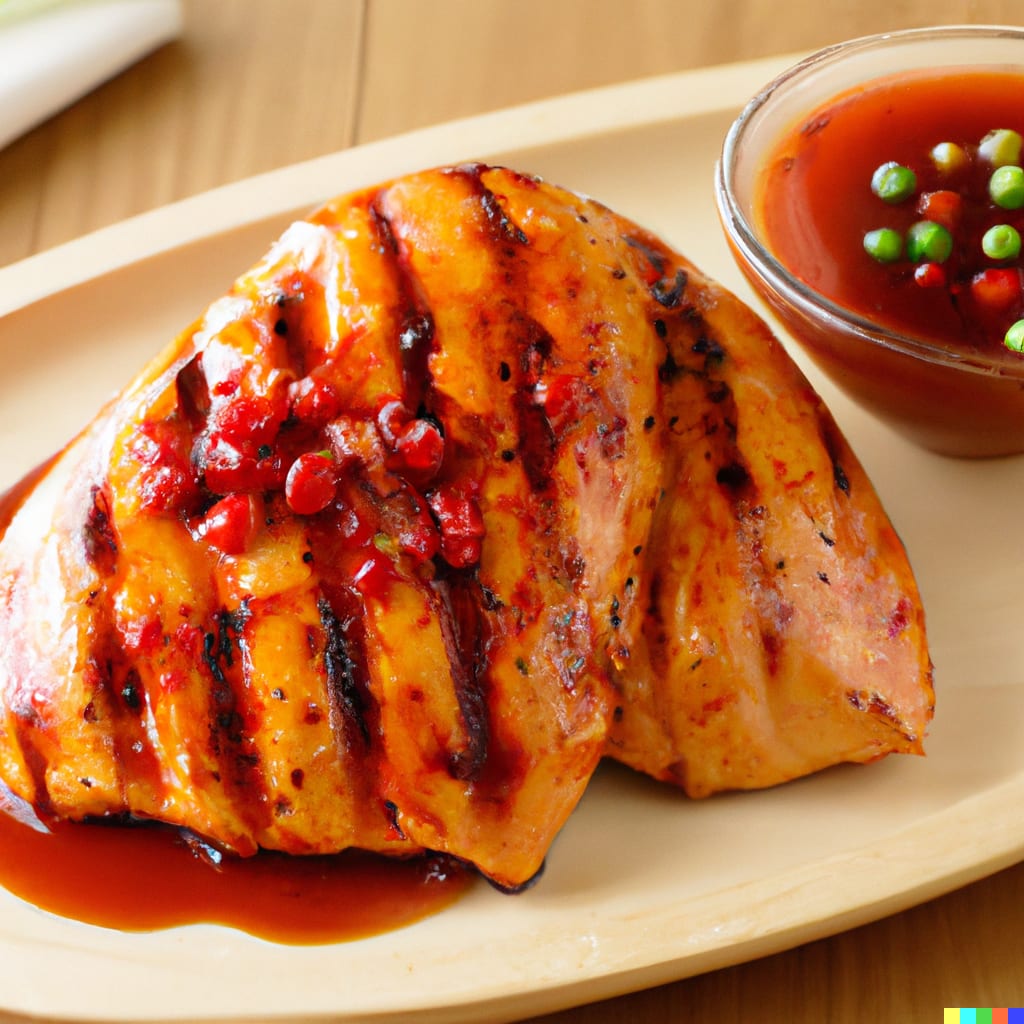 Spicy BBQ Chicken Breast with Red Chilli Sauce
History of Spicy BBQ Chicken Breast
The history of spicy BBQ chicken breast goes back to the early 20th century, when the first recipes for BBQ chicken were developed. The original recipes used a combination of herbs and spices to give the dish a distinct flavor. Over time, the recipes evolved to include a variety of ingredients, including cayenne pepper, garlic, chili powder, and other spices.

In the 1950s and 1960s, several restaurants began to serve spicy BBQ chicken. These restaurants used a variety of ingredients to give their dishes a unique flavor. In the 1970s, fast food restaurants began to serve spicy BBQ chicken, and the dish quickly became popular.

Today, spicy BBQ chicken is a popular dish at both restaurants and in homes. It is often served with a variety of sides, such as coleslaw, potato salad, and baked beans. It is also a popular topping for burgers and sandwiches.
Preparation of Spicy BBQ Chicken Breast
Ingredients:
4 boneless, skinless chicken breasts
1/4 cup olive oil
1/4 cup BBQ sauce
2 tablespoons chili powder
2 teaspoons smoked paprika
1 teaspoon garlic powder
1 teaspoon onion powder
1/2 teaspoon cumin
1/4 teaspoon cayenne pepper
Salt and pepper, to taste
Instructions:
Preheat oven to 375 degrees F (190 degrees C).
In a small bowl, mix together the olive oil, BBQ sauce, chili powder, smoked paprika, garlic powder, onion powder, cumin, cayenne pepper, salt and pepper.
Place the chicken breasts in a baking dish and pour the BBQ sauce mixture over them.
Bake in preheated oven for 25-30 minutes, or until chicken is cooked through.
Serve warm with your favorite side dishes. Enjoy!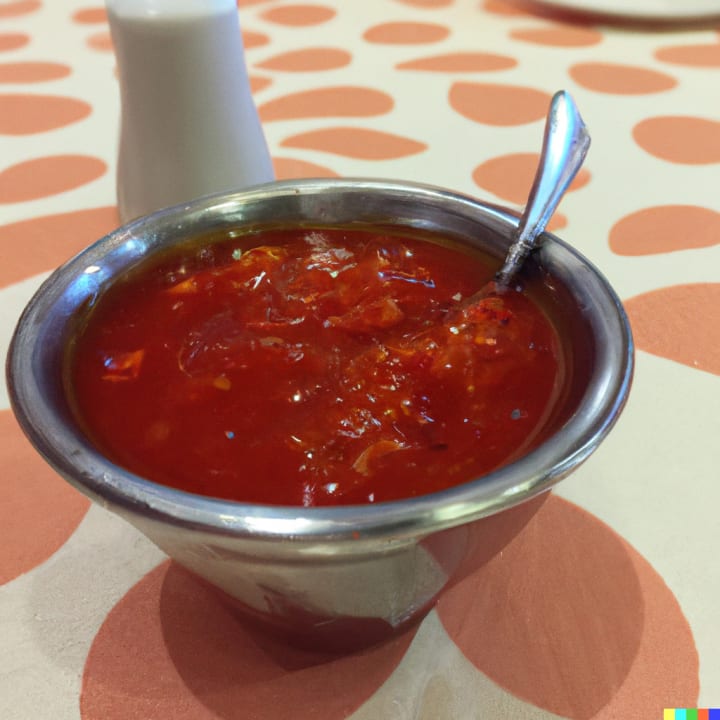 Preparation of Red Chilli Sauce
Ingredients:
2 tablespoons olive oil
1/2 teaspoon cumin seeds
3 cloves garlic, minced
1/4 teaspoon ground cayenne pepper
1/4 teaspoon ground coriander
1/4 teaspoon ground turmeric
1/4 teaspoon ground black pepper
2 tablespoons tomato paste
1/4 cup water
1/4 cup white vinegar
1/4 cup sugar
1/2 teaspoon salt
Instructions:
Heat the olive oil in a small saucepan over medium heat.
Add the cumin seeds and cook until fragrant, about 1 minute.
Add the garlic and cook until fragrant, about 1 minute.
Add the cayenne pepper, coriander, turmeric, and black pepper and cook until fragrant, about 1 minute.
Add the tomato paste, water, vinegar, sugar, and salt and bring to a simmer.
Reduce the heat to low and simmer for 10 minutes, stirring occasionally.
Remove from the heat and let cool before serving. Enjoy!
Benefits of BBQ Chicken Breast
1. High in Protein: BBQ chicken breast is a great source of lean protein, which is important for muscle growth and repair. It is also low in fat and calories, making it an ideal choice for those watching their weight.
2. Nutrient Rich: BBQ chicken breast contains a variety of important vitamins and minerals, including calcium, phosphorus, iron, zinc, and vitamin B-6.
3. Delicious Flavor: BBQ chicken breast has a great smoky flavor that can be enjoyed by everyone. It is also versatile, so you can add different spices and herbs to create your own unique flavor.
4. Quick and Easy to Prepare: BBQ chicken breast is easy to prepare, as it can be grilled, roasted, or baked. It also cooks quickly, so you can have a delicious meal on the table in no time.
Benefits of Chilli Sauce
1. Rich in Nutrients: Chilli sauce is a great source of vitamins, minerals, and antioxidants, including vitamin C, vitamin A, and magnesium.
2. May Help Reduce Inflammation: Chilli sauce contains capsaicin, a compound which may help reduce inflammation.
3. May Help Boost Metabolism: The capsaicin in chilli sauce may help boost your metabolism and burn more calories.
4. May Help Relieve Pain: Capsaicin may help reduce pain by blocking pain receptors in the body.
5. May Help Lower Blood Pressure: Some studies have shown that chilli sauce may help lower blood pressure.
6. May Help Fight Bacteria: Chilli sauce contains antibacterial properties which may help fight bacteria.
Reader insights
Be the first to share your insights about this piece.
Add your insights