Sage and Cheese Buttermilk Biscuits
Buttery and Flaky!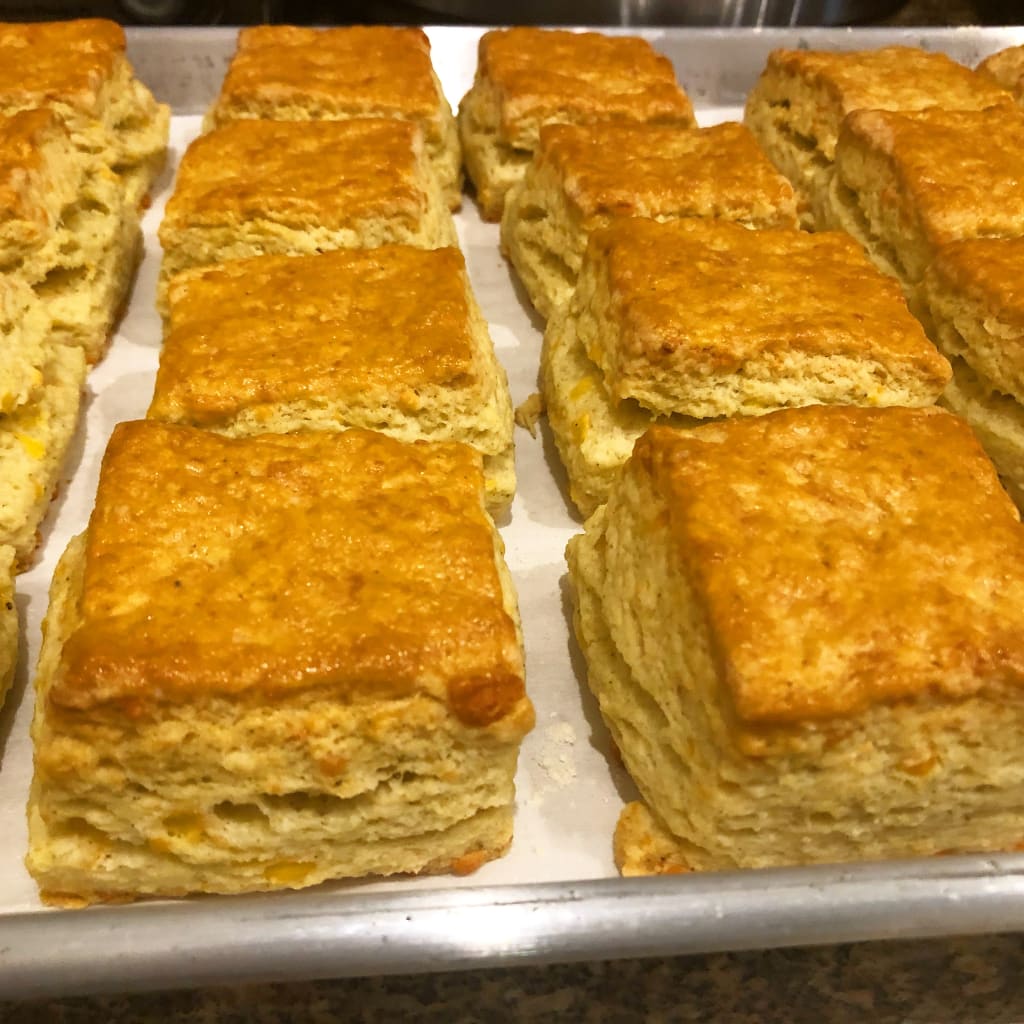 Mmmmmmm biscuits - what more needs to be said? It took me a long time to finally figure out how to properly make biscuits that rose up with lovely flaky layers and didn't collapse as soon as they started to cool.
I'll admit, this process is a labor of love but if you commit and do it this way you will reap the amazing rewards of biscuits that will rival anyone's grandmother's.
Now, you can omit the cheese and sage from these if that is not to your taste but I don't trust you if you don't like cheese! You can also swap out the sage for any other ground dried herb you like - thyme, rosemary, oregano. Swap out the cheddar for pepper jack if you want a kick of spice to your biscuit.
No matter what you decide to add or subtract you will love these and though it is more work than just opening that pop tube or ready to bake biscuits it is SO worth it!
Ingredients:
2 cups all purpose flour (260 grams)
1 tbsp baking powder (14.4 grams)
1 tsp kosher salt (6 grams)
1 tbsp ground sage (2 grams)
3/4 cup unsalted butter (170 grams) - frozen and grated
1/2 cup buttermilk* (120 ml) very cold and shaken
1 large egg, cold
1/2 cup grated parmesan (the kind in the shaker or grate yourself)
1/2 cup grated cheddar or cheddar jack blend
1 egg beaten with milk or water for egg wash
Instructions:
Freeze the butter for at least 30 minutes before starting.
Preheat the oven to 425 F (220 C)
Place the flour, baking powder, salt, and sage in a large bowl and whisk to combine. Add the grated cheeses and mix thoroughly with your hands or a wooden spoon.
Grate the butter on a box grater and add to the flour mixture. Mix to combine, use a wooden spoon or sturdy rubber spatula so your hands don't warm up or melt the butter.
Whisk the buttermilk and egg together in the measuring cup and stir in to the flour mixture. Bring the dough together by gently kneading in the bowl a couple times with your hands.
Place the dough on a well floured work surface and roll it out to about 1/4 inch thick. Fold the bottom up 1/3 of the way and then fold the top down over the bottom.
Pick up the dough and turn it 180 degrees. Roll it out and fold the same as before.
Turn it 180 degrees rolling it out to 1/2 inch this time and folding again.
Turn one last time and roll to 1 inch thick.
Cut your biscuits - I use a square cutter, a knife, or a bench scraper to cut them into squares but you can use a round cutter if you like. Don't twist or drag the cutter through the dough as this can smash the layers together causing less of a rise.
Place the cut biscuits on a parchment or silicone mat lined baking sheet and put them in the refrigerator for 20-30 minutes to chill.
Remove them from the fridge and brush the tops with the egg wash. Bake for 18-25 minutes until the tops are golden and the biscuits have risen nicely.
* if you don't have buttermilk you can make it by placing 1 tbsp white vinegar or lemon juice in your measuring cup and then adding whole milk to make one cup
To save time in the morning these can be made the night before and kept in the refrigerator over night covered with plastic wrap and then baked in the morning. Or they can be frozen and used up to a month later. Place the cut biscuits on a lined baking sheet and freeze for 3 hours then put them in zip lock bags or an air tight container. When you want buscuits place a couple in the refrigerator over night to thaw and bake in the morning.
recipe
About the author
Self taught chef with a over 25 years experience in the restaurant business.
Grew up in rural Ohio & moved to NYC in 1998.
Executive Chef Third & Vine in Jersey City 2014-2017.
Moved to Florida in 2017 and opened Duck Truck Gourmet in 2019.
Reader insights
Be the first to share your insights about this piece.
Add your insights