Peanut Butter Cheesecake
Chocolate Cornflake Crust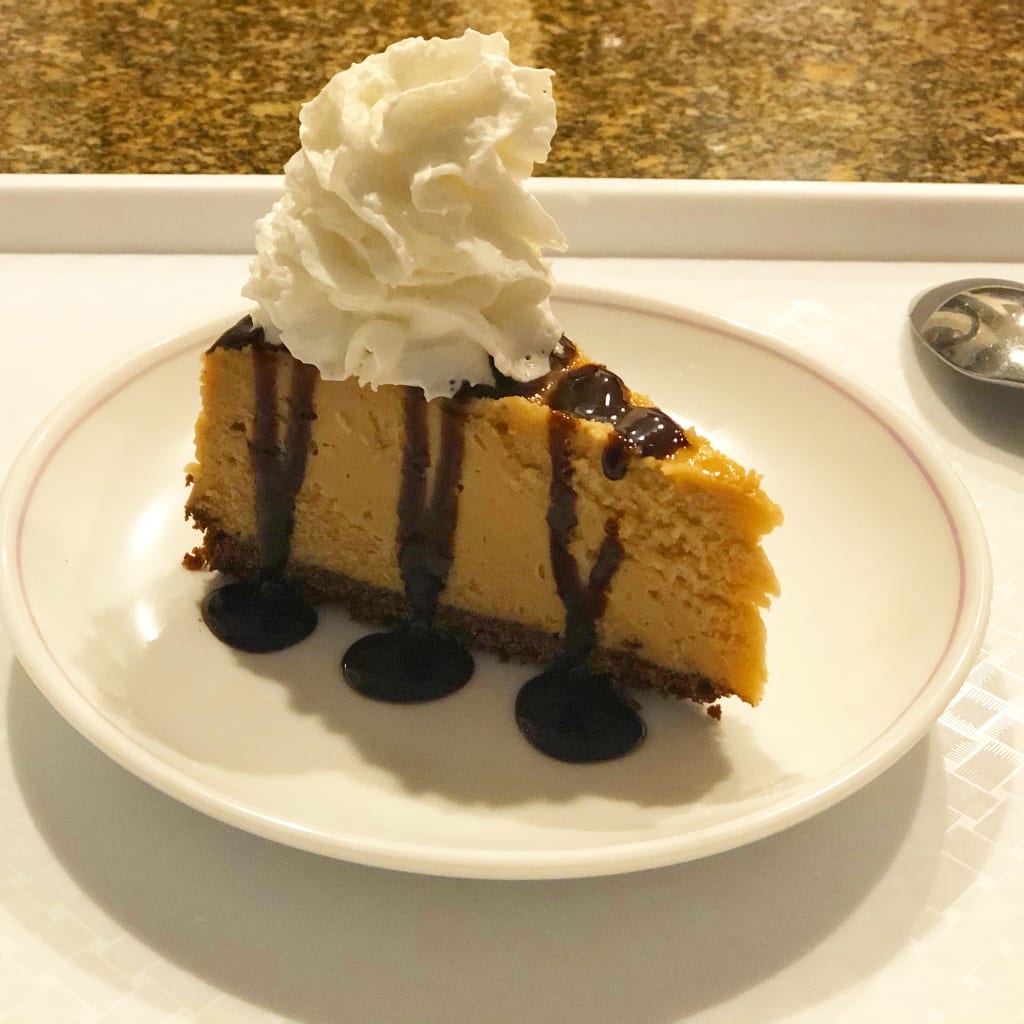 I love cheesecake! I love making it and eating it. The recipe for this crust came about from necessity - during the COVID pandemic I am staying away from large public places including the gorcery store. I didn't have any graham crackers at home but had a family sized box of cornflakes so I got creative. I hope you enjoy it as much as I (and my husband) did.
Ingredients:
Crust:
4 cups corn flakes
1/4 cup cocoa powder
3 tablespoons granulated sugar
6 tablespoons melted butter
Filling:
24 ounces cream cheese, room temperature
1 cup peanut butter
1 1/4 cups granulated sugar
4 large eggs, room temperature
1/2 cup ricotta cheese or plain yogurt
2 teaspoons vanilla extract
3 tablespoons all purpose flour
1/4 teaspoon salt
Instructions:
Preheat the oven to 350 degrees
For the crust:
Place cornflakes, cocoa powder, and sugar in the bowl of a food processor and process into crumbs. With the processor running drizzle in the melted butter - the mixture should look like wet sand and hold together when pressed into your hand. Press the mixture into the bottom of the prepared spring form pan and bake at 350 for 10 minutes. Set aside to cool. Once cool wrap the bottom and up the sides of the pan with 3 layers of aluminum foil 18 inch foil works best as it will completely cover the seams of the pan.
For the filling:
Place the cream cheese and sugar in the bowl of a stand mixer fitted with the paddle attachment or a large mixing bowl and use a hand mixer. Beat the cream cheese and sugar together until well combined about 5-7 minutes. Scrape down the sides and bottom of the bowl.
With the mixer on low add the eggs one at a time and mix until combined. Scrape down the bowl again.
Add the peanut butter and mix until combined. Scrape down the bowl again.
Add the yogurt, vanilla, salt, and flour and beat on medium for anther 3-4 minutes to combine.
Pour the filling in to the spring form with the baked crust. Place the cheesecake in a large roasting pan and pour in enough water to come half way up the sides of the spring form pan.
Bake at 350 for 1 hour to 1 hour and 15 minutes - the middle should still tremble slightly when the pan is shaken.
Remove from the oven and allow to cool for 30 minutes still in the water bath.
After 30 minutes remove from the water bath, take off the foil, and run a knife around the edge to loosen.
Chill in the refrigerator for at least 3 hours or overnight before cutting and serving. DO NOT COVER IN PLASTIC WRAP UNTIL IT IS COMPLETELY COOL!
Serve with a drizzle of chocolate sauce and whipped cream. Or if you want a peanut butter and jelly feel try it with some strawberry or grape jelly warmed with a little water to make a sauce. Also delicious with caramel sauce or dulce de leche. And of course a dollop of whipped cream. But really it is absolutely delicious without any sauce!
Replace the peanut butter with almond or any other nut or seed butter if there is a peanut allergy in the house.
You can replace the corkflakes with graham crackers, chocolate graham crackers, Oreo's, or any other cookie you like. For graham crackers one cleeve from a box should be enough - you will want to have about 1 cup of crumbs once they are processed. For Oreo's or a similar size cookie you will need about 20-25 cookies.

Lynn Wheeler
Self taught chef with a over 25 years experience in the restaurant business.
Grew up in rural Ohio & moved to NYC in 1998.
Executive Chef Third & Vine in Jersey City 2014-2017.
Moved to Florida in 2017 and opened Duck Truck Gourmet in 2019.
See all posts by Lynn Wheeler →