Meal Planning
Quick and Easy Crock Pot Recipes for Vegetarians
From delicious cheese dips to savory stews, these quick and easy crock pot recipes for vegetarians will make you feel like a master chef.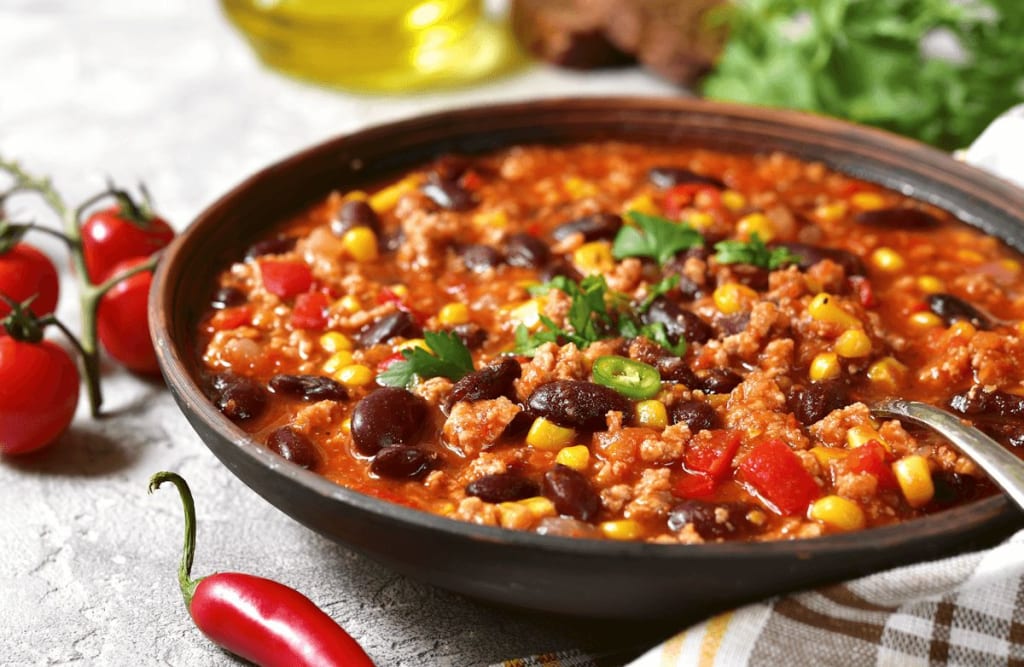 Crock pot recipes are always a great choice for a weeknight meal. They are the ultimate "lazy chef" option that tastes great, packs tons of nutrition, and also allows you to get in a full day of work while you cook dinner.
If you're vegetarian, though, you might have written off crock pots and slow cooker recipes as a "carnivore's cooking method." This is because most slow cooker recipes you'll find on the net are chock-full of meat.
People who feel this way may be put off from buying a crock pot, but they shouldn't be. There are plenty of quick and easy crock pot recipes for vegetarians and vegans to try out. Here are some awesome veggie-friendly picks below.
Crock Pot Minestrone (Vegetarian)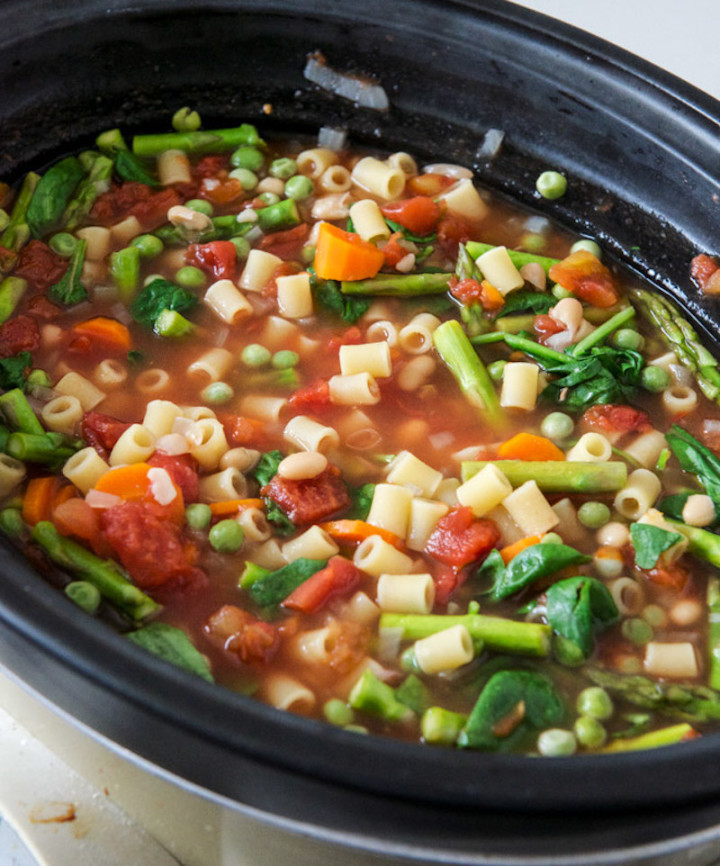 Nothing quite warms your bones like a piping hot bowl of soup on a winter day, and if any cooking tool does well at making a great bowl of soup, it's a crock pot. Many minestrone soup recipes you'll find will ask you to use beef stock, but not all of them.
This recipe for Crock Pot Minestrone gives you all the warmth and savory goodness of traditional minestrone soup without including meat into the picture.
Enchilada Quinoa (Vegetarian)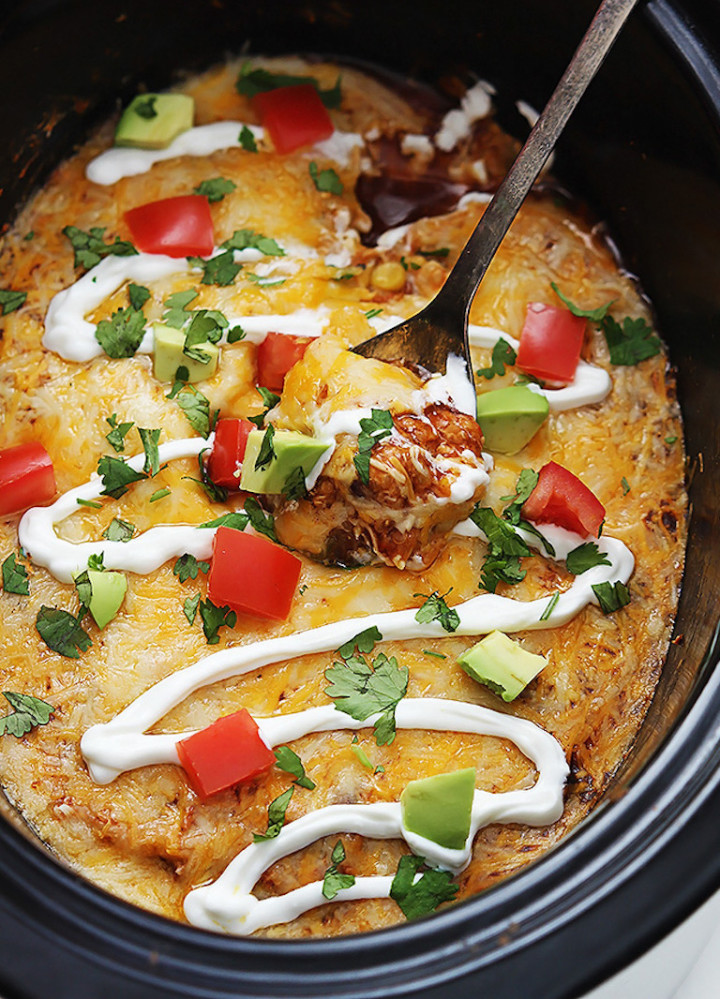 So many quick and easy crock pot recipes for vegetarians will involve beans and grains as a way to help boost your protein intake. This is one of those awesomely easy, protein-packed meals—and it tastes incredible.
Melty cheesy goodness mixed with a spicy tomato sauce and plenty of "meaty" beans make this one crock pot dish you absolutely must try. If you want to make this satisfying Tex-Mex treat, try this recipe for Slow Cooker Enchilada Quinoa.
Note: This tastes amazing when topped with a dollop of sour cream or queso fresco.
Slow Cooker Veggie Omlettes (Vegetarian)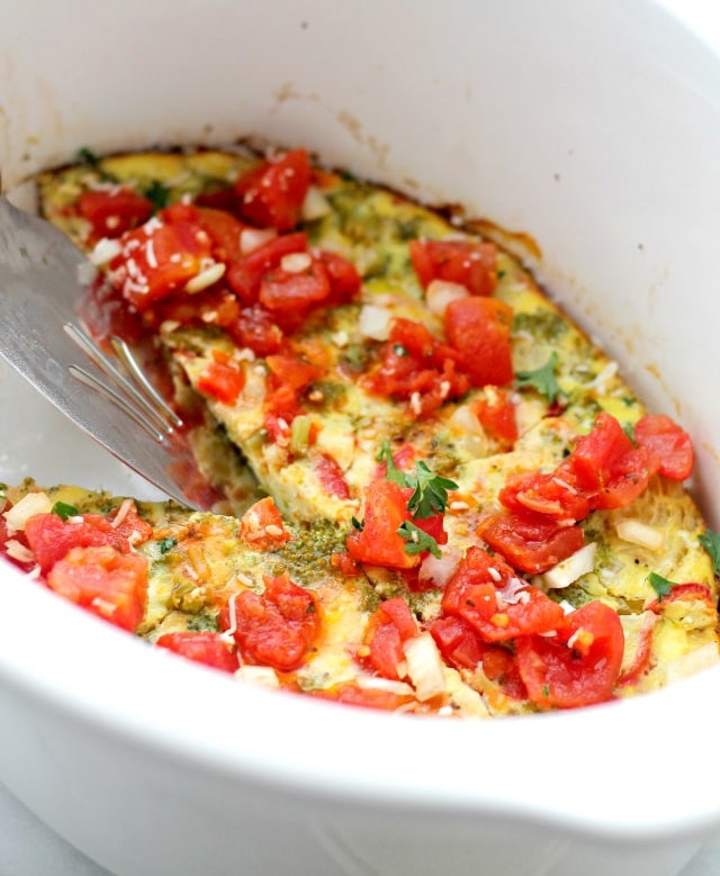 Veggie omelettes are one of the best, most diet-friendly options you can have for breakfast—or an early dinner. Slow cooker omelettes are a perfect way to make sure that you have a piping hot breakfast that can feed a whole family without involving meat.
This super-satisfying, protein-packed omelette recipe is one of the best quick and easy crock pot recipes for vegetarians in need of a new way to start their day.
Crock Pot White Bean Stew (Vegan)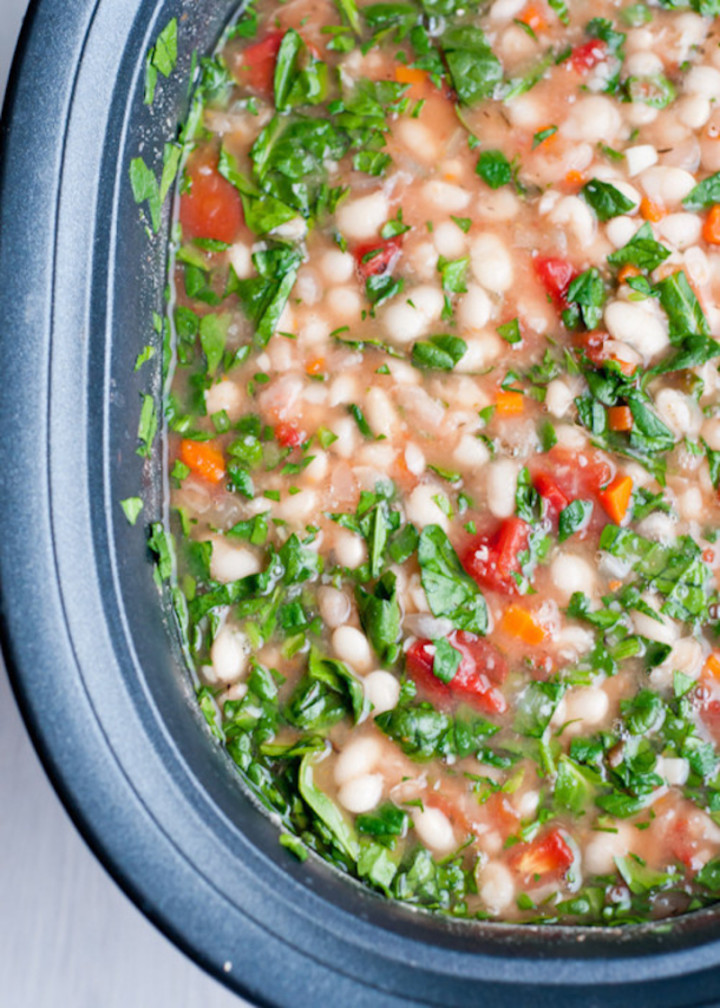 As both vegan and vegetarians probably already know, most meat eaters fall in love with crock pot recipes because they make meat super tender and juicy. That is, after all, why stews are such popular crock pot recipes!
Thankfully, there are quick and easy crock pot recipes for vegetarians who love a good ol' stick-to-your ribs stew, too. In fact, this vegan White Bean Stew recipe gives you all the flavor of a classic stew without involving any animal products whatsoever.
If you and your vegan buddies want to kick it up a notch, serving it with vegan sour cream will really make it pop.
Crock Pot Spaghetti Squash Thai Noodle Bowl (Vegan?)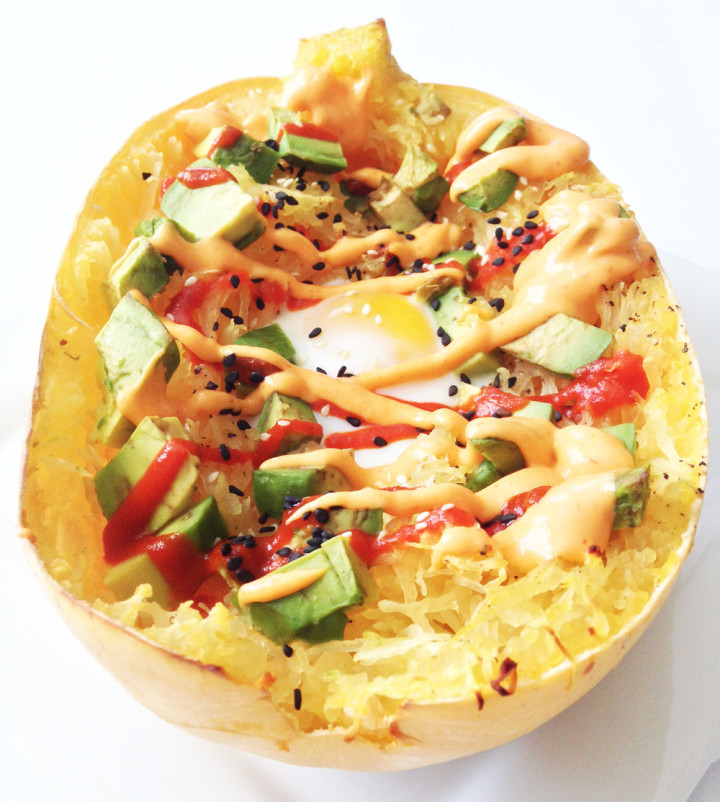 Fans who love spaghetti squash will adore trying some "noodle" recipes using their crock pots. Since spaghetti squash is totally vegetable-made, it's a low-calorie option that would make most dieters rethink their pasta habit, too.
Plenty of quick and easy crock pot recipes for vegetarians exist on the net that involve spaghetti squash used as noodles in their mixes. But, why bother with standard pasta, when you can sink your teeth into something more exotic?
This recipe for Crock Pot Spaghetti Squash Thai Noodle Bowl might just be vegan depending on what peanut sauce you use. At the very least, it's meat-free and proud to be.
Slow Cooker Chili (Vegan)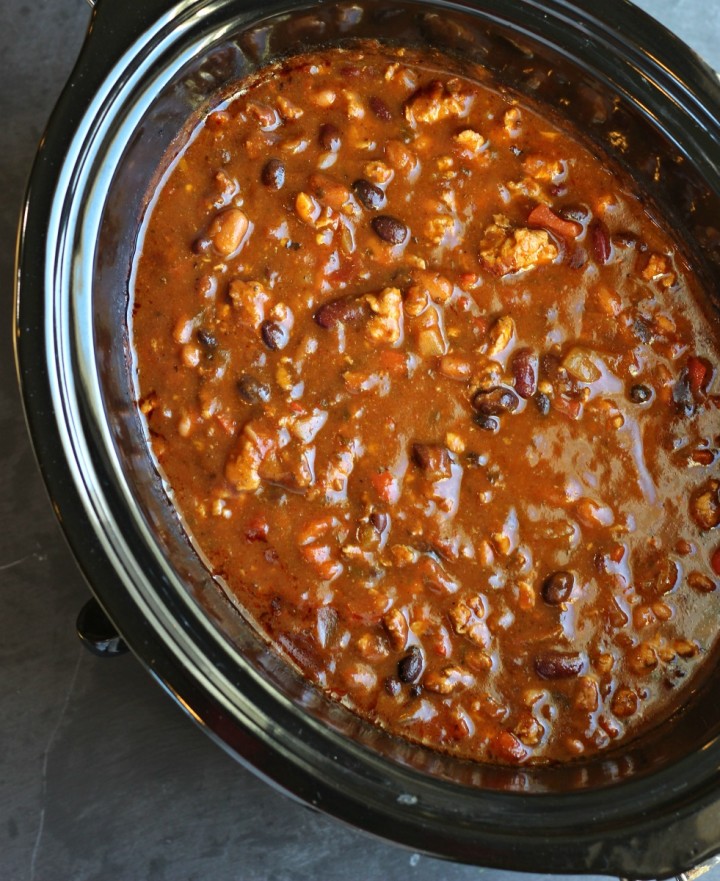 Perhaps one of the best staples for vegetarians and vegans that miss the flavor of meat is chili. Chili is savory, has a beefy texture, is spicy, and has that amazing talent to satisfy cravings with ease.
To a point, it's almost expected that you'd find at least one slow cooker recipe for chili on this list. All the best quick and easy crock pot recipes for vegetarians center around the fact that bean-only chili tastes amazing and works well in a slow cooker, after all.
Truthfully, we found a number of slow cooker chili recipes worth checking out...
Mushroom Stroganoff (Vegetarian)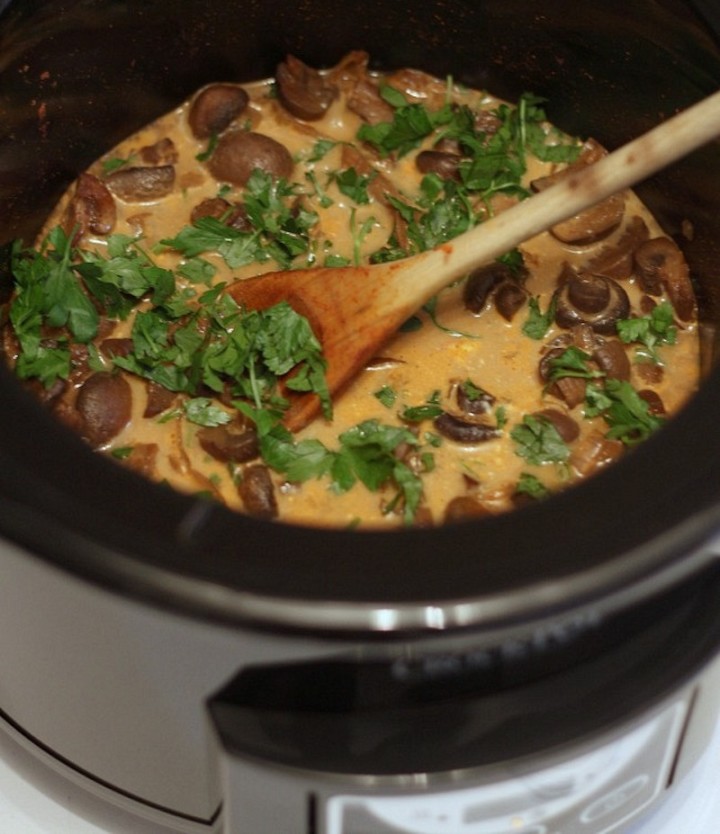 Beef Stroganoff is a staple recipe in meat-eating households, but why should vegetarians miss out on all the flavorful fun? Quite a few quick and easy crock pot recipes for vegetarians involve very "Stroganoff-y" flavors, too!
The best substitute we've seen for the beef in Beef Stroganoff is mushrooms — and this recipe for Mushroom Stroganoff really brings out the meaty, savory, and hearty taste of the classic stew beautifully.
Slow Cooker Lasagna (Vegetarian)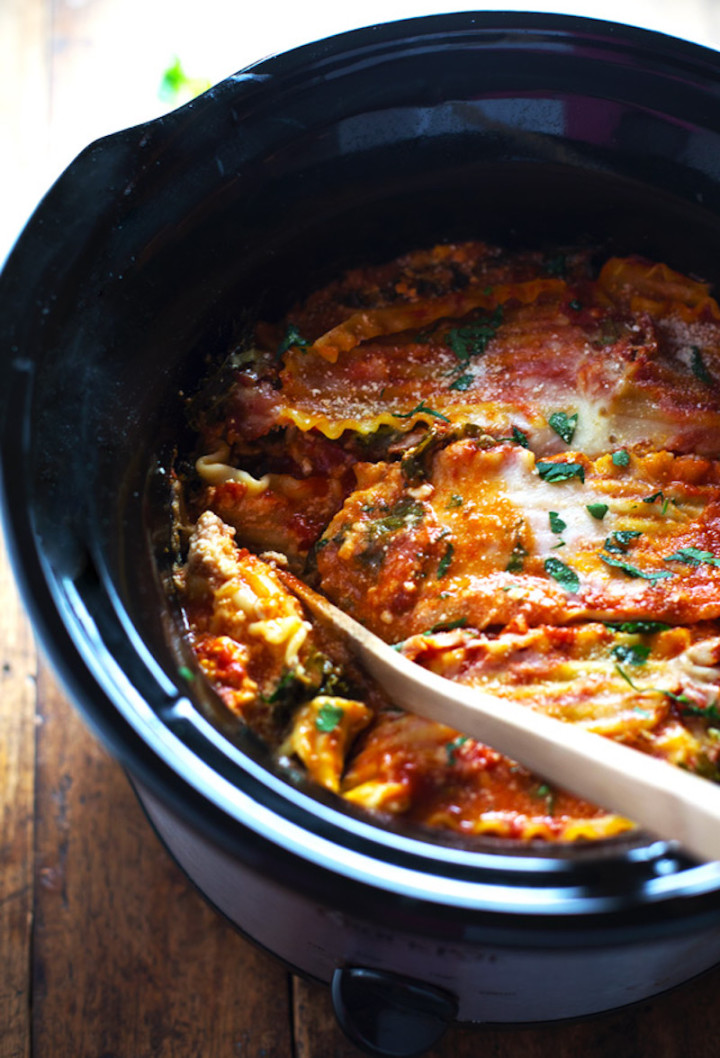 For many families across the country, nothing says "family dinner" like a hot plate of lasagna. This old school Italian treat is typically made with tons of beef, but there are some vegetarian options out there you can try out.
That being said, a lot of home cooks feel like it's sacrilege to make lasagna with a slow cooker... but we're not those home cooks! We managed to find a few quick and easy crock pot recipes for vegetarians that love lasagna out there.
Yes, there were many recipes out there that involved slow cooker lasagna. Only one really could fool us in terms of "meaty texture," though...
This Slow Cooker Lasagna recipe uses beans instead of meat to achieve a similar texture, and we have to say, you can't really tell the difference between the vegetarian and carnivorous versions.
Slow Cooker Vegetable Curry (Vegetarian)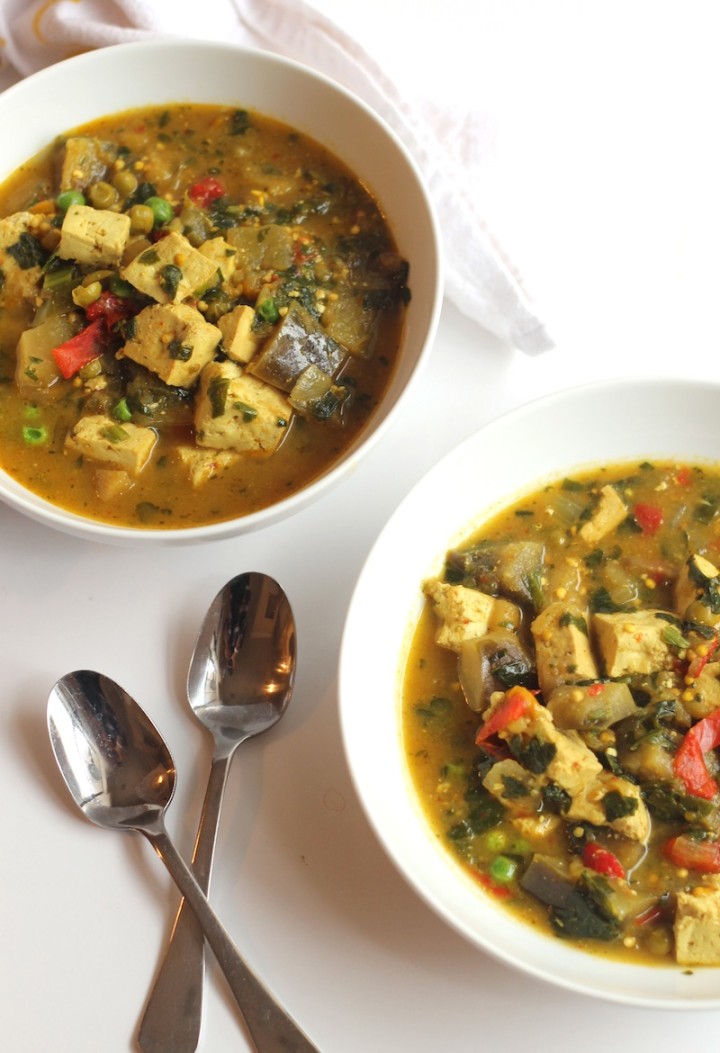 Speaking of exotically delicious recipes involving vegetarian ingredients and crock pots, let's talk about curry. Curry is, and has always been, one of the best recipe bases to use with a slow cooker.
The "low and slow" style of cooking associated with crock pots allow curry to get a rich, buttery, and incredibly savory kind of heat that makes mouths water. This recipe for Slow Cooker Vegetable Curry is vegetarian-friendly and melts in your mouth. What's not to love?
Vegetarian Baked Ziti (Vegetarian)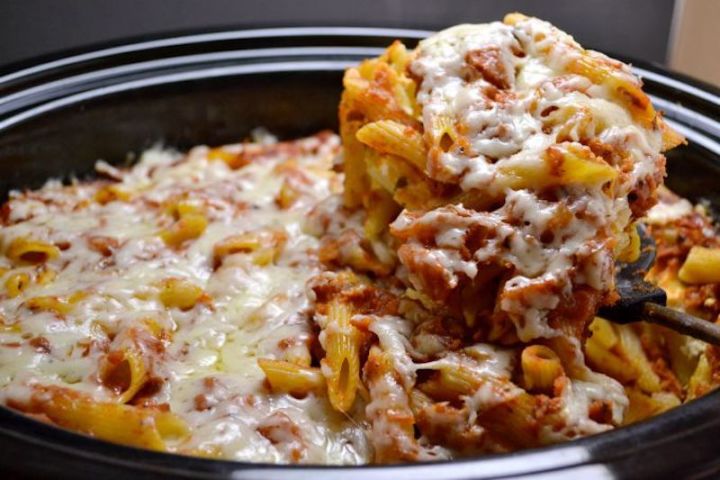 Baked ziti is one of those recipes that really make any dinner incredible. Good ziti will melt in your mouth, offer that perfect zesty tang from pasta sauce, and also satisfy Italian fans who love a heaping helping of cheese.
Though there are a lot of baked ziti recipes involving crock pots online, it was actually kind of hard to find decent quick and easy crock pot recipes for vegetarians that want to get their ziti on.
Thankfully, it was mission accomplished via this mouth watering Crock Pot Baked Ziti recipe.