One Of My Favorites
Special dishes for holidays, my wedding, and my mother's funeral.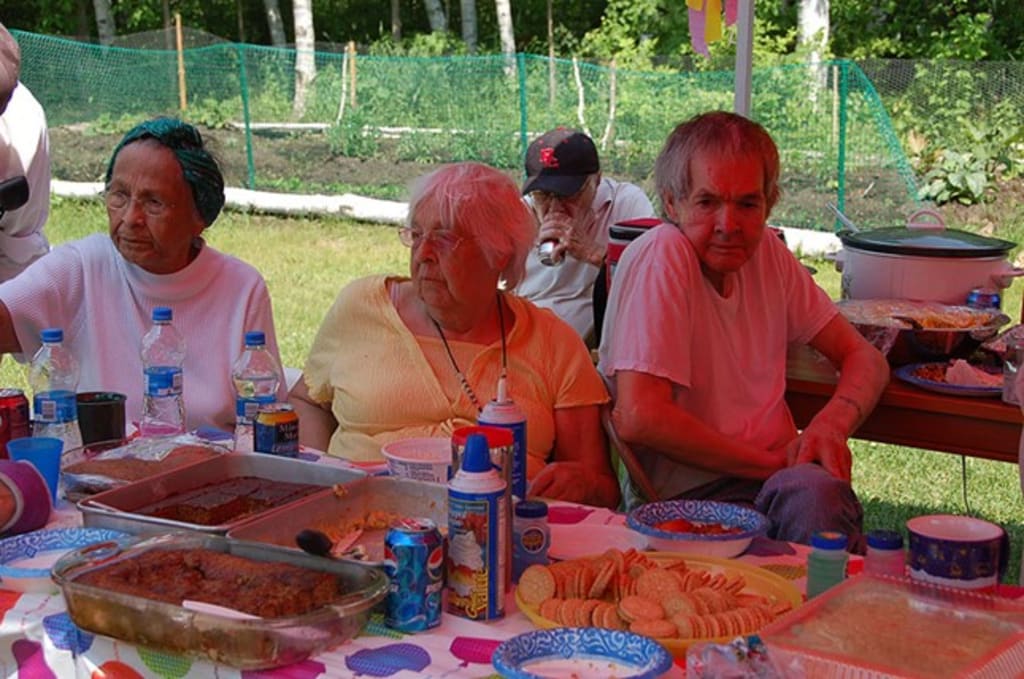 My mom, aunt Jackie, uncle Lyle and uncle Jack married to Jackie at the back table. (2009) Now all are deceased.
There was always too much food at any event when growing up. My mom was a great cook as were her four sisters. Desert was their specialty. It was hard to have much desert though as there was always so many other recipes to enjoy before desert.
When my mom was dying a short time after her 75th birthday party above, she planned her funeral meal. I don't know if she knew at the time. Every time I would visit, she would talk about our Thanksgiving meal. She was planning the usual holiday fixings.
She would ask if I remembered how to cook one of my favorites, the scalloped corn hotdish. My mother had a thanksgiving meal at my wedding. I had never made it but I had helped with the crackers a few times. She would then proceed to make sure I knew how she would fix it.
I had eaten this food my whole life and didn't know how it was prepared other than the crackers and maybe cracking an egg or two. She made sure I knew how to proceed.
I needed that know-how just a few short months later when my mother died on September 25, 2009.
We decided to have our holiday meal with her at her funeral. The night of the wake some of us stayed up, peeled potatoes, and put the ingredients together for a Thanksgiving meal. The Thanksgiving meal she was planning while in rehab for a broken neck.
At her funeral meal, I made the scalloped corn dish and I was given so many compliments, that I just knew my mother was there to help me make that dish for the first time. Since then I have made that dish at my family's holiday meals.
I am given comfort every time I make this dish. I believe it is just what I needed most from our last few times spent together.
Scalloped corn recipe from my mother
2 cans of corn or equivalent fresh or frozen corn
1 can cream corn
1 sleeve of saltine crackers
3 eggs
1/2 C. butter, chunked or chopped (1 stick)
Mix ingredients and place in buttered baking dish
Bake at 350 for 45-50 minutes
Some people are not familiar with a hotdish, and from what I can figure out there are some differences but it sounds similar to a casserole.
Casserole and hotdish are similar in many ways, but there are some differences between them. A casserole refers to a baked dish cooked in the oven, while a hot dish is a Midwestern American term used to describe a one-pot meal1. Casseroles often have a creamy or cheesy texture, while hot dishes have a meat and vegetable base with a starch component like potatoes or noodles1. The term "hotdish" is used only in the Upper Midwest, specifically Minnesota and North Dakota2. In Minnesota, a cozy casserole dish with a mixture of protein, starch, cheese/condensed soup/sauce, and sometimes vegetables is called a hotdish2. If you're from anywhere else, including Minnesota-adjacent states, the exact same dish is called a casserole2. Bing

1. askanydifference.com

2. midwesternhomelife.com
Not all of my children like scalloped corn as much as I do; however because they know the story I have to believe they will include this dish in their holiday meals, with or without me.
Here are some positive affirmations you can use to inspire yourself when trying a new recipe:

"I am excited to try this new recipe and see how it turns out."

"I am a capable cook and I trust my skills in the kitchen."

"I enjoy experimenting with new flavors and ingredients."

"I am open to learning and growing as a cook."

"I have the ability to follow a recipe and make it my own."

"I am confident in my ability to create delicious meals."

"I embrace the process of cooking and find joy in the kitchen."

"I am grateful for the opportunity to try new recipes and expand my culinary horizons."

These affirmations can help you approach trying a new recipe with confidence and positivity. Remember, cooking is an art form, and every dish you create is an opportunity for growth and self-expression. Enjoy the process and have fun in the kitchen! 😊 Bing
P.S. So many others have told me how much they enjoyed the recipe and have asked for the recipe for their own holiday meals. And since I am newly gluten sensitive, I use gluten-free crackers and it doesn't take away anything from the recipe.
About the Creator
I am married with 7 children, 26 grands, and 11 great-grandchildren. I am a culture consultant part-time. I started writing A Poem a Day in February 7 years ago. I wrote 4 - 50,000 word stories in NaNoWriMo. Writing on Vocal/Medium now.
Reader insights
Be the first to share your insights about this piece.
Add your insights