Make Crispy Aloo Tikki In Just 10 Minutes Without Boiling Aloo
Quick & Easy Crispy Aloo Tikki Recipe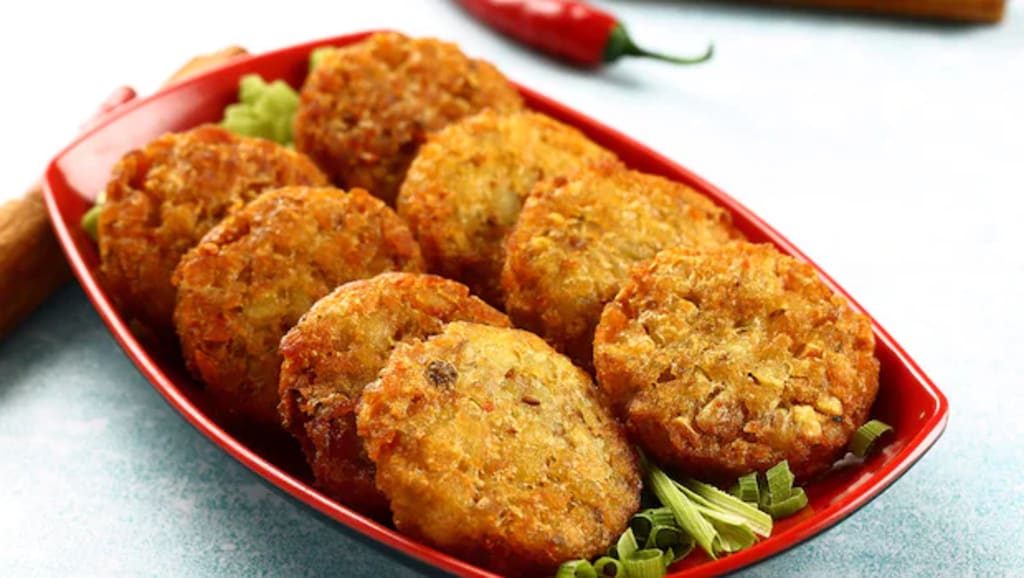 Aloo Tikki Recipe: If you are craving aloo tikka too but want to make it without the hassle of boiling and peeling, we have just what you need.
Highlights
Aloo tikki is a popular street-style snack that nobody can resist.
This crispy aloo tikki will be ready in just 10 minutes.
Here's an easy recipe for you to try at home.
When it comes to street food, even the best of us find it so hard to say no. Be it a wholesome Pav Bhaji or a refreshing dahi papdi chaat - there are so many recipes out there to choose from. Aloo tikki, for instance, is another such street-style recipe that nobody can resist. Potatoes are boiled, mashed and stuffed with a dal or masala filling, and fried till golden brown.
The aloo tikki is then topped with curd, spices, chutneys and bhujiya to make a lip-smacking aloo tikka chaat. If you are craving aloo tikka too but want to make it without the hassle of boiling and peeling, we have just what you need. This crispy aloo tikki is ready in 10 minutes and does not even require any boiling or tedious preparation!
Quick And Easy Tips To Make Crispy Aloo Tikki
If you want to get super crispy results and make the kurkuri aloo tikki like a pro, there are some tips you should follow. Select aloo which are slightly raw for better crisp texture. Their starch content would be less and thus the resulting tikki would turn out to be much crunchier.
Once you are done peeling the aloo, soak them in cold water to retain their crisp texture and keep them from turning black. Use a medium grater for making the aloo lacchha, so that the crispness of the tikka is maintained and the tikka stays intact in its shape without breakage. For an additional element of crunch, you can add the grated aloo to a bowl of water.
This will ensure that the starch content in the aloo is further reduced. Remember to drain out the excess water in the aloo with the help of a muslin cloth and a sieve. The lesser the water and starch content in the aloo, the crisper it will turn out to be!
How To Make Crispy Aloo Tikki In Just 10 Minutes | Kurkuri Laccha Aloo Tikki Recipe
Now that you have read all the tips and tricks to make crispy aloo tikki, here is the full recipe for you.
Start by peeling four large aloo and soaking them in water. Next, use a medium-sized grater to grate the potatoes into a bowl.
Soak them in water to make them even crisper, then drain the water using a sieve and a muslin cloth.
Now, take the aloo laccha in a bowl and add chopped green chilli, a pinch of ginger, black pepper powder and cumin powder as well.
Mix in your salt as per taste and add arrowroot powder or cornstarch to further thicken the mixture.
Make sure everything is well incorporated into the aloo and keep it aside.
Use a small bowl and hands to form medium-sized tikkis which are a bit tight and will not break.
Heat a kadhai on medium-low heat. In a shallow pan, add the aloo tikkis carefully and let them fry on one side.
Once they turn golden-brown, flip them over and cook on the other side.
Serve hot with chutney of choice!
Health Benefits of Crispy Aloo Tikka
1. Healthy Fats: Aloo Tikka is rich in healthy fats which helps in lowering bad cholesterol (LDL) and increasing good cholesterol (HDL). This in turn helps in reducing the risk of heart diseases.
2. Rich in Protein: Aloo Tikka is also rich in protein which helps in building and repairing muscles. It also helps in maintaining a healthy weight.
3. High in Fibre: Crispy Aloo Tikka is high in fibre which helps in improving digestion and prevents constipation.
4. Rich in Vitamins and Minerals: Aloo Tikka is a great source of essential vitamins and minerals such as Vitamin A, B-Complex vitamins, calcium, iron and phosphorus. These help in boosting the immune system and keeping the body healthy.
5. Low in Calories: Crispy Aloo Tikka is low in calories which makes it a great snack option for those watching their weight.
Reader insights
Be the first to share your insights about this piece.
Add your insights