Kolkata Style Chicken Roll
Calcutta Chicken Roll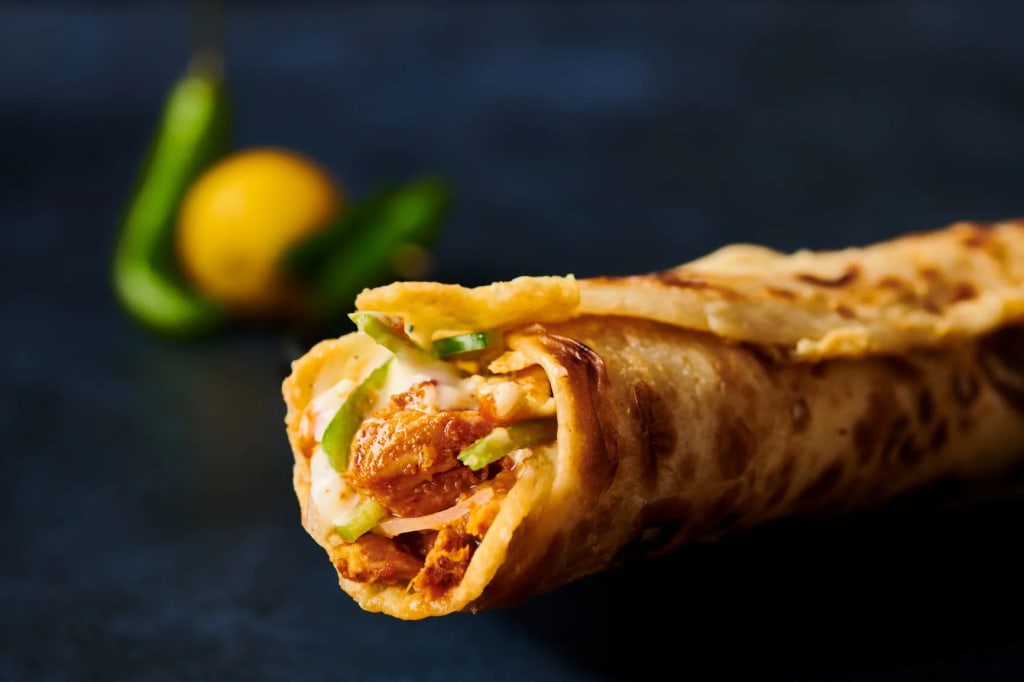 Kolkata Style Chicken Roll
Famous about Kolkata Chicken Roll
Kolkata Chicken Roll is an iconic street food in Kolkata, India. It is a popular snack that is sold by street vendors and is typically served as an evening snack. The roll is made from a thin flatbread filled with chicken, onion, chili, and other spices. It is usually served with a chutney or sauce. The Kolkata Chicken Roll is a popular street food in Kolkata and is loved by locals and tourists alike.
Preparation of Kolkata Chicken Roll
Ingredients:
1/2 pound boneless chicken, cut into thin strips
2 tablespoons vegetable oil
1 teaspoon cumin seeds
1 teaspoon ground coriander
1 teaspoon garam masala
1/2 teaspoon turmeric
1/4 teaspoon cayenne pepper
1/4 teaspoon ground black pepper
2 tablespoons freshly squeezed lemon juice
1/4 cup chopped fresh cilantro
2 tablespoons chopped ginger
2 cloves garlic, minced
1/2 teaspoon salt
1/2 cup minced red onion
1/2 cup frozen peas
2 tablespoons butter
6 small tortillas
1/2 cup plain yogurt
1/2 cup chopped tomato
Instructions:
Heat a large skillet over medium-high heat. Add the oil and cumin seeds and sauté for 1 minute.
Add the chicken strips and sauté for 3 to 4 minutes, or until slightly golden.
Add the coriander, garam masala, turmeric, cayenne pepper, and black pepper and stir to combine.
Add the lemon juice, cilantro, ginger, garlic, salt, red onion, and frozen peas and stir to combine.
Reduce the heat to low and cook for 5 to 7 minutes, stirring occasionally.
Remove from heat and set aside.
Heat a small skillet over medium heat and add 1 tablespoon of butter.
Place one tortilla in the skillet and cook for 1 minute, or until lightly golden.
Flip the tortilla and spread 1 tablespoon of yogurt over the surface.
Spoon a portion of the chicken mixture over the yogurt and spread it evenly.
Sprinkle a few chopped tomatoes on top and fold the tortilla in half.
Cook for 2 minutes, or until lightly golden on both sides.
Remove from heat and repeat with the remaining tortillas and filling.
Serve the Kolkata Chicken Rolls with a side of yogurt or (chutney). Enjoy!
Preparation of Mint Chutney
Ingredients:
• 1/2 cup mint leaves
• 1/2 cup coriander leaves
• 2 green chillies
• 2 tablespoons tamarind paste
• 1 teaspoon cumin powder
• 1 teaspoon chaat masala
• 1/4 teaspoon red chilli powder
• Salt to taste
• 2 tablespoons jaggery
• 2 tablespoons oil
• 1 teaspoon mustard seeds
• 1/2 teaspoon asafoetida
Instructions:
1. In a blender, add mint leaves, coriander leaves, green chillies, tamarind paste, cumin powder, chaat masala, red chilli powder and salt. Blend to make a fine paste.
2. Heat oil in a pan. Add mustard seeds and asafoetida and let them crackle.
3. Add the prepared paste and sauté for 2 minutes.
4. Add jaggery and mix well. Cook for another 2 minutes.
5. Turn off the flame and let the chutney cool.
6. Store the chutney in an airtight container and use as required.
Health Benefits of Chicken Roll
1. High in Protein: Chicken roll is a great source of protein, providing about 10-12 grams of protein per serving. Protein is an essential nutrient for building and maintaining muscle, as well as for providing energy. It's also important for healthy hair, bones, and skin.
2. Low in Fat: Chicken roll is low in fat, with about 2-3 grams of fat per serving. This makes it a great option for those looking to reduce their fat intake.
3. Rich in Vitamins and Minerals: Chicken roll is also a good source of vitamins and minerals, including vitamin A, vitamin B6, zinc, and iron. These nutrients are important for proper growth and development, as well as for maintaining a healthy immune system.
4. Good Source of Fiber: Chicken roll is also a good source of fiber, providing about 1-2 grams of fiber per serving. Fiber is important for digestion and regularity, as well as for helping to keep you feeling full and satisfied.
Reader insights
Be the first to share your insights about this piece.
Add your insights