Keto Fried "Rice"
Changing the game of cauliflower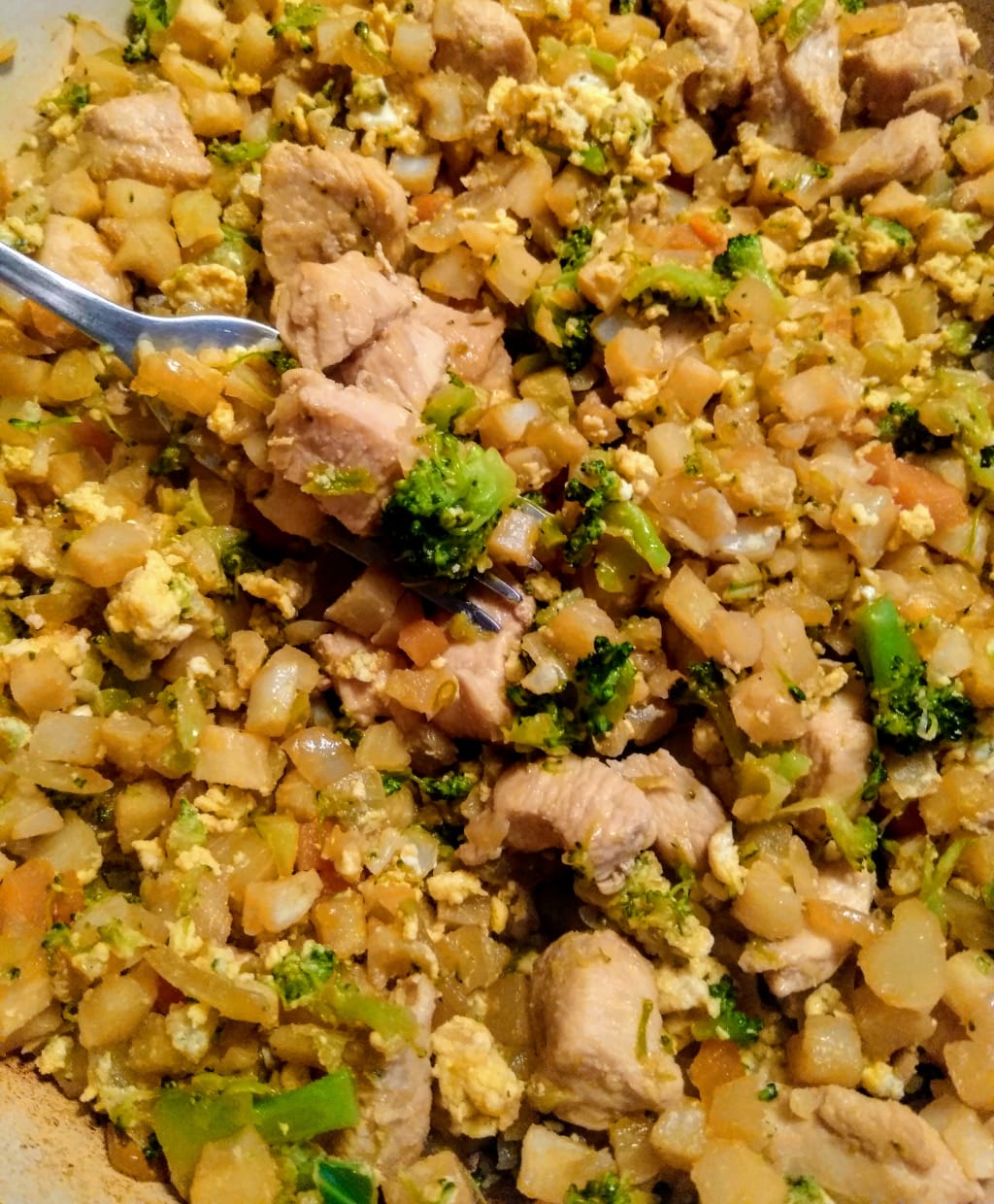 There are many Keto recipes up for the grabs. I've been a Ketonian on and off for a while. The reason why i would continuously fail on the Keto diet, is because of the dishes i would miss. Who doesn't miss Chinese take out on a diet? Besides that, we all know cauliflower is a big key player in the Keto diet., because it is so versatile. However, after a while it can become so mundane if you run out of ideas. So today i'm bringing you the best of both worlds. Sticking to Keto, with the healthy option of cauliflower rice, while getting the flavor of one of your favorite fast foods.
"Cauliflower rice? I cannot stand cauliflower rice!" I've heard many say this. If i were to simply replace plain white rice with plain cauliflower rice, i would probably cry myself to sleep at night. Try this recipe, and see that being healthy doesn't have to be strenuous and gross!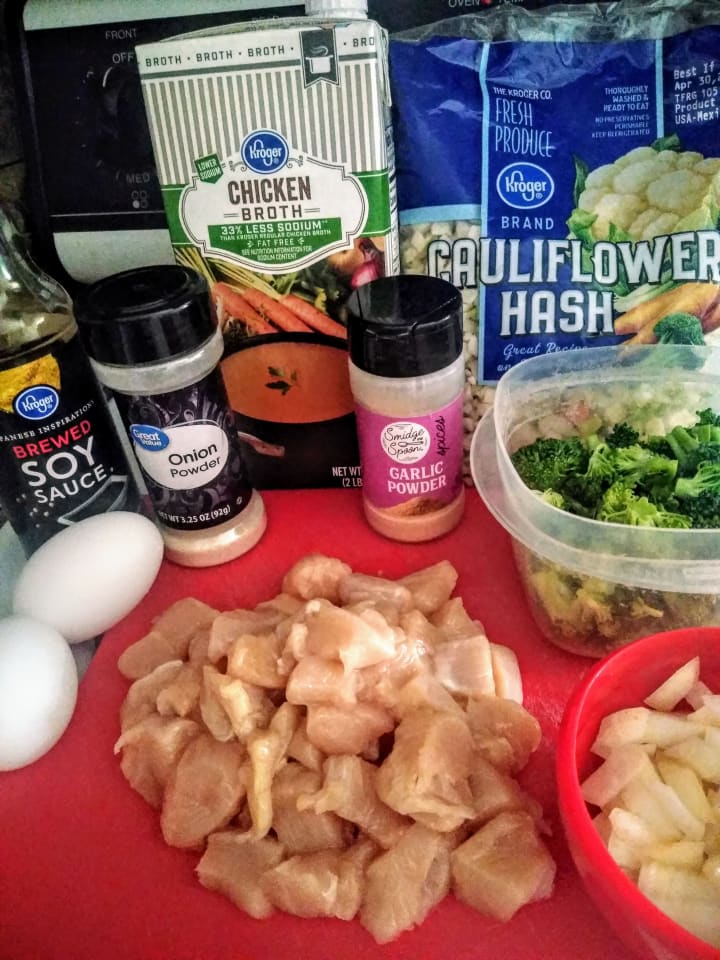 Ingredients:
2 chicken breast, diced
2 eggs
1 bag cauliflower hash
1/2 an onion
1 1/2 - 2 cups broccoli floret, cut small
Chicken Broth
Soy Sauce
Onion Powder
Garlic Powder
extra virgin olive oil, or cooking spray
Directions:
The first thing you're going to want to do is begin by adding a bit of oil to your pan to fry up your chicken. As it is frying, go ahead and flavor your chicken by adding onion powder and garlic powder across it as it is frying. Because i never measure my seasonings, i cannot give you an exact amount. But a good rule of thumb for a non spicy seasoning, is just to make sure every piece of chicken has been kissed by seasoning. Still hard to decipher? Use a small palm full. Then, generously squirt your soy sauce over your chicken as well. (Do not saturate it, but do put enough in to see a difference in color when stirring your chicken in the pan.)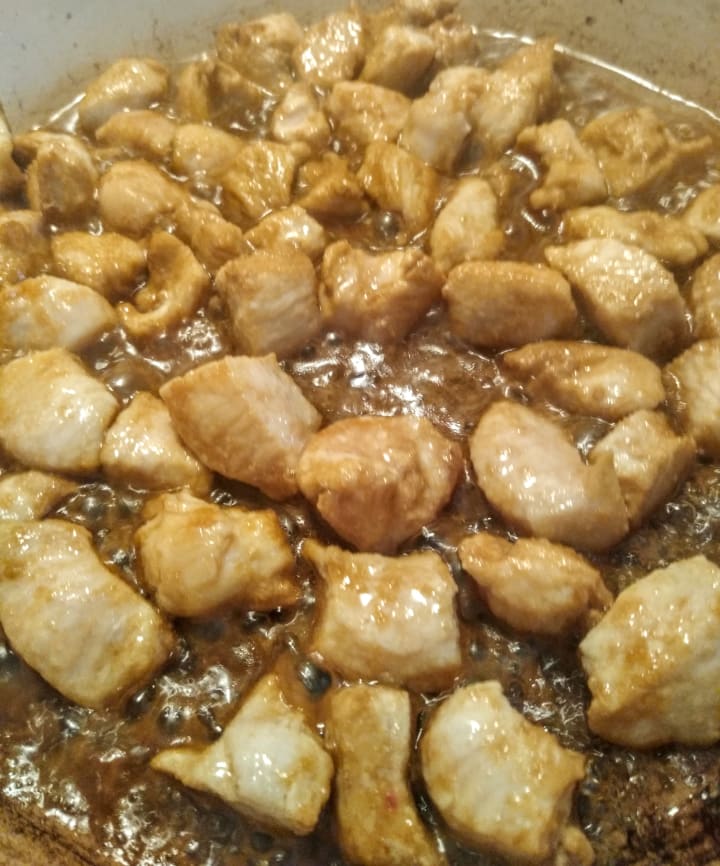 Once you have fried up your chicken, remove it from the pan and set aside. Add your onions and broccoli to the pan. Add enough chicken broth to cover the bottom on the pan, and then add a splash more. Place the lid on. The steam of the broth is going to help soften the broccoli.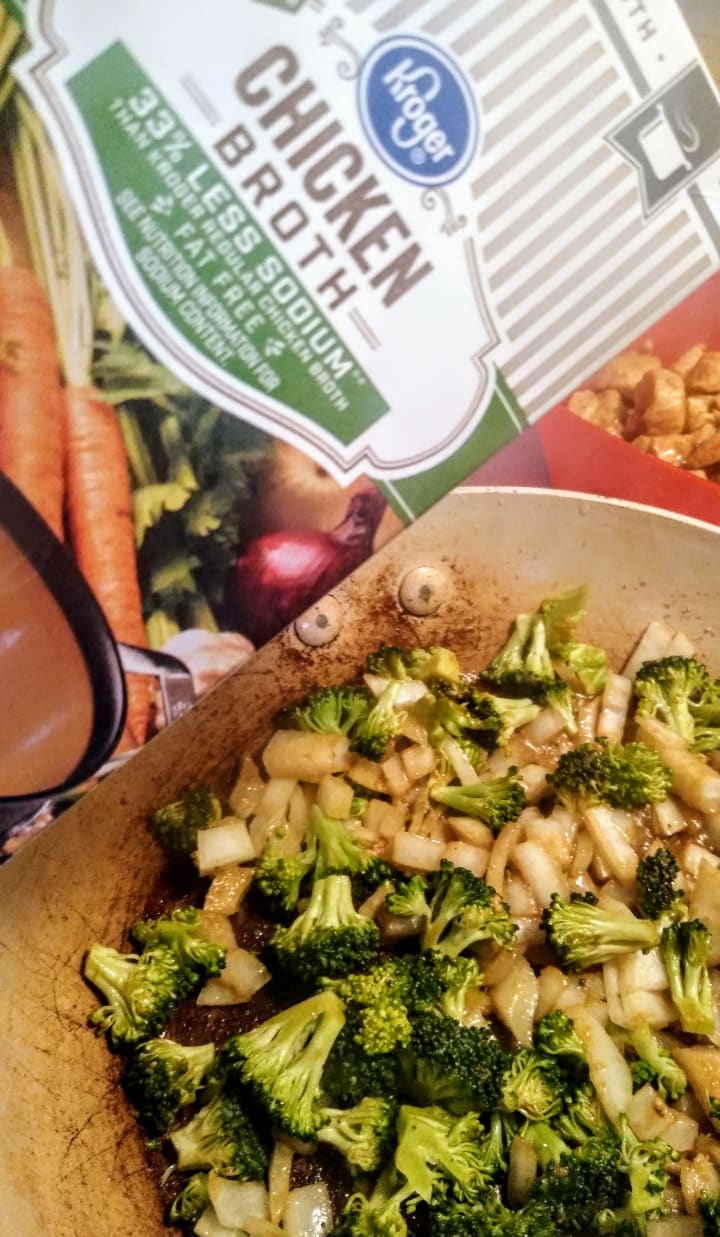 Once you feel the broccoli has softened some and your onions seem glossy and translucent, add your cauliflower hash. Now there is a lot in the bag. And cauliflower has pretty much mild to no flavor. So bascally it is a blank canvas, to which we will paint with our own flavors. To the hash you will add more onion powder, more garlic powder, and a few more splashes of soy sauce. Again, if uncertain, use your palm.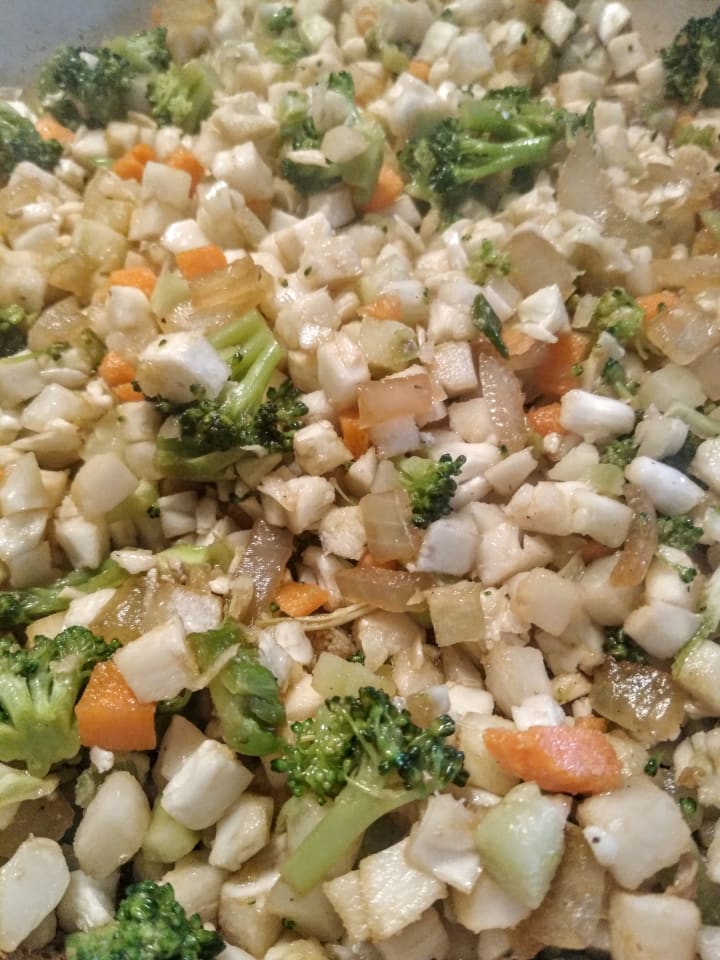 Go ahead and put the lid on. The cauliflower is raw so it will be tough. But because it is diced so small, it will steam quickly with the juices you have in the pan. Be sure to mix everything well together, so that all the moisture and all the flavor is touching everything in the pan. If you see the juices have disappeared, and yet your veggies are still harder than you would like, go ahead and use more chicken broth. Make sure you're getting your veggies to the tenderness you want them to be. If you try a bite, but don't feel the flavor you were wanting has come through, add more of the seasoning and soy sauce. Its important to try your food throughout the cooking process, so that you will be happy with the outcome.
Once your veggies are at the consistency you desire, and the flavor you desire, form a ring in the pan by pushing your rice&veggies to the edge of the pan, leaving a bare circle in the middle. Either crack your eggs from the shell to the pan's circle, or crack them in a mixing bowl, mix, then add to the pan's circle. It's whatever you prefer. I prefer to mix my eggs together first, and then pour.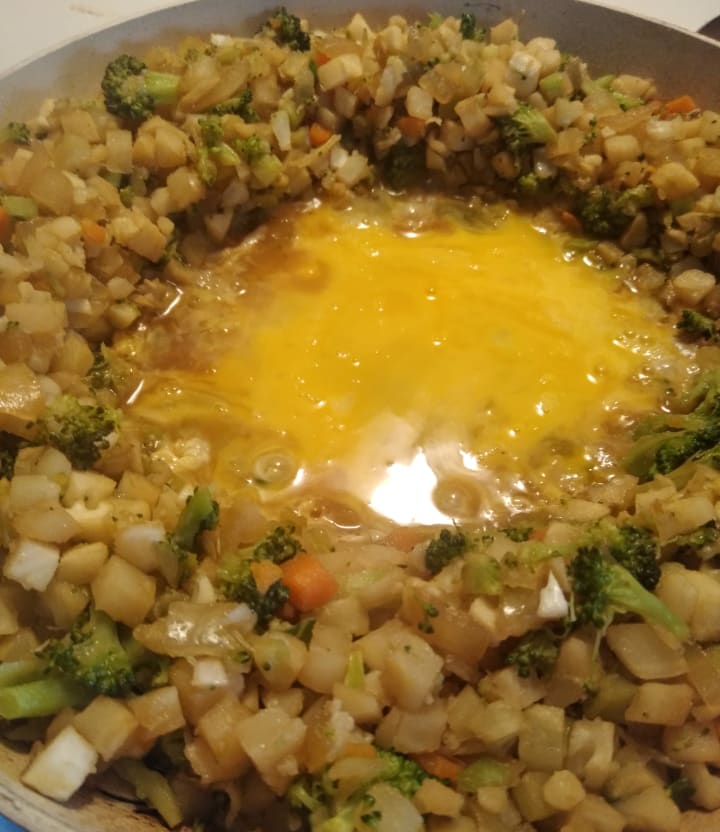 This will give the eggs the opportunity to fry well, like a scramble. But, like a scramble, you must continue to stir so that the eggs will fry properly. When you feel the eggs are frying well, but not fully done, go ahead and stir everything together really well.
Re-add your chicken, and again, stir really well.
It doesn't look like a lot of ingredients at the start, but somehow turned into a lot in my pan!
And there you have it. Delicious pan of fried rice that can be split into two dinner and a lunch, with only two chicken breasts. Now that's amazing!