Keto Jambalaya
Cauliflower Calliente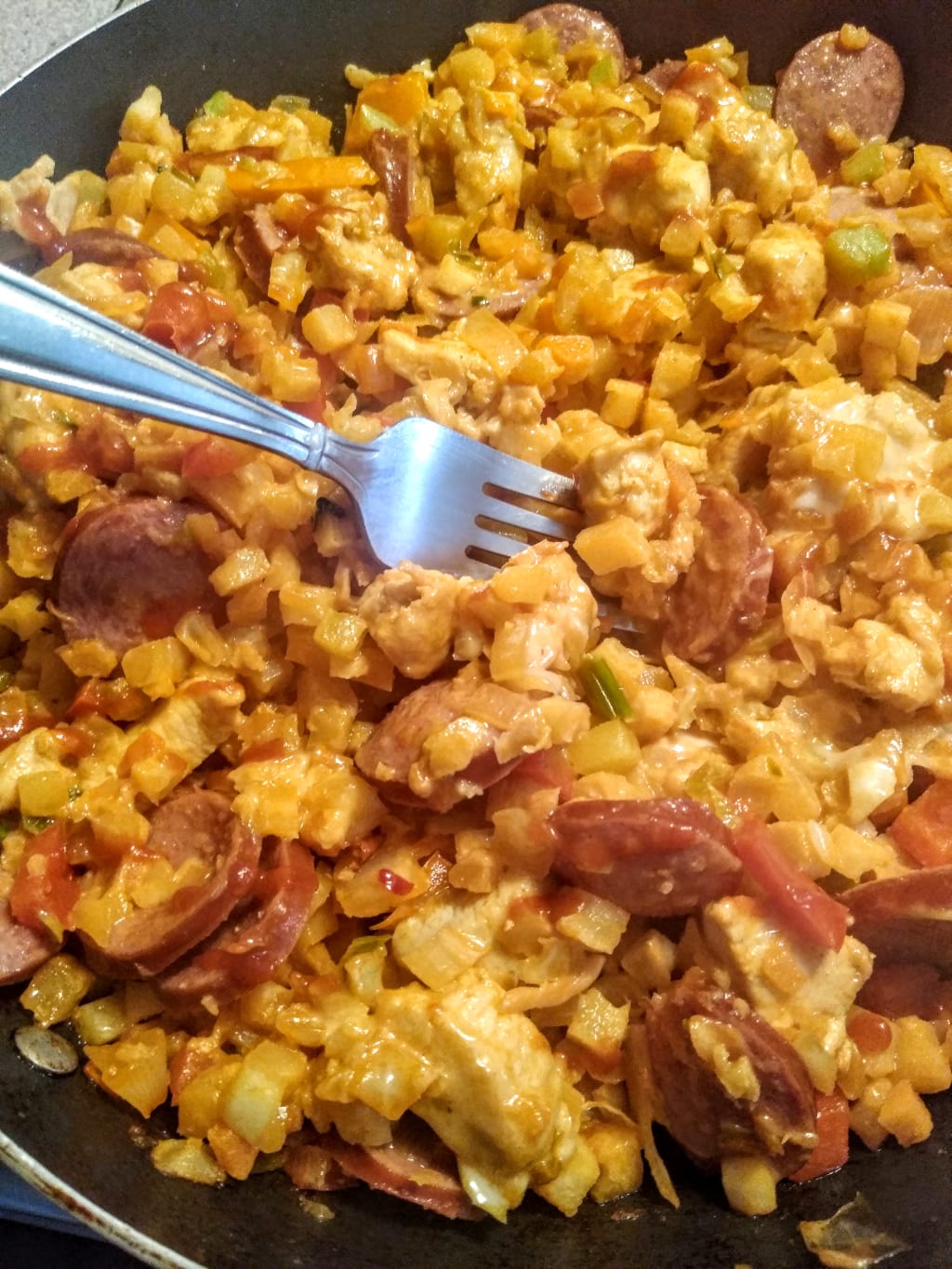 Can you smell it? I can smell it.
Now, i already gave a recipe for my Chicken Fried "Rice", but like many, I am a BIG fan of Mexican food. It is so hard to get that great Mexican dish though without the carbs, if you're on the Keto diet or live a low carb lifestyle.
Well not anymore my lovelies.
I hear a lot of people complaining about cauliflower rice and how it does not taste good. And in my opinion, they are right. But then again, i am not a fan of plain white rice either. I like my food to have flavor. And being on the Keto diet, i was really craving some Mexican food the other day, knowing i indulge in my craving. So, after wiping away my tears, and patting my belly i decided to make my own jambalya-type dish. Using the dreaded cauliflower rice. However, my secret (ok maybe not so much a secret) is using the cauliflower hash It just seems like you get more of a mouthful to chew than you would a regular plain bag of cauliflower rice. Healthy can be yummy - just wait and see!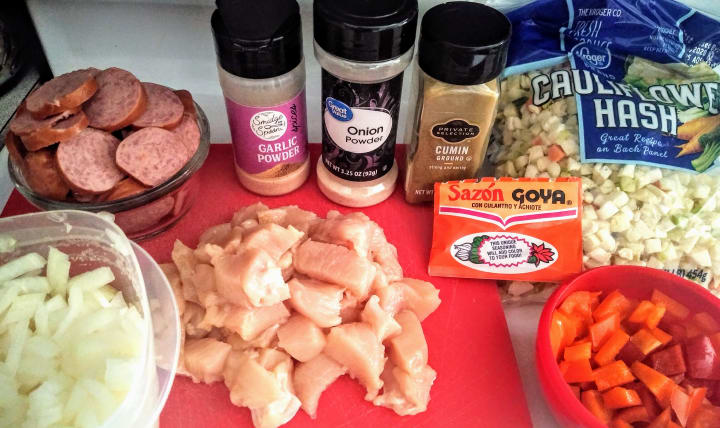 Now i know some of the Ketonians bells and whistles are probably going off. "YoU cAnT eAt BeLL pEppEr On KeTo" and to them i say - YOU dont have to. I on the other hand know that this meal I am about to make will be enough for two dinners and a lunch, and by using 3 small sweet peppers, i am in no way breaking my macro quota. So hush. Relax. Enjoy. Eat a pepper.
Ingredients:
2 chicken breast diced
1/2 andouille sausage sliced
1 bag cauliflower hash
1/2 an onion
3 small sweet peppers
1 packet of sazon goya
cumin
onion powder
garlic powder
(salt and pepper if needed)
(Optional: Your choice of cheese)
Directions:
I began by adding my andouille sausage to the pan first. Its quite a fatty sausage, so it will give out a good amount of oil that you can then add your chicken to. If you feel like there is not enough oil, go ahead and add your own. Season the chicken and sausage with onion powder, garlic powder and cumin. I do not measure out my seasonings, i usually eyeball it, but a good rule of thumb with seasonings (that do not give off heat) is to make sure each piece has been kissed by the flavor. If that description does nothing for you, try using a small palm full each. With the cumin, i would say about 4-5 shakes over the pan.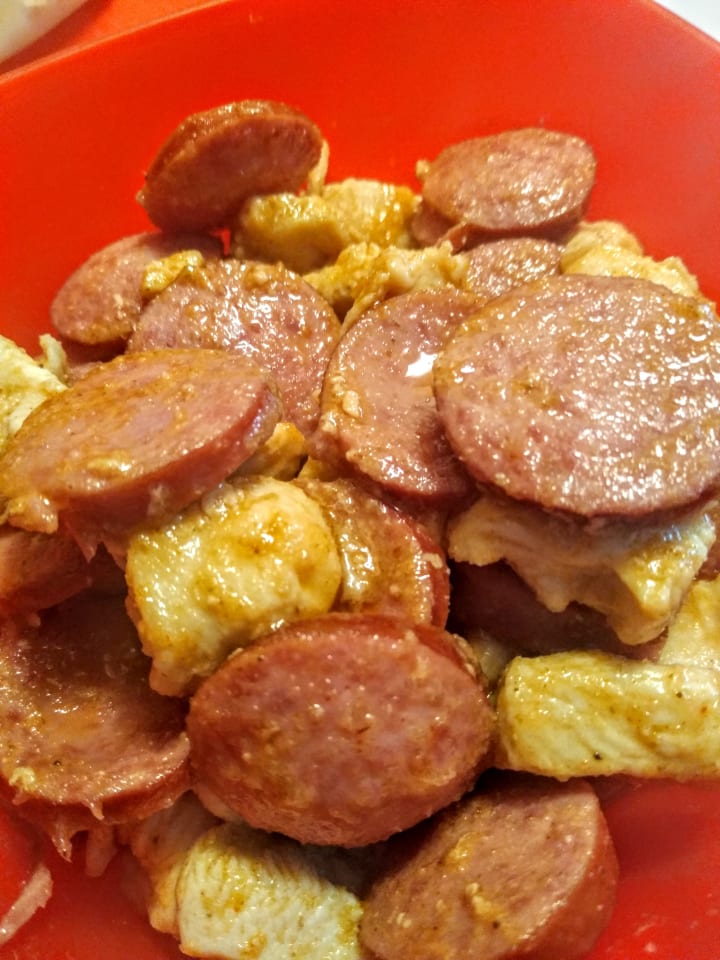 Remove the chicken and the sausage from the pan when the chicken is cooked and they have a nice coating of their own flavors and juices on them like the picture above. Try picking up the meat to remove, instead of pouring out the pan to remove. We want to keep our oil and juices.
Next, in the same pan once the protein is removed, go ahead and add your peppers and onions. Can you smell it yet? Aw yea.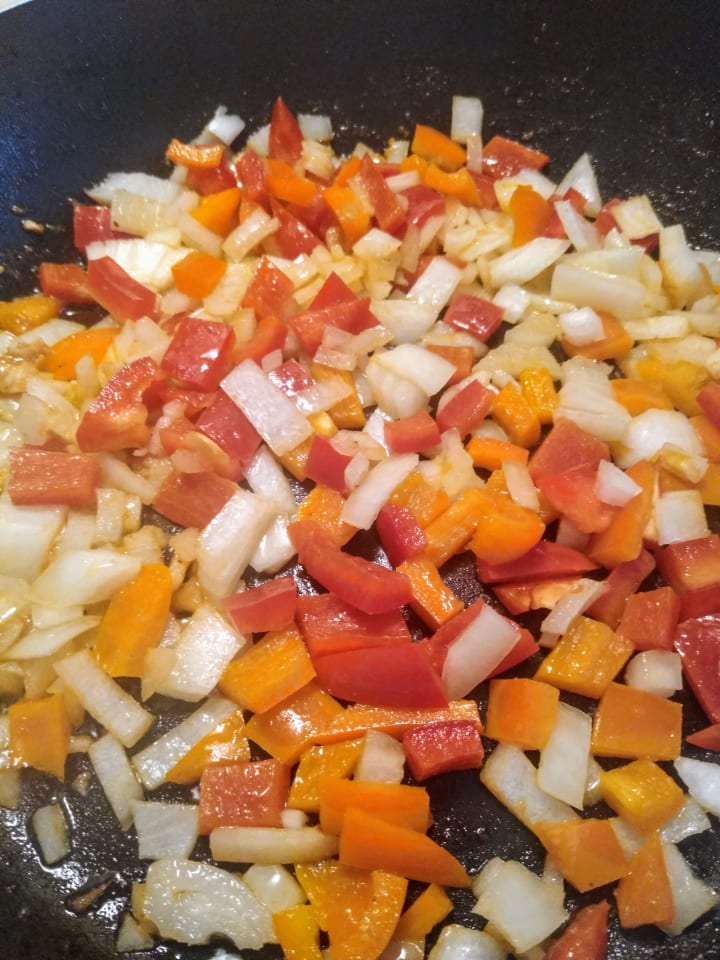 There is hardly a smell i enjoy more than the smell of frying onions. Go ahead and let these soften up in the pan just a tad and then add your cauliflower rice/hash. Mix it up well together, so they all get a taste of that seasoned oil.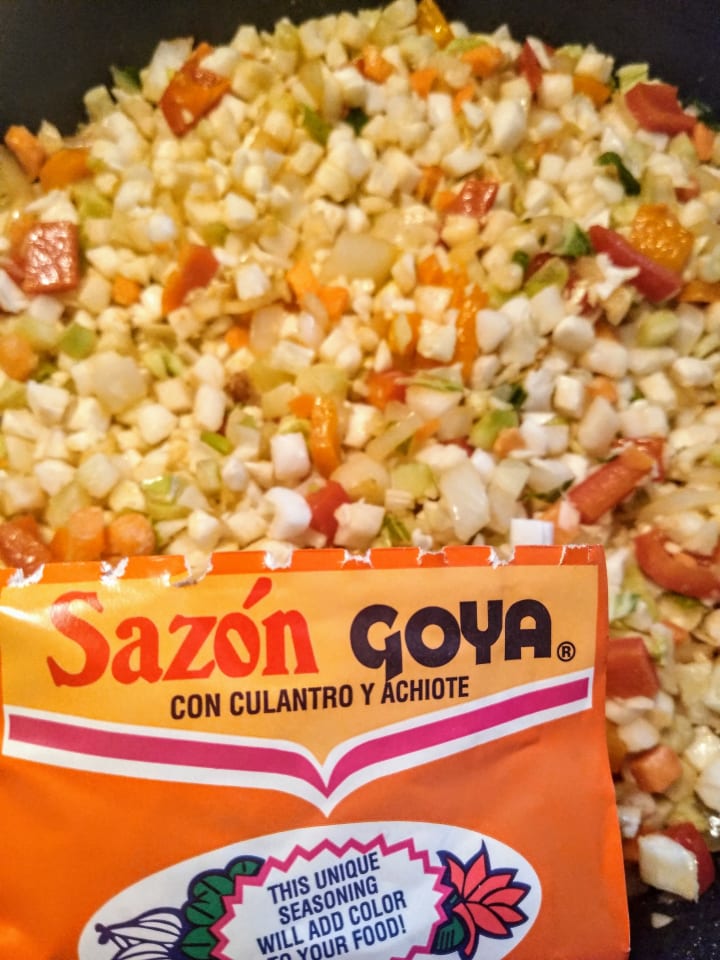 We're then going to add our packet of Sazon Goya. If you've never seen this before, it truly is the most amazing thing in the world. You can find it in stores like Walmart and Kroger in the Spanish aisle or section. It comes in a box with many packets and it will CHANGE YOUR LIFE FOREVER add a lot of flavor to various dishes. Sprinkle it over your ingredients in the pan like the spicy little Tinkerbell you are. Also, at this time, re-up with your garlic and onion powder and a dash of cumin. Cauliflower is an empty canvas when it comes to flavor and we are building our masterpiece.
Now, i added some water. Not a whole lot, but like half a cup, to 2/3 cup. (Again, i dont measure, i just eyeball things.) The reason for this is because i wanted my Goya all over my meal. I can mix it and really help spread it everywhere this way. Secondly, that cauliflower is still gonna be a little tough. So now we put the lid on the pan and let the flavors get to know each other.
Now its time to take it up a notch. When your veggies are softened, go ahead and add your chicken and sausage back in the pan, along with the juices it collected in the meantime. Then, take your favorite cheese, in this case i chose Pepperjack because i love the spice of it! Place it on top of the rice and let it soften and melt.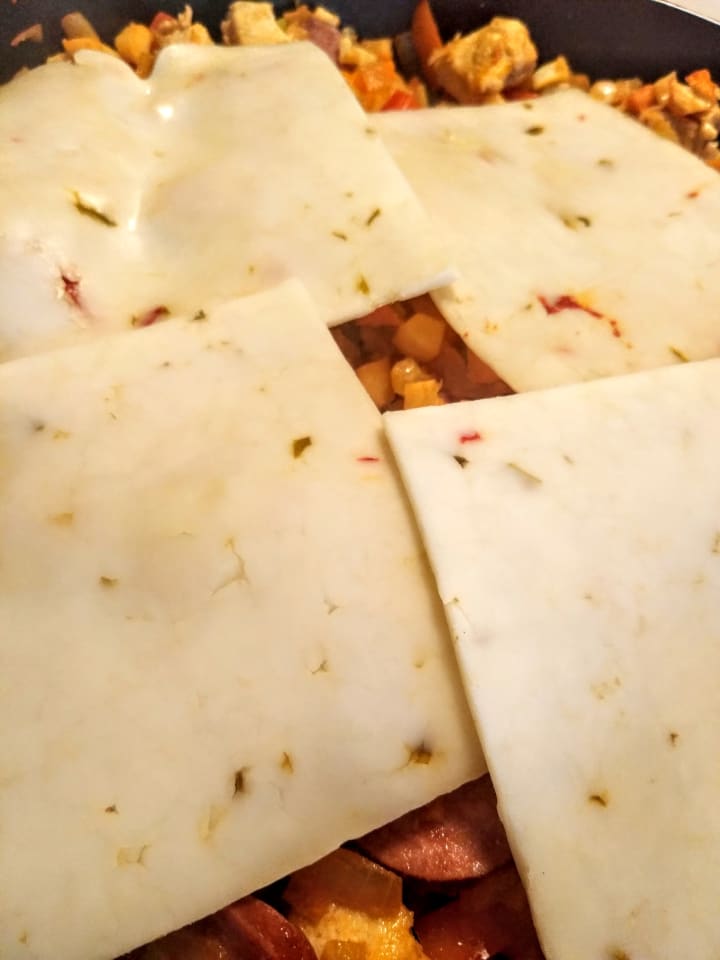 Once that starts to soften, mix it all up well together.
And there you have it - delicious, seasoned, flavorful jambalaya with cauliflower! It tastes amazing!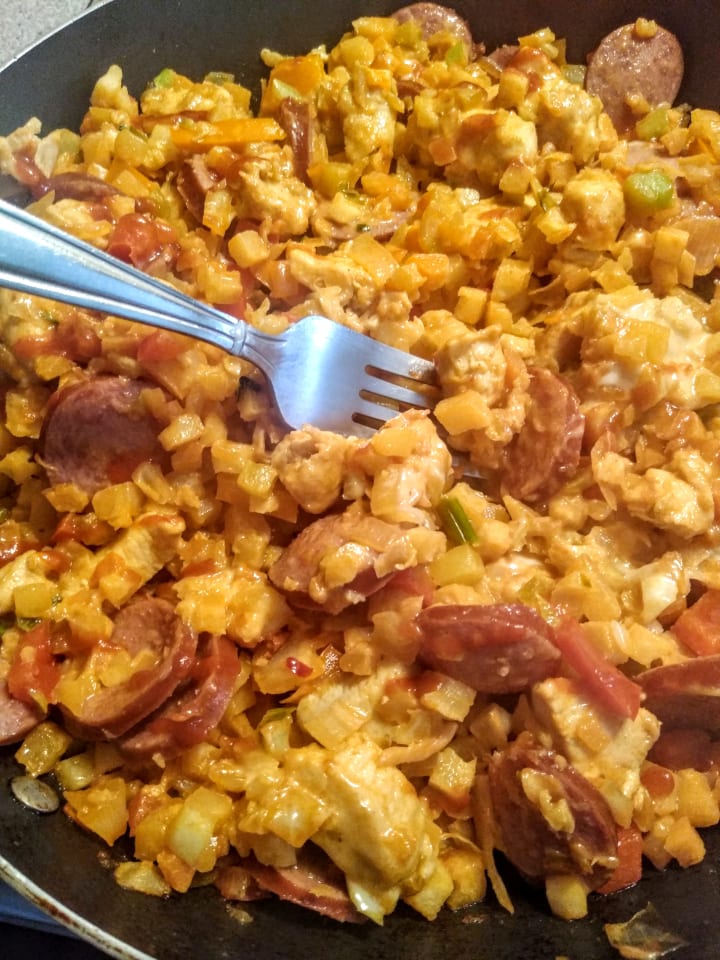 ---Footnote:
Hey guys, yea, i'm still here. I just wanted to say, if youre a really big fan of cheese, and enjoy cheesy spicy rice, go ahead and add Valveeta block cheese, to that cheesy chicken enchilada consistency and simply omit the sausage and put it in a low carb tortilla!
Also, to kick up the spice notch a little, i added sriracha to my whole pan. You could do that too, also add in jalapenos if it suits your fancy!