Items to Organize Your Kitchen Properly
From measuring cups to pots and pans, these are the best items to organize your kitchen for maximum efficiency.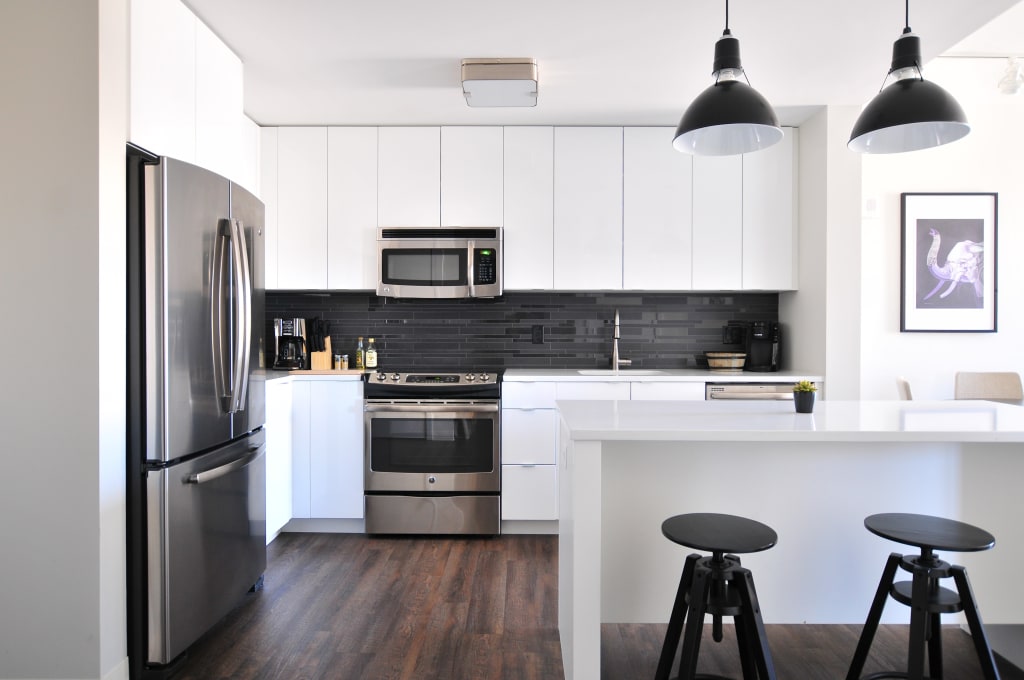 For many families, the kitchen is the soul of the household. The preparing and eating of meals is a worldwide ritual of unity for families of any size. With so much happening in one room, it's important for a kitchen to be well-organized with as little clutter as possible. This is especially true for homes with a small kitchen, as storage space and counter space become even more precious. Whether you're renovating your home kitchen, moving into a new apartment, or just hoping to make your small kitchen a little more efficient, these are the best items to organize your kitchen.
These shatterproof acrylic canisters are the ideal form of dry food storage for your kitchen. You won't need to worry about labels or trying to determine how much of an ingredient you have in stock, as the perfectly clear material allows you to see what's inside whenever you need to. These canisters come in four sizes, and as an added bonus, each canister is fitted with an acrylic spoon. They're just one of those items that every kitchen required to feel complete, ya know?
These stackable utility storage bins are an efficient and economical way to keep your kitchen organized. Use them to store items such as pots and pans or use them to store food like potatoes and other dry goods. These versatile bins can also be used anywhere else in your home or office.
If you have a small kitchen, maximizing the space you have is the name of the game. This expandable shelf can sit on your counter to maximize your counter space, or it can be used as an extra shelf in your cabinet or pantry to maximize your cabinet space.
Finding a suitable utensil holder may seem like a trivial task, but I can say from experience that it is more difficult than it looks. A good utensil holder has to be big and heavy enough to be able to store items like metal spatulas and tongs without tipping over. This utensil holder by Oggi has a weighted base to resist tipping and sleek satin finish to look attractive in your kitchen.
If you're a more old-fashioned sort, you may prefer to stick with glass when it comes to your food storage containers. The simple, classic design of these stackable containers allows you to make good use of the space inside of your cabinet. The durable glass construction ensures you will be able to use these items to organize your kitchen for many years to come.
Pots and pans are some of the most difficult items to keep organized in your kitchen. They always seem to awkward and unwieldy to keep inside of your cabinet, but worry no longer! These sturdy pot racks by SimpleHouseware allow you to keep your pots and pans organized and easily accessible in your kitchen.
This collapsible canvas storage basket is one of the most attractive ways to keep your kitchen organized. Available in a wide variety of sizes and designs, these bags can suit any kitchen or home decor. They are also perfect to collapse and store inside of your cabinet until you need them, allowing you to make an economic use of the storage space in your kitchen. It also makes for a great gift for a dad who loves to cook.
The kitchen sink, despite its important role in the kitchen, is one of the most overlooked appliances. If you want to keep your sink organized to handle dishwashing and other tasks with efficiency, you need to get your hands on a sink caddy like this one from Joseph Joseph. The simple but practical design provides storage for soap, a brush, and a sponge, as well as a rail for damp washcloths.
While you can use these items to organize your kitchen, these containers are specifically designed to be taken with you when you head to work or school every day. Whether you keep your lunch or a variety of snacks in them, these durable meal prep containers allow you to portion out the amount of food you take to eat, perfect if you're trying to watch your diet.
A bread bin may seem like a superfluous purchase, but just wait until you accidentally drop one of your heaviest metal pots and pans on top of a fresh, exposed loaf of bread. Not only does this metal bread bin keep your loaves safe from being crushed, it also helps extend the fresh life of your bread. If you have the counter space to accommodate it, Bloomingville's metal bread bin is also an attractive addition to your kitchen's decor.
A well-stocked kitchen may contain several dedicated cutting boards, such as a dedicated board for raw poultry and a high quality wood board for general purposes. The bulky nature of some cutting boards, however, makes them a storage space nightmare when you're trying to keep your kitchen organized. This cutting board organizer makes clever and efficient use of your space by hanging over your cabinet doors.
If you care about the aesthetic of your kitchen (and you should), then you should never pass up a chance to make something commonplace look extraordinary. This paper towel holder by Bloomingville is a perfect example of just that. The sleek, attractive wood design is functional while providing a subtle modern flair to your kitchen.
A big bowl of fruit on the counter is perhaps the most iconic kitchen image there is. Besides being picturesque, it's also highly practical. This attractive wire bowl from MENU can be used to store just about anything in an easily accessible and visually appealing manner. If you're not a fruit person, fill it with bags of chips or pasta or anything else that would be convenient to have on hand.
Besides the pots themselves, pot lids are the most difficult items to organize in your kitchen. They are unusually shaped and not conducive to stacking. SimpleHouseware's pot lid organizer rack solves this problems with a simple and elegant chrome design. Mount these on your cabinet door or find some wall space (or both—it's a two pack).
The magnetic knife holder is the best way to keep your knives in good condition. A traditional wooden knife block can easily become damp or infested with germs if you do not take perfect care of your cutlery. Storing your knives in a drawer is even worse, as the blades can become dull, chipped, or warped. The Green Kitchen magnetic knife holder allows you to keep your knives dry, sharp, and at the ready whenever you need to chop, slice, or dice.
Magnetic spice jars provide an interesting alternative to the traditional spice rack. By transferring your spices into proprietary magnetic jars, you can simply stick them to your refrigerator, saving space elsewhere in your kitchen. If you run out of room on your fridge, however, or if it is not in a convenient place to keep your spices, consider this wall plate by Gneiss Spice. It allows you to apply your magnetic spice containers (not included) to your wall or wherever else you decide to install the plate. Once all those spices are on the base, it'll be one of the most colorful kitchen products in your home.
Spices can take up a surprising amount of cabinet space. If you find yourself amassing a variety of spice containers, it will be well worth the investment for you to pick up a wall-mounted spice rack like this 4 tier option from VonShef. Mount it directly on the wall of your kitchen or behind the door of your cupboard if you can't spare the wall space. Anywhere you put it, this spice rack provides easy access to up to 32 spice jars.
If you're looking for an economical way to store a wide variety of dry goods, then look no further. This six piece set provides two large, two medium, and two small storage containers made of a high quality food-grade plastic and sealed with upgraded silicone aprons. These no-frills containers are highly durable and air-tight, perfect for keeping your cereal and other dry goods fresh.
If you're looking for items to organize your kitchen, or you find you simply need more storage space, then this stackable, two-tiered basket organizer is for you. These chrome-plated drawers require no additional mounting or drilling, making setup as simple as assembling the unit. Small enough to fit under your sink or inside of your cabinet, this organizer nonetheless can hold a surprisingly large amount of items.
product review