Ice Cream Pani Puri Is The Latest Bizarre Food, Dare To Try It?
Ice Cream Pani Puri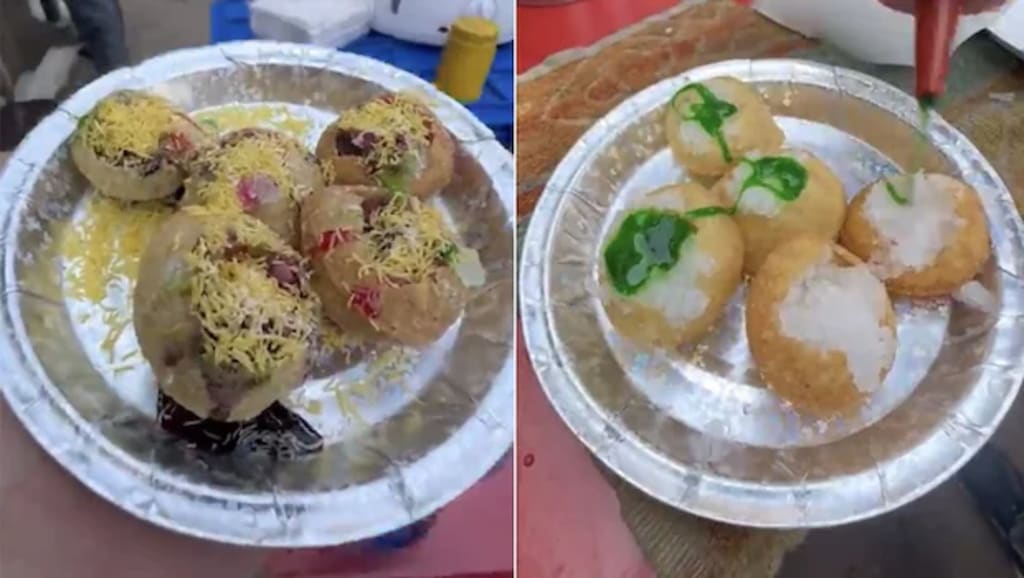 A street food vendor stuffing the puris with vanilla ice cream.
About Ice cream Pani Puri
Ice cream Pani Puri is a popular Indian snack that has been around since the early 1990s. It is a combination of two traditional Indian snacks, Pani Puri and ice cream. The dish is usually served as a street food snack, but it can also be found at some restaurants.
The dish was first invented by a street vendor in the city of Mumbai. He saw that customers loved Pani Puri, a deep-fried dough ball filled with a mixture of potatoes, onions, and spices, and thought to combine it with ice cream. He created a new snack which he called "Ice cream Pani Puri."
The popularity of the dish quickly spread throughout India. It became a favorite snack for many people, especially during the hot summer months. It was also a popular snack for children and teenagers.
The dish is now served in many restaurants and street food stalls throughout India. It is commonly served with a variety of toppings, such as chopped fruit, nuts, and syrups. Some restaurants also offer variations of the dish, such as adding different flavors of ice cream or using different types of dough.
Ice cream Pani Puri is a tasty and refreshing snack that is loved by many people in India. It is a great way to cool off during the summer months, and it is also a great snack to enjoy with friends and family.
Highlights
Pani puri has fans all across the country.
But have you ever heard of ice cream pani puri?
This bizarre food combination has left the internet disgusted.
Pani puri is one of the most loved street-style snacks in India. Apart from being versatile, affordable and easily accessible, this quintessential street snack has the perfect combination of sweet, spicy and tangy flavours. Pani puri has a delectable taste and we wouldn't want to give up on it, right? But, mind you, we are living in the world of bizarre food trends.

These weird fusion recipes leave us speechless every time. One such video showcasing the preparation of ice cream pani puri, is grabbing eyeballs online. Yes, you heard it right! The video starts with a street food vendor stuffing the puris with vanilla ice cream.

Then, he follows it up with a variety of red and green sweet syrups. Well, it doesn't end here. You will not believe it, he garnishes the food item with some savoury sev on top. Sounds strange, right? Yes, this may be the craziest thing you'll see today.
Bizarre Version Of Chhole Chawal Served At Wedding Goes Viral
Wait, there is more. The street food vendor goes on to show another dish where he fills the puris with shaved ice. Further, he tops it up with a variety of syrups in different hues including the kala khatta one.
People were not able to digest this bizarre combination and expressed their disgust in the comments section. Check out some of the reactions below:
A person wrote, "No no no meri pani puri ki wat laga di (Somebody just spoiled the essence of pani puri)".
A frustrated person added, "Add Amul butter, mayonnaise, black salt & ajinomoto also."
"Yeh sev nahi amrit hai, kisi me dal do, great research, Nobel prize milna chahiye (No, this is not sev. It's some sacred thing that can make you immortal. So, you must use it in everything you eat. Great research. One should get the Nobel prize for creating this)."
A user added, "Isme "Cheese" bhi daal deta! aur Chole ki sabzi bhi! (You could have added some cheese and chole as well into this dish)."
Do let us know what are your thoughts on this unusual food combo.
Reader insights
Be the first to share your insights about this piece.
Add your insights