I'm Loving It: Testing Out Freshly Ground Cinnamon
Have you ever ground your own cinnamon at home? If you're a cinnamon lover, you should definitely give it a try.
Cinnamon sticks, reading for grinding - Photo by JoAnn Ryan
I love the smell of cinnamon in the morning, and any other time really... love cinnamon rolls, cinnamon cookies, cinnamon roasted almonds and I absolutely love cinnamon pancakes.
When I was growing up, I used to thoroughly enjoy making homemade cinnamon rolls with my mother. The smell of the powdery spice was rather intoxicating.
I'd never tried grinding my own at home before though and wanted to give it a go. Fresh is always better, right?
Let me tell you, if you're a cinnamon lover, the freshly ground stuff is out of this world. In Trinidad and Tobago, where I've been living as an ex-pat for over a year now, there's plenty of homegrown cinnamon to be found as well as cinnamon from Grenada, a neighboring island, which is somewhat infamous throughout the Caribbean for its exceptional flavor.
I've sampled both and both are quite delicious!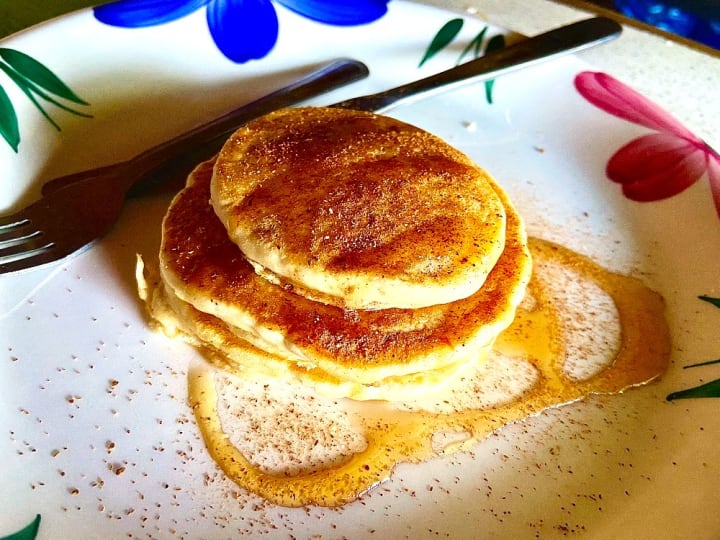 But, how to grind the cinnamon at home?
Even though hubby often gets a bit frustrated with all of my various little experiments like this, I insisted on trying to grind the cinnamon at home.
"Why grind it when you can just buy it already ground?" He says.
He doesn't get it. Do you?
Anyhow, at first, I tried grating it manually with a fine steel grater. It worked but it was A LOT of work.
In the past I've always had a food processor, but I have yet to invest in one here in Trinidad. I do have a bullet blender though, which I use to make my delicious and healthy fresh fruit smoothies. So, I decided to give it a try.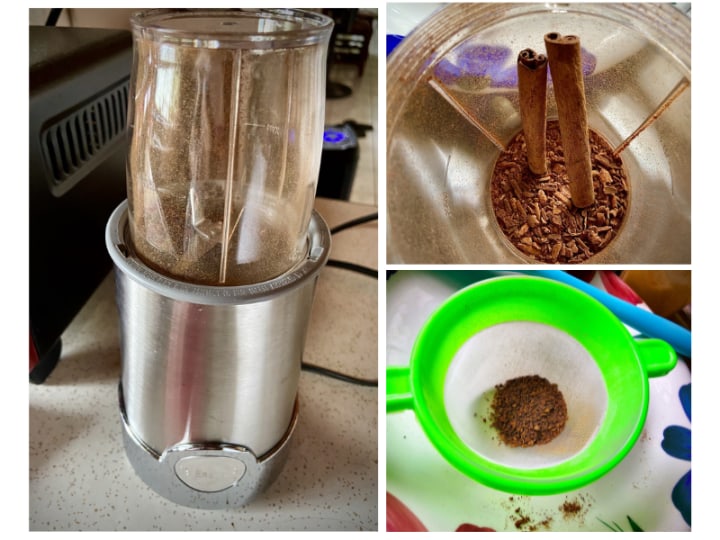 I had to pulse the cinnamon sticks many times to get them to grind. Some ground into crumbles, which I then sifted to get the powdery texture I was looking for. However, even the cinnamon that wasn't ground so fine was delicious to eat.
All in all, it was a great experiment, despite hubby's bit of negativity. I ate some with my morning pancakes, and as you can see from the above photo, it was out of this world delish!
There was a lot of fine cinnamon that clung to the grinding cup so then I made my smoothie without washing it so I would have all that wonderful cinnamon in my drink. Yum!
It was really quite lovely and delicious! However, I will hopefully invest in a food processor sometime soon. I miss having one and I think this would do the job even better.
Also, I might try using a mortar and pestle next time. I've been told this works fairly well.
Have you ever tried to grind cinnamon sticks at home? How did it turn out?
Interesting facts about cinnamon:
Cinnamon is native to South and Southeast Asia.
70% of the world's supply of cinnamon comes from Indonesia and China
In ancient culture, cinnamon was considered a food fit for monarchs and deities, but the origin was kept a trade secret for centuries.
In Ancient Egypt, cinnamon was used to embalm mummies. Cinnamon-Wikipedia.
Cinnamon is thought to help fight diabetes, lower blood sugar, lower cholesterol and help with stomach and intestinal problems like irritable bowel syndrome (IBS).
One of the most active ingredients in cinnamon is cinnamaldehyde, which is thought to give cinnamon its distinct flavor and also its health benefits. Cinnamon-WebMD.
According to WebMD though, "Consuming normal amounts of cinnamon isn't likely to have a big impact on your health. It's not a good idea to eat a lot of it either" as it can have toxic properties in large amounts and for certain people.
Well, it makes me happy eating it and that's certainly the best benefit of all!
More tips when it comes to grinding cinnamon at home:
"How To Grind Cinnamon? 7 Best Ways That Worked" - Lem Grinders
"How To Grind Cinnamon Sticks? 3 Best Ways That Worked"- Oh She Cooks
"Should You Grind Your Own Cinnamon? Find Out"- Grindily
Happy eating!
About the Creator
Writer, photographer and all-around decent person. I write about travel, photography, the business of writing and a few other things. Also check me out on Medium @JoAnnRyan.
Reader insights
Be the first to share your insights about this piece.
Add your insights