Healthy Chicken Stew
Chicken, Veggies, and Herbs. Just a Healthy Hearty Meal!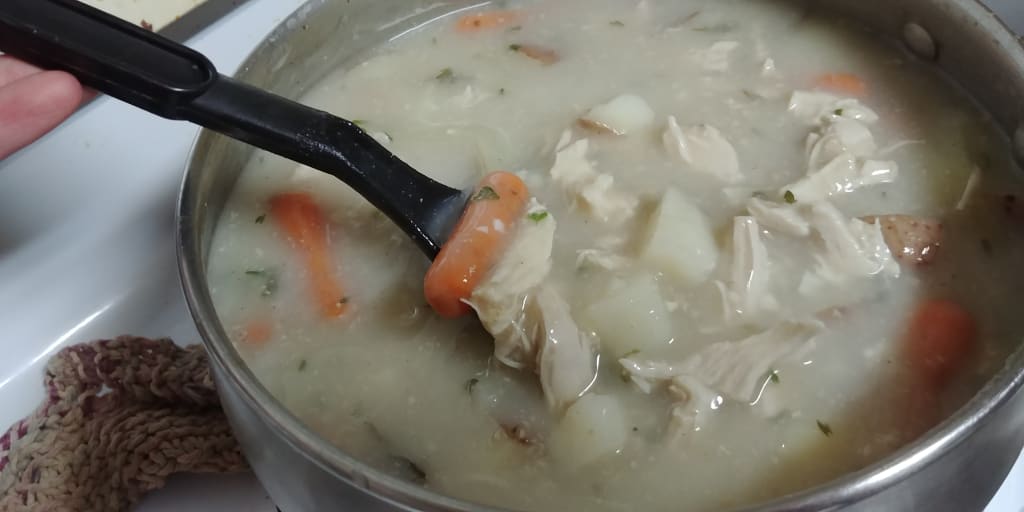 Just giving it a stir!
Just the latest in the newest concoctions I have mixed up! I really, really love cooking and baking. Today's meal consists of healthy choices! And better yet very filling too!
Boneless Skinless Chicken Breast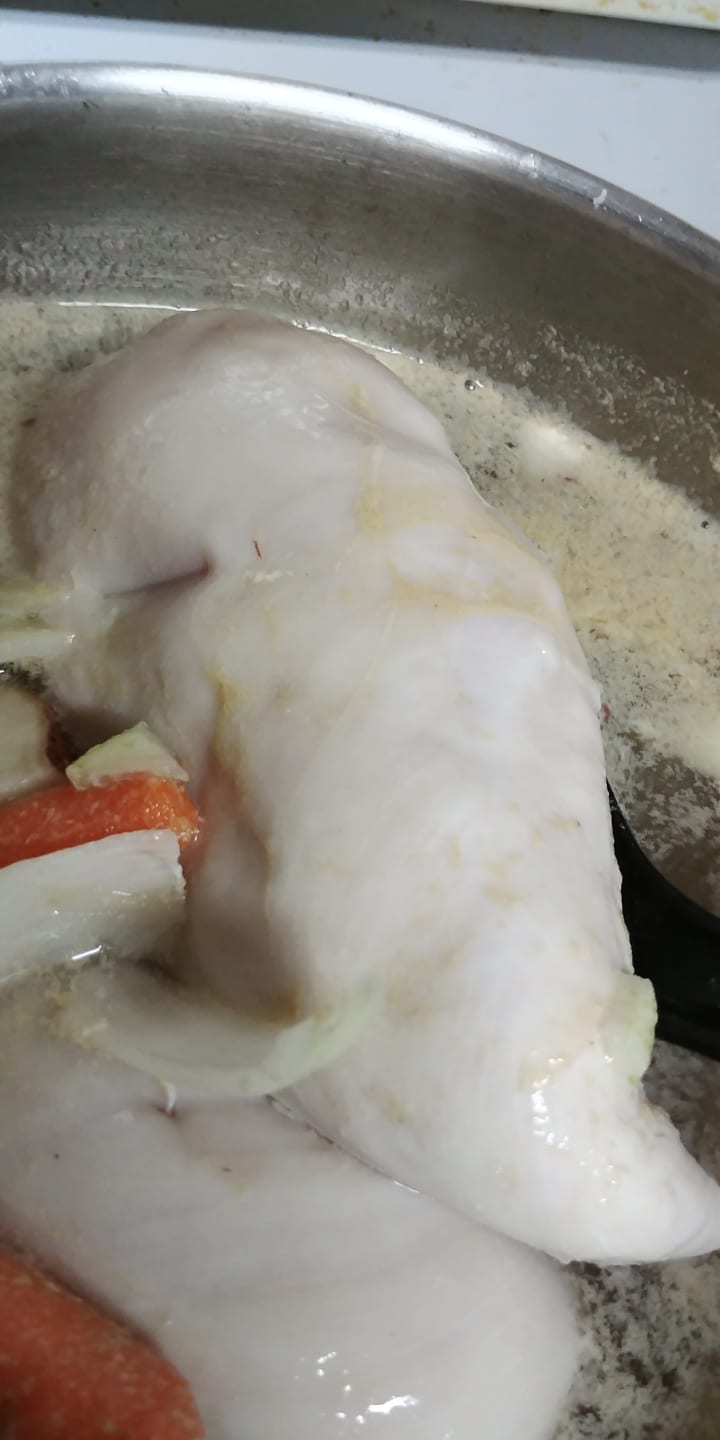 Here I have shown that I started the chicken already as I hadn't thought to make this article when I first started it.
So on to why I chose boneless skinless chicken breast: it's easier to cut apart and it thaws faster too, with no bones to get in the way.
Normally I cut the chicken up into small pieces before putting it in the pot, but I decided to cook it a bit this time as it's really easy to pull it apart when it's cooked, too.
I really recommend using a little oil, butter, or margarine so that the chicken doesn't stick while it's cooking.
Red Potatoes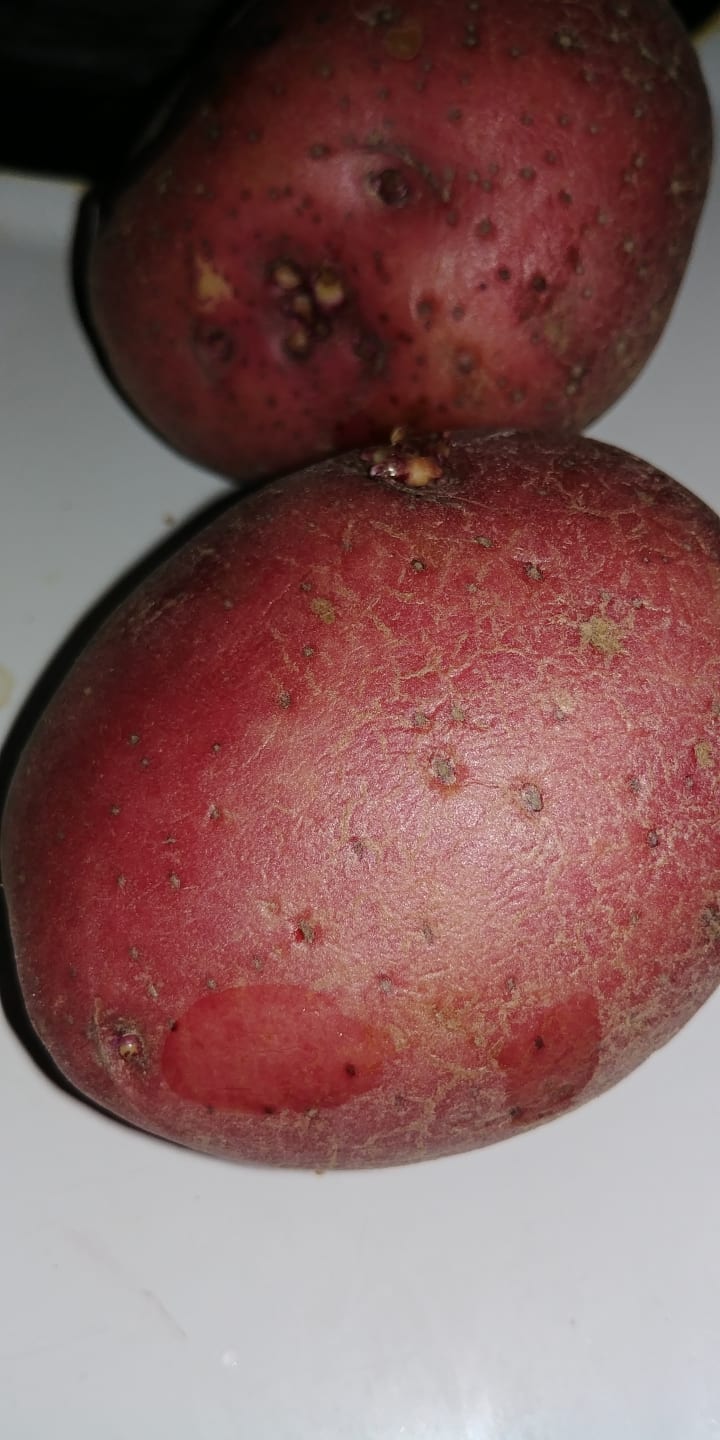 Red potatoes were my first veggie choice. These potatoes, chopped up, cook pretty quickly and are great healthy choice for any kind of stew.
Yellow Onion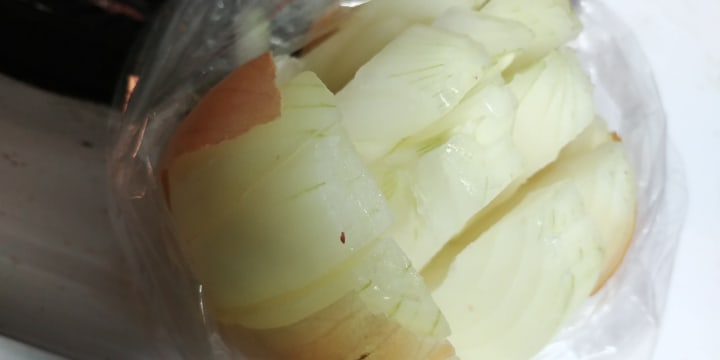 Onions of any type are another great veggie to put in stews. Its natural resources for our health are good to have, as well!
Between the Phytochemicals and Vitamin C, it helps to boost immunity. Not only that, but through history it's been known to also help in regulating blood sugar, reducing inflammation, and healing infections.
With that said, I have no problem adding it to pretty much every meal I make!
Mini Carrots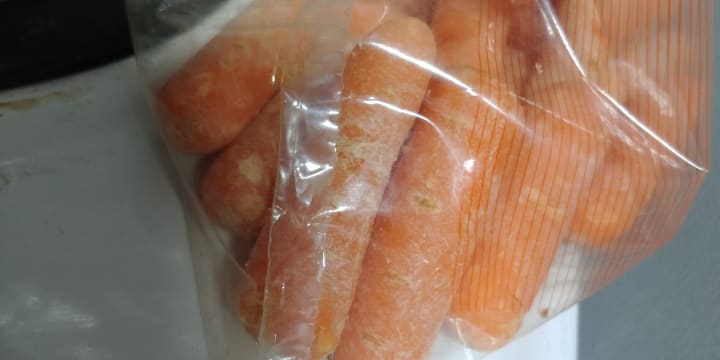 Mini carrots are what I decided on with this meal. There's no cutting or peeling — just plop them right into the pot!
Carrots are always a must in stews, I have found.
Herbs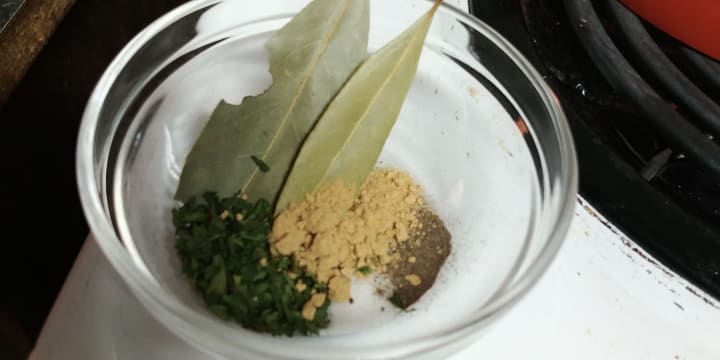 Here are majority of the herbs I chose for this fine dish!
Bay leaves: great for stews, meat sauces, burning (yes I said burning), bug repellent, are packed with nutrients like: vitamins A, C, magnesium, calcium, manganese, potassium and iron, great for immune system boosting, soothes aches from arthritis, and so much more!
Ginger: is great in so many different meals! It has amazing healthy features too like: powerful medicinal properties, helps nausea, morning sickness, reduces muscle pain and soreness, plus lots more.
Parsley: great even on garlic toast, to stews, meat sauces, and soups. It is known to help relieve bloating, improve digestion, and has antibacterial and antifungal properties.
Then there's salt and pepper. Despite its healthy properties, it's always used more just for taste.
Cooked Chicken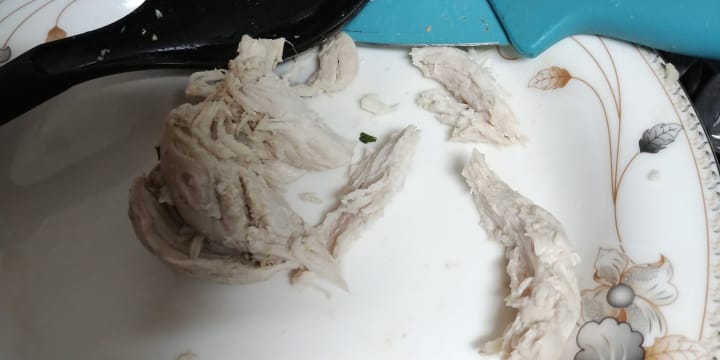 I almost always prefer cooking the chicken first before taking two forks and pulling the meat apart on a plate.
Anyways, let's get on to the recipe already, right?! :)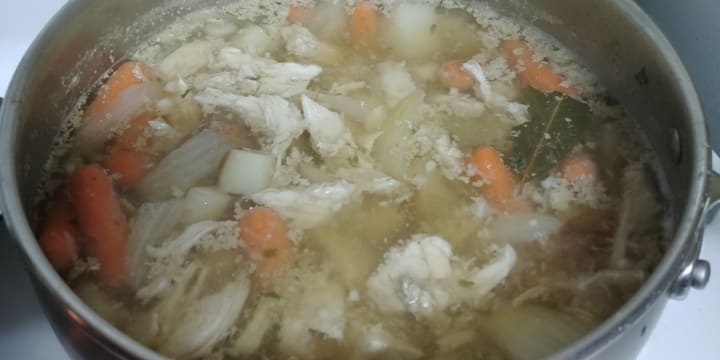 Ingredients Needed:
2 boneless skinless chicken breasts
8-10 cups of water
4 Red Potatoes (cut up)
2 Carrots (cut up) or 12 mini carrots
1/2 Onion (sliced)
Other veggies optional
1 Tbsp oil/margarine or butter
1 can chicken broth
1 Tbsp Parlsey
1 clove Garlic (chopped fine)
2 Bay Leaves
1 Tbsp Ginger
2 Tsp Salt and Pepper
Thickening ingredients:
1 small jar
3/4 cup of flour
Fill the rest of the jar with water.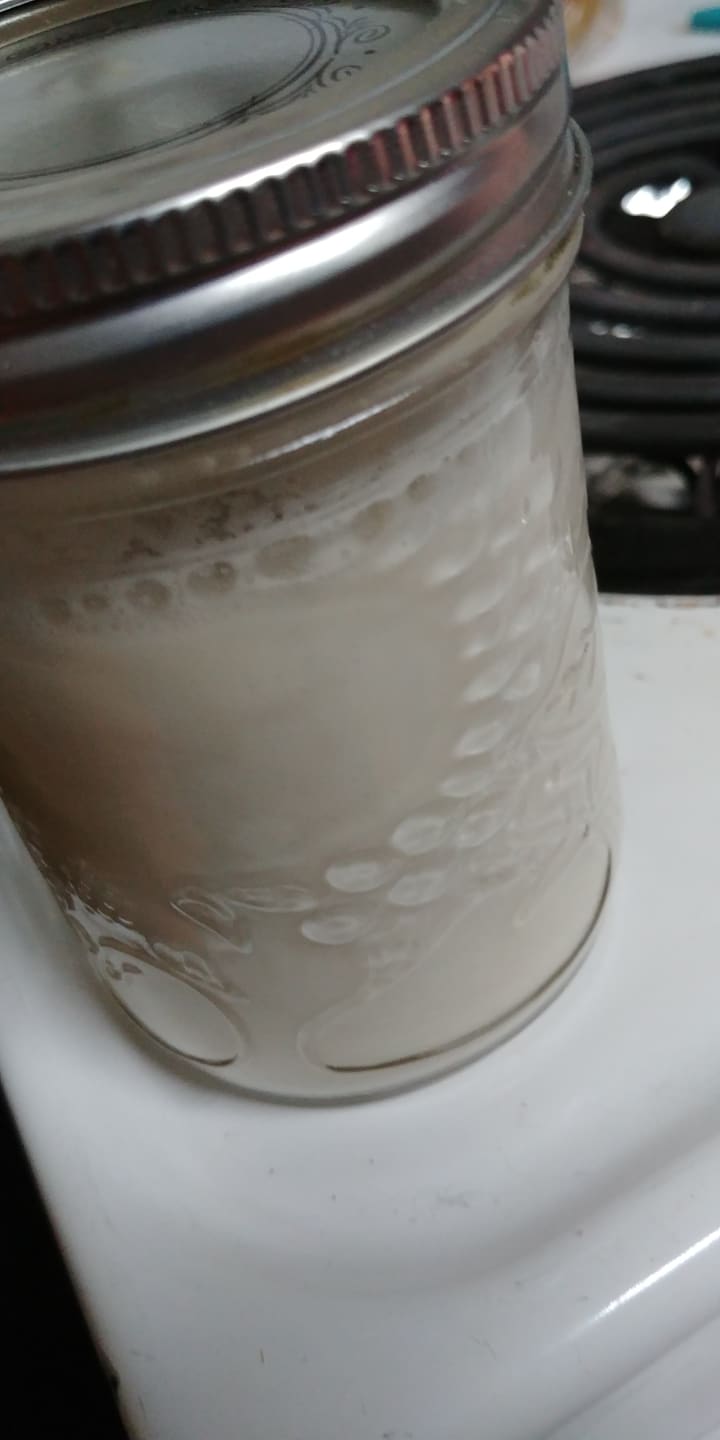 Cooking Directions:
Pick a large pot, and add 2 cups of water and the can of chicken broth. (Optional choice but I find it helps to make the chicken not stick by adding some oil or butter or margarine as the mix warms up.) Add the pre cut chicken or the whole breasts.
Add another cup or 2 cups of water before adding in the cut up potatoes, carrots, and onion.
Do not add all the water before the ingredients as it may cause water overflow.
Add all spices and stir well! Cover and cook on low to medium heat, and stir every five or so minutes as to not have anything stick to the bottom.
Cook times vary on stoves.
Once the meat is cooked and potatoes are soft, then it's time to take and keep the lid off.
Now it's time to take the jar and mix the flour and water. Now this is an old school technique to thicken up stews or gravies and I honestly love it this way!
As soon as there aren't any flour clumps, add it to the pot and mix it in well. Depending on how liquidy it is determines how much flour mix is needed to thicken it up.
Put on low heat and let cook another five to ten more minutes.
This definitely makes plenty for one person! And it tastes so good I wanted to throw my spoon and eat it with my face!
The End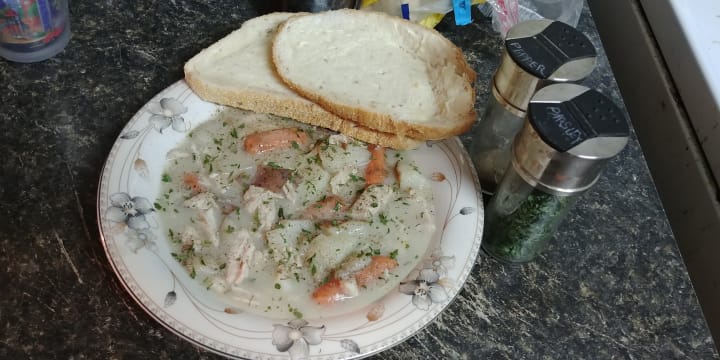 recipe
About the author
I am an artistic, unique, funny, tattoed Mom. I love to cook or bake. I have an autisitc lil girl who I love dearly! I love animals, we have 3 cats as well.
Reader insights
Be the first to share your insights about this piece.
Add your insights