Have Some Chicken Delight
Some of the top-rated chicken dishes around the world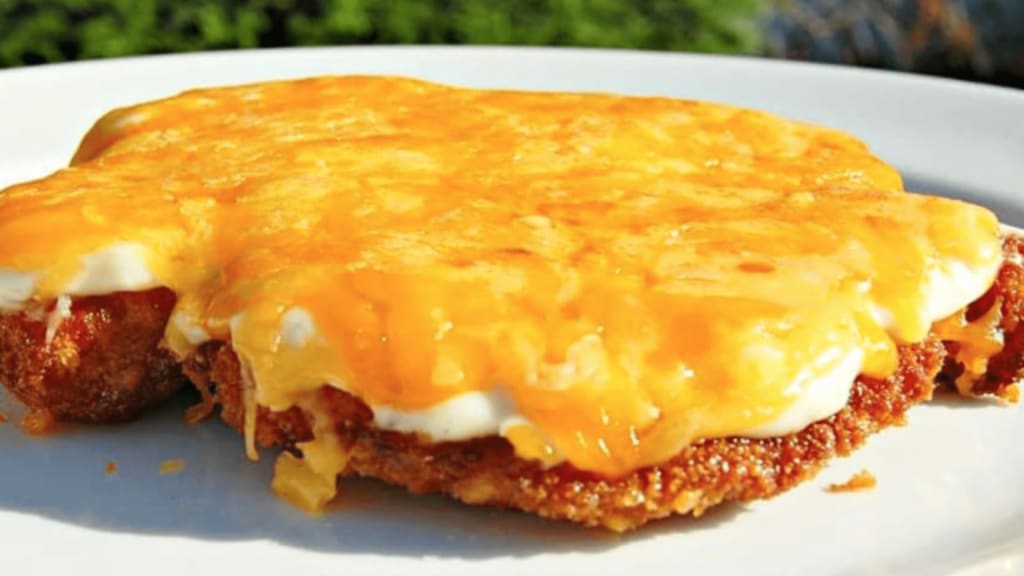 Europe
England
Parmo is a popular British dish that is made with deep-fried chicken cutlets. The cutlets are covered with breadcrumbs and fried. Then they are topped with a creamy sauce and ingredients like cheese, bacon, or pepperoni. The dish is served with chips and salad on the side.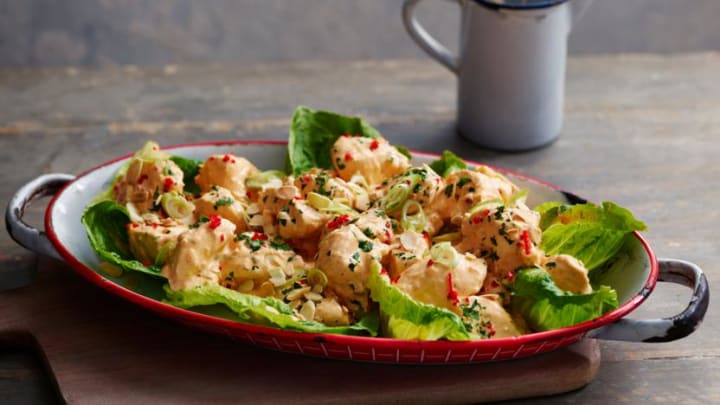 Coronation chicken is a dish that originated in England but was influenced by Indian cuisine. Cooked chicken is cut into pieces and combined with mayonnaise, tomato paste, curry powder, onions, chicken stock, lemon juice, yogurt, dried apricots, and oil. Then cooked or stir-fried. The dish should be refrigerated for at least one hour before serving. It is eaten as a salad or as a sandwich.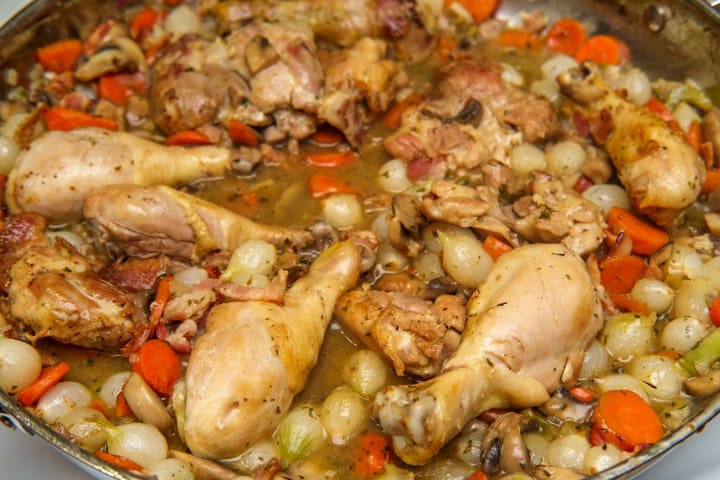 France
Many people will recognize the classic French dish coq au vin. There is also an Alsatian version called coq au Riesling. This dish is prepared with chicken, mushrooms, onions, lardon (small strip or cube of fatty bacon), and dry Riesling wine which comes from Alsace. It is braised in a pot until the chicken is tender. The dish can be served over egg noodles, white rice, or eaten with boiled potatoes.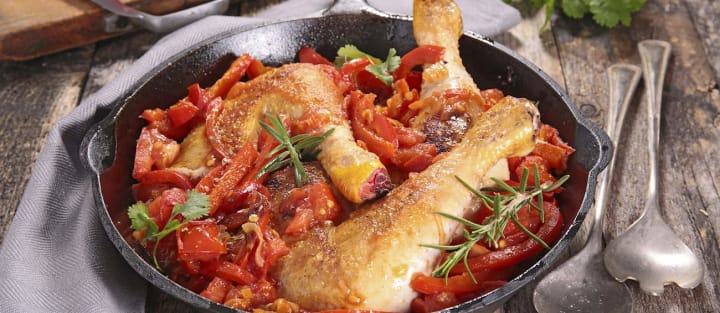 Poulet Basquaise is among the most popular French stews. The dish uses chicken legs or thighs spiced with Espelette pepper, an authentic French pepper variety. The stew is flavored with Bayonne ham, a salty air-dried ham for a smoky flavor. The chicken pieces are browned in a pan and removed. Sliced onions and garlic are cooked quickly and white wine is added to deglaze the pan. Then strips of red bell pepper, diced tomatoes, paprika, thyme, salt, and pepper are added and the chicken is put back into the pan. The stew is simmered until the chicken is tender.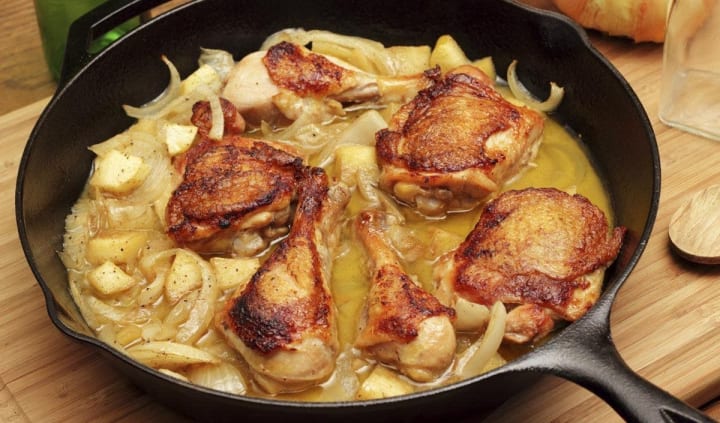 Poulet au cidre is a traditional dish that originated in the Brittany region. It is made with chicken breasts, onions, apples, butter, cream, nutmeg, and hard cider. The onions and apples are sautéed in butter and the chicken is browned and combined with cider. All the ingredients are simmered until the cider is reduced. Then the cream is added so the sauce thickens and the dish is flavored with nutmeg, salt, and pepper. The chicken is served covered in apple and onion sauce.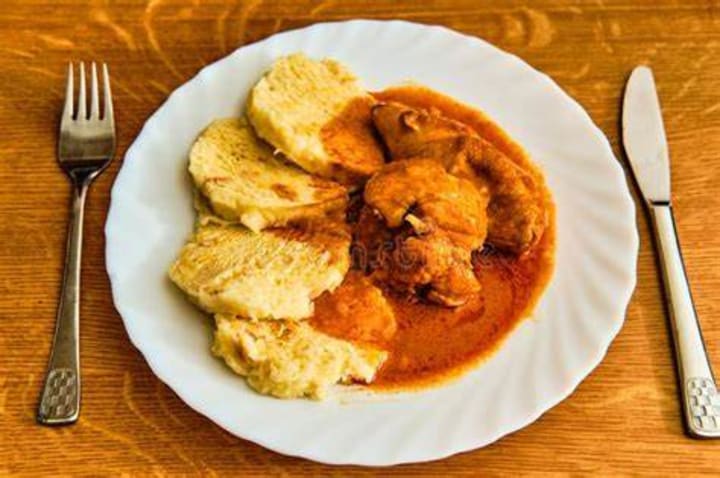 Czech Republic
Chicken paprikash is a popular Hungarian dish. The Czech version of this dish is kure na paprice. It consists of braised chicken pieces in a creamy sauce spiced with Hungarian sweet pepper. There are varieties that include tomatoes or heavy cream. The dish is served with boiled rice or white bread dumplings.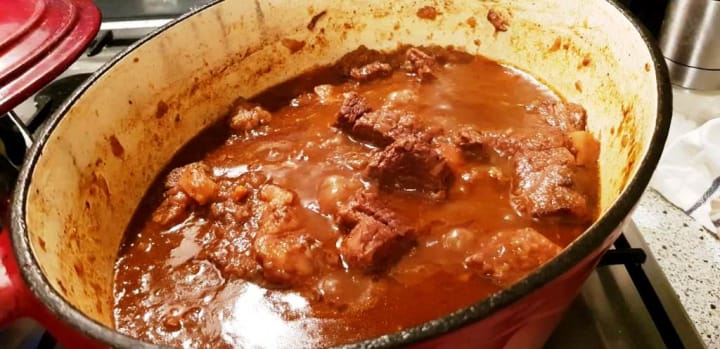 Croatia
Istrian zgvacet od kokosi is a dish prepared with chicken drumsticks and thighs. The chicken pieces are pan-seared and then simmered in a sauce with tomatoes and onions. It is flavored with rosemary or marjoram and served with potato dumplings or polenta.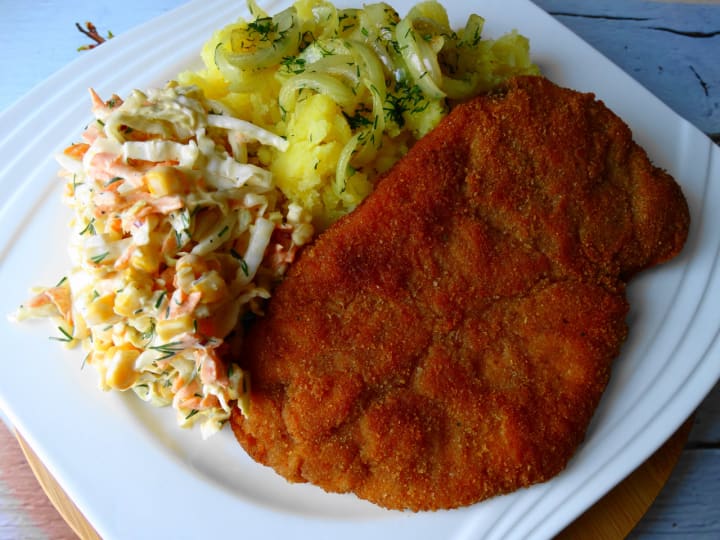 Poland
Kotlet z piersi kurczaka is made with a fried chicken breast cutlet. The cutlets are coated with flour, dipped in beaten eggs, and covered with breadcrumbs. Then are fried and eaten with potatoes, vegetables, or rice.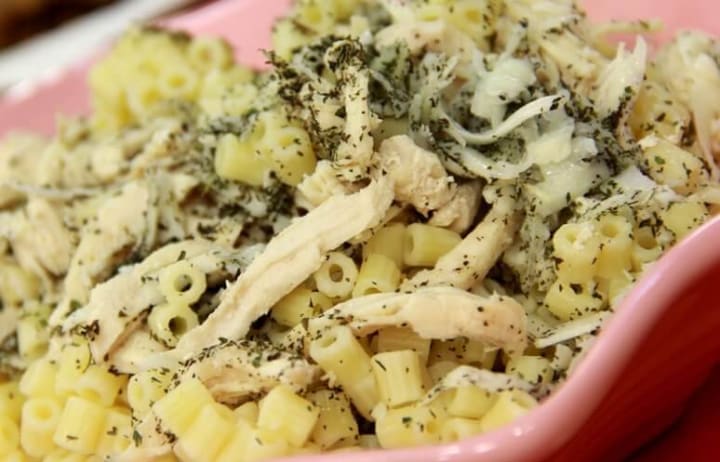 Cyprus
Magarina bulli is a traditional dish that originated in Cyprus. The dish is made with chicken, pasta like macaroni or penne, stock, salt, pepper, lemon juice, halloumi cheese, parsley, onions, garlic, olive oil, and mint. The cavity of the bird is filled with onions, garlic, and half a lemon. Then the chicken is drizzled with olive oil and seasoned with salt and pepper. After the chicken is roasted it is carved and the meat is mixed with pasta boiled in stock. The dish is sprinkled with grated halloumi cheese and garnished with mint and parsley and a squeeze of lemon juice on top.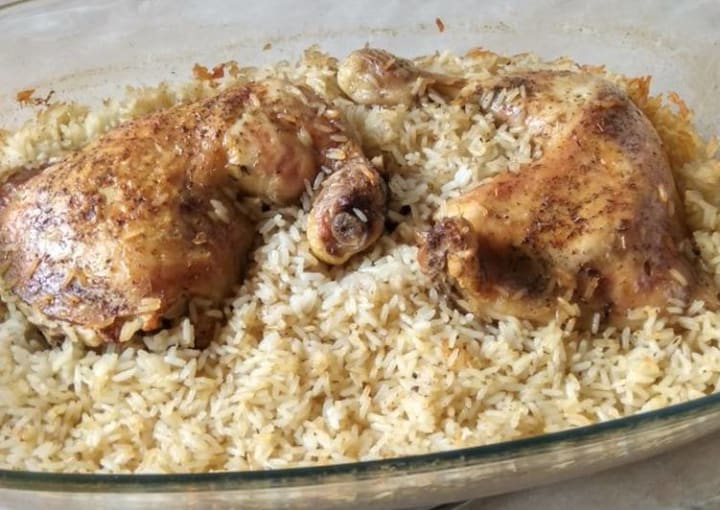 Greece
Kotopoulo me ryzi simply translated to chicken with rice. It is prepared in one pot on the stove or baked in the oven. Chicken pieces are combined with vegetables and seasonings including grated lemon zest and lemon juice. It is served with rice and the chicken is covered in sauce.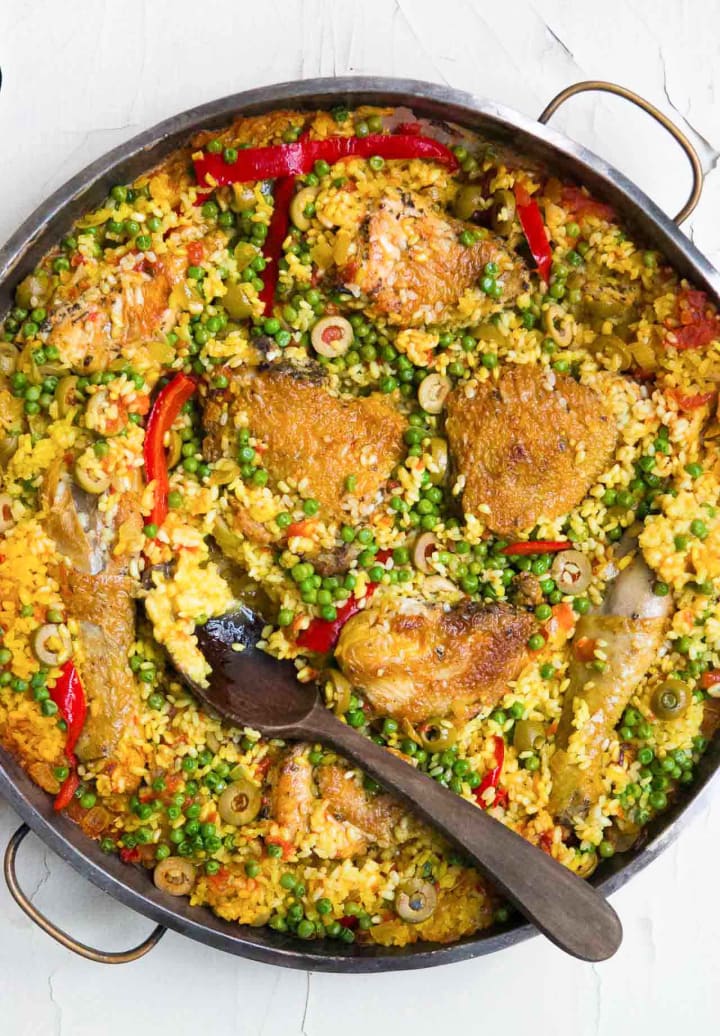 Spain
Arroz con pollo is a dish that originated in Spain and was influenced by Moorish cuisine. The dish combines chicken pieces, rice, stock, beer, sofrito, and spices like saffron, cumin, and coriander. It is simmered together until the chicken and rice are done.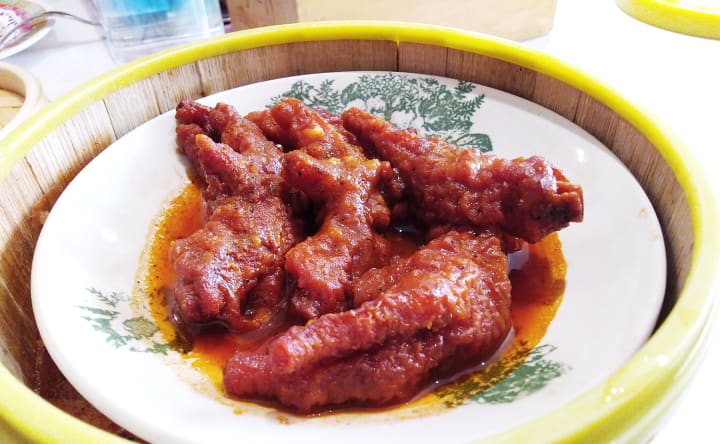 Asia
China
Feng zhao is a dish that consists of dim-sum-style braised chicken feet. First, the chicken feet are cleaned, salted, and deep-fried in oil. The oil puffs up the skin around the bones and caramelized on the outside. After the chicken feet are braised to tenderize them. They're simmered in a pot of water with sliced ginger and star anise. Once done the chicken feet are drained and combined with a marinade made with oyster sauce, sugar, pepper, and black bean sauce. After they are sautéed in sesame oil with garlic until the sauce thickens. The dish is served with black bean sauce on the side.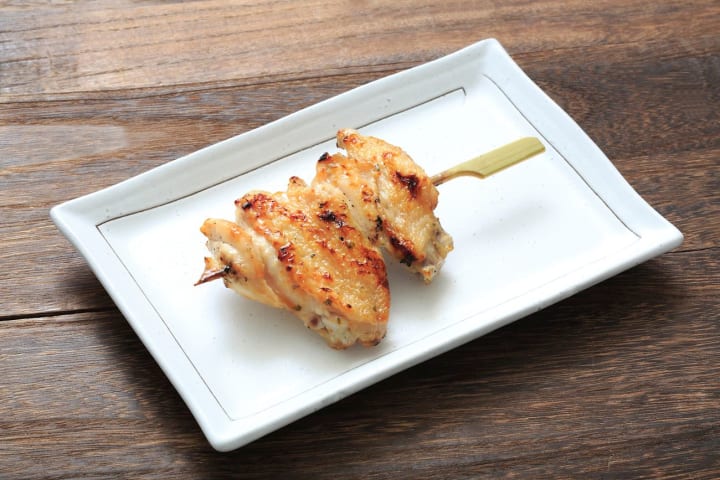 Japan
Tebasaki is a traditional Japanese yakitori dish that is made with chicken wings. The wings are placed on skewers and grilled. They can also be deep-fried. The chicken wings are only seasoned with salt and pepper to flavor the crispy skin once they're done.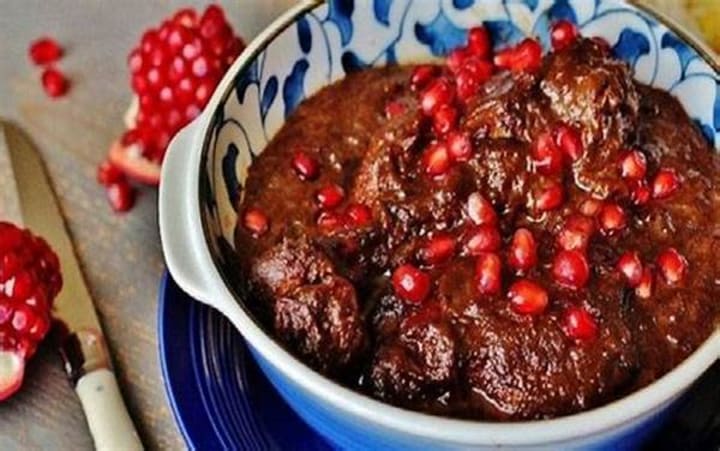 Iran
Khoresh fesenjan is a popular Iranian pomegranate and walnut stew. The stew is made with pieces of chicken served in a thick, dark sauce with pomegranate syrup and ground walnuts. It is served with rice or naan bread.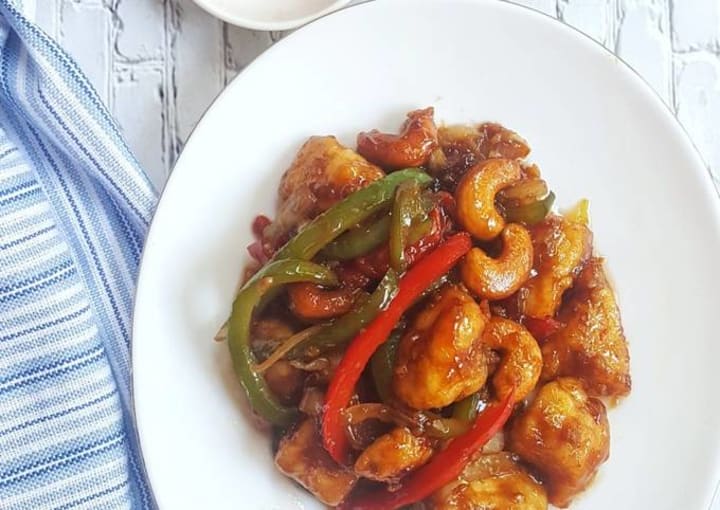 Thailand
Ka phat met mamuang himmaphan is a traditional dish that originated in central Thailand. The dish includes chicken fried with cashew nuts. Chicken breasts are marinated in soy sauce, flour, and oil. The cashew nuts are stir-fried in oil with dried hot peppers. Then the chicken is added to the pan with garlic and onions and stir-fried. The dish is seasoned with oyster sauce, soy sauce, and sugar.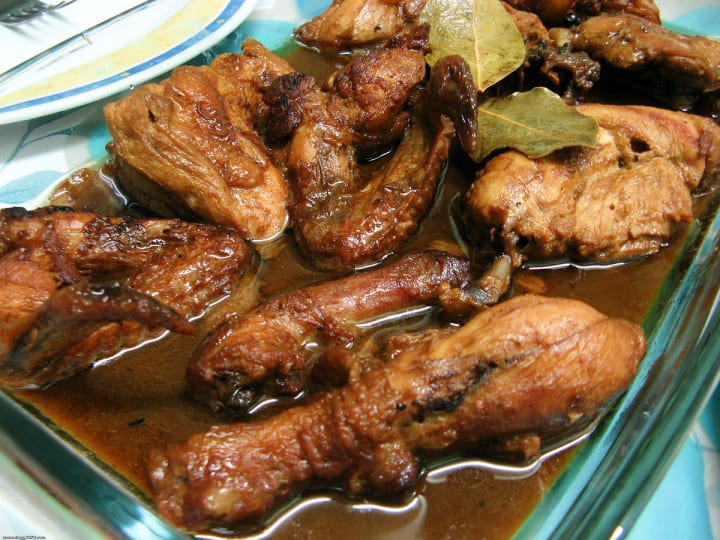 Philippines
Adobong manok is a traditional stew that is a combination of chicken pieces, garlic, onions, bay leaves, peppercorns, oil, brown sugar, soy sauce, and white vinegar. The pieces of chicken are marinated with all of the ingredients except the oil. Then the chicken is browned. The marinade is mixed with water and poured over the chicken. The dish is simmered until the chicken is tender. It is served with white rice.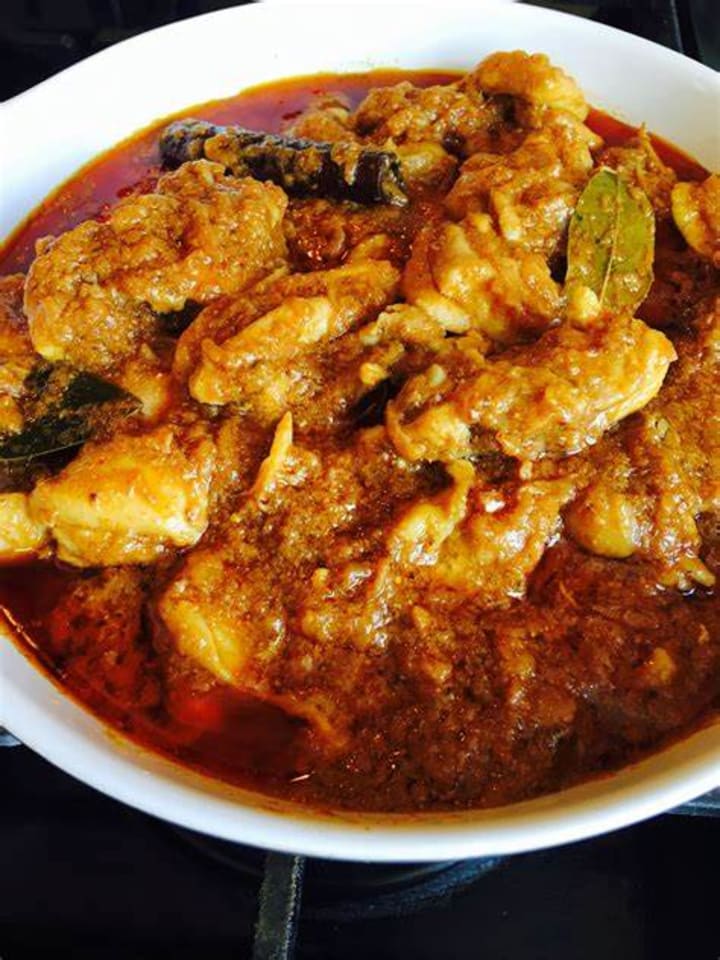 Myanmar
Burmese chicken curry is also called see-payan. Chicken pieces are marinated in oil, garam masala spices, curry powder, fenugreek, coriander, cumin, and turmeric. Then the chicken is cooked with tomatoes, lemongrass paste, fish sauce, and a curry paste with onions, ginger, garlic, and hot peppers. The dish is simmered for half an hour and served with rice.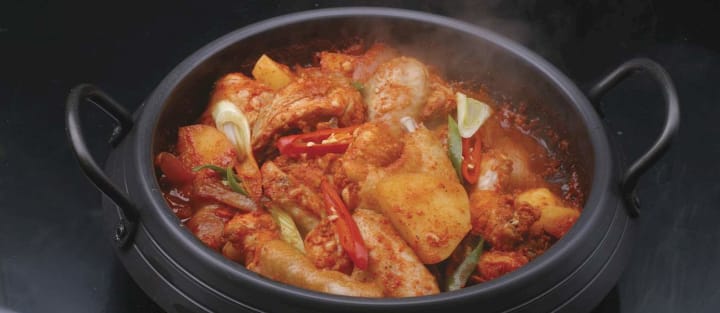 South Korea
Dakbokkeumtang is a dish that is made with chicken pieces, potatoes, onions, and carrots. The ingredients are stir-fried in soy sauce, gochujang (fermented sauce), ground red peppers, and garlic.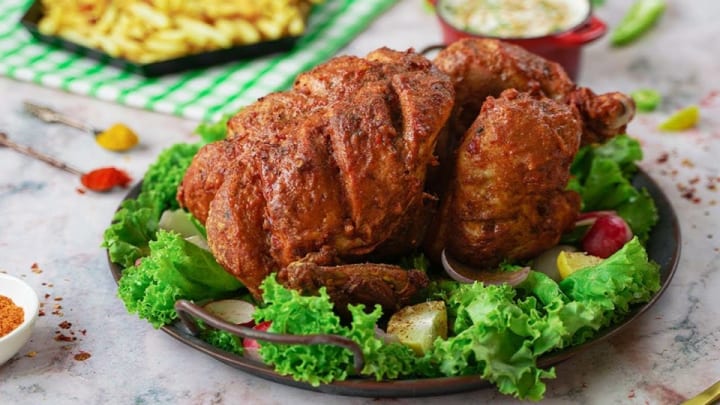 Pakistan
Chargah is a Lahori chicken specialty. It is prepared with marinated chicken that has been steamed and then deep-fried until crispy. A whole skinless chicken is coated in spices, ginger, garlic, lemon or lime juice, vinegar, and at times yogurt. Among the spices used are green chilis, cumin seeds, cinnamon powder, garam masala powder, chaat masala, red chili powder, turmeric, coriander, and carom seeds. Then the chicken is marinated for several hours or overnight.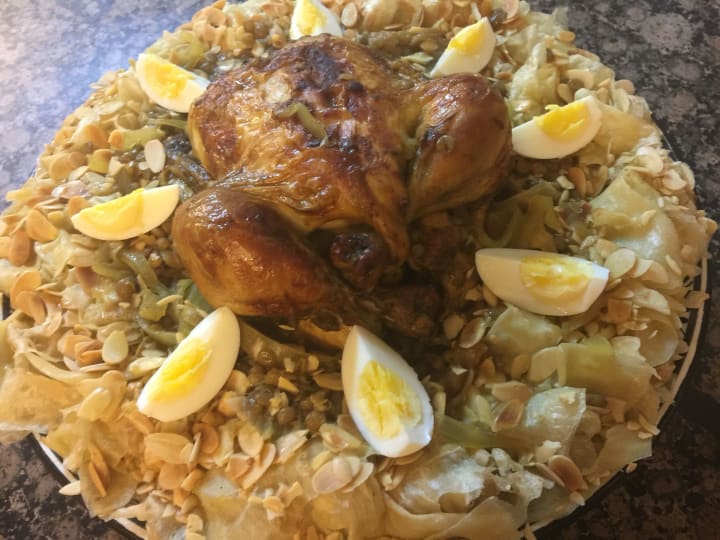 Africa
Morocco
Rfissa is a traditional dish that includes stewed chicken, onions, and lentils. It is served over shredded msemmen, old bread, or trid pastry. The ingredients are chicken, onions, saffron, ginger, lentils, musemmen, fenugreek seeds, and ras el hanout.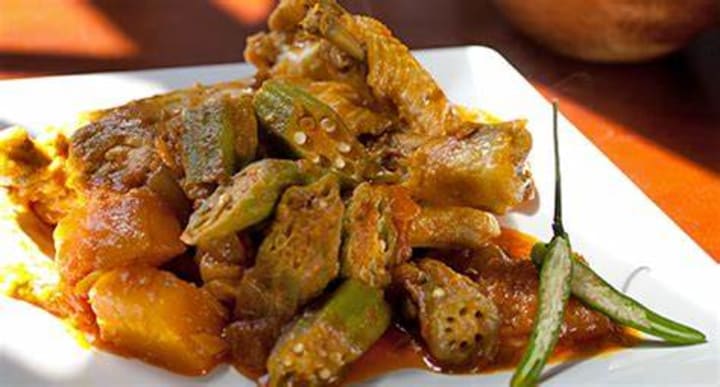 Angola
Muamba de galinha is a dish that is made with chicken, red palm oil sauce called muamba de dendem, garlic, okra, and gindungo, a variety of Angolan hot chile pepper.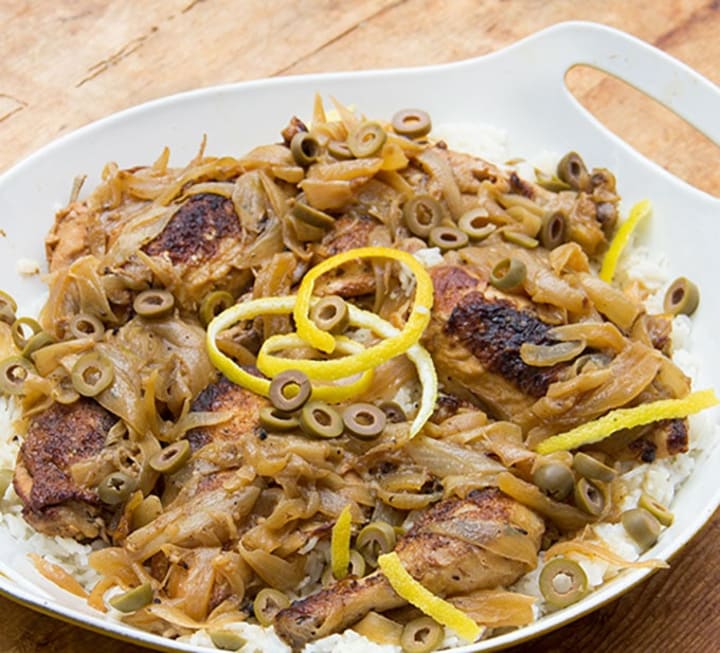 Senegal
Yassa is the national dish of Senegal. It is a chicken stew prepared with chicken pieces marinated in lemon, onions, and vinegar. Then the chicken pieces are cooked until the marinade turns into a sauce. It is served with rice.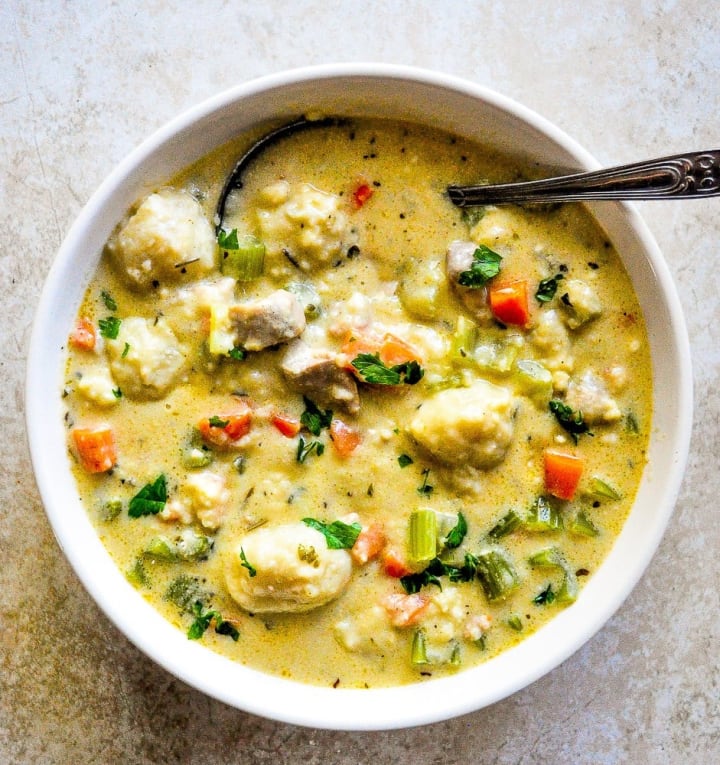 North America
The US
Chicken and dumplings is a dish that was first prepared during the Great Depression. It was a way to cook a meal with a little meat and make it so that a lot of people could be fed. Pretty much, now it has become a comfort food and a favorite of many families. The dish consists of chicken boiled in water. The dumplings are prepared with flour and shortening and then cooked in the chicken broth after the chicken is done.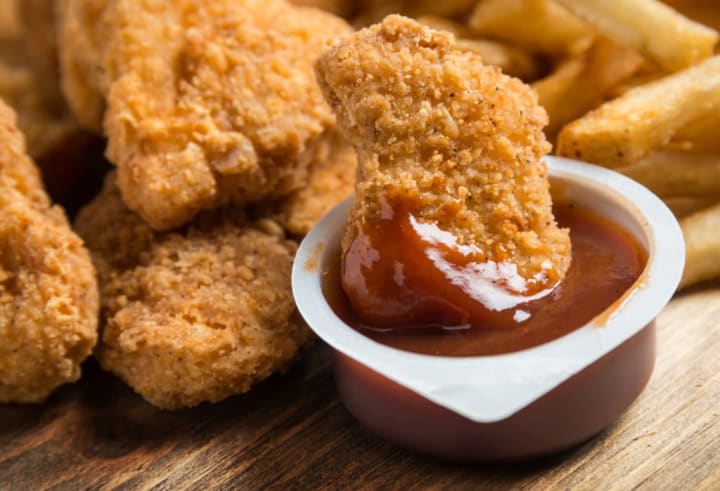 There are many, myself included that just open the freezer and take out some chicken nuggets to heat up. However, chicken nuggets can be baked or deep-fried. To make them fresh ground chicken is combined with flour, paprika, garlic powder, onion powder, salt, and pepper. In a separate bowl, eggs are whisked. Then the ground chicken is formed into nuggets that are dipped in the eggs and then coated in flour. They are dropped in a pan into hot oil and deep-fried in batches until golden brown and crispy. You can also use cut-up chunks of chicken breast instead of ground chicken.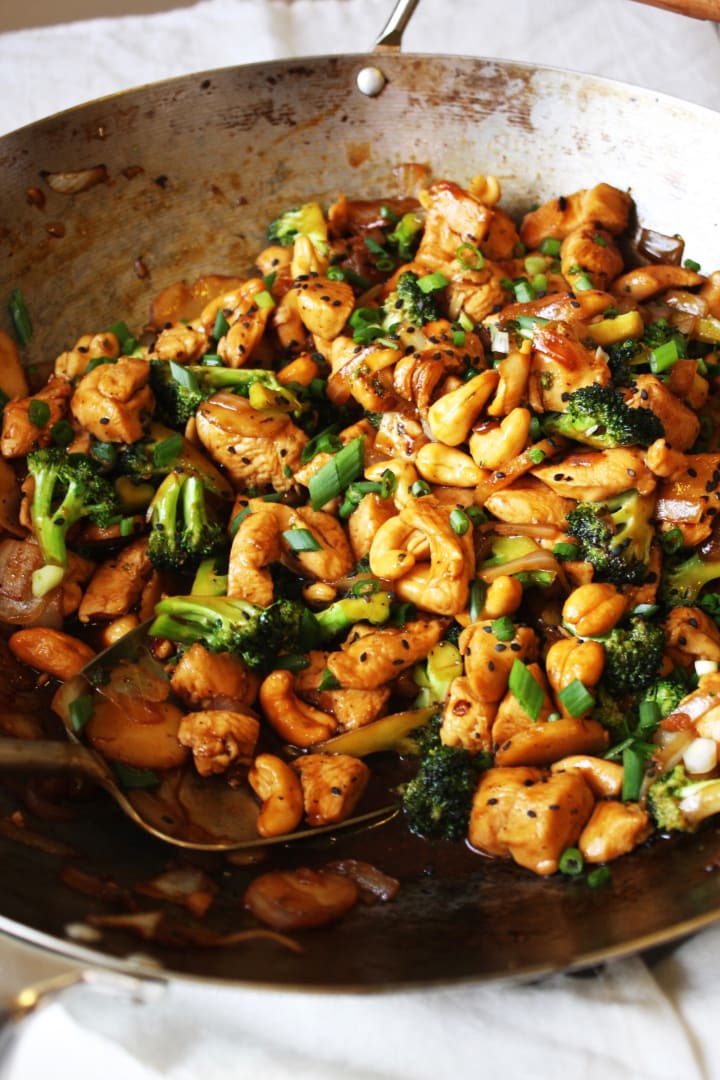 Cashew chicken is a Chinese-American dish. This dish includes diced chicken meat and vegetables. The ingredients are stir-fried with chicken stock, soy sauce, and oyster sauce. The cashews are boiled or toasted and added at the end. The dish is served with rice.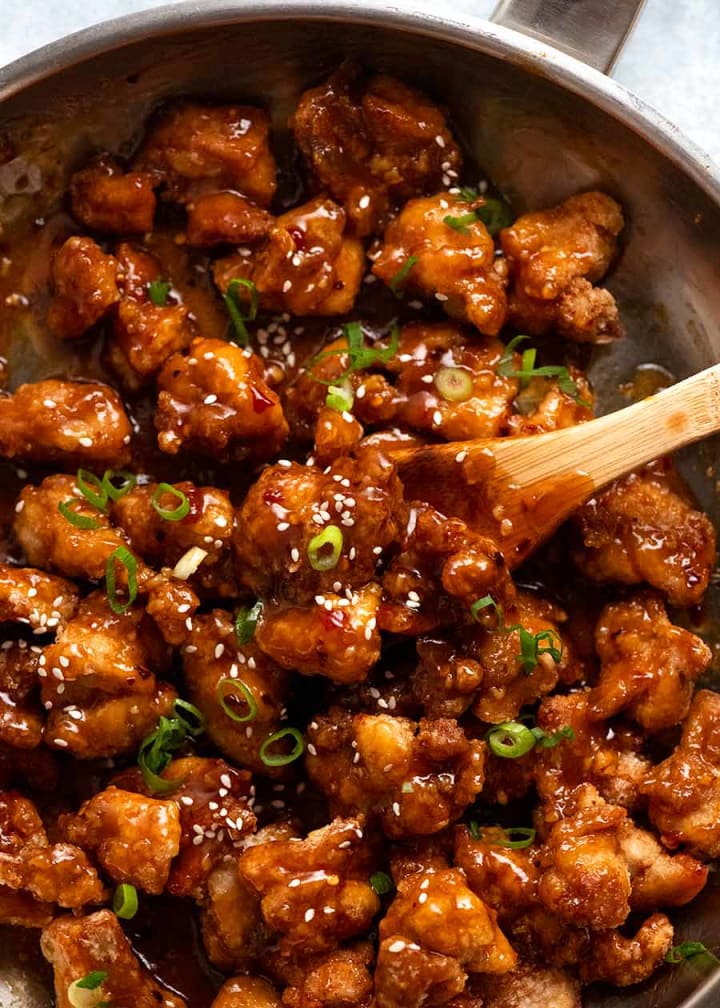 General Tso's chicken is a popular Chinese-American dish. It is both sweet and spicy. The dish is prepared with diced chicken that is deep-fried and then stir-fried with ginger, garlic, scallions, and hot chili peppers in a sauce that consists of sugar, soy sauce, rice vinegar, and rice wine.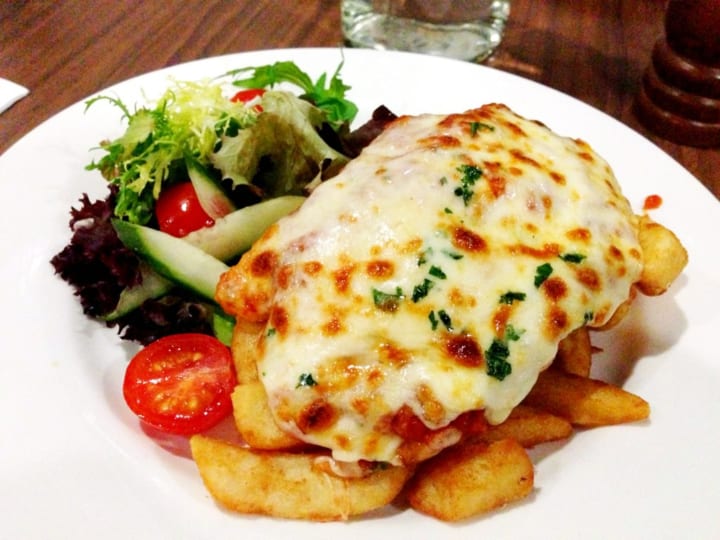 Chicken parmigiana is an Italian-American dish. It consists of chicken breasts dipped in beaten eggs and coated with breadcrumbs. The chicken is placed in a baking pan and topped with tomato, spaghetti, or pizza sauce and grated cheese usually mozzarella. The dish is baked until the cheese has melted and the chicken is done.
South America
Peru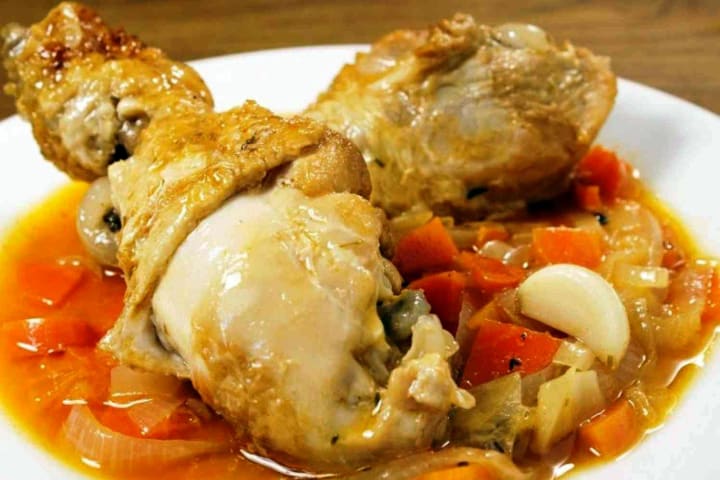 Escabeche de polo is a dish that is prepared with browned chicken pieces topped with pickling sauce. The pickling sauce is a mix of onions, vinegar, honey, and hot chili peppers. This dish is garnished with olives and hard-boiled eggs and served on a bed of lettuce. It is usually accompanied by rice.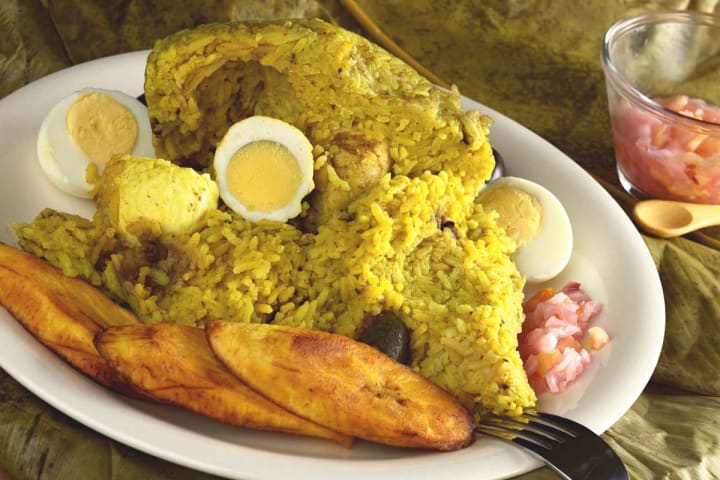 Juan is an interesting dish that comes from the Peruvian jungles. The dish is prepared with chicken, olives, hard-boiled eggs, and rice. It is seasoned with turmeric, oregano, and cumin. All the ingredients are wrapped in waxy bijao leaves and cooked. The dish is served with cassava or boiled bananas.
Bolivia
Picante de pollo is a spicy dish that is prepared with chicken pieces cooked with onions, potatoes, tomatoes, aji amarillo chilis, peas, and chicken stock. The thick sauce is flavored with cumin, garlic, and oregano. It is served with rice or boiled potatoes.
About the Creator
My passions are writing and creating poetry. I write for several sites online and have four themed blogs on Wordpress. Please follow me on Twitter.
Reader insights
Be the first to share your insights about this piece.
Add your insights