Just Say Cheese Please
Some of the most popular dishes with cheese around the world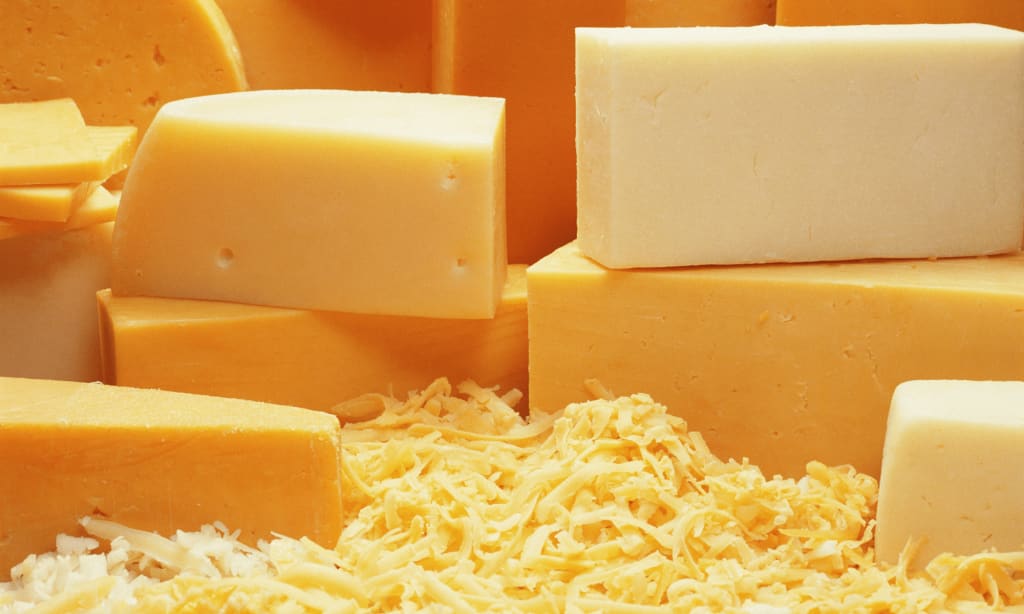 Europe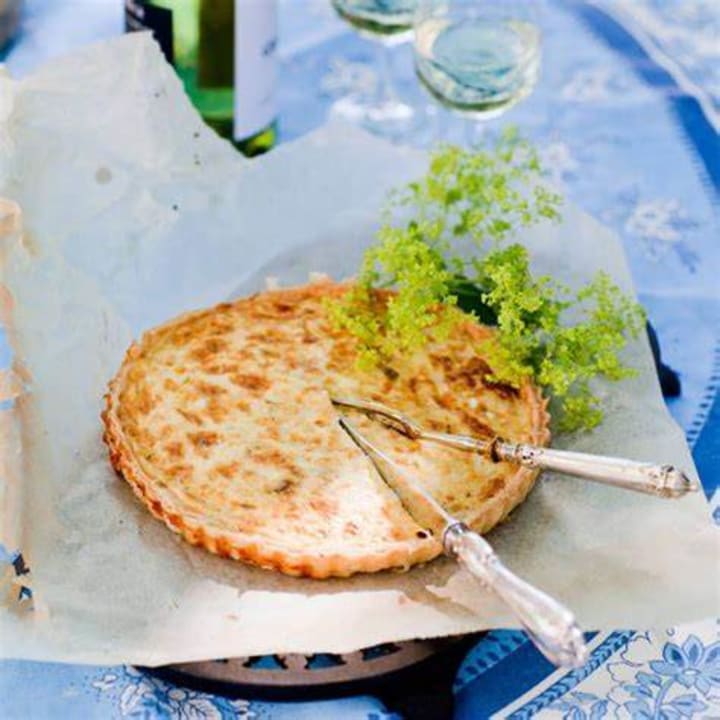 Sweden
Vasterbottenostpah is a traditional cheese pie. The crust is made with flour, butter, and cold water. The pie is filled with a mixture of eggs, milk, cream, Vasterbotten cheese, salt, and white pepper. The cheese consists of cow's milk and has a firm, granular texture with a sweet and savory flavor. Once prepared the filling is poured into the baked pie crust and baked in the oven until the cheese is melted and the pie is golden brown.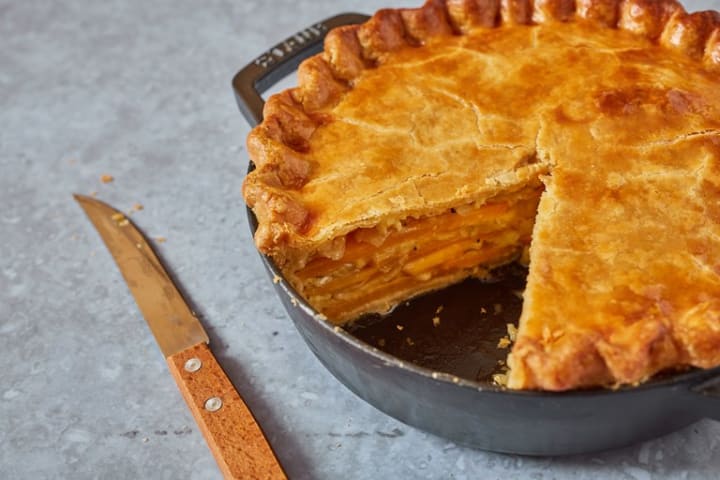 England
Cheese and onion pie is considered to be comfort food. It is prepared with shortcrust pastry, cheddar, or crumbly cheese, and cooked or fried onions. Additional ingredients can be added like potatoes, crème fraiche, and a sauce that consists of flour, milk, and cream The pie can be served warm or cold accompanied by chips and a salad.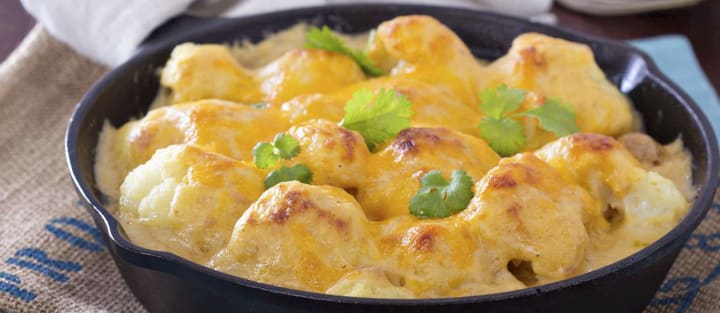 Cauliflower cheese is a traditional English dish made with boiled cauliflower florets and doused in a sauce that consists of flour, milk, butter, nutmeg, and mature cheeses like cheddar. It is baked in the oven and served as a vegetarian main meal or a side dish with roast meat and potatoes.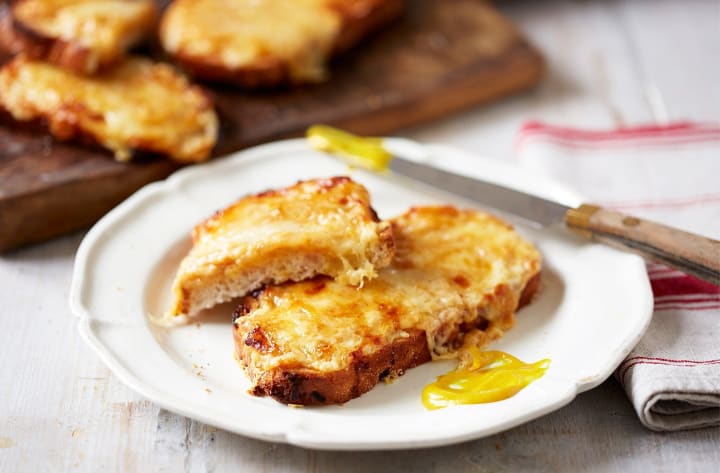 Wales
Welsh rarebit is a savory and creamy sandwich. Cheddar or Caerphilly cheese is melted and mixed with butter and cream or ale, then poured over hot, buttered toast.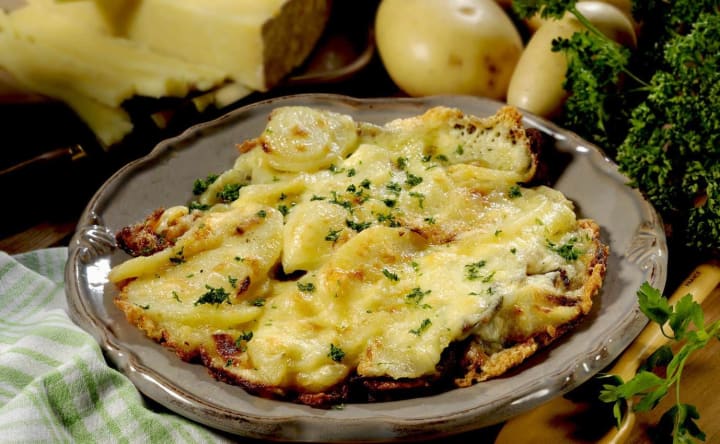 France
Truffade is a thick potato and cheese pancake that is a specialty of the French Auvergne region. The cheese used in this dish must always be mild like Gruyere or Tomme fraiche de Cantal. The dish is prepared with finely sliced potatoes that are cooked until tender, then mixed with chopped bacon and cheese. The mixture is formed into a giant pancake and served cut into wedges. It is often served as a side dish. Once done the pancake is garnished with finely chopped parsley.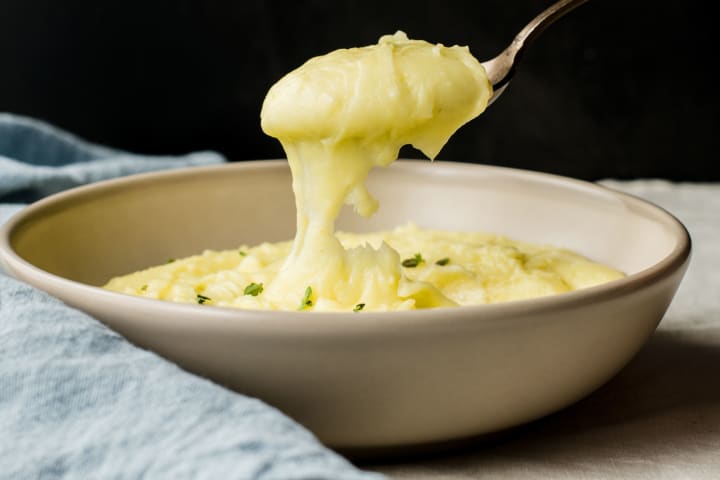 Aligot is a delectable dish that consists of mashed potatoes, melted cheese, cream, and crushed garlic. It comes from the L'Aubrac region in the south of France.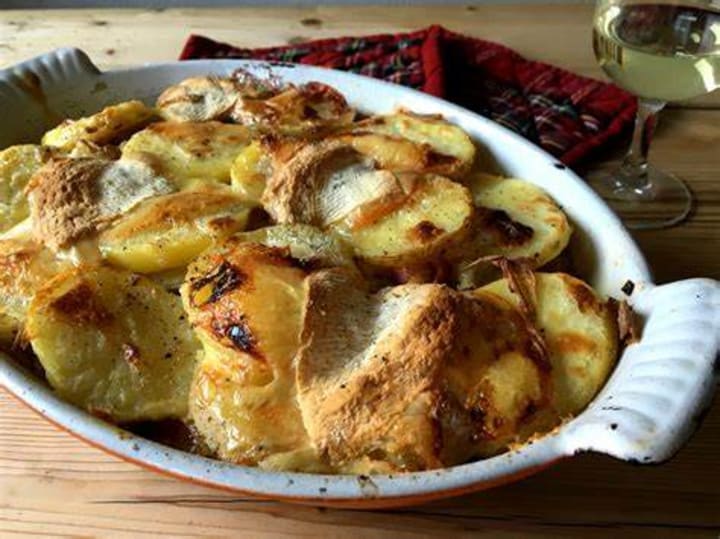 Tartiflette is a favorite dish of the Alps and comes from the mountainous regions of Savoie. The dish is a combination of medium-sized potatoes, white wine, Reblochon cheese, onions, smoked salt pork, and crème fraiche. It is baked in the oven until the cheese is melted and the dish is golden brown.
Quiche au Fromage is prepared with a thin, flaky pastry crust that is filled with cheese like Gruyere, Camembert, or Roquefort blended into a custard of eggs, milk, or crème fraiche. It is baked in the oven until the crust is crispy and the center is cooked through and browned on top.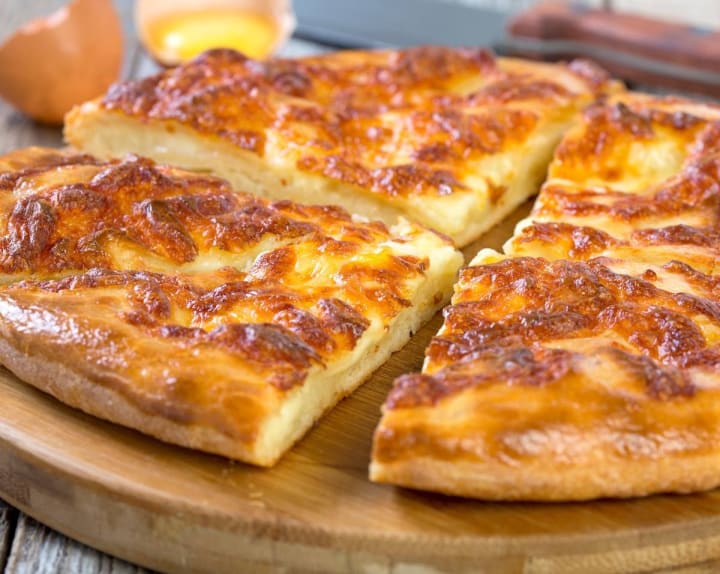 Tarte au maroilles is a French tart that includes the renowned Maroilles cheese. This is a cheese made with cow's milk and has a nutty and tangy flavor and a strong smell. The base is a shortcrust pastry that is filled with Maroilles cheese, crème fraiche, butter, eggs, salt, and pepper. It is baked until the cheese filling has melted and is golden brown.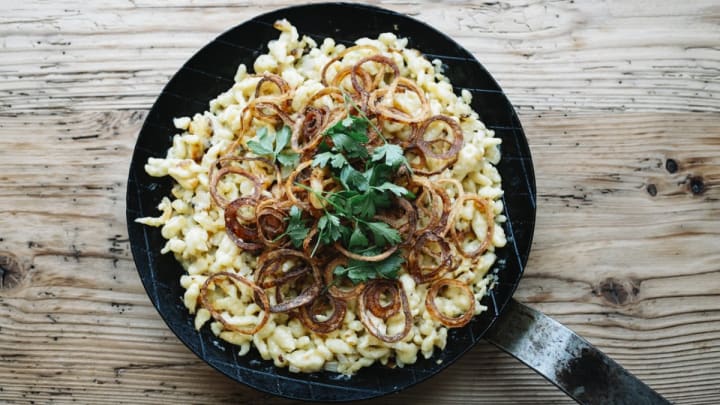 Austria
Kasspatzlin is a traditional cheese dish that is a favorite of the western Austrian state of Tyrol. The dish uses strong-flavored cheeses like Bergkase or Graukase. The dish is made with soft and slightly runny dough that is pressed onto a special grater, creating small pasta shapes. The pasta is then boiled until firm. It is mixed with sauteed onions and lots of grated cheese.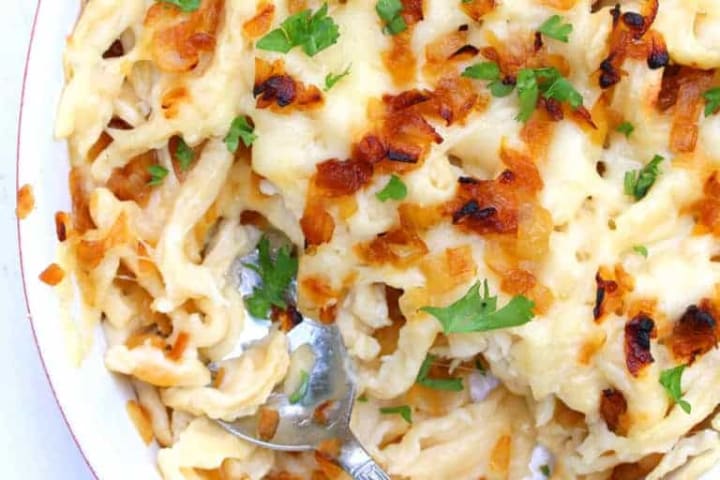 Germany
Kasespatzle is a pasta dish with creamy, melted cheese. The pasta used is called knopfle. It means little buttons and the pasta is prepared with eggs, flour, milk or water and is flavored with salt, pepper, and nutmeg. The noodles are pressed through a specially designed spoon or colander straight into boiling salted water. When the noodles are tender they're mixed with grated cheese. The cheese is a combination of two or more cheeses like Edam, Gouda, Fontina, Gruyere, Appenzeller, or Emmental cheese. The dish is served with additional grated cheese and caramelized onions on top.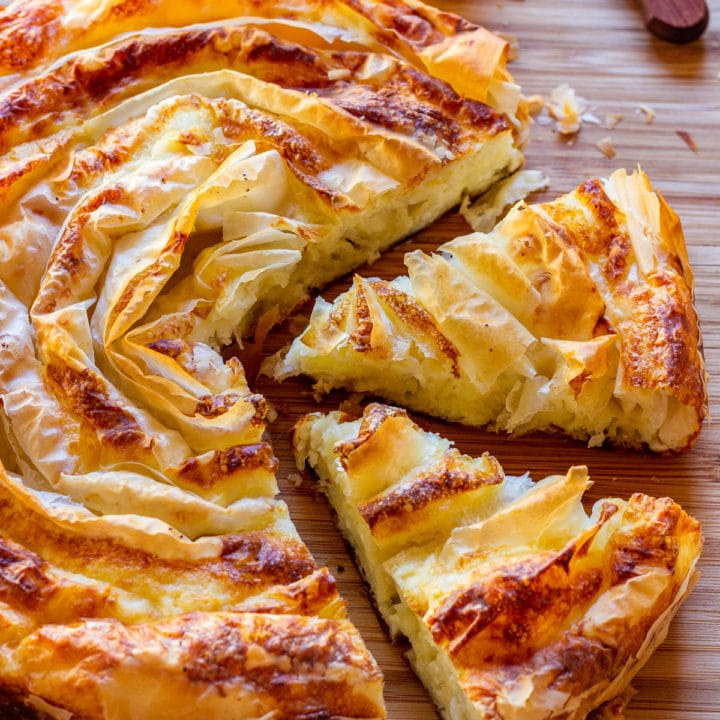 Bulgaria
Banitsa is a Bulgarian pie with cheese as the main ingredient. The pie is prepared by layering sheets of buttered phyllo pastry with a combination of eggs, yogurt, and cheese like sirene and feta.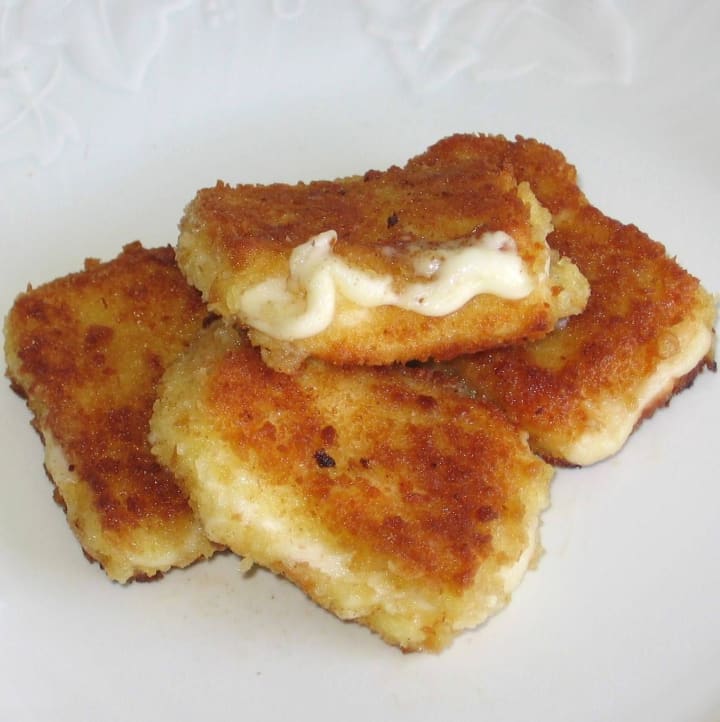 Czech Republic
Smazeny syr is a traditional specialty also referred to by the popular name smazak. The dish is made with a block of cheese, usually Edam. The cheese is coated in eggs, breadcrumbs, and flour and then shallow-fried until crispy.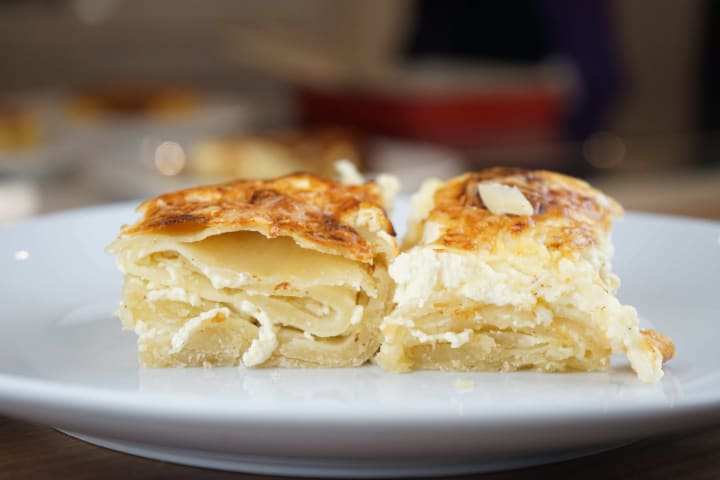 Croatia
Strukli is a simple "pulled pasta" dish. It can be made savory or sweet. After the dough has been pulled, filled, and rolled it is cut into smaller pieces and then cooked or baked. The savory variation is filled with fresh cheese, eggs, and sour cream then baked in the oven and coated with either butter or sour cream.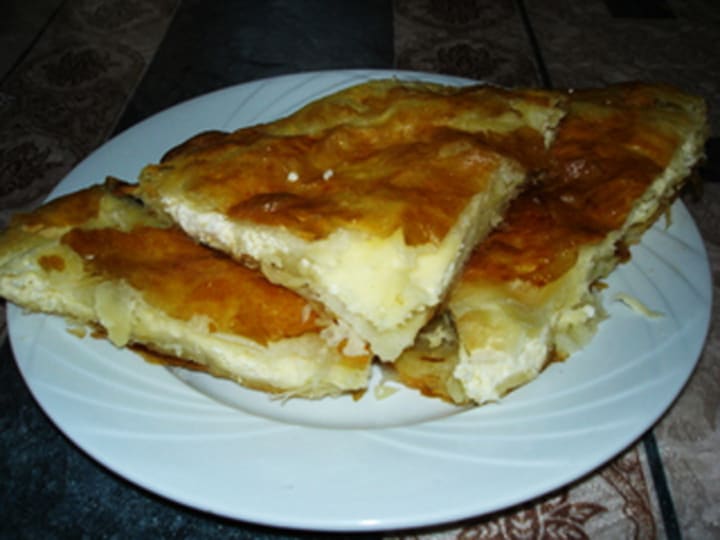 Serbia
Burek sa sirom is made with phyllo pastry that is round or coil-shaped. It is filled with cheese and eggs. The dough is prepared with flour, salt, and water and stretched into translucent sheets. The phyllo dough is stacked on a large tray and each sheet is sprinkled with oil or oil and mineral water. The cheese and egg filling is spread on.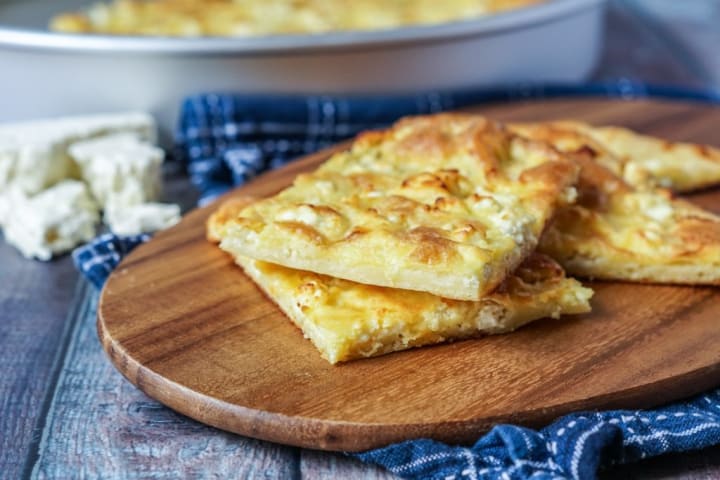 Greece
Alevropita is a crispy feta pie that is a specialty of Epirus. This is a simple pie that consists of a thin batter sprinkled with feta cheese. The dough is made with wheat flour, milk or yogurt, and eggs. It is baked in a large round or rectangular pan and served drizzled with olive oil.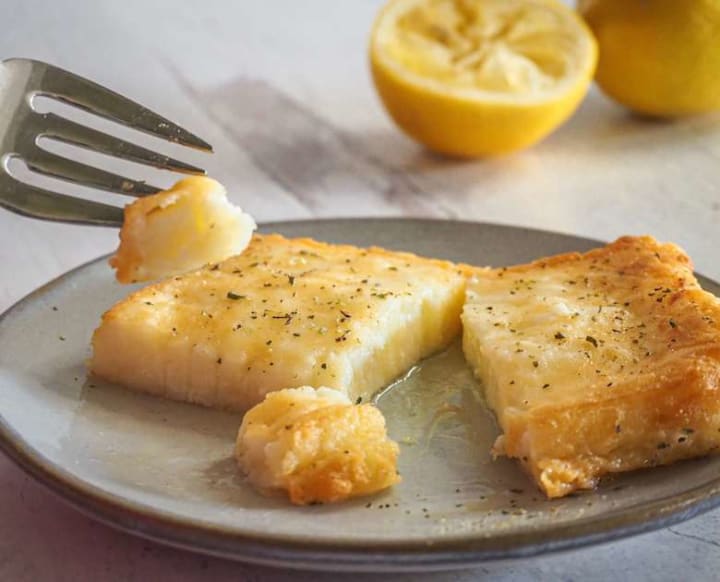 Saganaki is a popular appetizer made with various vegetables, meats, or seafood like shrimp or mussels wrapped in cheese and pan-fried or seared. The cheese can also be made with nothing added and pan-seared until it is golden. The cheese usually used is a typical Greek saganaki.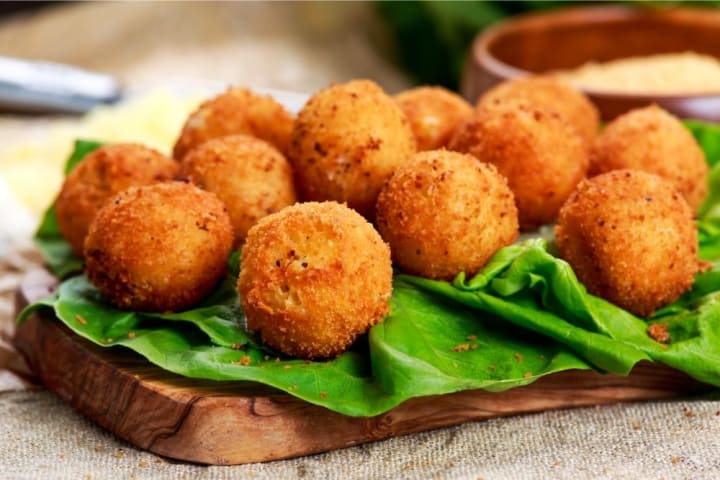 Tirokroketes are traditional fried cheese balls with a golden crust. The balls are a combination of eggs, breadcrumbs, and three kinds of cheese – feta, graviera, and gouda. They are fried in hot oil.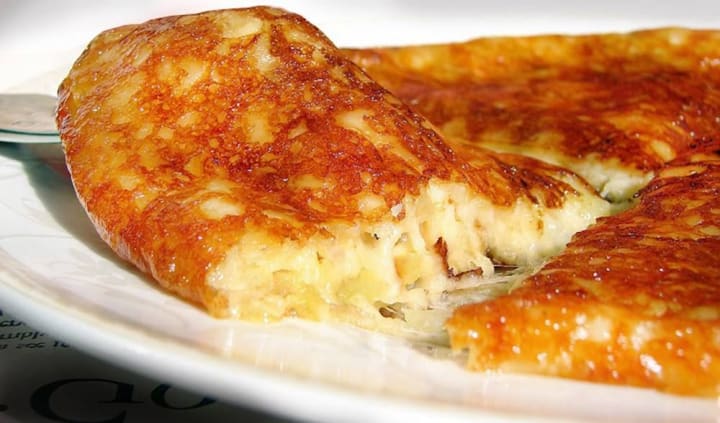 Italy
Frico is a traditional dish that originated in the historical region of Carnia. It is prepared with the local delicacy Montasio cheese. There are two versions – frico friabile, a crunchy snack prepared with fried cheese in olive oil until crunchy and frico morbido a combination of cheese with potatoes and onions fried in a pancake until crispy and golden on both sides.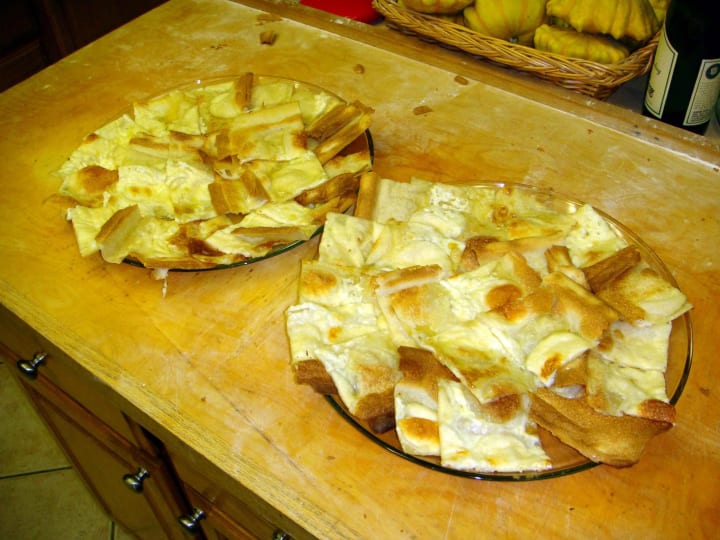 Focaccia di Recco col Formaggio originated in the town of Recco, Liguaria's gastronomic capital. The focaccia flatbread is made without yeast and has a paper-thin, hand-pulled crust. It is filled with soft, mild cow's milk cheese from Alpine pastures known as stracchino or crescenza.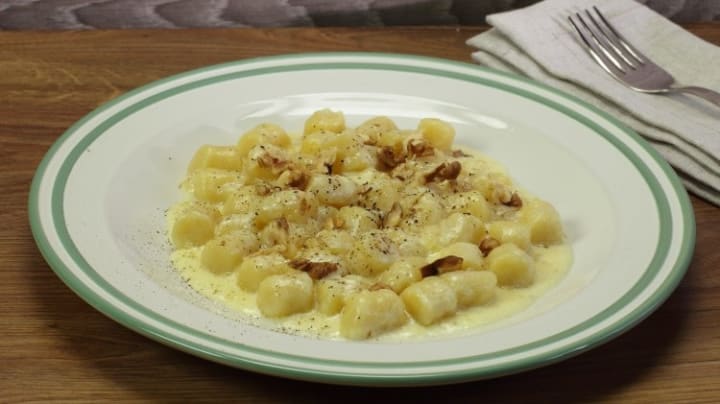 Gnocchi al Catelmagno is a traditional dish that is a specialty of Cuneo. The dish is a combination of potato gnocchi, butter, milk, or cream and Castelmagno, a local DOP cheese. The gnocchi are cooked and mixed with a sauce consisting of butter, diced Castelmagno cheese, and cream.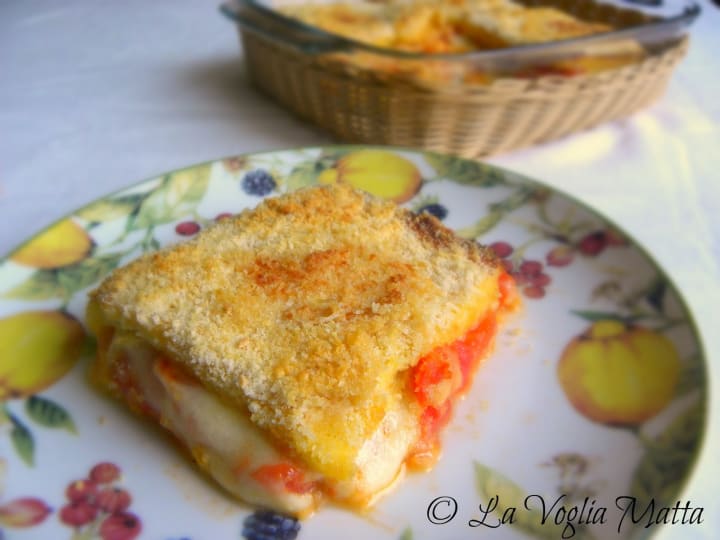 Tortino di mozzarella is a traditional savory tart that originated in Naples. It is prepared with stale white bread slices, milk, butter, sliced mozzarella cheese, eggs, salt, pepper, and grated Parmigiano-Reggiano. The crustless bread slices are lined in a buttered baking dish and sprinkled with milk. Slices of mozzarella are placed over the bread and then topped with beaten eggs, parmesan, salt, and pepper. The dish is baked until the egg mixture puffs up and the cheese melts.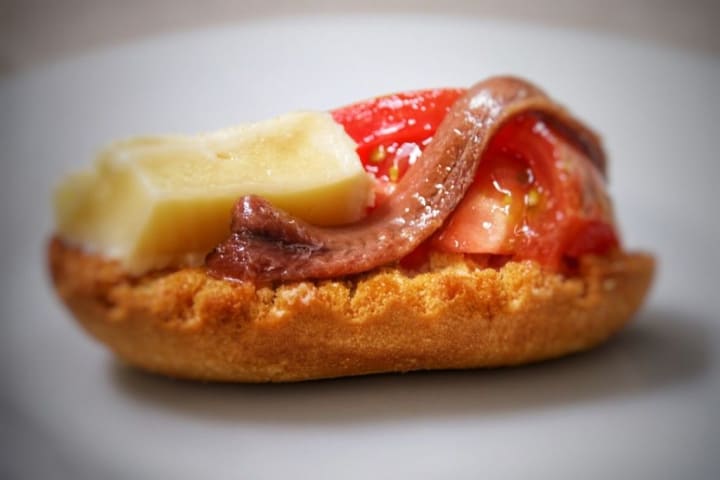 Spain
Queso con anchoas is a traditional Spanish tapa. Slices of Manchego cheese are topped with anchovy filets and roasted red pepper strips can be added. Before serving the tapa is drizzled with sherry vinegar.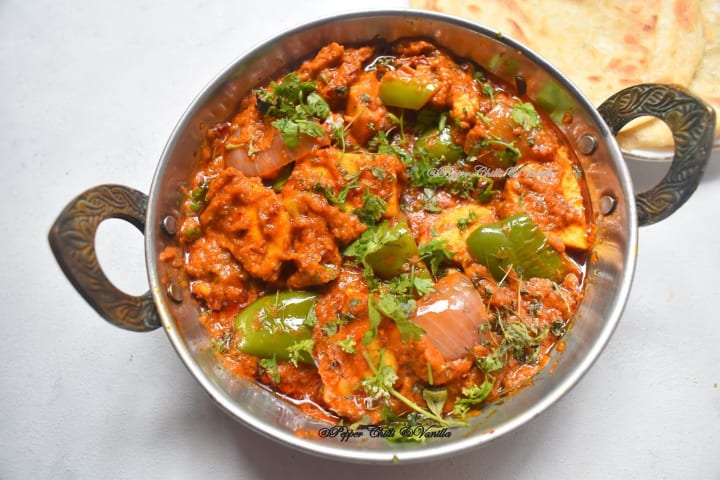 Asia
India
Kadar paneer is a traditional dish that is cooked in a unique wok known as a kadai. The dish is prepared by cooking paneer cheese and bell peppers with freshly ground spices called kadai masala. The spices include red chili peppers, cardamom, cinnamon, fennel, cloves, and coriander seeds. Ingredients added to the thick gravy are onions, ginger, and tomatoes.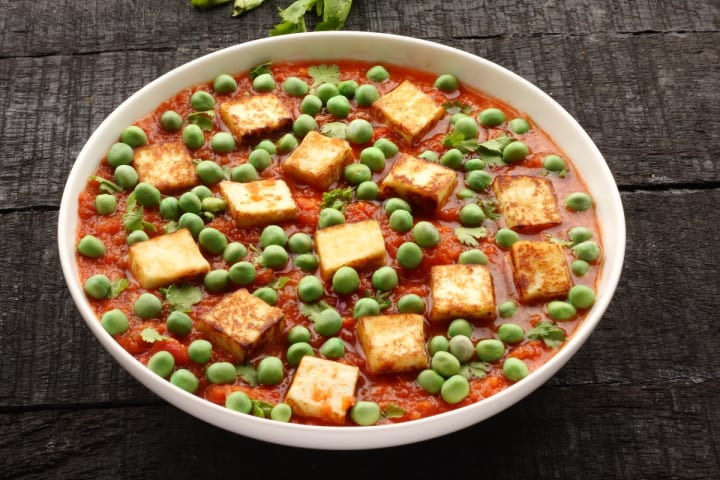 Mattar paneer is a popular vegetarian dish that originated in North India. The dish is a combination of peas and paneer cheese in a garam masala-spiced tomato sauce.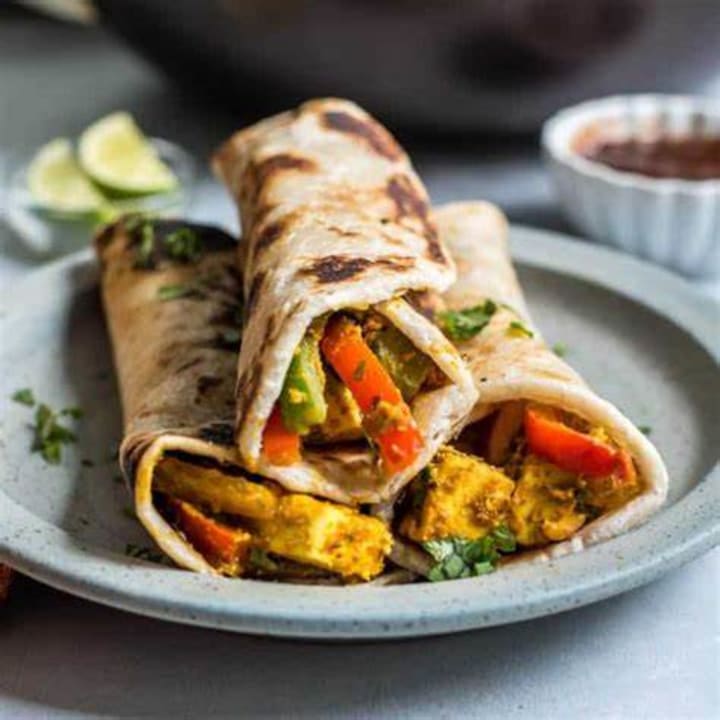 Kathi roll is a popular street food. It consists of flatbreads filled with meat, vegetables, or both. Paneer cheese is cut into cubes and marinated with garam masala, yogurt, ginger, garlic, red chili powder, fenugreek, and salt. It is fried until golden brown and mixed with onions and green peppers. The mixture is placed on a flatbread and folded and heated in oil or ghee.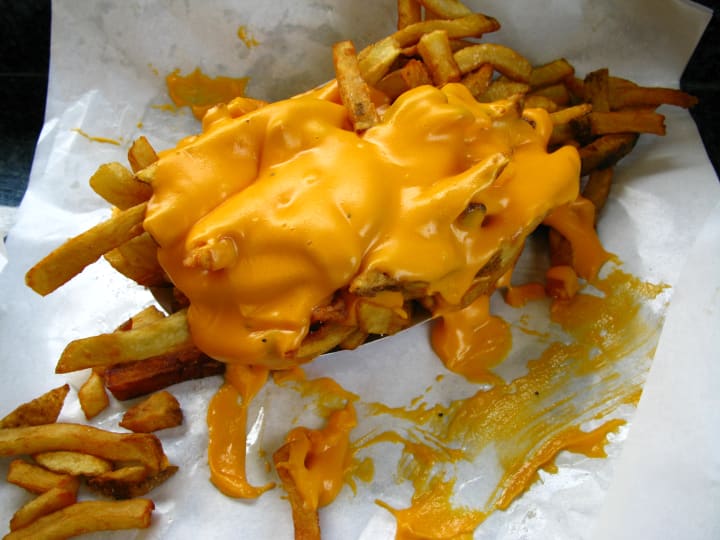 North America
The US
Cheese fries is a simple dish made with French fries topped with melted cheese. Often it is served as a side dish.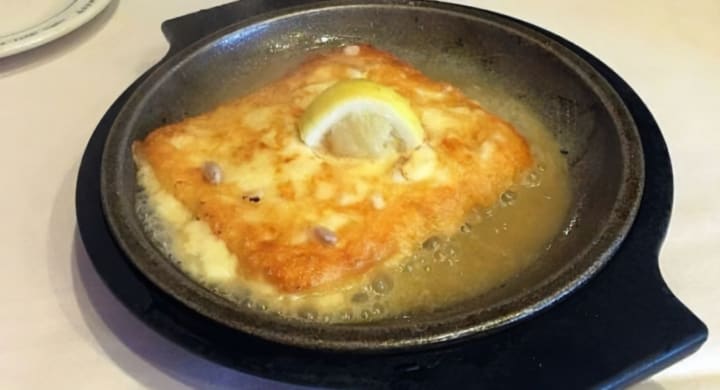 Illinois
Flaming saganaki is an appetizer that originated in Chicago, Illinois in Greektown. It is made by frying cheese in a small pan. The cheese is usually sheep's milk feta, halloumi, graviera, kasseri, or kefalotyn.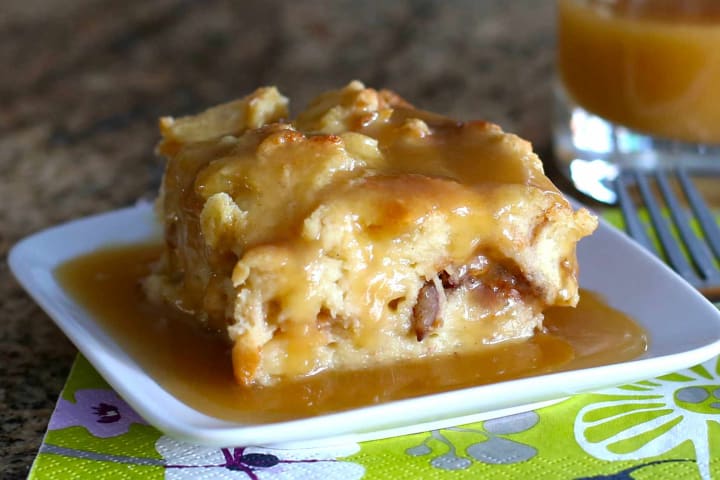 Kentucky
Kentucky cheese pudding is a traditional American casserole that originated in the state of Kentucky. It is prepared with soda crackers, cheddar cheese, hard-boiled eggs, hot peppers, flour, butter, half and half, salt, and pepper. Flour and butter made into a smooth paste and mixed with salt, pepper, and half and half over low heat until the sauce thickens. Then the sauce is poured into a greased casserole dish and topped with cracker crumbs and layers of eggs, cheese, and pimento layering until all the ingredients are used up.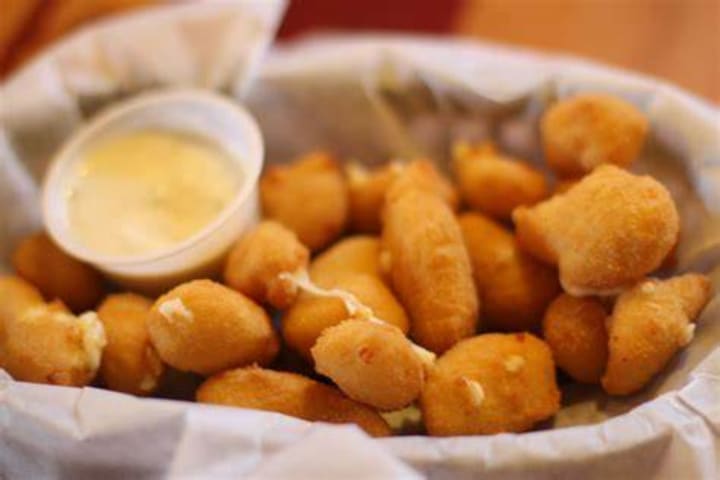 Wisconsin
Cheese curds are a local delicacy in Midwestern US and Canada. Some of the best come from the state of Wisconsin. Deep-fried cheese curds are made from cheese curds like cheddar formed into blocks and left to age. They have a rubber texture and slightly squeak when bitten into.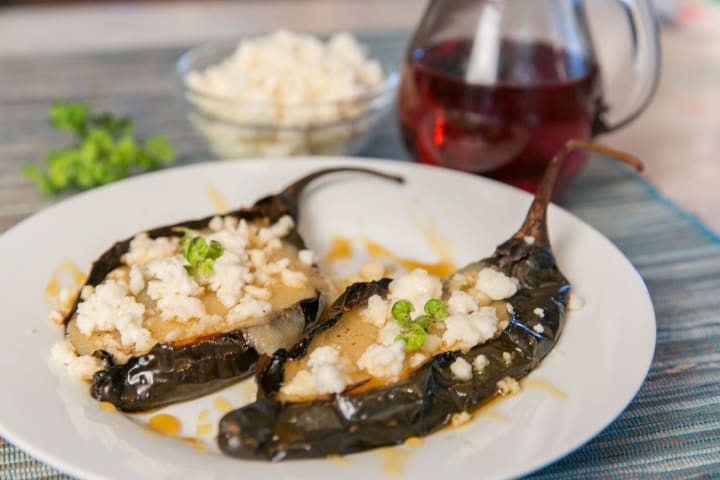 Mexico
Chile pasilla con queso is a traditional dish. It originated in Chihuahua, Oaxaca, and Puebla. The dish is a combination of dry-roasted pasilla chili peppers, onions, tomatoes, olive oil, salt, tortillas, and Oaxaca cheese or mozzarella. The chili peppers are soaked in water then added to a pan with sauteed onions and tomatoes. After cooking it for a while the chili water is poured into the pan and seasoned with salt. The cheese is layered on top and the combination is simmered until the cheese melts.
About the Creator
My passions are writing and creating poetry. I write for several sites online and have four themed blogs on Wordpress. Please follow me on Twitter.
Reader insights
Outstanding
Excellent work. Looking forward to reading more!
Top insights
Expert insights and opinions

Arguments were carefully researched and presented

Easy to read and follow

Well-structured & engaging content

Excellent storytelling

Original narrative & well developed characters
Compelling and original writing

Creative use of language & vocab

Eye opening

Niche topic & fresh perspectives

Heartfelt and relatable

The story invoked strong personal emotions

On-point and relevant

Writing reflected the title & theme
Add your insights