Gluten-Free Adventures in Uzbekistan
Navigating Culinary Challenges in Tashkent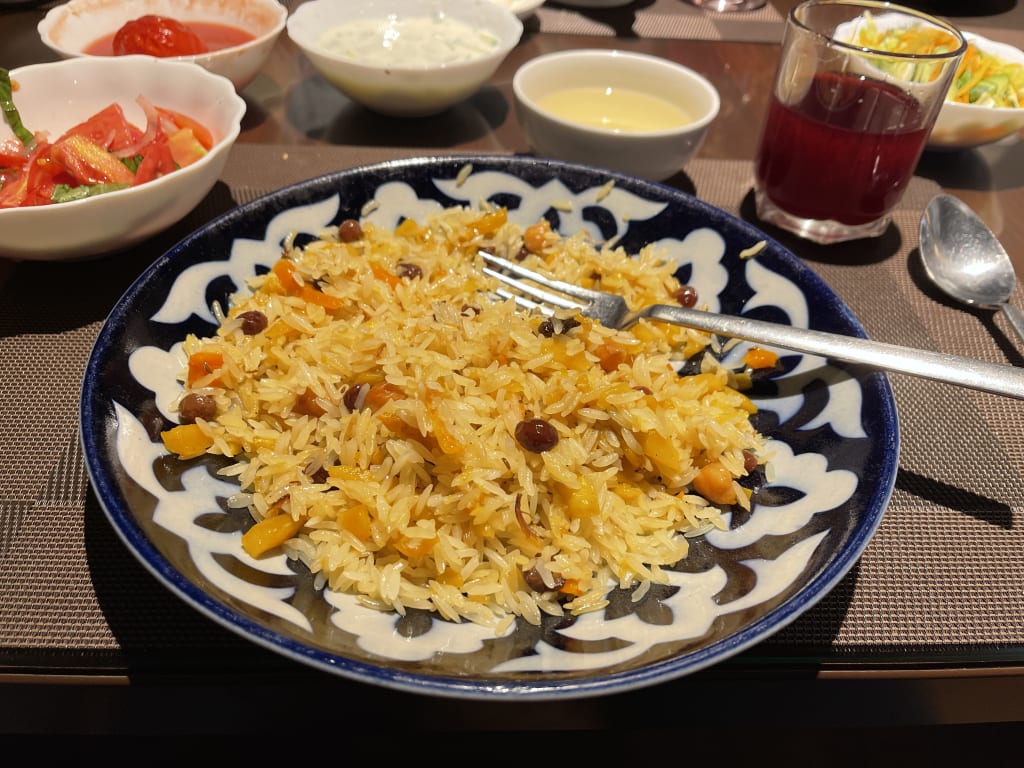 A vegetarian version of the Uzbek dish, Plov
As an avid traveler, I've had my fair share of journeys, but writing about my experiences in Uzbekistan has been the most daunting yet, especially when it comes to being gluten-free. Before embarking on my trip to Tashkent, Uzbekistan, anxiety loomed large, knowing I was venturing into a nation renowned as the "world's bread basket." As a coeliac with wheat/gluten intolerance, the prospect of navigating local cuisine filled me with dread.
When recounting my travels, I always emphasize my favorite dining spots. However, in Uzbekistan, this presented multiple challenges. Firstly, the Cyrillic script or its derivatives used in writing were incredibly perplexing for a Westerner like me, and I eventually gave up trying to decipher them. Secondly, mobile data plans from my home country wouldn't suffice in Uzbekistan. Communication was a struggle, and even phone calls were not a reliable option due to the country's strict controls. Despite that, Uzbekistan attempted to become a tourist hotspot by easing restrictions, including visa requirements, around a decade ago.
To be fair, for someone like me, an uninitiated Westerner, learning location names became increasingly difficult. Consequently, I hesitated to dine at street-side restaurants, fearing I wouldn't comprehend the menu. With no Google Translate at my disposal, the challenge grew. Then, a revelation struck me—opting for Western chain hotels provided a solution. Familiar names meant safe dining options.
Eating outside hotels posed cultural challenges too. Occasionally, I risked it and ventured into local eateries, only to encounter a language barrier with inexplicable food items. Served in metal dishes still cooking, I had no idea what lay inside. For lactose-intolerant individuals, Uzbek cheese, aged extensively, presented a safer option. Fruit and cheese were reliable choices. However, vegetarians faced a bigger dilemma—the ubiquitous serving of horse meat. In Uzbekistan, horse meat surpassed chicken or beef in popularity. For me, not a strict vegetarian, but rather a "6-day vegetarian" who occasionally made exceptions in foreign lands, this wasn't a major concern. However, my vegetarian travel companions encountered additional hurdles. Fortunately, pizza and salads were prevalent, though the latter often contained croutons or chunks of bread, requiring careful inspection.
The Western hotel chains provided a respite. With English menus as standard, I could identify gluten-free options, even if the staff didn't speak English. Most menus were accompanied by photographs, facilitating easier selection. Allergy control might not have been perfect, but understanding the language made it manageable for a coeliac like me.
Alternatively, hiring an English-speaking Uzbek guide proved invaluable. The prevalence of English education in Uzbekistan meant that finding a guide was relatively easy. Engaging a local teenager for communication also helped, as they were eager to practice English and learn about foreign cultures. While hiring a guide seemed like an added expense, it was well worth it. With daily wages averaging around $20, a guide's assistance for $30-$40 per day provided access to the best experiences, language barriers notwithstanding.
For those seeking a more traditional culinary adventure, trying "Plov" was a must. Close to Tashkent's TV tower, there was a quaint spot I affectionately named "Plov House" (possibly called Besh Qozon). A guide's help was crucial here, as explaining dietary preferences was necessary. Plov involved several cooking stages, with rice and fruits added first, then fried in large vats, and finally, "meating up" the dish. A guide ensured that the meat-free version reached me before gluten could make an appearance. Our vegetarian Plov experience was delightful, although slightly greasier due to skipping some stages. Accompanied by a fizzy grape drink, it was a unique and affordable culinary endeavor—our meal for four costing under $20.
Tashkent may not be the most accommodating destination for those with food allergies, but its warm culture and the thrill of exploring unfamiliar territory compensated for the challenges. Stepping where many Westerners wouldn't dare was a unique and enriching holiday experience. Yet, as a precaution, I'd recommend staying within your comfort zone for safety's sake.
My gluten-free adventure in Uzbekistan was a journey of trials and triumphs. Overcoming language barriers and cultural nuances added an extra layer of excitement to my explorations. While there were hurdles, being prepared and open-minded allowed me to savor the wonders of this fascinating country. Traveling gluten-free in Uzbekistan may not be a cakewalk, but it is an unparalleled experience that I'll cherish forever.
About the Creator
I'm a fiftysomething guy with a passion for films, travel and gluten free food. I work in property management, have a history in television presentation and am a multi award wining filmmaker, even though my films are/were all trash.
Reader insights
Be the first to share your insights about this piece.
Add your insights