Where your community counts
Romford's Ciao Bella has more than just good food.
Image by Ciao Bella
In the suburbs of London sits the town of Romford, where you will find the greatest not so hidden gem in the city. Ciao Bella is an Italian restaurant that sits a stones throw from the railway station at the gateway of the town. The restaurant has been here for a good many year and is one of the best known of Romford's independent eateries, but why is it so well known?
Well first up, it must always be the food, this is a place to get a good quality meal without having to pay through the nose, so proud are they of their value offering, they even have a lunch menu that is designed to make it as cheap for local office workers to eat here as it is for them to bring a packed lunch. It is entirely possible to get a meal and a drink for £10 per person and to be left fully fed for the remainder of the day. The Pizzas enormous and for a coeliac like myself, you are not penalized on your pizza size just because you have different digestive issues. The pastas here are so smooth, you would think you were on the Amalfi coast.
But it is not just the food, it is the personality, the restaurants staff are a community, you take a walk into Ciao Bella and if you've been their before, your almost guaranteed to meet serving staff who have met you before, Ciao Bella is not a place to have a high turnover of team workers. This is a family business that may not even be ran by a family. That is how you feel when you walk in, it's a place where you go, where they know you and you know them, maybe not on named terms, but you can guarantee that if you have been their a few times, they are going to know what you like to eat. There is something rather charming about being addressed as "Mr Calabrese" when you walk in the door. And as I smile in agreement the waiter scribes "GF Calabrese" on his pad before looking at my partner and asking Caprese Salad or Pizza today? This is a place where those that frequent are welcomed, respected and sometimes in full humour mildly abused.
Ciao Bella is a place to adapt, as the world went into a lockdown in 2020 and restaurants were forced to close, Ciao Bella focused on their online orders, a busy restaurant became a busy takeaway while still respecting their cheap eats ethos. While so many businesses simply rolled over at the first sign of fear, these guys put peddle to the metal and ramped it up in a completely different way. Whether you had your item delivered or you went to collect the same charm of this venue will meet you on terms you are used to.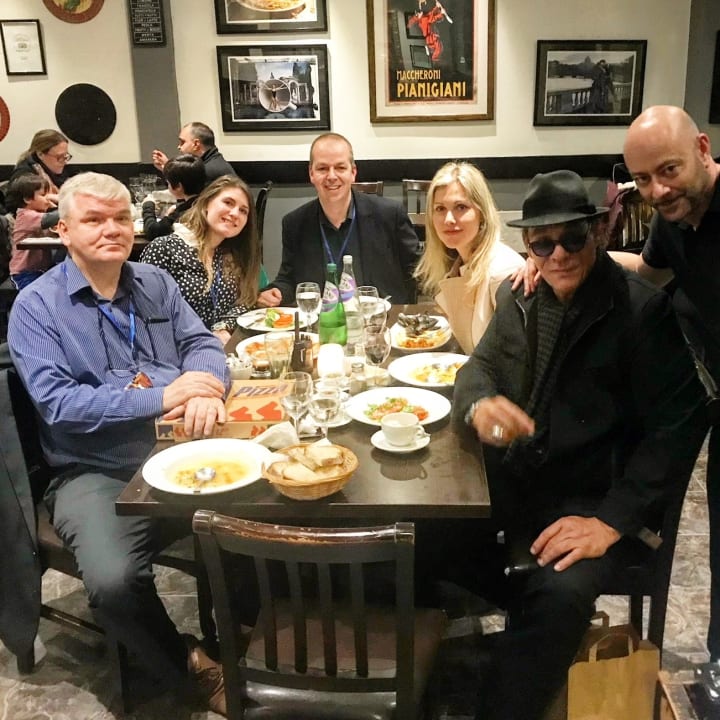 What are the chances of descending to a suburban restaurant and sitting with a Hollywood star? Five and a half thousand miles from where they usually would be found eating? Only at Ciao Bella, its fairly common to run into a local social media celebrity anywhere in London or Essex, they are literally everywhere. But you find more than that here, its hardly a location you'd expect to run into Die Hard's Robert Davi and his wife. Hardly whom you expect to find and despite only 30 minutes early being mobbed by an army of fans and making local press, Ciao Bella is a place that Robert can eat unhindered, unmolested by fans, enjoying an incredible meal at a reasonable price, while being flabbergasted at how cheap everything was. "This place is so cheap I'll eat everything" he said and almost did. From Ricky Gervais to Michael Caine anyone who has been near Romford has undoubtedly ended up here, because good food, good prices and a feeling a both community and diplomacy goes such a long way. This unassuming restaurant in hardly the most enigmatic parts of town, has a legion of fans from the locals to the legends and when you have a restaurant that caters for all regardless of budget, you'll always have a winning formula.
Ciao Bella can be found at 95 South Street, Romford, London, RM1 1NX, Ciao Bella can handle all food allergies with style and are happy to amend set meals to meet your requirements.
About the Creator
A multi-award nominated filmmaker with a passion for travel, film, finance and social media.
Reader insights
Be the first to share your insights about this piece.
Add your insights