Garlic: Nature's Antibiotic
Two Salads and a Soup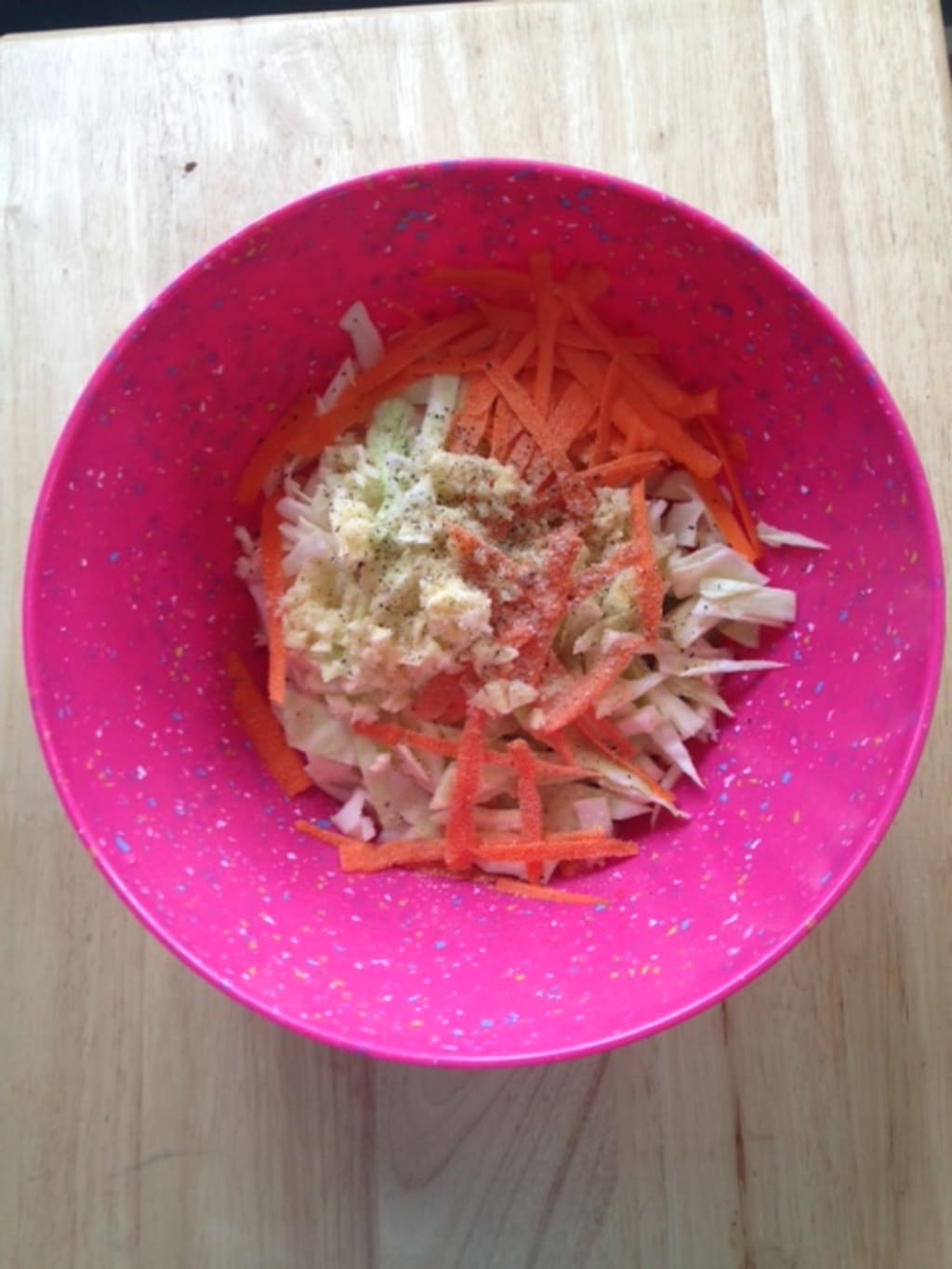 Coleslaw (pre-mixing)
I recently came down with a summer cold. This generally doesn't happen to me. Being in the vicinity of three sick children in a small cottage for a few days brought me down though. However, as a Registered Holistic Nutritionist and granddaughter of a garlic-loving Romanian cook, I knew exactly what to do. I made my grandmother's patented coleslaw recipe. It is full of garlic, cabbage, and lemon, all foods that will knock a cold directly out of you. Try it the next time you find yourself under the weather and you will definitely accelerate your recovery!
Garlic contains a compound called allicin, which benefits the body in many ways, such as relaxing the blood vessels and helping to protect cells from becoming cancerous. Garlic also tends to raise HDL ("good") cholesterol and lower total cholesterol. It has been shown to lower blood pressure as well as reduce the frequency of one's run ins with the common cold by 60-70%.
Lemon boosts stomach acid production. Firing up one's digestive juices is always helpful, as it cuts down on acid reflux symptoms and promotes more efficient absorption of nutrients. Cabbage is a true superfood. It provides a gentle liver cleanse and is full of fibre, aiding any elimination issues.
Immunity Boosting Coleslaw
½ head green cabbage, shredded
1 carrot, peeled and shredded
2 green onions, chopped
2+ cloves garlic, minced
Juice of 1 lemon
⅛ cup avocado oil
Sea salt and freshly ground black pepper to taste
Combine all ingredients, taste and adjust as necessary. This tastes even better after it sits for a day or so.
Here are a couple more garlic-loaded recipes to get you prepared for cold and flu season. Kale-Tahini Salad has the benefits of garlic and lemon too and it's got lots of calcium. The dark leafy kale leaves and the tahini (sesame seed paste) are full of this mineral, and it's much better absorbed from these sources than from dairy.
Cayenne and Garlic Soup is terrific for when you need to clear your sinuses. Add as much cayenne as you can handle, starting with just a small amount. The spicier you like it, the more health benefits you'll get out of it. Cayenne pepper is good for you in many ways. It improves digestion, helps detox the body, and boosts metabolism. If you like it here, try replacing your black pepper shaker/grinder with a cayenne shaker!
Kale-Tahini Salad
1 bunch lacinato kale
3 tbsp tahini
3 tbsp water
3 cloves garlic, minced
Juice of 1 lemon
Freshly ground black pepper to taste
Pinch of sea salt
In a large mixing bowl, combine the tahini, water, garlic, lemon, pepper and salt if using.
Wash kale and chop into ribbons, discarding the ribs. Add to the dressing and mix very well, until the dressing is evenly incorporated and the kale feels pliable.
Cayenne Lime Soup
1 tbsp olive oil
1 large onion, peeled and diced
4 stalks celery, sliced lengthwise and cut into small dice
4 carrots, peeled and cut into small dice
2 heads garlic, separated into cloves, peeled and chopped roughly into a variety of sizes
1 large russet potato, peeled and cut into small dice
2 plum tomatoes, chopped
6 cups vegetable stock
Juice of 2 limes
Cayenne pepper—start with a pinch and add more (while tasting) until it is as spicy as you can handle
Heat oil in a large stockpot. Add onion, celery and carrots and sauté for 5 minutes. Add garlic, sauté for 1 minute more. Add potato, tomatoes, stock, lime and cayenne. Bring to a boil, reduce to a simmer and cover. Simmer for 25 minutes, taste and add more cayenne if desired.