Five Restaurants to try in Harrisburg, PA!
In No Order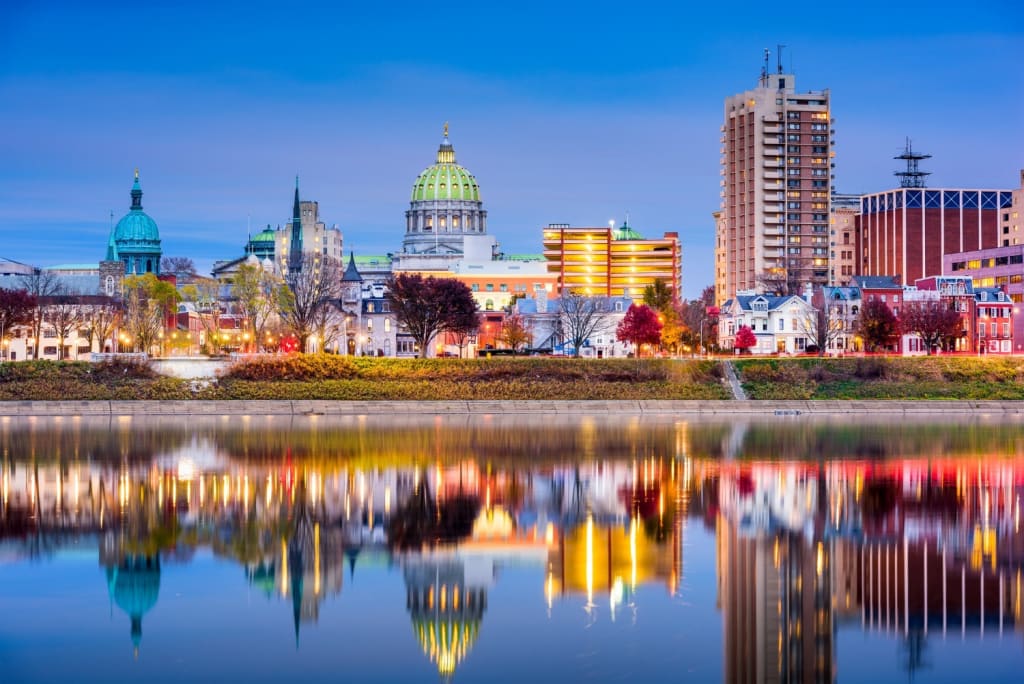 1. Home 231
Located on North street in Harrisburg, just outside the state capitol's front door, Home 231welcomes their visitors with an upscale, cleanly environment. Home 231 prides themselves on their farm-to-table philosophy. Now, don't expect to gorge while you visit. Home 231 emphasizes quality over quantity when it comes to their culinary experience. From bread and cheese boards, to wild caught seafood and meats, Home 231 leaves you with an array of assortments to choose from during your visit. For those wine experts their selection is impressive. Bottles aged as old as 2008 signify the time, thought, and care that goes into their dining experience. The venue itself also compliments the fine dining. A long, dimly lit space with a bar that stretches the length of the restaurant compliments the layout of the dining area. Window front seating is also available for those couples on date night as well as outdoor seating for when the weather is accommodating. The antiqueness of the building itself will draw you in just to take a look inside, but once you're in there you may find yourself too enamored to want to leave. Home 231 will not disappoint.
2. Note Bistro and Wine Bar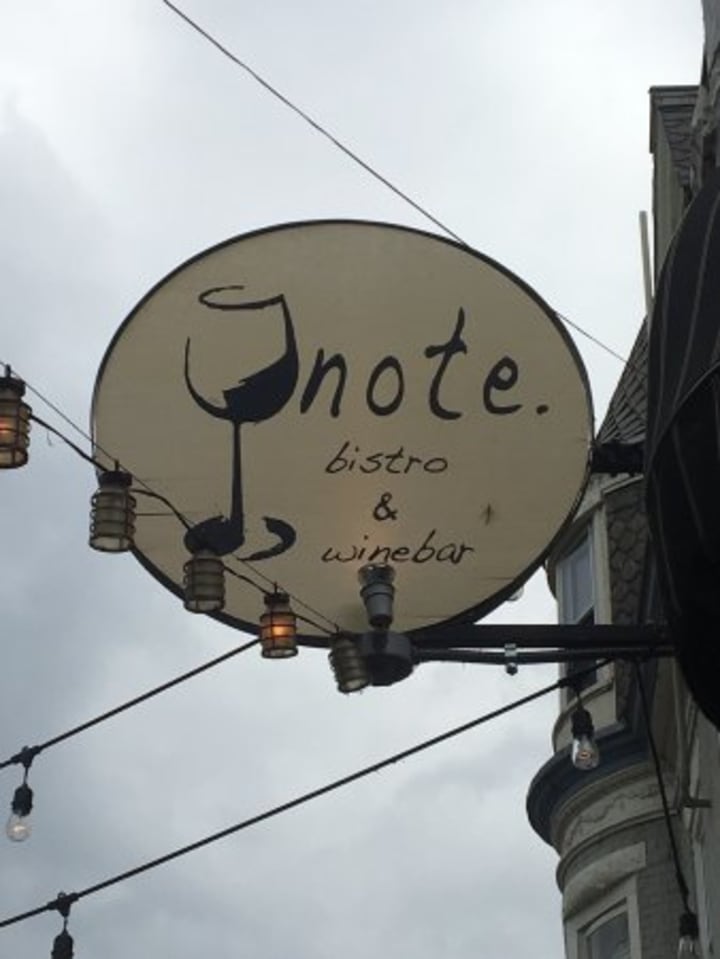 This gem is hidden on the corner of North 2nd street in Harrisburg. This modern European style location draws your attention first outside with their decorative and inviting lighting display that surrounds the entire exterior of the building. Inside brings a modernized feel to the old-fashioned building. Bar setting is accompanied with under-bar outlets for those patrons in need of their electronics. Outside patio setting is also available, weather permitting. Once inside you will be greeted with a friendly staff of bartenders and hostesses. The staff takes time out of their service to really make each individual feel welcomed and cozy. Featured on the Culture Trip, Note Bistro is more of a cultural experience. Wines are matched elegantly with their cuisine counter parts in order for the customer to have a proper wine and dine experience. Again, this is a place where quality is valued more than quantity so portion sizes will vary. Regardless of portion size, the artistry and effort that's put into these dishes will make one appreciate that they chose to come to Note. Their best known for their spread of platters they offer. Each platter is served with an accommodating wine selection or a wine of the customers choice. The entre selection is robust. From ox to lamb, to short ribs and seafood, Note makes sure all their bases are covered for every and any taste customers may bring in with them.
3. Koda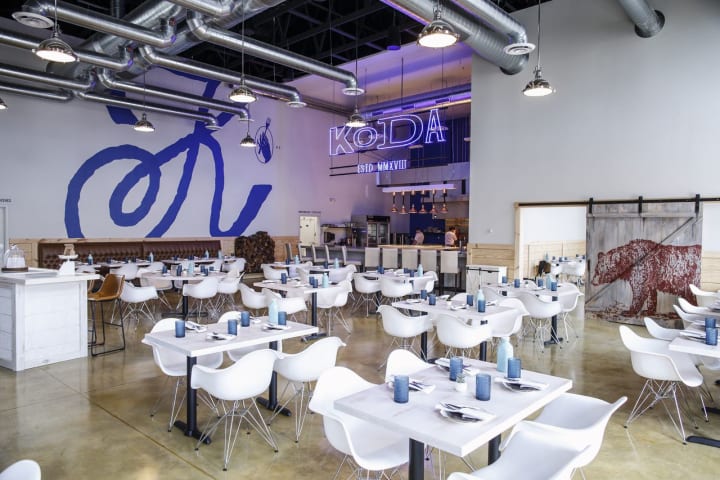 On Union Street Blvd you will find arguably the best restaurant in the city of Harrisburg, Koda. This old coble stone building is deceptive in its appearance. Outside displays a relatively trendy and modernized logo that grabs your attention. Once inside you're immediately captivated by the ambiance. Dim blue lighting accentuates the design of the interior. Retro style seating and tables add to the upbeat vibe the dining area brings. Koda is a restaurant that emphasizes their experienced and top-level chefs they employ. The open kitchen concept allows customers to view exactly how their meals are being prepared. Their menu is creative to say the least. From weekly pig roasts, to several different styles of gnocchi dishes, Koda brings something new to the table (literally) every time one visits. An added bonus to this establishment is that its connected to a local brewing company. Newfangled Brewery is partnered with Koda to enhance and extend their culinary experience for their customers. No stone is left unturned.
4. Harvest Seasonal Grill & Wine Bar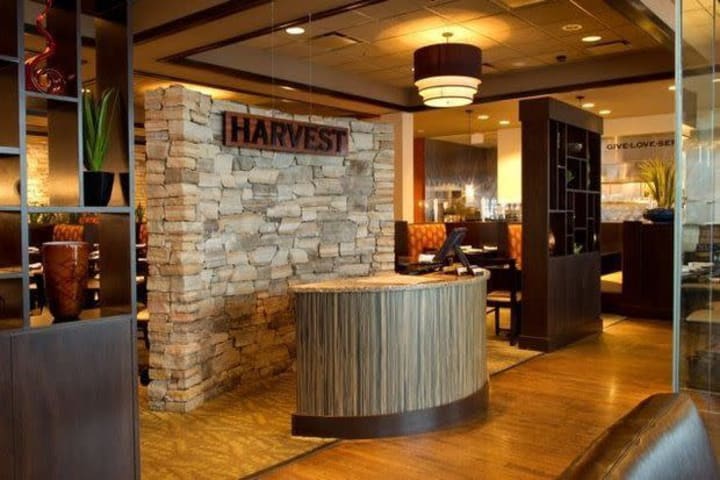 The Susquehanna shops are located just outside of the city of Harrisburg and here you can find one of, if not the best, wine bar in the area. Harvest is a bar and grill that specializes in local cuisine and wines. This upscale casual location is great for date night. A large, dimly lit dining area is surrounded with their collection of locally produced wine and spirits accompanied with tables and seating fit for the finest of occasions. Stone interior with floral expressions all over makes customers feel at home and comfortable while partaking in their dining experience. Harvest is a fine line between casual and gourmet dining. Its happy medium appearance caters to all would be customers. While Harvest is recognized more as a wine experience, their food is still stop notch. A creative menu provides a number of different styles of dishes. While this restaurant is considered an American traditional style, their dishes far exceed westernized cuisine. Harvest is best known for their mini deserts that complement the wine they provide. All in all, Harvest is never hit or miss. Satisfactory service and experience are guaranteed every visit.
5. McGrath's Pub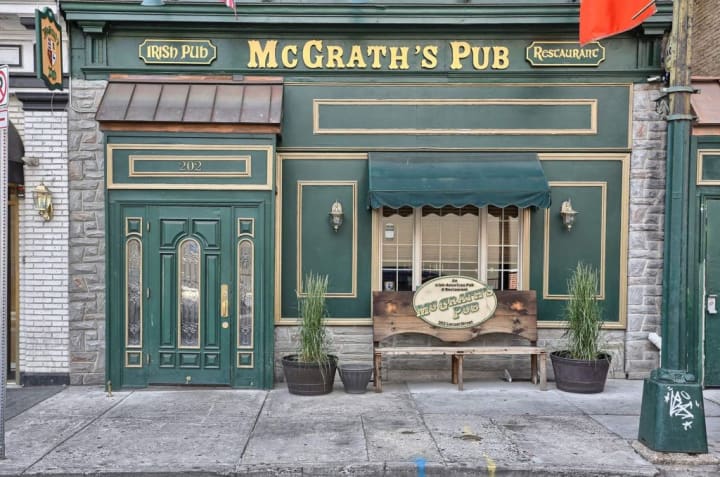 While most of the restaurants on this list seem to cater to those looking for an authentic dining experience, McGrath's Pub is a place for those looking to just hang out. Sitting on the corner of Locust street in Harrisburg, McGrath's is a classic Irish American bar with food so good, you'd couldn't imagen it even came from a bar. McGrath's small staff is family owned so you'll see the same faces most of the time you visit. This adds to the hometown feel it brings as soon as you walk into the door. It's a small-scale building but with larger than life personalities working inside. The bartenders make sure their customers are comfortable and engaged during their stay. McGrath's specializes in comfort food making it an excellent stop in for lunch or a late dinner. With it being a pub, the place doesn't close till two in the morning, but don't worry, the kitchen is open all night! Juke box music engulfs the bar while patrons look around at the local memorabilia scattered along the walls. With reasonably priced drinks and beer on tap and Irish American soul food available, McGrath's gives Cheers a run for its money.
About the Creator
My degree is in Communications with a focus on Journalism and a minor in Political Science.
Reader insights
Outstanding
Excellent work. Looking forward to reading more!
Top insights
Easy to read and follow

Well-structured & engaging content

Eye opening

Niche topic & fresh perspectives
Add your insights