Fantastic Three Ingredient Desserts
Easy as one-two-three: there are plenty of amazing desserts you can make using as few as three ingredients.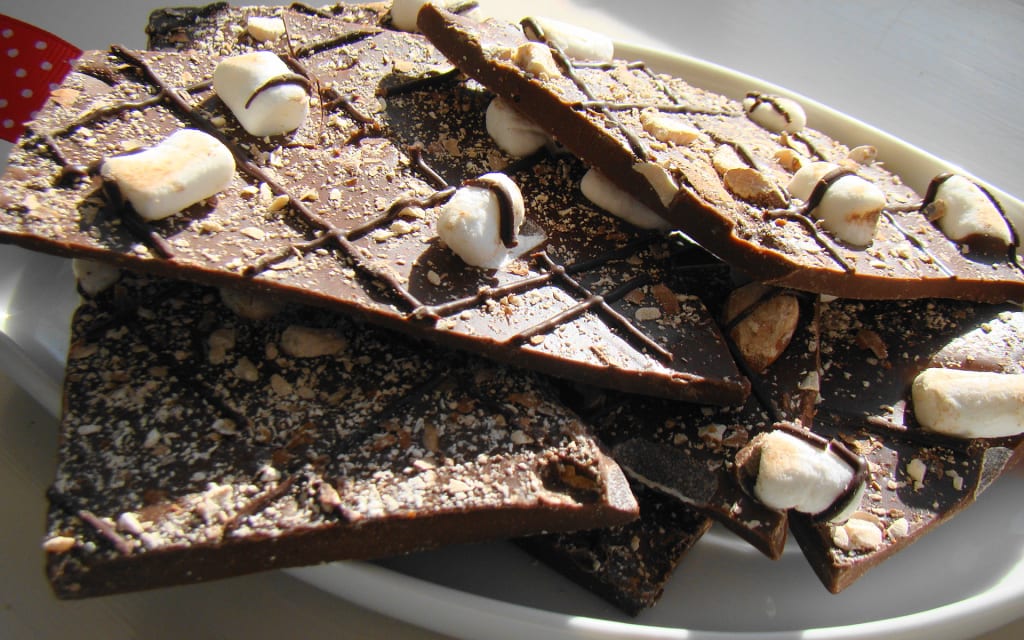 Baking can be a tricky endeavor, as many desserts require a ton of ingredients and steps that can leave beginners a little overwhelmed. There are tons of amazing baked goods out there, but buying all the ingredients can be expensive. It can take hours of time you may not have. And, let's be honest, sometimes you need a fast treat to satisfy that craving of yours.
There are a handful of delicious desserts. There are a handful of simple desserts. It may be hard to conceive of desserts that are at once easy to bake and amazing to eat, but there are plenty of amazing treats you can make using as few as three ingredients.
Chocolate Cheesecake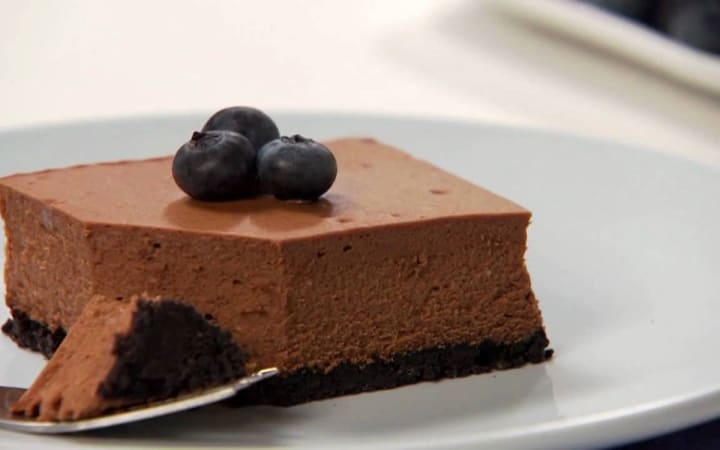 Ingredients
Chocolate chips
Cream cheese
Heavy cream
Mix 4 ounces of chocolate chips with 2 tablespoons of heavy cream into a bowl. Microwave on medium for 20 seconds so it melts. Meanwhile, take 4 ounces of cream cheese (room temperature), and beat it until it's fluffy. Once it is, mix it up with the melted chocolate chips.
Divide the mixture in two containers, and keep chilled for four hours until served. Additional sauces on top are optional.
Peanut Butter Ice Cream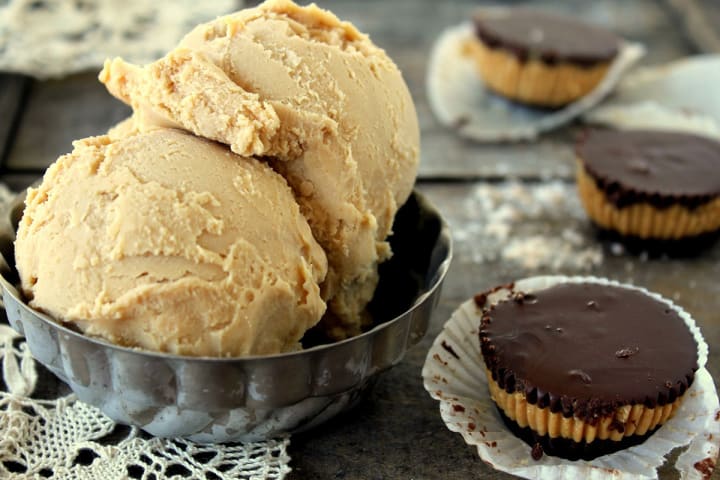 Ingredients
Bananas
Peanut butter
Sea salt
This dessert is a little complicated. Slice three bananas up, and place in a ziplock bag or Tupperware overnight to freeze. Next day, after letting the bananas defrost, put the bananas in with 2 tablespoons of peanut butter in a blender. Once mixed well, put in sea salt. As much as you want.
As you prepare this, you can make a chocolate caramel sauce (or simply caramel) to pour over the ice cream. This is, of course, optional. You can pour chocolate syrup over it if you want. Eat like you would normal ice cream.
Shortbread Cookies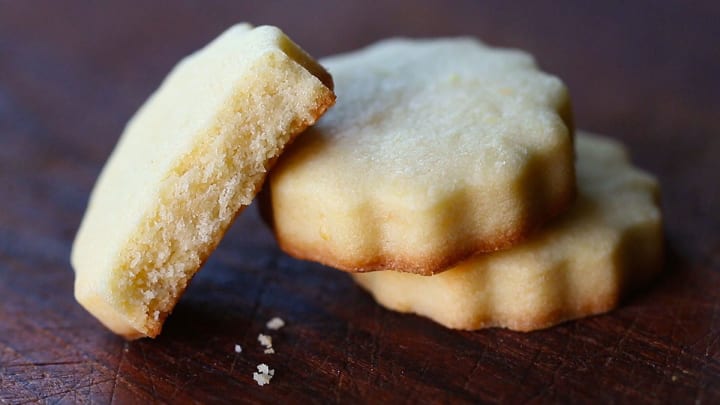 Ingredients
Butter
Powdered sugar
Flour
To bake this dessert, first preheat the oven to 350, while layering a pan in parchment. Mix 2 sticks of melted butter and 1/2 cup of powdered sugar in a pan. Stir until well mixed. Add 2 cups of flour. Mix until it looks like dough. Roll into a ball with hands, and place on the a surface lightly coated in powdered sugar. Use a rolling pin to flatten it out.
Use a cookie cutter to remove wedges from the dough. Place it in the pan. Ball up the remainder to use for more cookies, until you have used it all for cookies. Bake for fifteen to eighteen minutes until gold. Once cooled, you can coat with more powdered sugar, turn into a sandwich using caramel sauce, or, potentially, eat as is.
Pumpkin Donuts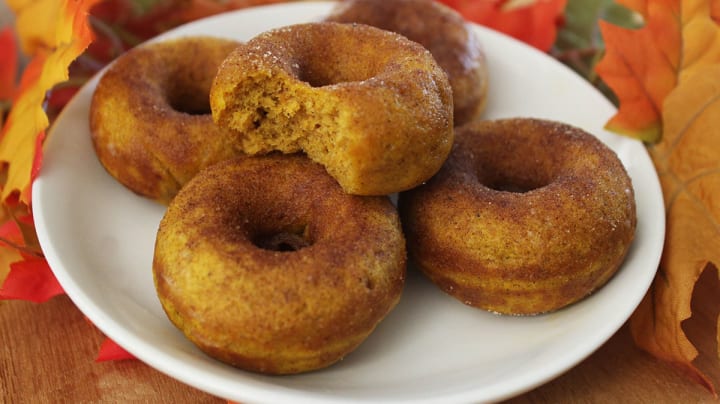 Ingredients
1 canned pumpkin (not pumpkin pie filling, but pumpkin)
1 spice cake mix
1 Tablespoon of pumpkin pie spice
Preheat the oven to 350, and glaze a donut pan (recommended). Mix ingredients together in a bowl (sized accordingly). Transfer mixture into a large ziplock back, press the air out, then snip off a corner of the bag. Squeeze mixture into donut pan (filling each slot accordingly). Bake for 12-14 minutes. Let cool for 5-10 minutes before transferring to a cooling rack.
Glaze optional.
Chocolate Covered Grapes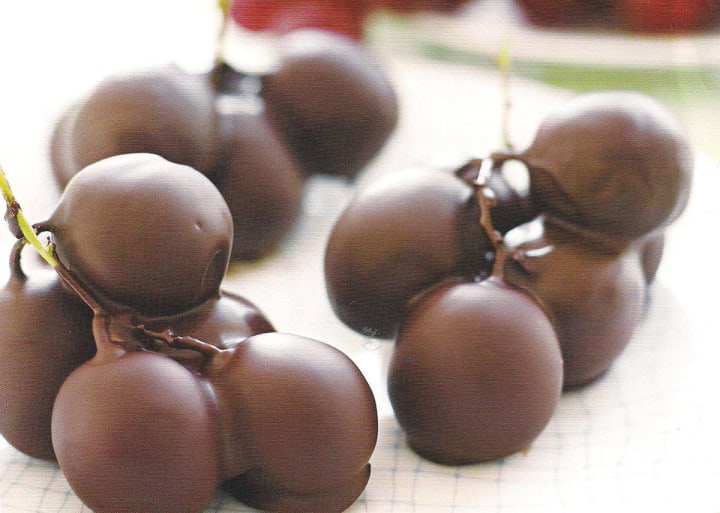 Ingredients
Grapes
Chocolate
Coconut oil
Melt chocolate, and mix it with coconut oil. Meanwhile, skewer grapes on a stick. Stick grapes in chocolate mixture, and let dry. You now have a convenient little dessert.
Yogurt Truffles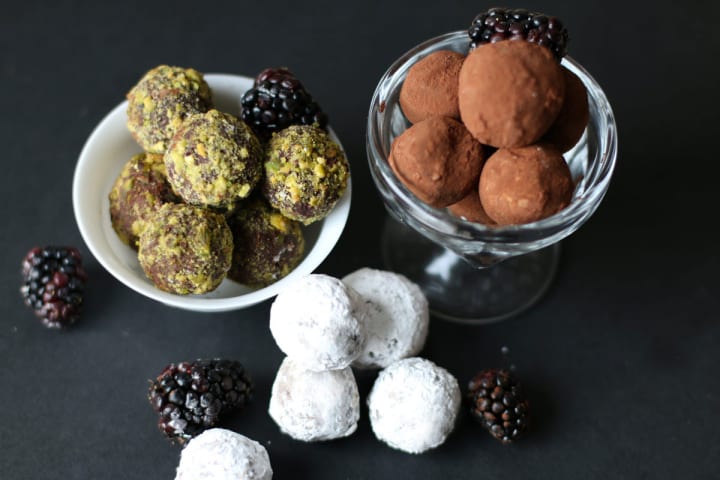 Ingredients
Greek yogurt
Chocolate (either white or black)
Chocolate flakes (if white) OR cocoa powder (if black)
Melt 4 ounces of chocolate. Stir often to avoid it burning. Once melted, take this off the heat, and stir in 1/3 cup of Greek yogurt. Stir in the third ingredient, depending on what variety of chocolate you are using. Whisk the mix until it is smooth. Let the mix chill (one hour if dark or three hours if white). Once chilled the the appropriate length, make balls from it, and decorate them with sprinkles or what have you as you see fit. From there, enjoy your dessert.
Rice Krispies Pie Crust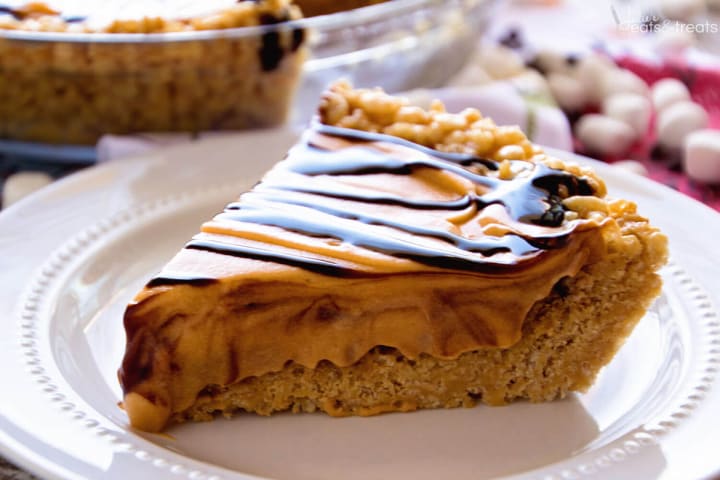 Ingredients
Rice Krispies
Chunky peanut butter (or almond butter, if you prefer)
Corn syrup
To prepare, simply mix the chunky peanut butter with corn syrup together until you have a fine paste. Mix in Rice Krispies—though try not to break the cereal. Once everything is mixed in, press the combination into a pie crust container.
Now you have an ideal pie crust for you to put anything else in. I recommend ice cream personally. This dessert is meant to be sweet.
Red Velvet Cookies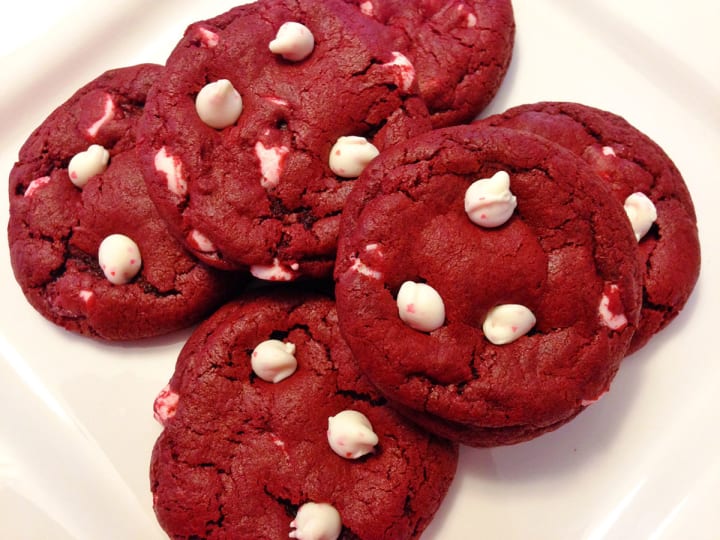 Ingredients
Red velvet cake mix
Canned pumpkin
Pumpkin pie spice
(Optional - 2 cups of chocolate chips)
For this dessert, you first need to preheat the oven to 350. In a bowl, mix one box of cake mix, 1 can of pumpkin, 1/2 teaspoon of pumpkin pie spice, and, if you choose, 2 cups of chocolate chips. Once well-blended, place on a covered pan. Bake for 12 to 15 minutes, and, from there, enjoy!
Peanut Butter Mousse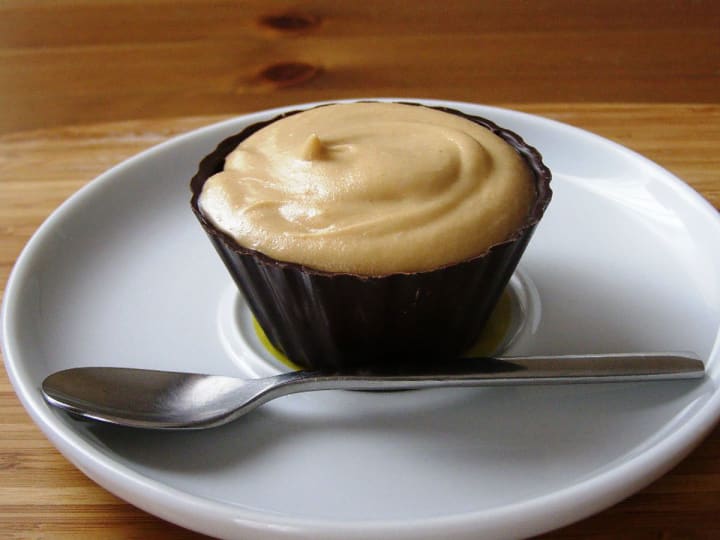 Ingredients
Coconut milk
Creamy peanut butter
Agave nectar
Preparation is simple: mix them all together until frothy. Serve as either a stand-alone dessert or as a frosting on another dessert. Either option is totally acceptable.
Thin Mints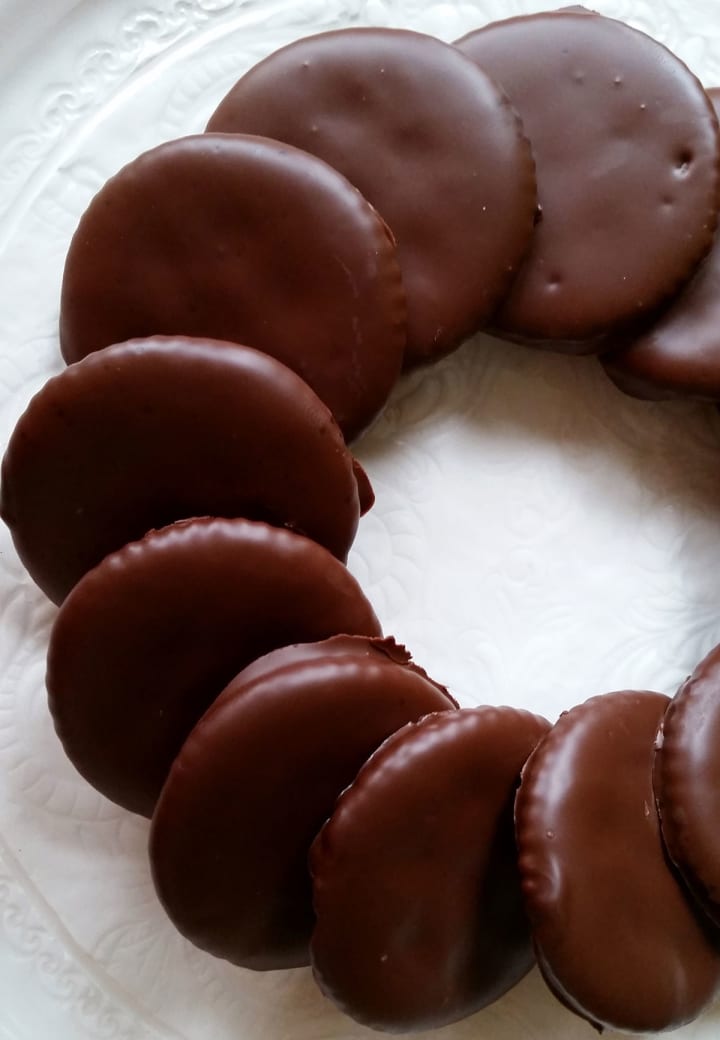 Ingredients
Ritz crackers
Peppermint extract
Semisweet chocolate chips
Melt the chocolate chips. Add in peppermint extract as you melt it up and stir. Dip the Ritz Crackers into the molten chocolate, and then lay out on parchment paper to cool. Once the chocolate has solidified, you have a perfect dessert... and can tell those Girl Scouts selling their cookies to stop interrupting your mint cookie binge.
Peep S'mores Dip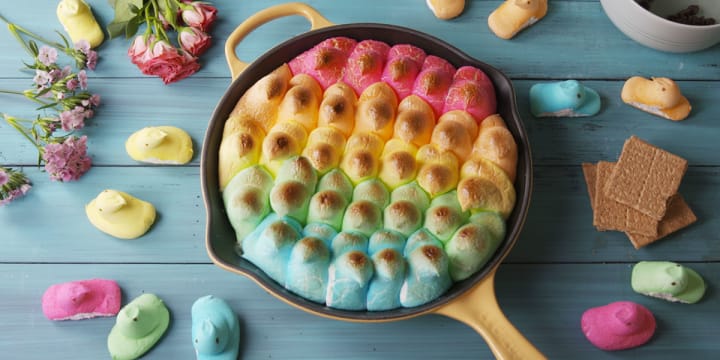 Ingredients
Chocolate chips
Peeps marshmallows
Creamy peanut butter
This recipe is the perfect Easter-themed dessert dip for graham crackers, cookies, or other baked wafers that need a sweet coating.
To make it, simply place your chocolate chips into a skillet—enough to cover the bottom. Drop spoonfuls of peanut butter on the chocolate chips. Then, cover it all with a layer of Peeps. Enough to cover the whole thing. You may need at least 25 peeps to do it, or more. Just make sure there are no spaces.
Place the skillet on the stove top (set to high) for a minute or two. The chocolate should be melted pretty well below the layer of peeps. Once at most two minutes have passed, serve hot, before the chocolate even has a chance to cool.
Nutella Brownies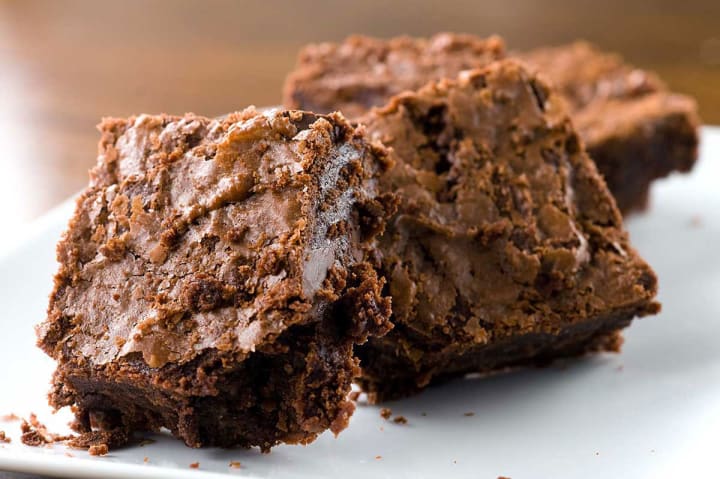 Ingredients
Preheat oven to 350. Grease a 9" by 9" pan. Mix 1 1/4 cup of Nutella, 2 large eggs, and 1/2 cup of flour, and stir it all together. Once well-mixed, pour into pan. Place pan in oven. Bake for 15 minutes. Let them cool. Then, enjoy.
Rocky Road Bark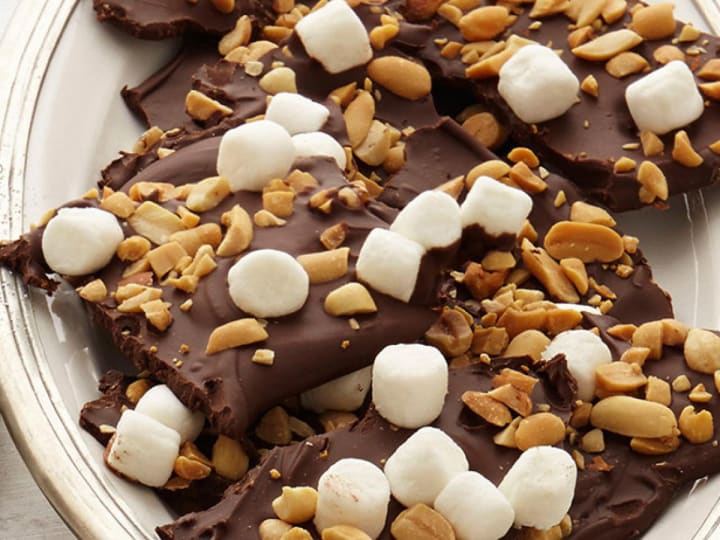 Ingredients
Semisweet chocolate
Walnuts
Marshmallows
Melt 16 ounces of finely chopped chocolate in either the microwave or a double-broiler. Stir it as it cools. Add a cup of marshmallows and walnuts in as it cools.
Once its cooled, set the chocolate mixture onto a pan with parchment paper on it. Try to spread it evenly. The dessert doesn't require it to be perfect, but it just is easier to eat if it's spread in a balanced amount.