Best Burger Spots In New York City
Your odyssey from burger joint to burger joint may seem insurmountably long, but, with a little guide, you'll be able to hone in on the best burger places in New York City.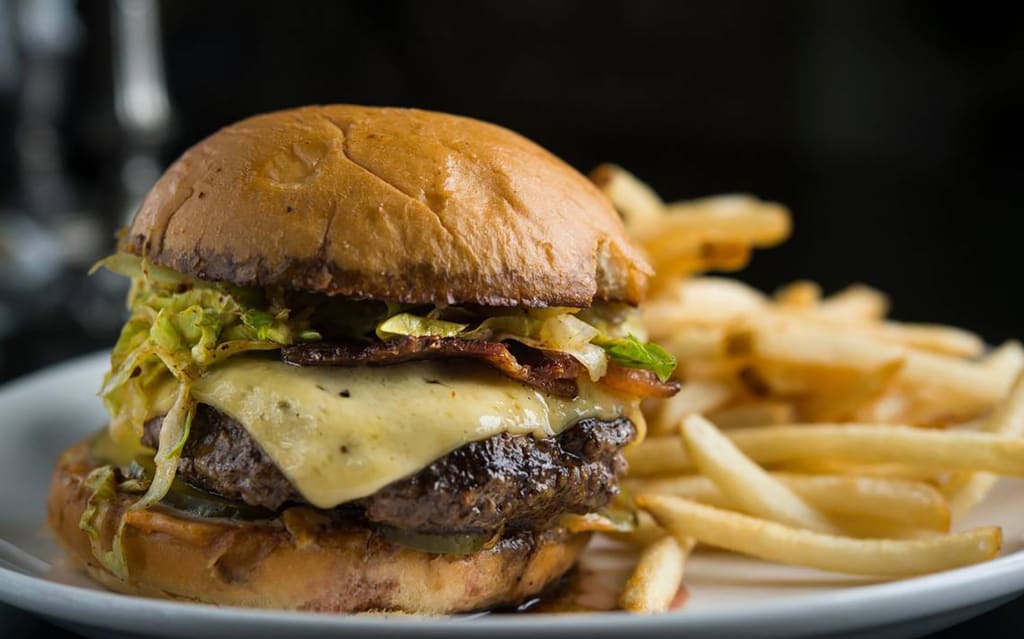 Burger spots are something of an American tradition, and New York City is something of a microcosm of America. What other city best encapsulates the diversity of the American dream—at its best and at its worst—quite like New York City?
Naturally, if you're looking for something American, what better thing can you do than to order a real New York burger? Of course, to the normal traveler—or even a New Yorker—the selection can be a little intimidating. There are so many places that insist they serve "the best damn burger you've ever tasted." How do you know unless you've been everywhere which places are the best?
Your odyssey from burger joint to burger joint may seem insurmountably long, but, with a little guide, you might be able to hone in on the best burger places New York City has to offer.
Black Tap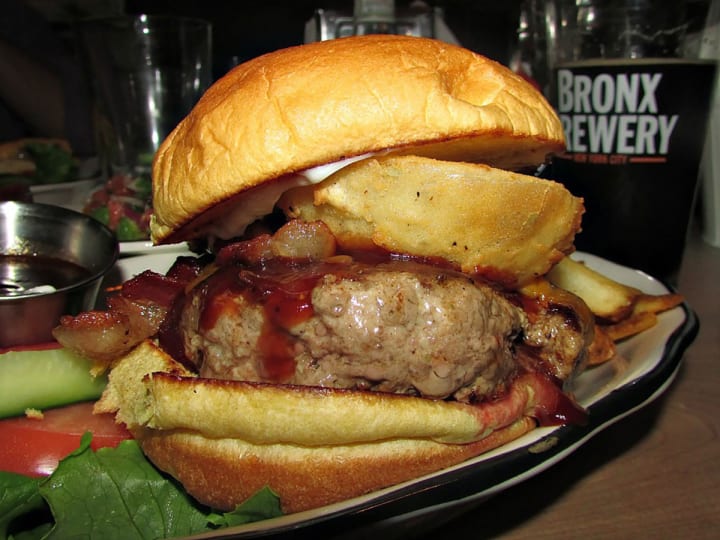 Black Tap is your go-to place if you're passing through Soho and want an award-winning burger to start your day off right. Superb wings and fries complement their burger selection, as well as their mason jar cocktails, craft beers, and all that good stuff. But if you're going to Black Tap, you must try out their Crazy Shakes—Black Tap's pride. See if they're worth all that hype. The place has a terrific atmosphere and aesthetic. It aims to appeal the Instagram generation, and, in doing so, tries to create a social atmosphere that looks like it came straight out of a foodie's Instagram photo.
The Black Tap is located at 529 Broome St, New York, NY.
Black Market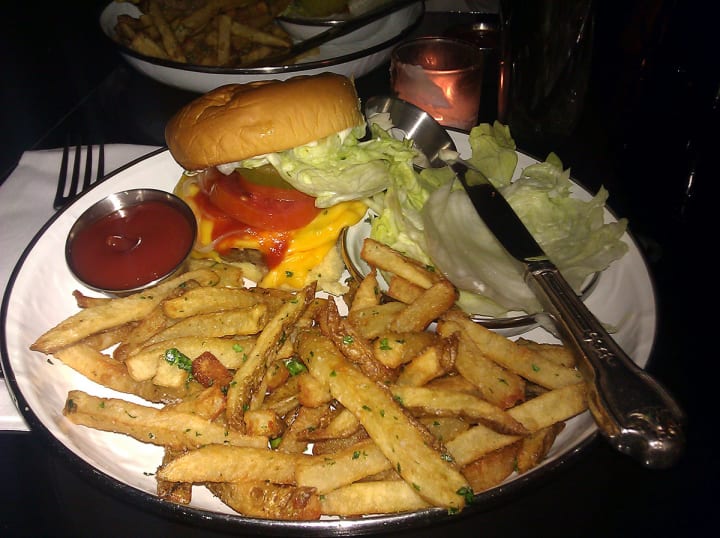 This Alphabet City burger spot prides itself on its oysters, cocktails, and, of course, burgers. Their juicy burgers are made from Pat LeFrieda patties and topped with some fine melted American cheese. If gin is your drink of choice, then the Black Market's Happy Hour is the perfect place for you. Drinks are best combined with their one dollar oysters at this time. Any other time? Their burgers should do the trick better than anything else.
The Black Market is located at 110 Avenue A, New York, NY.
Saxon + Parole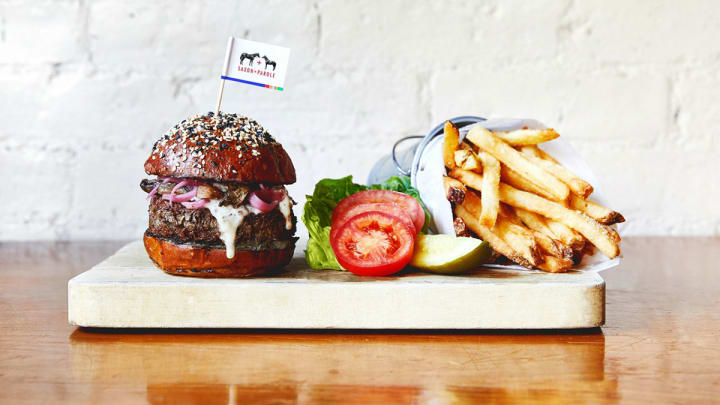 This stylish place on the Bowery is one classy place to eat at. They serve some fine seafood, and have some amazing steak. But their signature is their burger. They serve their patties topped with melted Havarti cheese, maple bacon, a fried egg, and bone marrow bearnaise sauce. If that doesn't get your taste buds tingling, then nothing will. If you're going through New York City, you need to learn how freaking amazing it is to combine eggs and bacon with a class-A cheeseburger.
Saxon + Parole is located at 316 Bowery, New York, NY.
Brindle Room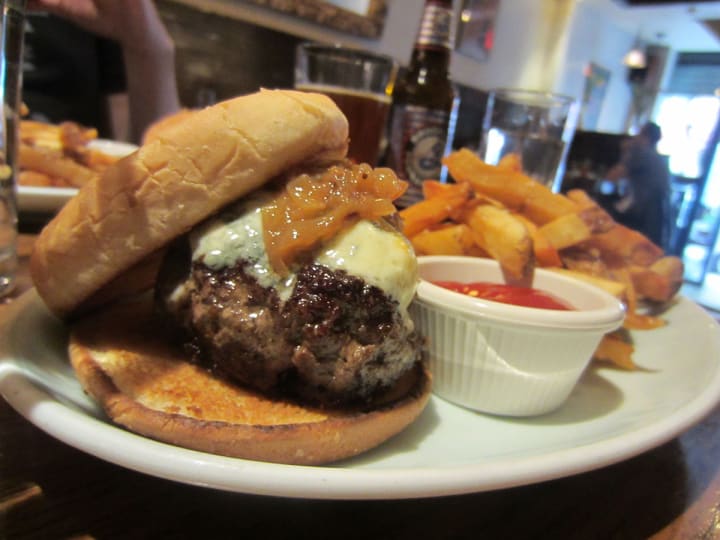 You ask some people, and they'll say the Brindle Room is the best burger spot in. Period. Not just New York City. Period. This East Village pub is out to serve some of the finest comfort foods you'll ever want, with drinks to complement your pallet. But if you ask regulars what they order? It's the Steakhouse burger. Caramelized onions topped with American cheese. A superior burger, topped by superior ingredients to make your taste buds melt.
The Brindle Room is located at 277 E 10th Street, New York, NY.
Harlem Shake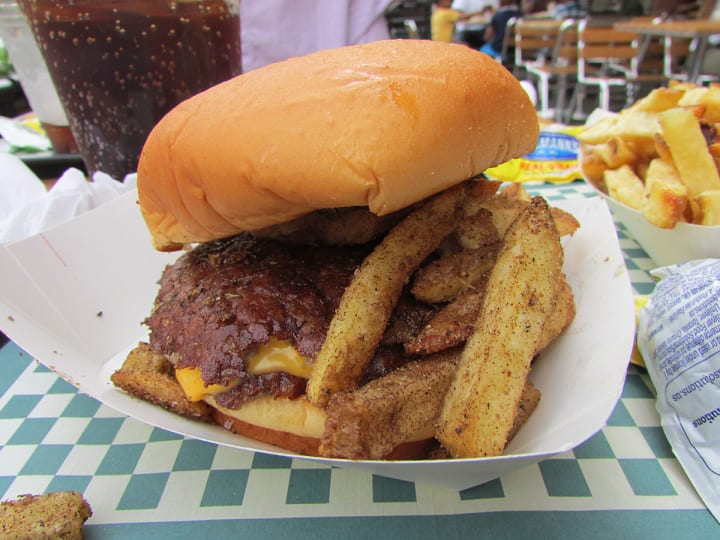 50s diners are a staple of American culture. This Harlem diner possesses a retro feel that will bombard you with 50s nostalgia from the moment you set foot inside. Aside from its fantastic breakfast menu, the Harlem Shake offers a highly customizable burger menu. But wait—you fear making big choices? Tons of options scare you? Then ask for their Harlem Classic—a cheeseburger with two patties, onions, pickles, and a special sauce—or their double chocolate bacon Harlem Shake.
The Harlem Shake is located at 100 W 124th Street, New York, NY.
The Randolph at Broome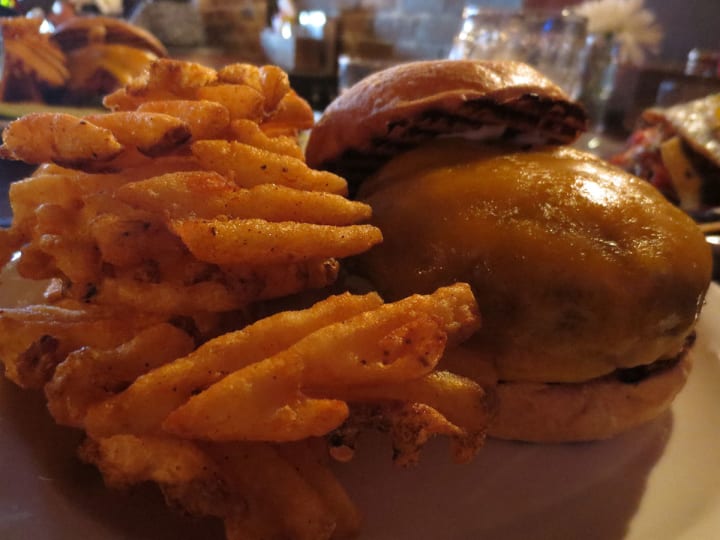 This bar in Little Italy features a wood-heavy decor—seriously, everything here is wooden—and tons of good food. Mornings serve espresso and coffee, while evenings are the place to go for beer and cocktails—even coffee themed cocktails, if that tickles your fancy. If you're going in for beer, though, you want to compliment that beer with some bar-themed snacks, and this place delivers. Of note are their burgers, which come with smoked bacon, fried eggs, cilantro, and sambal aioli. Alternatively, you can get breakfast. They serve it until 4:00 PM.
The Randolph at Broome is located at 343 Broome St, New York, NY.
PJ Clarke's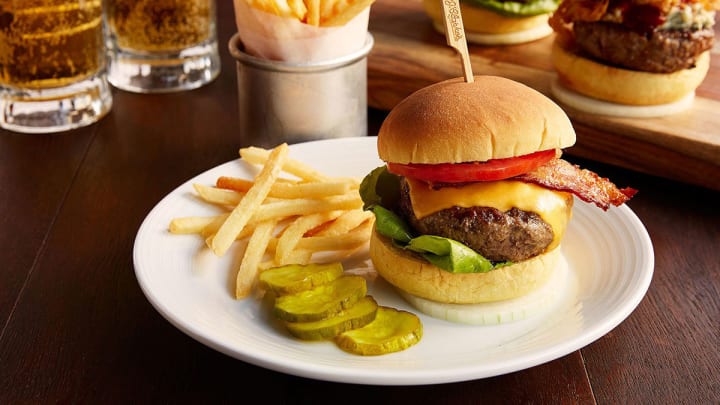 This is a classic Midtown burger spot. Since 1884, this place has been churning out high quality burgers for New Yorkers. Anyone passing through owes it to themselves to take a bite out of one of their bacon cheeseburgers. Once you have a taste, also order one of their fine cocktails. The perfect place for either a quick bite or a thorough meal.
PJ Clarke's is located at 915 3rd Ave, New York, NY.
The Fat Radish
This trendy little burger spot in the Lower East Side is a little upscale for the casual passer-through. But, if you're looking for a burger with some class, this is your destination. Their burgers, topped with aged-cheddar, come with short-rib. While this may sound a little sloppy of a burger, don't fret. You won't spill anything on your business-casual shirt if you don't leave any of your food uneaten.
The Fat Radish is located at 17 Orchard St, New York, NY.
The Breslin Bar & Dining Room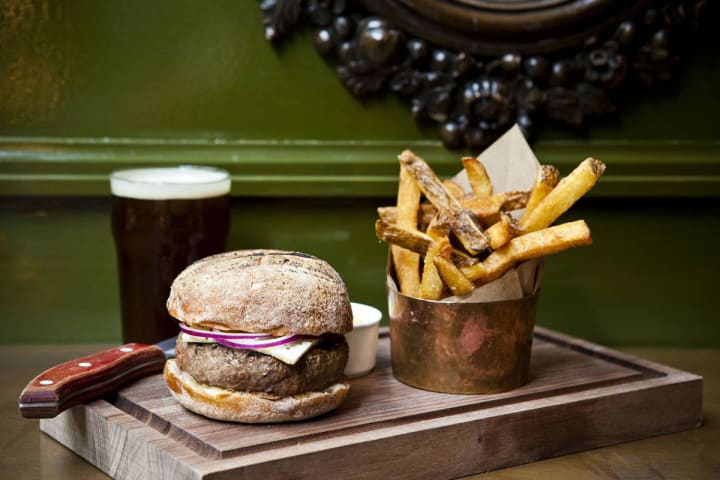 The Ace Hotel's burger place is top notch. A great place in NoMad to get a fine burger. The place serves tons of delicious meats—mastering common foods and offering rarer delicacies—but, for the burger lover, your eye will fall on one particular offering: the lamb burger. One burger, made from ground lamb, served along thrice-cooked fries and fried sweetbread. Superb. Reservations might be necessary, since this is one popular place to dine out.
The Breslin Bar & Dining Room is located at 16 W 29th St, New York, NY.
The Spotted Pig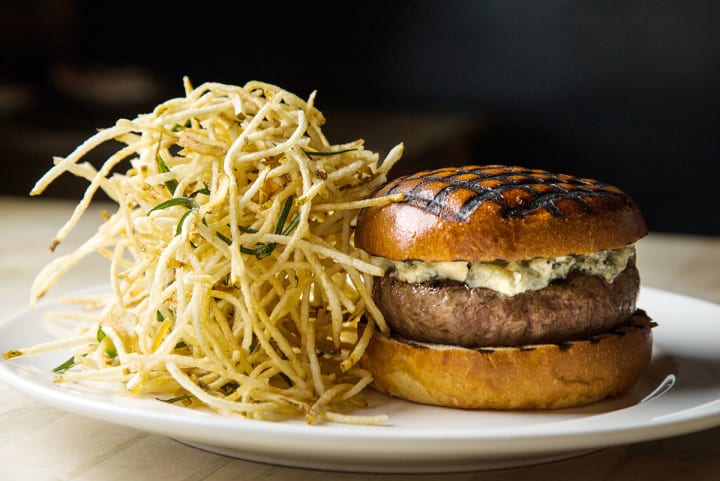 This West Village restaurant is a hotspot for celebrities and New York locals. It serves amazing burgers with shoestring fries you need to have if you're passing through. The burgers are a life-altering experience. The place is open up until 2:00 AM, which makes it an excellent place for a late night bite.
The Spotted Pig is located at 314 W 11th St, New York, NY.