Cheddar Jalapeno Baked Samosa Recipe
How to make Cheddar Jalapeno Baked Samosa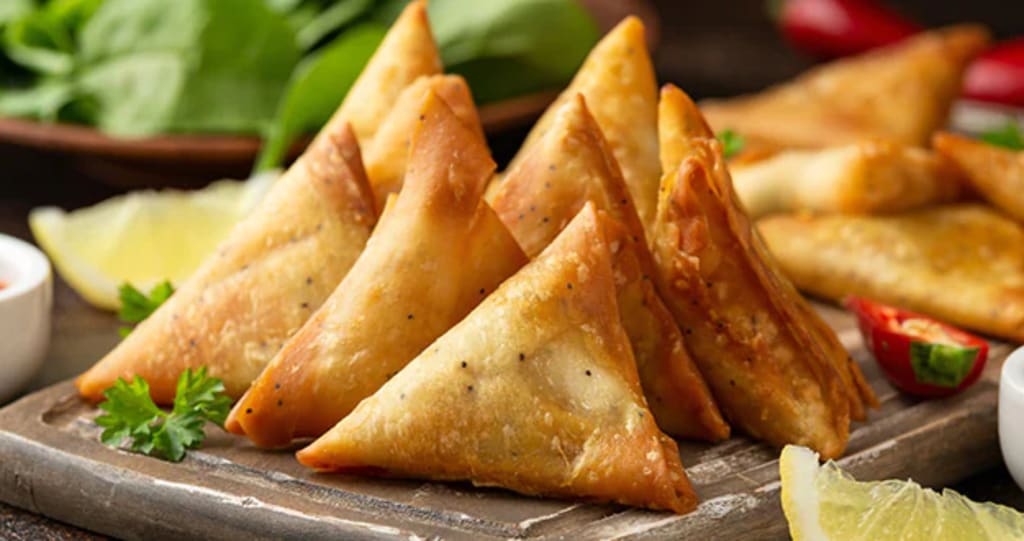 History of Cheddar Jalapeno Baked Samosa
Cheddar Jalapeno Baked Samosa is a popular Indian snack that has been around for centuries. The origin of the dish is believed to date back to the Mughal Empire, which ruled India during the 16th and 17th centuries. The dish is believed to have been developed by the Mughals, who were known for their love of spiced and flavorful dishes.

The traditional version of the dish is made with a pastry shell filled with a mixture of potato, peas, and spices. This filling is then deep-fried or baked in a clay oven. The addition of cheddar cheese and jalapeno to the dish is a modern twist that has become increasingly popular in the past few decades.

Today, Cheddar Jalapeno Baked Samosa is a popular snack in India and other parts of the world. It is commonly served as an appetizer or light meal, and is often found on the menus of Indian restaurants. The dish has also become popular in Western countries, where it can be found in Indian-inspired dishes such as wraps and tacos.
Total Cook Time 35 mins
Prep Time 15 mins
Cook Time 20 mins
Recipe Servings 2
Easy
Preparation of Cheddar Jalapeno Baked Samosa
Ingredients of Cheddar Jalapeno Baked Samosa
4 Medium potatoes
1/4 cup Mint (packed)
1/2 cup Mint (not packed)
1 inch Ginger, peeled
1/2 tsp Fennel
1 tsp Whole coriander seeds
1/2 tsp Black salt
1 1/2 tsp Cumin coriander blend
1 tsp Kasuri methi
1 1/2 tsp Amchoor (mango powder)
1/2 tsp Garlic
2 Jalapenos
1/2 Jalapeno, chopped into small pieces and deseeded
1 1/2 tbsp Oil
1/2 cup Cheddar cheese, shredded
2 sheets Puff pastry, defrosted
1/4 cup Heavy cream
How to Make Cheddar Jalapeno Baked Samosa
Cover each potato with a moist napkin. Pierce with fork 5 times on each side. Put in plate and microwave 10-12 minutes to cook. Let cool, peel and mash with potato masher.
Meanwhile, blend mint, 2 jalapenos, ginger, whole coriander seeds (dhaniya) and fennel seeds with 2 tbsp water.
Heat 1½ tbsp oil in a nonstick pan. Add spices and mix. Cook for about a minute on medium-low.
Add the paste from step two to the pan. Mix and cook 1-2 minutes. Add mashed potatoes to pan and mix thoroughly. Cook 2 -3 minutes. Turn off gas, set aside to cool.
Preheat oven to 410F. Prepare puff pastry sheets. Unroll and lightly roll out the sheets. Use a 5 inch circle cutter to make circle cut outs. Cut each circle in half. Brush edges with heavy cream.
Fill with potato filling, a few jalapeno pieces and cheddar cheese. Fold and press to seal. Brush with heavy cream to get a nice browned exterior when baking.
Line a baking sheet with parchment paper. Fill with samosas and bake for 17-20 minutes. Until gold and crispy.
Cheddar Jalapeno Baked Samosa is ready to serve. Enjoy!
Health Benefits of Cheddar Jalapeno Baked Samosa Recipe
Rich in Protein and Fiber: Cheddar jalapeno baked samosa is a rich source of protein and fiber, which can help support your overall health. Protein and fiber can help promote satiety and provide you with essential nutrients and energy.
Low in Calories: Cheddar jalapeno baked samosa is low in calories, which can help you maintain a healthy weight.
Rich in Vitamins: Cheddar jalapeno baked samosa is also rich in vitamins, particularly vitamin A and vitamin C. Vitamin A helps support vision and skin health, while vitamin C helps support the immune system.
Low in Sodium: Cheddar jalapeno baked samosa is also low in sodium, which can help reduce your risk for developing high blood pressure.
Low in Fat: Cheddar jalapeno baked samosa is also low in fat, making it a healthy snack.
Reader insights
Be the first to share your insights about this piece.
Add your insights