Best Electric Grills for Indoor Cooking
Temp control, stylish design, and surface area make all the difference when looking through the best electric grills.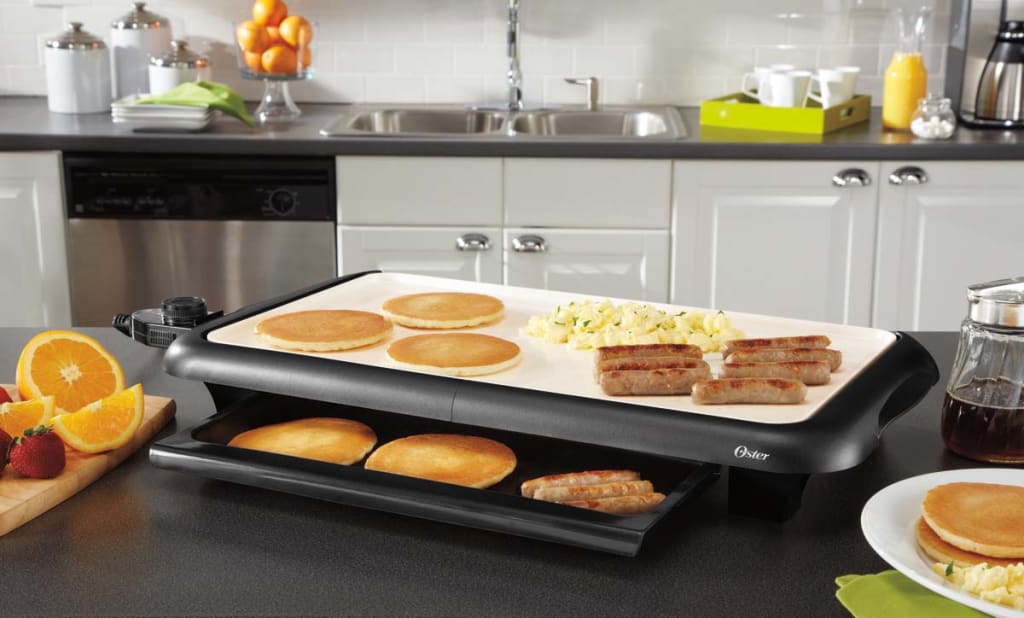 I've finally found someone who's evoked enough strong feelings in me that my emotions have given way to an in-person meeting. Her name is Chica Reyass. I want to prepare a meal for her that'll take her tastebuds to the same heights that my spirit soars when I think of her. I will survey the best electric grills for indoor cooking to find a tool that will turn my infatuation fueled inspiration into a delicious concoction fitting of the pickiest gourmet. And I will use my teenage son Jarret as my lab rat because he loves grilled foods almost as much as he loves to stonewall my attempts to impress him. DON'T DO THIS TO ME NOW, JARRET; DADDY NEEDS TO KNOW WHAT'S THE BEST OF THE BEST!
This grill by Hamilton Beach is both a griddle and a grill. It's got a large surface area and you can control the temperature of the top and bottom plates. The grill will produce juicy meats and drain a lot of the fat as well. And since the plates can be removed, this is a grill that's easy to clean.
I just don't want to fall into the trap of, "if all you've got is a hammer, all your problems turn into animals." Just because this is one of the best electric grills doesn't mean I should use it to cook all my meals even though I could. I need sauces! I just need to remember not to drink any sauces when Chica is around. Jarret is always telling me how gross it is when I down unfinished blue cheese whenever we eat wings.
The George Foreman grill is still one of the best electric grills, particularly for draining fat. You just gotta remember to not get carried away with the fat draining because you might end up with a dry dinner. Also, fat isn't necessarily bad, especially if you're looking for 10 foods to eat on the keto diet. Euch, it's awful what unrealistic beauty ideals do to people, especially to women. Chica was telling me that one of the weird Victorian beauty trends that were sometimes fatal entailed women swallowing tapeworms to lose weight. I'd rather, "knock out the fat!" with a George Foreman Grill.
This is one of the best tabletop grills because it's so much like a real grill. It's got a cast iron surface that allows fat to collect in a drip pan beneath openings in the grill. The grill also leaves great marks on whatever you're cooking. You can even cook thick cuts of meat on this grill if you just put a lid on it! I texted Jarret some pics of great grilled meats and asked, "If I cooked you this would it make you think I was a good man?" and he said, "Bad men cook great meals all the time. Remember Mario Batali? #TimesUp." I was proud to be my son's dad in that moment. Then he told me, "Stop texting me. #StopTextingMe."
This is big enough to make a bunch of pancakes at once. That's right, it's also a reversible griddle! So you can make a stack of flapjacks, fried eggs, and some ham steaks to make a breakfast in bed so good that the recipient will bind to you like a baby goose to its mama! You just gotta make sure that whoever's eating your delicious meal isn't looking at someone other than you right when they get the food because they'll fall in love with that person instead. KEEP THE TV OFF! Especially if Chris Cuomo is on TV. I gotta remind myself that Chris Cuomo and I are not in competition!
This electric grill also can be used to make hotpot. Just hook it up to an extension cord under your dinner table and you and your guests can take turns cooking your vegetables, meats, and whatever else in your special broth. Just don't be surprised if you smell like whatever you just cooked right afterward. That's just what happens after the room is full of soup steams. That's too bad if you're on a date with a special someone because there's nothing that I like more than holding someone close and breathing in their natural scent. I don't want to smell an aromatic soup instead! GIMME DEM FOREHEAD FUMES!
The Swissmar electric grill you see here is for raclette, which is heated semi-hard cheese made from cow's milk that gets scraped onto your plate and mixed with whatever you want. It's always delicious because anything mixed with melted cheese is delicious. It's also fun and sets the mood for an evening of sensual indulgence. You and your guest will become a raclette of human flesh, cooked by the heat of your mutual attraction and desire. You'll be thankful you have the best mattresses on the market to help you sleep better!
This is the grill that gets the girl! It's big, has a tray to collect fat drippings, and its glass lid both keeps food moist and keeps the grill looking classy. When your grill is two plates sandwiching whatever you're cooking, it looks too much like something George Foreman would hawk at 2 am. I want a grill that aesthetically matches the best stylish ladles to serve your dishes because if I'm cooking for two, it's for someone who's really special to me. "Don't get jealous if I use one of the best electric grills for someone other than you," I texted Jarret. "OMG I DON'T CARE IF YOU'RE DATING; JUST STOP TEXTING ME WHEN I'M IN CLASS!" he replied. I'm glad Jarret approves!
This grill is built like a brick house. The three little pigs would hide in this grill and the big, bad wolf would never be able to blow their grill down. But he would be able to cook up those little piggies real nice (TERRIBLE PLACE TO HIDE, PIGGIES!). The grill heats up quick, you can adjust its incline, and control its temperature. And since this is both a grill and griddle, it doubles as two devices, which makes up for its large size.
This is a perfect electric grill for someone who does a lot of grilling, especially for big groups. It's got a large cooking surface for a tabletop grill, it's easy to clean, it looks cool, and it's got a built-in water tray to keep smoke and residual odors to a minimum. This grill also creates the impression that you grill for a lot of people even if you don't, so your guest can think that you're more social than you are, especially if you lean into it. "Oh, this can cook for a lot of people. Steaks, chops, lobster tails; it can do it all!" No one has to know how long you've been cooking for one!
The OptiGrill's 9 cooking presets make it one of the best electric grills. Just don't be overeager and open the lid before your items are ready! It's like a relationship: if the affection and attraction are there, then the process is in play. You don't need to do anything with your partner other than sizzle like a steak set to medium rare. And once the ding goes off, set your steak on a plate because it's going to keep cooking once it's away from its heat source, just like attraction continues to grow even when you and your partner to be are physically apart. It feels good to have found someone who inspires me!