24 Days of Elfmas
A planned guide for December's festivities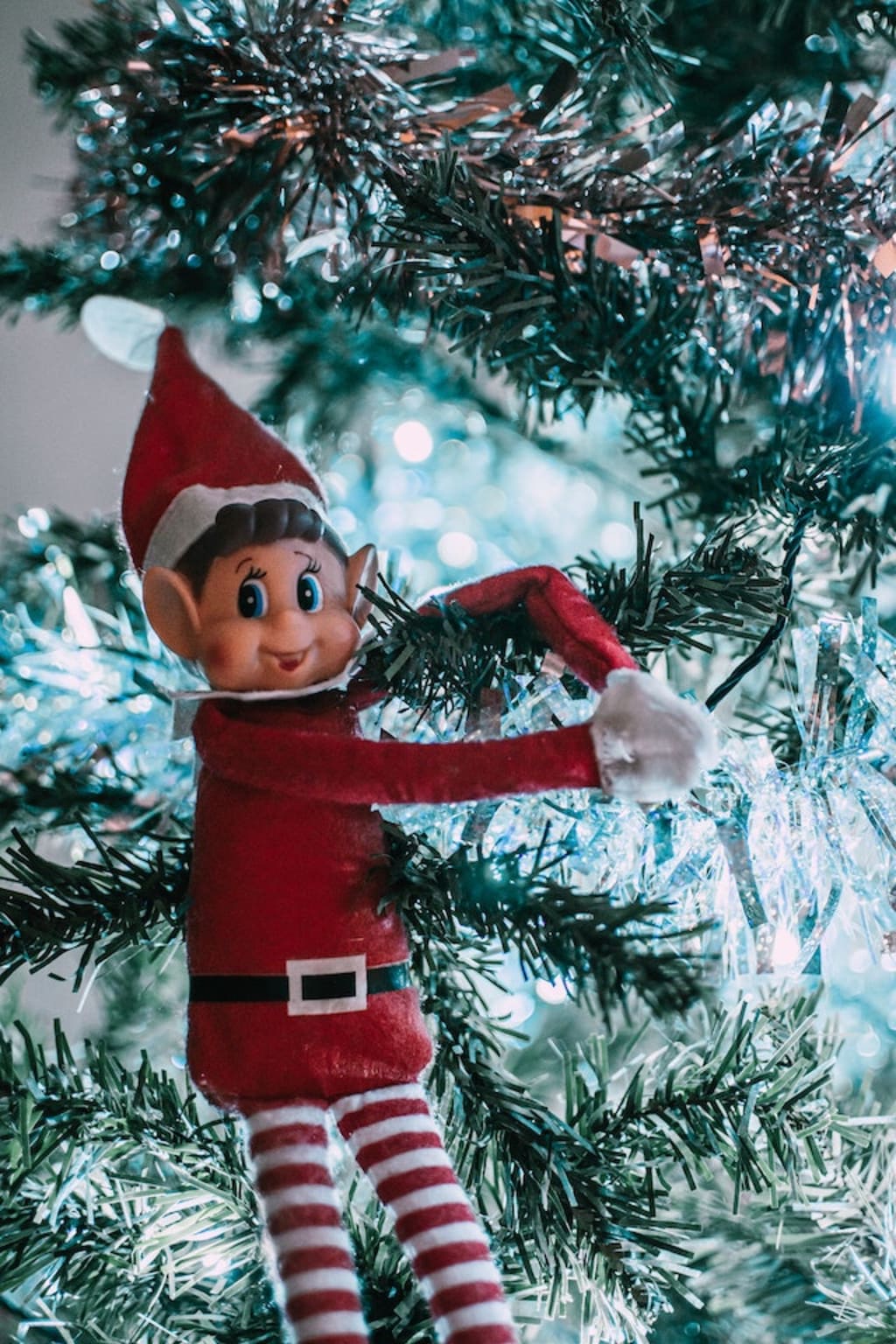 Since moving to North America from the UK 11 years ago, I have had to learn to grow accustomed to the subtle little differences compared to life back home. I wouldn't say that I have ever had culture shock, but there are certain things that are different for example, fires on the beach to cook s'mores in the summer (illegal in UK (fires, not s'mores I mean)), S'mores, driving on the right side of the road and going around roundabouts backwards, paying to have a bank account, not having to pay to have a TV, etc etc
There are a few subtle differences throughout Christmas (my favourite time of the year) that I have gotten used to, but this whole Elf on the Shelf thing is nuts! What an American marketing ploy!
It is, however, a very popular part of advent and has since become very popular the world over, including our house where my son (let's give him a made up name for the sake of this article, such as Noah), looks forward to every year.
I, along with many parents, like to start the season by getting the elf out, have a few great ideas, forget where I hid him on day 3, find him again and run out of ideas by day 11.
This year however is going to be different. Ok, I will admit I say that every year, but this year I mean it. This year I have a plan.
So my plan is to come up with a whole bunch of ideas, work them into a calendar and have a plan every day. I have been on every site, seen every video, youtube, tiktok and facebook page. I have read blogs, books and posts (some of which are great by the way) and have decided what may work for my son. A side note about my son, he is 9, still loves Kevin, our resident Elf and is very forgiving of my past failed attempts.
I have thus composed the following plan for December 2022, some days being more epic than others (give me a break I'm only human) and some extra ideas in case I mess it up and need a last minute change (which is highly likely to happen).
Thursday 1st December
"I'm back!" Elf is back and has a special gift from the north pole for Noah!!
There are different ways to start the season for example:
Sliding down the bannister on a homemade sleigh made from candy canes and a ribbon box??
Riding homemade sleigh full of candy (pulled by plushies)
Candycane sleigh - 2 candy canes taped to a Kitkat base and filled with candy; being pulled by elf
I have taken two candy canes and a Kitkat base, taped the candy canes to the sides and it looks like a sleigh (sort of). Then the elf is tied to the bannister coming down the sleighs and has a few extra candy treats lightly taped in the back of his Kitkat sleigh (they kept on falling out, whoops).
Friday 2nd December
Elf is having a rest camping next to noah's bed (making smores)
Use an electric tealight from the dollar store and some tooth picks to hold his mini-marshmallows. If you're really creative, maybe construct a paper tent!
Saturday 3rd December
Elf has been abseiling down the bathroom mirror after writing "brush your teeth" on the sink in toothpaste
Sunday 4th December
Elf has been doing some elf art (small easel)
Elf has been colouring in elf on the shelf sheets (printed) with an activity for noah
or
Activity on the computer to write a letter to Santa and print it and send it!
Envelope should be addressed and stamped already, then take it to the postbox.
Monday 5th December
Elf has packed Noah's lunch for school and put googly eyes on everything!
Lunch is packed in the fridge with a treat from our elf, but he's hanging on to the fridge door next to a note (or magnetic letters spelling out) "The floor is lava!"
Tuesday 6th December
Elf is hanging out of the printer holding on to a small bottle of nail polish!
"I left your dad a funny treat. Go find him and look at his feet!" (My toe nails are polished red!!) His note was written on the printer (printed out), along with photos of his butt.
Wednesday 7th December
Elf has been building on his "work bench" and is making clothes. A couple of wooden building blocks taped together to resemble a workbench (with a sign made on it if you have time) and a couple of pieces of felt cut up by the Elf who is holding a pair of safety scissors.
Thursday 8th December
The elf has an "elf bath" with a hand towel on his head and cucumbers (coloured paper or play doh) on his eyes. Mini marshmallows are poured into a small bowl to give the effect of a bubble bath.
Friday 9th December
Elf is bathed and wearing his new clothes in front of the mirror with a sign saying "do you like my new threads?"
Elf clothes can be purchased, barbie doll or GI Joe doll clothes can be used. Or, if you're feeling adventurous, you can use the felt cut by the elf and sew or glue up your own outfit!
NB, I tried this and he looked like a bum, but it looked hilarious.
Saturday 10th December
Elf magic - A bowl with two eggs and a small bag of sprinkles are next to our elf with a note explaining "Elf Magic! Sprinkle elf dust on the eggs and see what happens!
Sunday 11th December
Elf magic - Our elf is next to the bowl with a new message saying "TA DAA!!!"
And look, our eggs have turned into Kinder surprise eggs!!
Monday 12th December
Elf has built a gingerbread house! He has left a kit for Noah to join in with the holiday fun
The naughty Elf has also spilled icing sugar everywhere and made a snow angel!
We have been trying to make a nice gingerbread house for years, which is always fun and my son enjoys it tremendously, but it never looks great. This is an opportunity for me to have a go at making one that looks good and also allowing Noah to take part in the fun. Well dear readers, it backfired tremendously as Noahs looked amazing and mine looked like the elf was more interested in making snow angels!!!
Tuesday 13th December
Taco tuesday! Elf has wrapped himself as a taco. Guess what's for supper!
Wednesday 14th December
Elf (in his new clothes) has taken a selfie with Noah during the night and set it as the home screen on all Noah's devices!!
Thursday 15th December
Elf has been making breakfast for Noah!
either:
Lucky charms breakfast. Elf has cut out Lucky and has stuck his own head out of the box!
Or
Has been trying to fry candy eggs and goldfish!
This is up to you dear readers as not everyone likes lucky charms, but who doesn't like candy fried eggs?
Other options may include getting stuck making jam toast (or even in an old, cleaned out jam jar), having the ingredients out for a nice breakfast, with the elf having drawn faces on the eggs (googly eyes are funny here too!) or our elf just lounging in a cereal bowl waiting for his milky bath.
Friday 16th December
Elf has pooed chocolate drops in the sink!
Elf Wrapped the loo!!!
Elf made a snowman out of 3 stacked toilet rolls.
This is an opportunity for you to be disgustingly creative in the bathroom. My son thought it was funny when the toilet was wrapped up, but it honestly became annoying when we needed to use it!
Saturday 17th December
Paper mache/toilet roll snowman to decorate with Noah.
This is an opportunity to get creative with paper mache, by covering two balloons of different sizes with strips of paper and smeared with glue. When its dried after an hour, paint it white and pop the balloons. Now place the smaller of the two on top of the larger one and decorate as you like. Elf may have made one the night before and accidentally got himself stuck inside it like a snowman suit.
Sunday 18th December
Elf Magic! - Want to see a rainbow? Circle of skittles in a dish then add hot water
Elf has a plate with a circle of skittles on it and a note saying "Just add Hot Water!"
Lets see what happens
and/or He has a "mini-christmas tree" (that is a top of an old christmas tree and planted in a small plant pot) with a collection of old christmas decorations to be decorated by Noah!
Monday 19th December
Elf has (bought and) built a new Lego model for Noah, but our Elf has been tied to a lego base plate by mini-figures!
Tuesday 20th December
Elf magic - Our Elf has a note saying "plant 4 chocolate chips and see what happens" next to a bowl of oats
Wednesday 21st December
Elf magic - Elf now has a note saying "TA DAAA!" and 4 candy canes have sprouted from our chocolate chips!!!
Thursday 22nd December
"Oops I pea'd my elf" Our naughty elf has been sitting on a glass with peas in it and peas around him spelling his message.
Friday 23rd December
Elf has baked "elf donuts" the size of cheerios and decorated with icing and sprinkles in an elf donut box
Elf has been playing games with other toys!
Playing switch
Playing twister
Playing pokemon cards with pokemon
Saturday 24th December CHRISTMAS EVE
A note and report from Elf regarding Noah's good behaviour and his Elf recommendation for him to get his dream Christmas present! A small gift from Elf may also be enclosed.
Other potential ideas to consider are as follows…
Paper snowflakes
Googly eyes on photos/red noses
Fishing for goldfish
Elf swing (loo roll and string)
Can you do the floss?
Is this how you do the floss? Elf has accidently tied himself up with tooth floss!!
Popcorn party! Popcorn all over microwave and the kitchen counter
Has been eating nutella and written "poo"
Minion drawn on bananas
Merry x mas written on the eggs in the fridge
Zip lining from the tree to the shelves via candy canes
Elf climbing wall (gift bows on the door)
Elf "snowman door decoration"
Snowball fight with mini marshmallows against other toys
Elf has been hiding in the tree!
Elf is stuck in the blinds!
Elf trapped in a balloon (Good luck with this one, mine kept popping!)
Whatever you decide to do with your elf, the main thing is to have fun and keep the spirit alive. These are going to be fond memories for you and your children, so try to keep them merry and pleasant.
Happy Holidays to you all!!
About the Creator
I'm a new writer originally from UK but now living in Canada. I enjoy creating stories and have a lot of fun building characters.
I look forward to making my first publications in the new year!
Reader insights
Be the first to share your insights about this piece.
Add your insights