Ten Essential Steely Dan Deep Cuts
Rick Henry's Music Road Trip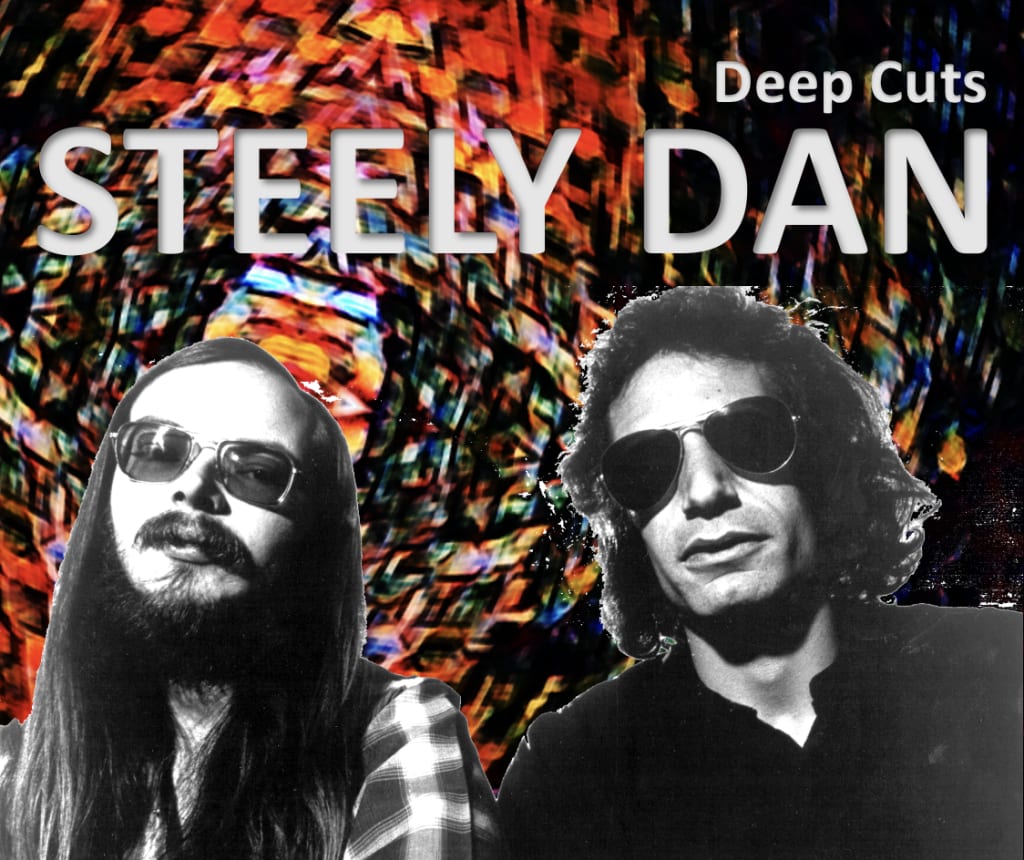 I have been a Steely Dan fan for 45 years and have each studio album permanently etched into the reccesses of my subconscious mind. I did more than just listen to the albums. I studied them and I memorized the placement of each instrument and vocal. I dug deep into the musical and vocal arrangements. The technical side of Steely Dan's albums is amazing. Gary Katz produced the entire lot of albums from Steely Dan's classic period of 1972 to 1980 and Roger Nichols engineered every one of Steely Dan's albums right down to 2003's Everything Must Go. Nichols had a reputation for creating an impeccable sound quality. He paid close attention to every detail of every instrument and vocal that was placed in front of him. His finesse in the studio was responsible for turning a great band into a phenomenal band. Nichols was best known for working with Steely Dan and John Denver. But he also worked with countless other musicians.
The following are ten Steely Dan deep cuts - meaning the hits were left off this list in order to bring attention to some of the lesser-known gems.
Note: Many of Steely Dan's deep cuts were fairly popular and some of these seem like they were hits!!!
"Dirty Work" (1972)
Parent Album: Can't Buy a Thrill
How many band's debut with an album as strong as Can't Buy a Thrill? You'd expect an album of this caliber would have been recorded maybe three or four albums into a band's existence. I bought this album in 1979. I really did not become a fan of Steely Dan until early 1978 a few months after they released the album Aja.
The song "Dirty Work" caught me immediately. It was the sweet higher pitched lead vocal that pulled me in and kept me in. Ironically it was neither Walter Becker nor Donald Fagen singing lead vocal on this song. David Palmer sang lead on this one. Palmer, however, did not last too long with Dan. He left after their second album. He went on to write the lyrics for Carole King's 1974 chart topping hit "Jazzman."
"Bodhisattva" (1973)
Parent Album: Countdown to Ecstasy
Oh boy! This one knocked me over. This album had been lingering in my closet since 1980. For some reason it never caught my fancy. In 1984 my friend Laura and I were rummaging through my albums. She mentioned how the people on the album cover of Countdown to Ecstasy looked like aliens. This immediately caught my attention, as I am an extraterrestrial being. I thought maybe they might be relatives of mine. I put the album on hoping for more clues leading to my ancestry. Well, I didn't get any answers. But track number one kicked me into gear and took over all my extraordinary senses. I was caught up in the rapture of guitar heaven - thanks to Denny Dias and Jeff 'the Skunk' Baxter.
"Charlie Freak" (1974)
Parent Album: Pretzel Logic
I was attracted to this song simply because of the word freak in the title. Believe it or not Pretzel Logic was one of the last Steely Dan albums I collected, I bought it in 1985. But I knew of the song "Charlie Freak" and even though I hadn't heard it it was one of my favorite songs. I could relate to the title.
Throughout my life I have had variations of the word freak or similar words combined in nicknames that friends and family have given me. Names such as Freaky Deaky, Super Freak, Freaky Reeky, Fricky Ricky, Freakazoid (loved the song by Midnight Star), Freak, and a few others.
Ends up when I finally heard the song in '85, I loved it. The haunting piano chords at the opening stick with us throughout the song. Donald Fagen's voice has just the right amount of irony and sarcasm yet still uniquely melodic.
"Chain Lightning" (1975)
Parent Album: Katy Lied
Can I just say I like this song for the image the title creates in my mind? I see a lightning bolt symbol - that's kinda outta sight.
But really folks "Chain Lightning" is a serious deep cut with intricate jazz patterns and sharp electrified modern rock guitars. Steely Dan was way ahead of their time.
"The Fez" (1976)
Parent Album: Royal Scam
I love this song to the moon and back. I never did get myself a fez but liked the idea that Steely Dan wrote a song about wearing a fez - of course I'm pretty sure "the fez" is symbolic of some other type of "head" gear. The lyrics are minimalistic, but the vocals and musicianship are right at the top of the Steely Dan scale of quality.
"Big Black Cow" (1977)
Parent Album: Aja
I first heard the album Aja at a house party in the Spring of 1978. The album was mind boggling and I ran quickly to my local record store to buy it. Of course, the hits "Peg," "Deacon Blues," and "Josie" were favorites and to be honest the entire album is a jazz-funk-rock gem.
The funk filled bass lines and jazz guitar chords and drum patterns on "Black Cow" make this song an irresistible part of my life soundtrack.
"Glamour Profession" (1980)
Parent Album: Gaucho
For about a minute I fancied a career in the glamour business. In the summer of 1979, I was asked to model some men's suits at a local mall called The Orange Mall. It was a ramp show. I had no clue what I was doing. I just did as was instructed. I really loved being paid to wear some high quality suits and walk out on stage modeling them. But that was a short minute and I moved on quickly.
"Glamour Profession" very well encapsulates that thrill one feels as you walk across the stage wearing the latest styles. The song is sleek and stylish. What really captures me is the amazing layering of tenor saxophones. Tom Scott and Michael Becker contribute their finesse on the tenor sax and their blending is magnificently ethereal.
"Almost Gothic" (2000)
Parent Album: Two Against Nature
I was thoroughly excited when this album was released. It had been twenty years since their last album and finally there would be new music.
In-between there were two solo albums by Donald Fagen, which were extremely nice distractions. But Steely Dan has always been the main attraction.
As a little sidenote back in 1981 I tried going goth... but didn't really quite get there... I guess you can say I was "almost gothic."
Trivia: After not winning any Grammys during their classic era (1972 to 1980) Two Against Nature earned Steely Dan their first Grammy awards. The album won three Grammys including Album of the Year.
"Godwhacker" (2003)
Parent Album: Everything Must Go
Steely Dan turns the funk way up here with a phat bass line and chunky guitar chords. This one really got my groove moving.
Everything Must Go came and went with very little fanfare but made its mark simply because it was a Steely Dan album and of course filled with quality musicianship.
Trivia: Everything Must Go ends up being Steely Dan's last album. Walter Becker passed away in 2017 making it impossible to make a new SD album unless previously recorded musical tracks are used with Becker playing on them.
"Out of the Ghetto" (2012)
Parent Album: Sunken Condos (by Donald Fagen)
From Donald Fagen's fourth of four solo albums. He follows in the vein of Steely Dan with smooth jazz influenced pop with light influences of funk. Fagen pulled out a little bit of a Stevie Wonder vocal in the chorus of this Isaac Hayes cover.
There we go… My love for Steely Dan is chronicled in these ten songs.
I hope you enjoyed reading it.
About the Creator
Writing is a distraction for me. It takes me to places unknown that fulfill my need for intellectual stimulus, emotional release, and a soothing of the breaks and bruises of the day.
https://www.facebook.com/groups/vocalplusassist
Reader insights
Outstanding
Excellent work. Looking forward to reading more!
Top insights
Expert insights and opinions

Arguments were carefully researched and presented

On-point and relevant

Writing reflected the title & theme

Excellent storytelling

Original narrative & well developed characters
Compelling and original writing

Creative use of language & vocab

Heartfelt and relatable

The story invoked strong personal emotions

Masterful proofreading

Zero grammar & spelling mistakes

Eye opening

Niche topic & fresh perspectives

Easy to read and follow

Well-structured & engaging content
Add your insights