Rick Henry Christopher: A Rock and Roll Road Trip
The Songs of My Life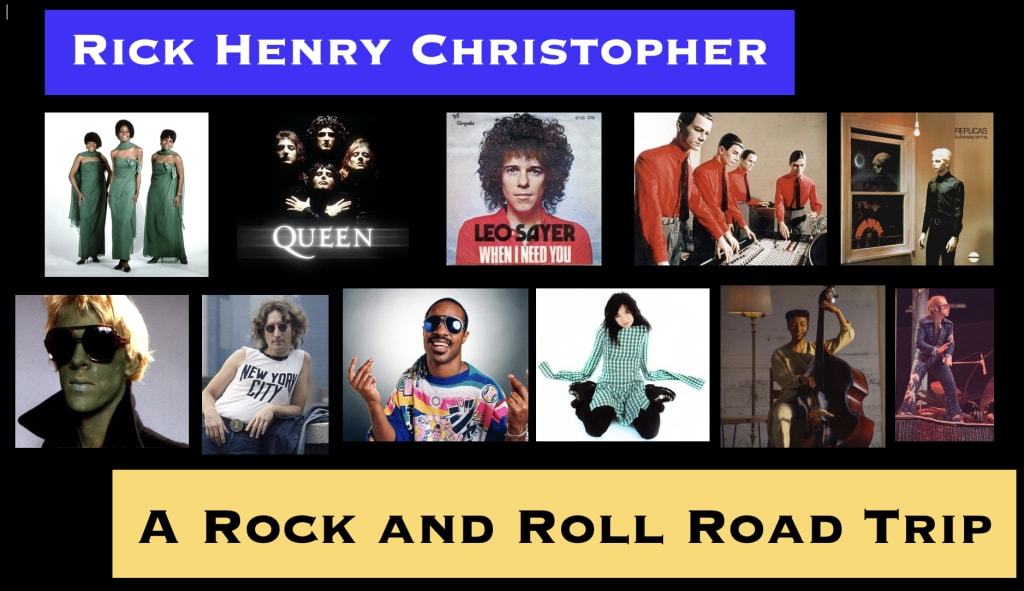 I have written/compiled many song lists for publication on Vocal. I usually put a lot of research into my lists. For some I've done extensive fan polling. On average I spend about two to three weeks putting my song lists together.
But for this list I won't be writing about stats or fan favorites. Instead, I am writing from my heart. I don't need to do research to tap into my innermost emotions. I just need to be real and be honest.
So here goes…
"Dancing in the Street" by Martha and The Vandellas
Let's go back to 1965 when my mom was driving a sleek black VW Bug with a beehive hairdo that would make even Amy Winehouse jealous. And speaking of Motown girl groups, my mom was all about Diana Ross and the Supremes. But right now, we're gonna groove to Martha and the Vandellas' classic "Dancing in the Streets."
I remember distinctly being a little five-year-old boy in my mom's VW Bug. My mom had my baby sister in the front passenger seat strapped into her baby seat. My younger brother (Chris) and I sat in the back seat. My mom told me to hold Chris' hand. From a very young age she taught me to protect my little brother. The radio was playing the hits of the day. "Dancing in the Street" by Martha and the Vandellas came on and my mom turned the volume up and started singing along. The groove seemed to permeate through us kids and a happy feeling took over the car as we cruised down the suburban streets of Orange County, California.
"Bohemian Rhapsody" by Queen
I vividly remember the first time I heard this song. It was January 1976, I was 16 years old in P.E. class. We were on the tennis courts waiting for the coach. Someone had a boombox blasting classic rock tunes when suddenly, we hear a chorus of voices singing: "Is this the real life? Is this just fantasy? Caught in a landslide. No escape from reality. Open your eyes. Look up to the skies and see." The entire class was quiet. Listening. Then came that lead vocal. His voice was amazing. Full of soulful emotion. He could swoon. He could rock. By now we knew it was Freddie Mercury singing. The guitar solo was great. Then the mood changed and we're listening to an opera with words we never heard in a rock song before such as silhouetto, stiletto, scaramouch, fandango, Galileo, magnifico. With any other band words like that might have sounded corny - but not by Queen. It all came together. This was an amazing song like none we'd heard before. When the song ended, we all stood up and gave the song a standing ovation.
That was an amazing six minutes when 20 or so 15- and 16-year-old boys were in unison in sharing a moment that will forever live in the minds of those of us that were there.
"When I Need You" by Leo Sayer
I was a soft spoken, kindhearted, naive 17-year-old kid. In the spring of 1977 I was part of the ROP (Regional Occupational Program) in high school.
I worked at a local pet store with a girl from another high school. I did everything from packaging products, cleaning bird poop in the aviary to becoming friends with the monkey in the cage. He wanted out of that cage; he told me so.
The girl (I can't remember her name) and I would wait for the school bus after class (or work). Sometimes we'd wait as long as 45 minutes. She loved John Denver. That's all she talked about. I didn't mind, I liked Denver myself.
One afternoon after the bus picked us up the yearning ballad "When I Need You" started playing on the radio and my friend, who chose to sit at the back of the bus that day, began delicately sobbing. She tried to hide it but everybody on the bus heard her. She said she was broken-hearted because her boyfriend broke up with her last night.
For four short minutes I saw my friend fall apart and this profoundly affected me.
"The Robots" by Kraftwerk (1978)
Kraftwerk made it okay to be me. They were unique, they were different, they were robots. I was a robot. I saw myself as being somewhere between human and alien. Kraftwerk allowed that alien to radiate.
"Me I Disconnect From You" - Gary Numan and The Tubeway Army (1979)
As with Kraftwerk, Gary Numan allowed me to get in touch with my inner alien. When I listened to Gary Numan, I could be that guy who stared at the world without expression or opinion, and it was okay. I could be that plastic face that hid the real face from the world. I was content with hiding my real face and Gary Numan gave me a comfort zone in which to hide.
"Away From Home" Klark Kent (1980)
Klark Kent released an odd sized 10" green vinyl album. I played that thing countless times, I had to buy two of them.
Klark Kent was masked, and I wanted to know who he was because his music was oh so great. The guitars were tight, and the drums were right in time and sounded vaguely familiar. His voice was enthusiastic and youthful. But best was the new wave punk-ish upbeat fun sound of the music. Everything about Klark Kent resonated with me. I related to his music and his music became part of my wacky quirky identity.
I always hoped for a second album by Klark - but that never happened. I guess that's okay because Klark Kent became a legend anyway. Yes, as I came to discover, about a year after I purchased the album, Klark Kent is Stewart Copeland the drummer of The Police.
"(Just Like) Starting Over" by John Lennon
One of the local dance clubs I used to frequent in the early 1980s used to play this song regularly. It really was not a dance song, but the song had such a major impact on people after John Lennon had been murdered.
John Lennon has always been my favorite Beatle. His music, his lyrics, and his voice have carved their way into my soul.
"I Just Called to Say I Love You" by Stevie Wonder
This song is very special to me. Back in the late 1980s my mom used to call me every day. She has always had an immense love for all three of her babies - and she was never shy about letting us know.
If I wasn't home when my mom called, she would leave a message on my answering machine singing the line, "I just called to say I love you." Then she'd follow it up with, "This is mom and I love you." You could hear the smile in her voice as she spoke.
Now that my mom is 86 years old, completely blind, and has been diagnosed with advanced stage dementia and major depressive disorder, this song has taken on a deeper meaning in my life.
After she became ill with dementia the song came up on YouTube. I was sitting in the bedroom keeping an eye on my mom as she slept. The song reached in and grabbed at every emotion I had, and I began to weep almost uncontrollably. "Why?" I asked, "Did this have to happen to my mom?"
"The Hunter" by Bjork
I discovered this song in 1999 and instantly became a fan of Bjork. This song tapped into my inner artist. I became inspired to draw. When I sat down to draw, I would put on Bjork's Homogenic album which opened with "Hunter." The song would put me into a trance-like mood in which I was able to focus on the most minute details of shading and shadows. I drew twelve portraits and left it there. Maybe someday in the future I will have the inspiration to do more.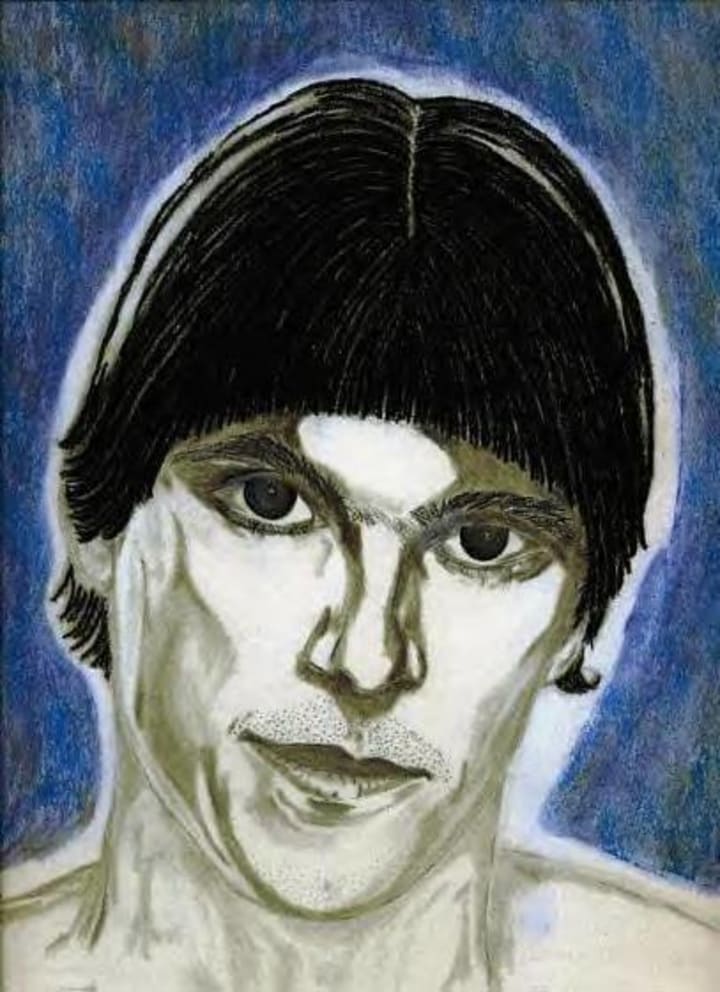 "Formwela Four" by Esperanza Spalding
This incredibly beautiful song plays a very important role in my life. Like no other song I've heard before, it crawls right into my brain and soothes the stress away.
"Someone Saved My Life Tonight" by Elton John (1975)
This Elton John song is currently the most important song in my life. It has a very special place in my heart as it is the song that was playing when my brother Chris (Christopher) left for UrgentCare to get help as he had been feeling sick. Unfortunately, he never made it back home and passed away on January 31, 2021.
I love you Chris…
"You're a butterfly
And butterflies are free to fly
Fly away
High away
Bye bye"
Thank you Friends!
About the Creator
Writing is a distraction for me. It takes me to places unknown that fulfill my need for intellectual stimulus, emotional release, and a soothing of the breaks and bruises of the day.
https://www.facebook.com/groups/vocalplusassist
Reader insights
Outstanding
Excellent work. Looking forward to reading more!
Top insights
Compelling and original writing

Creative use of language & vocab

Easy to read and follow

Well-structured & engaging content

Excellent storytelling

Original narrative & well developed characters
Expert insights and opinions

Arguments were carefully researched and presented

Eye opening

Niche topic & fresh perspectives

Heartfelt and relatable

The story invoked strong personal emotions

Masterful proofreading

Zero grammar & spelling mistakes

On-point and relevant

Writing reflected the title & theme
Add your insights