covid ruined our valentine's day. here's my coping playlist.
First Place in Anti-Valentine's Day Playlist Challenge
Valentine's Day was supposed to be special for me and my boyfriend. But thanks to recent events, it's another annual nightmare. Here's a playlist commemorating how I'm feeling. </3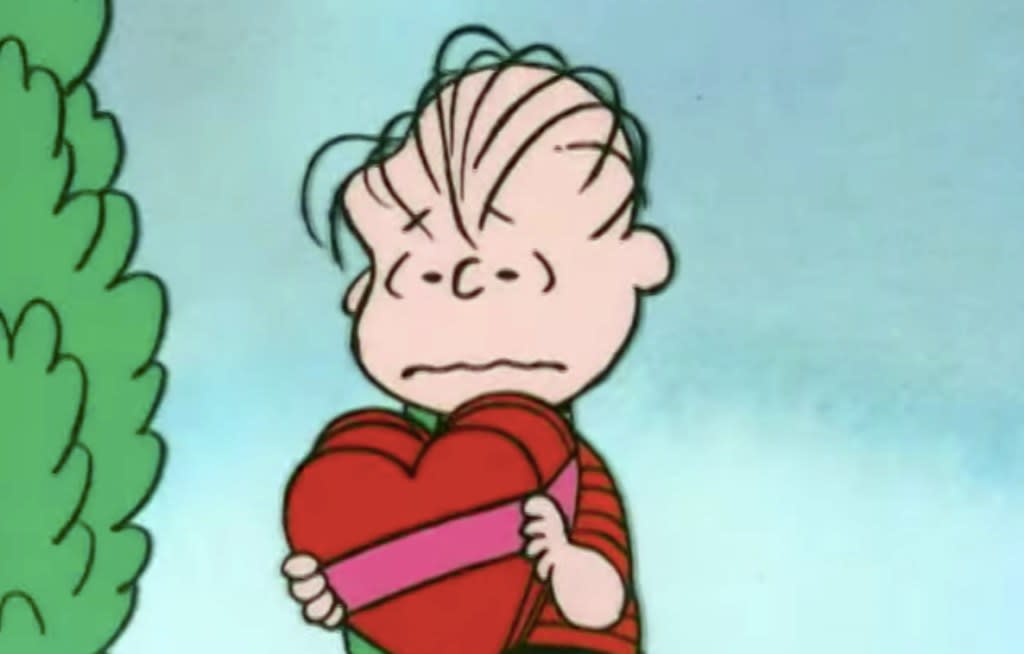 I've been on Earth for twenty-two years, and never in my life have I experienced a good Valentine's Day. I don't seem to mesh with the holiday. In elementary school, kids celebrated by handing out candies...which was cool until you realized those candies were Nerds or nasty conversation hearts that taste like chalk. In high school, all my besties had boyfriends save for me. Valentine's Day was the one day a year I couldn't hang with them after school.
In college, I dated this string bean-looking horticulturist. (That's a fancy word for a plant guy.) With the approach of Valentine's Day came the awkward revelation he just wanted to be friends with benefits. Sucker had no problem paying $200 to see The Book of Mormon with me or sitting on a Metro North train for over an hour every weekend to visit. But wishing me a happy Valentine's Day? Well...that was way too much. That's why cuffing season ends in February, ladies: it makes f*ckbois re-evaluate their relationship with you.
I hate Valentine's Day so much, I even did an anti-Valentine's Day photoshoot in an abandoned house with a photographer friend. I wore all black, had a prop gun, and stood behind several destroyed Russell Stover chocolate boxes. Don't believe me? Here's the proof.
And last year, I dyed my hair red for Valentine's Day only for the color to come out splotchy and uneven. Then the pandemic hit, making it impossible for me to fix the mess at a salon. February 14th has caused me so much pain. But despite all my hate for Valentine's Day...2021 was supposed to be different. This year, I was actually going to celebrate the holiday. Properly. With an actual valentine.
Let me explain. There's this boy in Queens named Dan. We met at a movie theater we both worked at in 2019 and went on little excursions together. Due to the pandemic, we were seperated for a while. When I moved back to NYC in the summer, things picked up where they left off. Since August, I've been able to call Dan my boyfriend.
Due to personal, professional, and financial reasons, I moved back to New Jersey in January. Dan and I are technically "long-distance" now, but it doesn't feel like it, since we only live an hour and a half away. We can take a bus, car, or train to see each other every weekend. It's actually been fun getting to show him the Pine Barrens where I've grown up. Just look how happy he is in the slideshow below.
We were so excited to see each other this Valentine's Day weekend. Since we're filmmakers, we made plans to shoot a short film and fly his new drone around the forest. I was ready to do the cliche Valentine's Day stuff, too: make him breakfast in bed, take him out on a picnic, and maybe even snuggle under a blanket while watching a rom-com together.
Then tragedy struck. Dan FaceTimed me on Monday. "I have some distressing news," he said, explaining two employees from the camera store where he works got Covid. One of those employees stood right next to him, and he was feeling a scratchy throat coming on. I told him not to worry - maybe it was just allergies from the snowy weather. It wasn't like he was maskless around them.
But I was wrong. The next day, he tested positive.
It's normal to feel emotional whenever a family member, friend, or significant other gets infected with coronavirus. But in Dan's situation, I'm very pissed. The camera store stayed open even while they knew their staff had Covid-19. Dan's told me five employees were infected from the incident, and there have been anonymous 311 reports because of the store's poor decision. This mess was completely avoidable. And this avoidable mess took away Dan and I's happy Valentine's Day. I get it - it sucks being single on February 14th. But you know what sucks more? Worrying the Covid symptoms the man you love is suffering through will get worse.
Fortunately, Dan's a tough cookie. His only symptoms so far have been a sore throat, sniffles, an aching leg, and possible nausea. He's worried about passing the virus to his parents, who both got infected when the pandemic began. I'm praying for him and his family every day.
In the meantime, this situation has me thinking...I can't be the only human in a relationship whose Valentine's Day was wrecked due to Covid. For example, there are people in long distance relationships who can't see each other because of travel restrictions. My New York friend, Kasey, couldn't see her fiancé from Serbia for a full year due to pandemic travel bans. Right after he proposed, the pandemic hit, and they were forced to be more long-distance than usual. Fortunately, they managed to keep their love alive despite the year apart, and the pair finally reunited in December! Kasey got fitted for her wedding dress yesterday.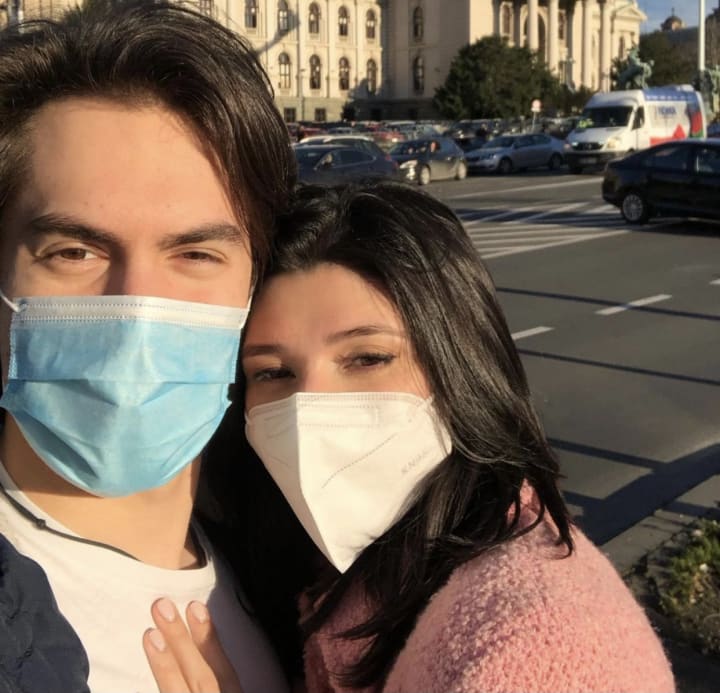 Worrying about Dan has put a lot of pressure on me this Valentine's Day. This is probably the worst February 14th I've ever had. So because I'm feeling particularly emotional this weekend, I did what I do best on Spotify...
...I made a playlist about it.
I call this "Alone On Valentine's Day (Thanks Covid)". It's a 35-min playlist dedicated to all the couples separated due to this pandemic. It was a little tough to put together, but I'm happy with the results. I don't typically make sad playlists, but this week...I needed to wallow. I miss my Danny Boy.
Maybe this isn't exactly an Anti-Valentine's Day playlist. But it's definitely a "I really wish it wasn't Valentine's Day right now because I can't see my partner like all the other happy couples posting cute pics on Instagram" playlist.
Let's quickly go over these tracks, shall we?
Song 1 - "Can't Get Used to Losing You", Andy Williams
Guess there's no use in hangin' 'round / Guess I'll get dressed and do the town / I'll find some crowded avenue / Though it will be empty without you / Can't get used to losin' you / No matter what I try to do / Gonna live my whole life through / Loving you
Before you say anything, yes: that is the same awesome riff from Beyonce's "Hold Up". I think that riff up and down the scale is so perfect in communicating the disorientation the speaker feels in this song.
While Andy Williams's "Can't Get Used To Losing You" is originally about a man trying to figure out what to do with himself after parting from an ex-lover, I think the same sense of loneliness, shock, and confusion he feels can be applied to being separated from your current partner. Like Andy, I'm not used to losing Dan for this long. And by god, do I feel like a "hopeless case" right now.
LISTEN WHEN: You're eating the heart-shaped pancakes you were supposed to give your lover this morning.
Song 2 - "Miss You", The Rolling Stones
I've been holdin' out so long / I've been sleepin' all alone / Lord, I miss you / I've been hanging on the phone / I've been sleeping all alone / I want to kiss you sometime
Moving out of the 60's and into the 70's. The title is exactly what the song suggests: about a man missing his lover, waiting for her to come back. I love the iconic chorus in this, as well as the upbeat rhythm despite the sentimental lyrics. One of Dan's favorite bands is the Rolling Stones, so...yeah. Had to include this one for him. Plus, all the lyrics about waiting on the phone remind me of the several Facetimes we've done this week.
LISTEN WHEN: You're debating whether or not to call your partner for the millionth time just to tell them you wish you could hug them.
Song 3 - "Are You Bored Yet?", Wallows (feat. Clairo)
'Cause we could stay at home and watch the sunset / But I can't help from asking, "Are you bored yet?" / And if you're feeling lonely you should tell me / Before this ends up as another memory
While this song is actually about a couple feeling dissatisfaction over their fizzling relationship, you can actually re-interpret the lyrics in this song to be about the hardships of pandemic separation. The "stay at home and watch the sunset" lyric could be about gazing up at the sky alone when you'd rather be doing it next to your significant other. Clairo's, "maybe we'd get through this undefeated" could be a reference to surviving the pandemic. And of course, "if you're feeling lonely you should tell me," picks at that nerve we've all felt since last March: trying to stay strong despite a year of limited contact.
Furthermore, being in quarantine for a while can make you feel, well...bored. And "Are You Bored Yet?" argues that it's better to be bored with your lover than bored by yourself.
LISTEN WHEN: You're lying motionless in bed, daydreaming about how Valentine's Day 2021 could have gone if Covid-19 didn't exist.
Song 4 - "After Laughter Comes Tears", Wendy Rene
When you're in love, you're happy / Oh, and then, when you're in a arm, you gaze / (After laughter comes tears) This doesn't last always / (After laughter comes tears) After your laughter there'll be tears
As they say, "what goes up must come down". In every relationship, there's going to be tough times. Not every day is sunshine and roses. This classic song by Wendy Rene continues one of the themes from the previous song: how hard it is to stay sane during down days. In particular, this song talks about hiding pain from your partner (in Rene's case, her previous partner), and trying to put up a strong front for them. With the situation between me and Dan, this has been a challenge on my end.
LISTEN WHEN: You're watching Crazy, Stupid, Love and crying because your partner isn't next to you on the couch.
Song 5 - "when the party's over", Billie Eilish
But nothin' is better sometimes / Once we've both said our goodbyes / Let's just let it go / Let me let you go / Quiet when I'm comin' home and I'm on my own / I could lie, say I like it like that, like it like that / I could lie, say I like it like that, like it like that
Oh man, this song makes me cry. The final lyrics of Billie Eilish's "when the party's over" are particularly relevant to this playlist, and how I'm currently feeling. From a pandemic standpoint, "nothin' is better sometimes" means it's better to keep away from your partner rather than meet up and risk infecting them with Covid. True love is preventing them from getting sick, after all! (That's why it's important to get tested for Covid-19! And uh...STDs.)
Still, it sucks being away from the person you love, and "when the party's over" easily communicates the pain of being alone, with no one to hold you. Does anyone else feel like they're in a cold, dark spot in a garage when they listen to this, or is it just me?
LISTEN WHEN: You're going for a lonely walk in the February snow because there's nothing better to do on Valentine's Day.
Song 6 - "Ain't No Sunshine", Bill Withers
Ain't no sunshine when she's gone / Only darkness every day / Ain't no sunshine when she's gone / And this house just ain't no home / Anytime she goes away
The quintessential, "I miss my partner" song. You can't have a playlist about loneliness without Bill Withers's 1971 classic. According to Genius, Withers was working at a factory making toilet seats for Boeing 747 planes when he wrote this. After watching the film Days of Wine and Roses, he was inspired to write "Ain't No Sunshine" when the thought of missing something that isn't good for you crossed his mind. For distanced couples during the pandemic, we miss our significant others, but also realize being closer than six feet without masks is a no-no.
Also, this song is about a lack of sunshine. It's February. And snowy. And cold. You get the point.
LISTEN WHEN: You're finished with your lonely snow walk, and are now sitting inside an igloo made from your own frozen tears.
Song 7 - "The Sun Ain't Gonna Shine (Anymore)", Frankie Valli
The sun ain't gonna shine anymore / The moon ain't gonna rise in the sky / The tears are always clouding your eyes / When you're without love, baby
Since you're experiencing a particularly sad Valentine's Day, let's continue with our "lack of sunshine" theme. Frankie Valli's "The Sun Ain't Gonna Shine Anymore" is a dramatic, melancholic song about living without love. Like other songs on this list, the speaker misses his significant other, and says he can't go on without her.
Cinema lovers may know this song from the end credits of Ari Aster's Midsommar. It's a great movie. Just maybe not the movie you should watch with your partner on Valentine's Day.
LISTEN WHEN: You're looking at the bouquet of flowers your valentine sent you. And you realize they're slowly dying within their vase.
Song 8 - "Baby", Donnie & Joe Emerson
Dreams of you all the time / Feels so good when we're together, love / Just can't wait until tomorrow night / Hey baby, let's shake it
Let's lighten the mood a tad. You may be wondering why I put Donnie & Joe Emerson's "Baby" on here when this is supposed to be a depressing playlist. Trust me, there's a method to my madness.
"Baby" is slow, moody, and as Donnie Emerson described it, "lovesick". It sounds a little sad, even though it's not very dark. The "tomorrow night" lyric alludes to a time when the speaker and his lover can see each other again - like how distanced couples kept apart by Covid fervently dream of the day they'll reunite.
Deeper than that, this romantic song talks about something important in any relationship: passion. In these trying times, passion is key. So long as both parties can keep the passion they feel for each other - keep alive those good memories - they will keep their relationship alive, no matter how far apart they are. This Valentine's Day, I'll try to be grateful for the good times I've had with Dan instead of focusing on the fact that I can't see him in person.
LISTEN WHEN: You're writing a love note to your faraway lover, and getting ready to send it in the mail.
Song 9 - "A Song For You", Donny Hathaway
I love you in a place / Where there's no space or time / I love you for my life/ You're a friend of mine / And when my life is over / Remember when we / were together / We were alone / And I was singing this song to you
Okay, "when the party's over" makes me cry. But this song makes me bawl.
Donny Hathaway's "A Song For You" may be the most beautiful love song ever written. I mean, who can forget when Kodi Lee got the golden buzzer for singing this on America's Got Talent? In an era where it's hard to see people in person, loving someone "in a place where there's no space or time" is pretty damn important.
"A Song For You" is romantic and dreamy...but it also carries some emotional weight. This song is supposed to be a plea of forgiveness to a past lover. From a pandemic lens, the line, "but we're alone now" can allude to being separated from the person you love most.
It's particularly painful since the speaker talks about playing on stages, "with ten-thousand people watching" beforehand. Remember those days when we could take our dates to the movies or to concerts? Sometimes the most romantic moments are the ones where one person stands out in a crowd. It's a shame we don't have crowds anymore...
Like "Baby", this song is about being grateful for your partner, and everything they've taught you. One thing that's helped me get through the hardest parts of this pandemic is music. The line, "listen to the melody, 'cause my love is in there hiding" really speaks to me personally. I believe music is tool that can be used to express things words can't describe. The pain and loss of this pandemic is hard to put into words. But if I can focus on the people I love who are still here - like my boyfriend - then perhaps every day is a bit more bearable.
LISTEN WHEN: You're on a Zoom call with bae, and need a romantic tune to play in the background while you're telling them how much they mean to you.
Song 10 - "Dream a Little Dream of Me", Doris Day
Stars fading but I linger on, dear / Still craving your kiss / I'm longing to linger till dawn, dear / Just saying this
Aaaaah, the perfect closer to a sad-yet-romantic playlist. Yes, the lovers in "Dream a Little Dream of Me" are apart. Doris is "alone and blue as can be". However, she's asking her special someone to keep thinking of her, and though the bright stars may be fading into darkness, she's willing to "linger till dawn" for the chance to see McDreamy again.
I love how hopeful this song is despite the unfortunate situation. "Dream a Little Dream of Me" feels like a goodnight kiss after a long day spent with the person you love. So much of our lives may be virtual right now, but it's important to know these hard times won't last forever.
If this playlist resonates with you, I'm so sorry you're missing the chance to see your valentine in person this year. But hey: there's no stopping you from telling your special someone you love them. In the meantime, keep waiting for the dawn, and keep dreaming.
LISTEN WHEN: You've just said "goodnight" to your beloved partner. You're going to bed alone tonight...and that's okay.
Hope you enjoyed my little playlist. :) Whether you're in the same boat as Dan and I, are actually able to see your valentine this year, or are happily spending the day alone stuffing your face with chocolates...I hope you have a wonderful Valentine's Day. Hugs, kisses, and love to you all! xoxo
____________________________________
If you enjoyed this playlist, make sure to leave this article a little heart for Valentine's Day! Tips are greatly appreciated, and all donations will be used to spoil Dan the next time I'm able to see him in person.
Any songs I missed you think would be perfect for this playlist? Shoot me a DM @katyisaladybug. If you liked this selection of jams, check out some of these other mixtapes I've made...
As always, thanks for reading! Until next time. :)
-Katy