Chill The F*** Out!
A chill playlist for when you need it.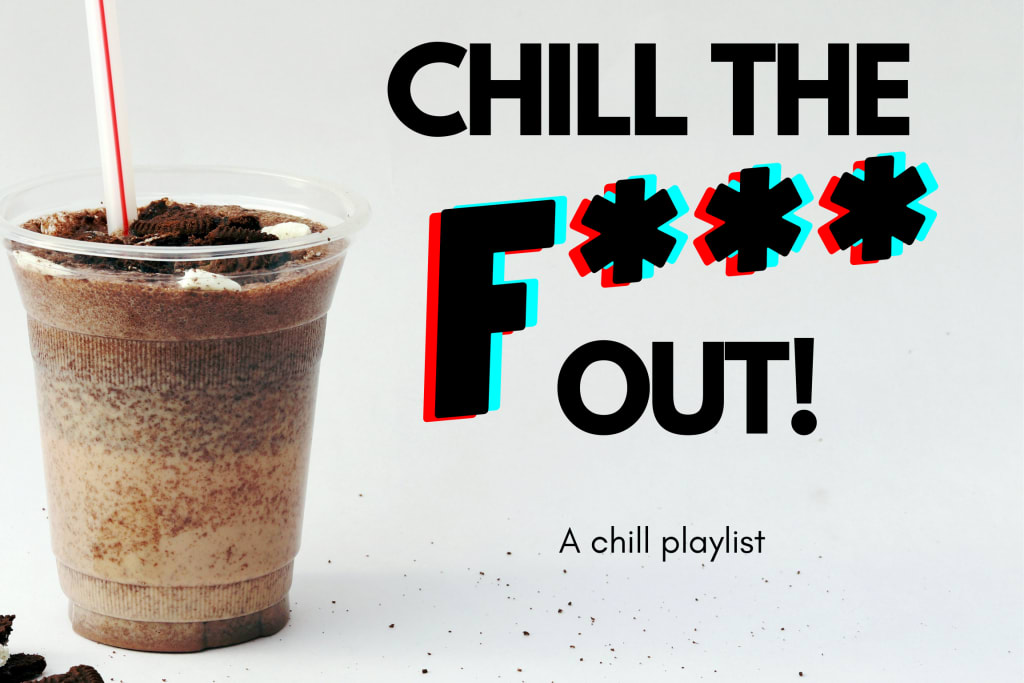 Photo by Pixzolo Photography on Unsplash edited with text via Canva
I would describe myself as a playlist lover. I love creating my own playlists, I'm always creating playlists for my loved ones, and I get way too excited when I discover a great new playlist. I love playlists so much Spotify could probably hire me due to how much experience I have.
Playlists are the way to my heart. If you make me a playlist, I'm in love with you. No turning back. Sorry, music just makes me feel that way.
Most people relax by meditating or walking their dog etc. Well, in the past I've tried the meditation app Headspace and I got distracted waaaay too easily. Oh, and I don't have a dog. So, my go-to rest and relaxation method is listening to music.
I won't bore you with the science of how music can relax the stress responses within your nervous system, but I do have to say that music is one magical healing tool. Whether it's feeling stressed due to work, or taking some time out of my day to escape reality and reconnect with myself, for me music is the key to feeling zen.
My "Chill The F*** Out!" playlist is constantly growing, but here are my top 5 tunes that bring me peace:
1. "Vampire" - Dominic Fike
Although the music video is chaotic, trust me when I say this song does actually make me relax! This is an upbeat soft-pop tune that instantly lifts my mood. No matter what I'm going through, this song turns my funk into funky. I can dance and vibe to this song and forget about my bad day at work or the random thing that happened that I'll forget about tomorrow but is bothering me today.
Dominic Fike is most famous for his song "3 Nights" which is also on my playlist! All of his music has a fun chill vibe that helps me relax so much. I first discovered the song "Vampire" after it was recommended on the Oddvice podcast, and I've come back to listen to this tune every time I need it!
2. "Honey" - Rook Monroe
This is the song they play in heaven. On your way up, the elevator music is purely this song on an infinite loop. I bet you.
This song is just SO GOOD. As you can tell from my over-exaggerated but highly probable analysis of this song, you can probably guess how zen this song makes me feel. I feel like I'm floating, which not many songs have the power of doing. As the cool kids say: It's *chef's kiss*
Before releasing music for himself, Rook Monroe is a songwriter for other musicians. Most known for being a writer for Rhianna's "Desperado", Rook has talent and he knows it. "Honey" is such a beautiful song, and I recommend you put it on your own chill playlist.
3. "Dreams" - Fleetwood Mac
It is not a chill playlist until you have "Dreams" on it, okay? I need some of that seventies soft-rock vibes in my life. "Thunder only happens when it's raining" makes me want to drop everything and stand out in the rain while listening to this song. It's that feeling of knowing you're at peace with yourself and you're living in the moment.
It has such a powerful hold on me that as soon as I hear the first few seconds I just do dead still because all I want to do is take in the song, listen, and do nothing else. I get a strange sense of peace from this tune.
4. "My Life Is Going On - Piano Version" - Cecilia Krull
Okay, I know I said it's not a chill playlist until you have "Dreams," but consider this...it's not a chill playlist until you have one song on there that might potentially make you cry if you're in a really bad place.
"My Life Going On" is that song. It's a beautiful song, I'm glad I have it on my chill playlist, but if I'm feeling exceptionally bad I may just cry to it. But, that's a good thing. Sometimes you just have to have a good cry and get all your emotions out, and to me that can be quite therapeutic.
This tune is most known from Netflix's "Money Heist" (Originally: "La Casa De Papel") which happens to be my comfort TV show at the minute.
5. "Pockets Full of No" - Coast Modern
You may have worked out from my other song recommendations that I'm not a classical music gal who only listens to instrumentals when meditating. I have the upmost respect for those who do that, but I have to listen to upbeat tunes in order to get my chill on.
Fun songs simply remind me that life is fun and I find peace in that. When worries about work, home or COVID etc all get too much, I feel so relieved from being able to put my headphones in and bop to some happy tunes that balance out my mood. I can't be sad if there's happy music, and that's actually a scientific fact!
Find these 5 songs, and the rest of my playlist below, and maybe you'll find your own place of zen within my music taste!
-
If you enjoyed this "zen" playlist then make sure to leave this article a little heart to show your love! Tips are greatly appreciated, but no pressure!
If you have any songs you want to recommend so I can add them to my playlist head over to Instagram or Twitter and DM at @leighooper. And, if you're interested in the author behind the article, drop me a follow!
Here's some other playlist articles that you might like:
THE NEW GROOVE: Black Female Artists
Thanks for reading, see you soon!