Playlists
I ˂3 The Eighties
My musical decade!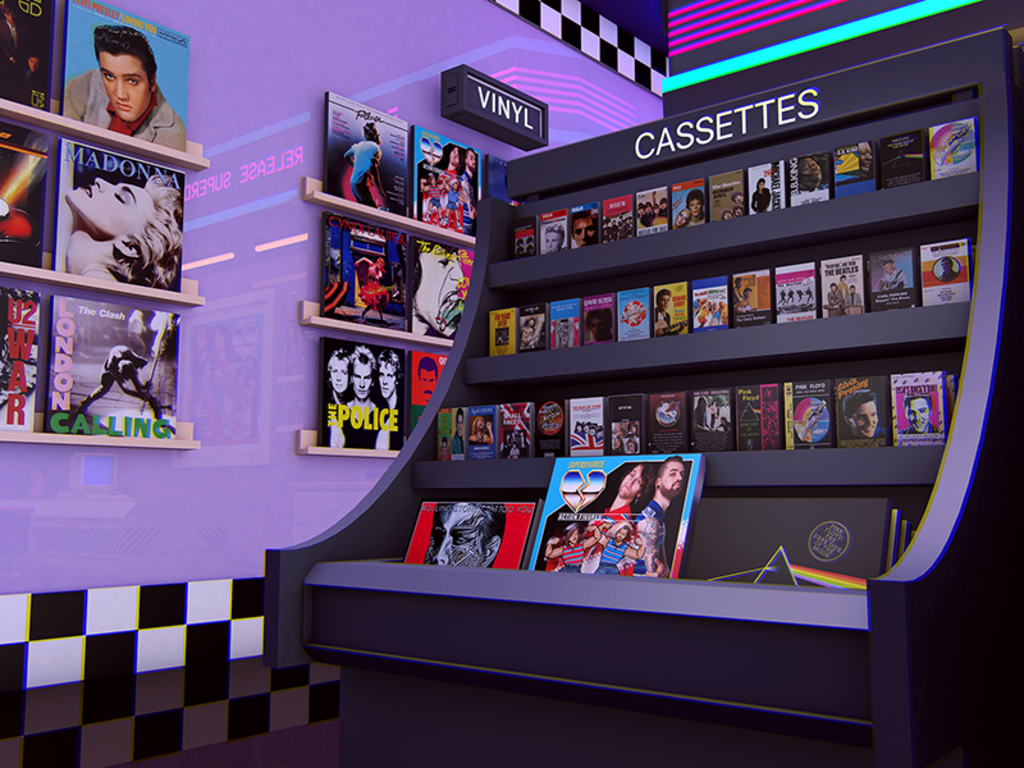 So you're telling me I can only listen to one decade of music when I've grown up on 90's and 2000s pop music, my nana's love for Elvis and my own music taste that varies from AC/DC to Nicki Minaj?? Well damn, the answer is pretty obvious to me.
Hello 80's music, time to listen to you forever!
The main reason behind my love for eighties music is because I believe that decade is timeless. My parents being seventies babies grew up on listening to eighties music, and I've ended up developing the same music taste as them. Also, if you've ever read/watched 'Ready Player One' then you'll know that it is littered with eighties references, which is why I love it so much. Eighties music truly is the best, with music ranging from Katrina & The Waves pop to Bon Jovi rock.
So, if you love the eighties here are some tunes that'll take you back in time! Prepared to feel the nostalgia of wearing colourful windbreakers and swooning over Patrick Swayze in 'Dirty Dancing'!
1. "Jump" – Van Halen
Okay this song is a classic. Used in the 'Ready Player One' film, I have to say this song perfectly captures the upbeat and happy vibes of the eighties. I really love this song, and so did everyone else in the eighties. This was Van Halen's only #1 song in both the US and Canada and came #7 here in the UK. For some reason, some suspect this song to be about suicide, yet the band have confirmed it's actually about "jumping" on the opportunity to hook up with someone – so it's not as morbid as some people assumed!
2. "Summer of 69'" – Bryan Adams
After having seen Bryan Adams back in 2014 and being the youngest person at the concert, I have to say Bryan Adams' music will always have a special place in my heart. Although most think this song is about the summer of 1969, it's actually about reminiscing on love and sex, using the number 69 as a reference to 69. So, it's a little bit dirtier than meets the eye! Which ever way you want to look at it, this song is a classic.
3. "Kids in America" – Kim Wilde
This is yet another upbeat song that you can dance around to. This was Kim Wilde's debut single, and it sold more than half a million copies in the UK alone in two months! In a mix of pop and rock, the synth element really created a new vibe that people seemed to love. Such a fun song with such a cheerful tune.
4. "(I've Had) The Time of My Life" – Bill Medley, Jennifer Warnes
When I was a kid, I used to watch 'Dirty Dancing' with my Grandma, and although there are some adult themes within the movie, I still loved it and still DO love it. This has become such an iconic song, and I used to do The Jump (you know the one!) with my dad. I really love this song, and it's still wildly popular, especially as a 'first dance' song at weddings. It's truly a timeless tune and my heart melts every time I watch the 'Dirty Dancing' scene.
5. "Edge of Seventeen" – Stevie Nicks
In my opinion Stevie Nicks does not get the love she deserves. I love this song so much, I get so passionate when jamming out to this song! This song is about grief, after Nicks lost her uncle and experienced the sorrow of John Lennon's murder within the same week. Despite the sad context of this song, the rock elements of this tune make it remarkably unique. If you haven't heard of this song then I beg you to listen to it!
-
Additional mentions just because I love them so much and just cannot pick 5 songs from the eighties because, quite frankly, I have a hundred songs I could suggest to you:
"Don't Stand So Close to Me" by The Police is a song I could have on repeat!
"Heat Of The Moment" by Asia was made an iconic song to me due to the TV show 'Supernatural' – it's become a staple tune in my eighties playlist!
"Bad Reputation" by Joan Jett. Powerful, amazing, could listen to on repeat.
"Burning For You" by Blue Oyster Cult is one of my all times favourites, go listen!
"Jump (For My Love)" by The Pointer Sisters is such an upbeat tune, and super iconic due to that one 'Love Actually; 'scene featuring Hugh Grant dancing.
If you love the eighties too, give this a like!