Best Sources For Audio Plugins in 2023
Best Sources For Audio Plugins in 2023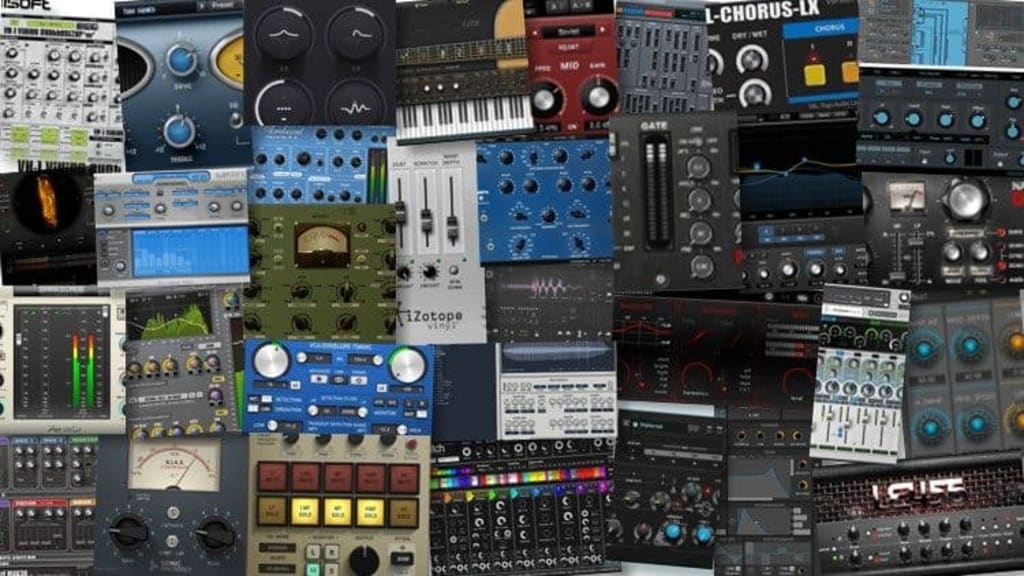 Any music producer, beatmaker, or audio engineer must invest in audio plugins. There are several online platforms and markets where you can acquire them, just like with any other digital product. The greatest and most reliable stores to buy the most recent and top-notch VST plugins are all included in our guide to the best platforms to buy audio plugins.
Best Sources For Audio Plugins in 2023
1 Whipped Cream Sounds
https://www.whippedcreamsounds.com
Whipped Cream Sounds  provides some of the greatest plugins on the market at the most competitive pricing. Their aim is to assist music producers get better at what they do and provide the most wonderful materials at a low cost. They also offer some fantastic sample packs and serum presets that are both free and paid for. 
2 Plugin Boutique
https://www.pluginboutique.com
The largest online retailer of audio plugins and music-production software is definitely Plugin Boutique. It's no surprise given their huge product selection, weekly VST plugin sales, and a tons more. Try browsing the "weekly offers" area of Plugin Boutique if you're searching for something fresh and fascinating. Tens of plugins are available for sale on their website in the Deals area, with discounts ranging from 20% to 90%. You may often obtain additional free VST plugins from Plugin Boutique with every purchase you make, so keep an eye out for these specials to get a great deal on music plugins like these!
3 Plugin Fox
https://pluginfox.com
Plugin Fox aims to spotlight several smaller plugin developers in addition to the industry's top names. Their Deals area is also fairly extensive and offers a ton of special discounts so you can get some affordable plugins. On PluginFox, you can also get virtual money for every purchase that you make. You may store this money up to get even better deals later on! Try PluginFox if you're seeking for the greatest prices right now, premium plugins, synth presets, or anything else!
4 Audio Plugin
https://audioplugin.deals
Audio Plugin Offers is unquestionably the best and most complete source for information on the most recent deals. Additionally, Audio Plugin Deals provides a fantastic shop where you can buy a ton of great plugins and explore the massive collection of content. Also, you may get a large number of free vst plugins from their fantastic free plugins area right now! Therefore, if free and inexpensive goods are what you're after, check out Audio Plugin Deals.
5 Reverb
https://reverb.com
Reverb, one of the most well-known online music markets, offers some of the lowest prices on premium plugins available in addition to used instruments. Additionally, you may check out their fantastic assortment of free downloads. In Reverb's free section, you can get anything from Elektron sample bundles to intriguing VST synths and more. Checking them out is a necessity since they also offer some Reverb Exclusives and often changing specials and deals. Reverb currently focuses 99% of its attention on physical instruments, therefore their software selection isn't as extensive as it might be.
6 Sweetwater
https://www.sweetwater.com
The biggest online music retailer in North America is called Sweetwater! Sweetwater is perhaps the most flexible and comprehensive online music production shop. Sweetwater is one of the few "one-stop-shops" for artists, offering everything from MIDI Keyboards, Guitars, and Live Sound to Plug-ins, sample packs, and more. On their website, there is also a "Deals" area with a ton of offers for both hardware and software products. It's definitely worth checking out Sweetwater since there are always discounts available and new ones being added every day!
7 Audio Plugin Guy
https://www.audiopluginguy.com
Audio Plugin Guy is a great website for folks who love music plugins and are looking for excellent Deals and Freebies. The "Ultimate Plugin Deals List," published by Audio Plugin Guy, is full of affordable plugins. They weren't joking though, as this is definitely the most comprehensive collection of plugin discounts from the top music software providers. If you like a good free plugin, check out their great freebies area, which is full of lists and top 10s regarding free plugins. One of the finest places to seek for VST plugin bargains online is Audio Plugin Guy, which is definitely worth checking out!
8 KVR
https://www.kvraudio.com
Many music producers have become deeply familiar with the huge KVR plugin collection. Additionally to unique, free plugins that aren't available anyplace else, you may also receive specialised plugins from major corporations. It's worth checking out the 369 Exclusive Deals that are presently running on the KVR Marketplace. The KVR store deserves your attention since there are hundreds of bargains there and more are coming soon!
9 Audio Deluxe
https://www.audiodeluxe.com
Another fantastic marketplace for plugins is Audio Deluxe, which is packed with the greatest programs available, including DAWs, iZotope plugins, and much more! You can discover special offers in their Hot Deals area that you won't be able to find elsewhere. This is a wonderful website to check out if you're searching for some new plugins since many of their bargains are more than 50% off! Additionally, Audio Deluxe offers several Waves plugins and packages at lower costs than most other websites. Outside of Waves, Audio Deluxe is perhaps the greatest location to get Waves plugins, therefore it's a terrific way to save money!
10 Plugin.Deals
https://www.plugin.deals
Plugin Deals main goal is to save you money on samples, software, plugins, and other items. You may benefit from a monthly rotation of the finest deals and largest savings on their "Best Audio Plugin Deals" page. A wide range of free plugins are also available from them! A whole portion of the website is specialized in Hardware Deals, therefore Plugin.Deals will help you save money on hardware in addition to software. 
11 Native Instruments
https://www.native-instruments.com/en/
The majority of music producers are acquainted with the legendary Native Instruments brand. Native Instruments goods are in the studios of many beatmakers across the world, from their hardware devices to the outstanding software they offer. Native Instruments is always on the cutting edge of music recording software, whether it is with their Komplete bundles or legendary synths like Massive X. They make some excellent audio plugins, so you're certainly losing out if you don't have them.
12 Waves
https://www.waves.com
Another well-known manufacturer of virtual instruments that is favoured by the majority of producers and engineers is Waves. Waves has long been a cornerstone in the music business, whether it's with their classic CLA-2A Compressor/Limiter or Vocal Rider and Bender. Waves is definitely a website that you must visit if you're looking to purchase music plugins.
13 Producer Spot
https://www.producerspot.com
You should also be aware of Producer Spot, another distributor of audio plugins. In addition to fantastic VSTs that are exclusive to their website, they also provide some of the essential plugins for the business, such Auto-Tune. You may even get some of their plugins for free. When it comes to purchasing VSTs, Producer Spot is a neglected website in the music production field that deserves your attention.
Best Sources For Audio Plugins in 2023
Check out our website with the biggest online music business contact database that includes music blogs, artist booking agencies, music festivals, radio stations, record labels, Spotify playlists, music online magazines and much more.
https://musicbusinessguru.co.uk/music-biz-encyclopedia
We offer comprehensive artist development services that are suitable for artists at any stage of their career.
https://musicbusinessguru.co.uk/services
Artists and royalties
Mike Dacombe
musicbusinessguru.co.uk
Reader insights
Be the first to share your insights about this piece.
Add your insights