Still looking for that item of interest to aliens?
As I write, there are only seven days left to submit your (next) entry to the Vocal Extraterrestrial challenge. Plenty of time to write a winner!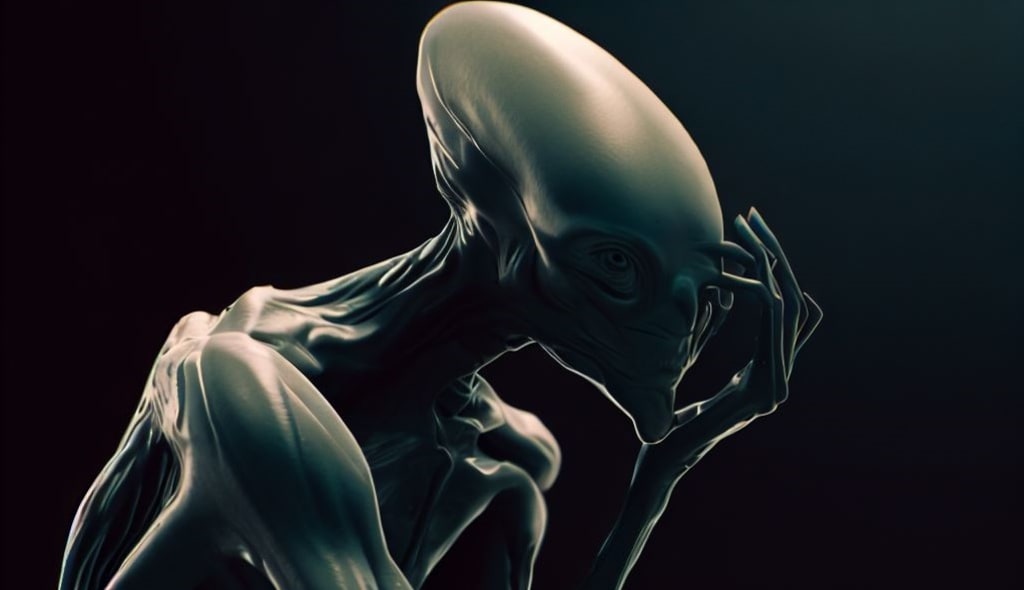 Image generated by author using Bing / Dall-E
Entries into the Vocal Extraterrestrial challenge, so far, have been a lot of fun for the reader and writer alike. If you haven't already done so, or think you can come up with another poetic masterpiece, you still have seven whole days left to have a go and make yourself a winner. Yay!
If you haven't yet entered the Extraterrestial challenge, why not give it a go? Writing simple poetry can be lots of fun and is a great exercise to develop your writing skills
If, like me, you don't think of yourselves as a poet, don't let that stop you. All you need to do is, first, come up with an item to show to your alien. Then, instead of writing regular sentences and paragraphs, write your funny ideas in a simple sing-song rhythm, making use of words that rhyme. I have suggested ten top tips for non-poets at the end of this article, but you should start by reading "about this challenge."
Read About the Extraterrestial challenge carefully before starting
First hurdle to jump in the challenge is, of course, to come up with a great and funny idea for something you would like to introduce to an alien. Not finding that so easy? Me neither. I took the inspiration for my first (and so far only) attempt from another Vocal creator, who I have credited in the submission. If you have a minute, please take a look at Riding the mountains high and let me know what you think. And do look at some of
the other wonderful entries that have so far been written by many other Vocal creatings in this challenge.
You can also look at other Vocal creators in the Poets community for inspiration on how to write a poem. I would highly recommend Stephanie J. Bradberry. And if you ever wondered how to write a haiku, Stephanie is without doubt the go-to expert.
Read: Stephanie J. Bradberry, Student X
Where to go for some great alien introduction ideas? In a way, this is simple. Just take a look around you at the everyday things you see and think what you could make a rhyme out of. A tasty toasty? a running rabbit, a tree at the end of the road, that looks like an overgrown toad? Your first ideas, like these, may not win any awards, but if you keep going, keep scribbling, typing or just thinking of ideas in your head, you will eventually hit on something you like.
Still stuck? Why not use your friendly AI assistant to help? I asked Bing / ChatGPT for some ideas for this challenge and this is what it came up with. Please feel free to make use of any of the following or try out your own GPT requests. If you need help finding an AI friend, please check out my article AI: Your new writing buddy? And please note, the following text (and no other part of this article) is generated by GPT.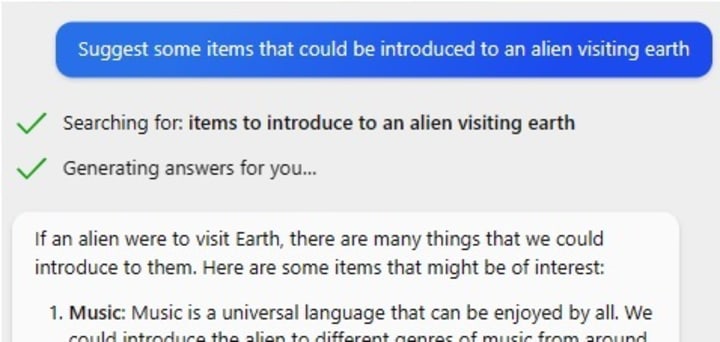 GPT-generated suggestions
Music: Music is a universal language that can be enjoyed by all. We could introduce the alien to different genres of music from around the world and see which ones they like best.
Food: Food is another great way to introduce an alien to our culture. We could offer them a variety of dishes from different countries and regions.
Art: Art is a great way to express ourselves and our culture. We could show the alien different types of art, such as paintings, sculptures, and installations.
Sports: Sports are a great way to stay active and have fun. We could introduce the alien to different sports from around the world, such as football, basketball, and cricket.
Books: Books are a great way to learn about different cultures and ideas. We could show the alien books from different genres, such as science fiction, romance, and history.
Technology: Technology is constantly evolving and changing the way we live our lives. We could show the alien some of our latest technological advancements, such as smartphones, virtual reality headsets, and self-driving cars.
Nature: Earth is home to many beautiful natural wonders, such as mountains, oceans, and forests. We could take the alien on a tour of some of these natural wonders and show them the beauty of our planet.
GPT sources: theguardian.com2 , whatculture.com3 , and wired.co.uk
I wasn't sure the AI quite got the idea about the funny side of this exercise and so I made a second attempt
Or how about some more off-the-wall ideas?
I hasten to add that I am not so sure about these GPT-suggested ideas either but please let me know what you think. Again, these are GPT's ideas and certainly NOT mine.
Rubber chickens: These are a classic gag item that are sure to make the alien laugh.
Silly hats: A silly hat is a great way to add some humor to any situation. You could introduce the alien to a variety of hats, such as a cowboy hat, a top hat, or a Viking helmet.
Whoopie cushions: Whoopie cushions are another classic gag item that are sure to get a laugh.
Fake mustaches: A fake mustache is a great way to add some humor to any situation. You could introduce the alien to a variety of mustaches, such as a handlebar mustache, a Fu Manchu mustache, or a pencil mustache.
Silly string: Silly string is a fun and harmless way to add some humor to any situation.
Groucho glasses: Groucho glasses are a classic gag item that are sure to make the alien laugh.
Fake vomit: Fake vomit is another classic gag item that is sure to get a laugh.
GPT sources: interestingengineering.com2 , bfi.org.uk3 , theguardian.com
End of GPT-generated text
Fake vomit 'is sure to get a laugh'? Seriously? Fake vomit funny?
Each to his own!
What do you think of the AI-generated ideas above?
Are any of these ideas for an item to introduce to an alien useful? Is AI a useful tool for generating ideas and inspiration in writing, or is it a cheat's way? I would love to hear your views and please leave a comment if you have an opinion you would like to share. I will always be respectful of other people's opinions (as long as they are not racist, sexist, homophobic or otherwise offensive or non-inclusive – please don't share your views if they are). I really love to hear from other creators and discuss issues like this.
Back to the issue of writing a poem for the Extraterrestrial challenge. Here are my suggestions, from one who is certainly not a poet in the usual sense of the term. But, then again, perhaps you too really are a poet but didn't know it. Only one way to find out.
Enter the Extraterrestrial challenge now!
Top ten tips: poetry for non-poets
Think of poetry writing as a

fun

exercise, not a high-school chore!
Think of the rhythm before the rhyme. If it helps, say the lines out loud and tap out the rhythm as you speak.
Read creators in the Poets community
Read some simple children's poems
Think of some of your favorite songs
When trying to find rhyming words, look for alternatives to your first choice
Use online dictionaries and other resources to help
If you can't think of a rhyme to start with, put a non-rhyming word in for now, carry on with your verse, and come back to the problem later
Practice poetry to improve your writing and word-choice skills
Did I mention... have lots of fun?
Please check out my Extraterrestrial efforts:
Thanks for reading!
If you liked this article, you might also like some of my fictional work. How about reading: Run with the Pack? A true wilderness adventure in the tradition of Call of the Wild. A bit like Plague Dogs, but with a LOT more bite. To be serialized in full. Check out Chapter One NOW!
Read chapters one to seven. All other chapters will be posted in the next few weeks if there is enough interest.
Ray
About the Creator
Author based in Kent, England. A writer of fictional short stories in a wide range of genres, he has been a non-fiction writer since the 1980s. Non-fiction subjects include art, history, technology, business, law, and the human condition.
Reader insights
Outstanding
Excellent work. Looking forward to reading more!
Add your insights