Riding the mountains high
A lone mountain rider introduces a visiting alien to his beloved Apple Watch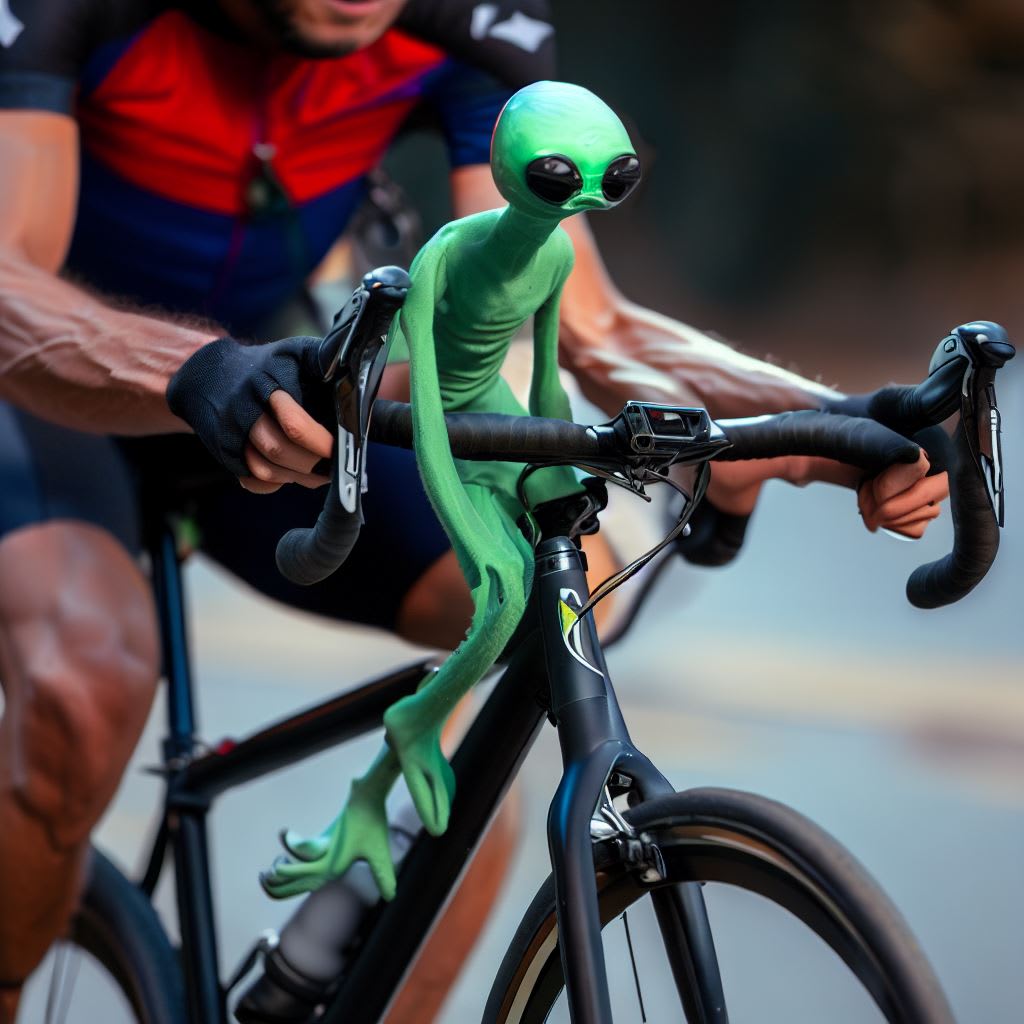 Image generated by the author using Dall-E / Bing
I met an old alien, riding my bike,
All gangly and green and out for a hike.
It was up in the hills, the Sierra Nevada,
While training for the annual Cycle Sierra.
He said could he hitch a ride into town?
I first checked my watch, and then gave a frown,
And said "I am trying to train for a race,
"I've got to keep going, to keep up the pace."
He said "Well okay, but perhaps you'll assist
"By telling me what is that thing on your wrist."
I said "It's my Apple, the new Series 9,
"It does so much more than just tell the time.
"It also makes calls just like an iPhone.
"You really must try it some time, I can own.
"By the way, how come you speak in my tongue,
"And not in the language of home, so far flung?
He said "It's this fish in my ear that translates.
"A Babelfish, just like Doug Adams relates."
"Oh really, that is such a nice party trick,
"You should meet my family, I know you would click."
So I ended up giving the fellow a lift.
He hopped on my bike, to the handle did shift.
And then something really quite strange, it did happen.
We started to rise as if wings were a flappin'.
But before we got far, we fell with a bump.
I must admit bruising the flesh on my rump.
He says "Will you lend me your wristwatch iPhone?
"It really is time that I tried to call home."
Without further stalling, he grabbed at my Apple.
I tried to prevent him, we started to grapple.
Then seeing the folly of fighting, gave in.
My green gangly friend then said "Thanks," and "I win."
He swiftly hit numbers so rapid and speedy,
Despite his thin fingers and arms oh so weedy.
He connected his party and spoke though the phone.
"Hey Mom, it's E.T. here, I'm on my way home."
O ~ 0 ~ o ~
With grateful acknowledgement:
Lamar Wiggins, for the inspiration to write this verse.
For the 1982 movie E.T. and its director and writer, Steven Spielberg and Melissa Mathison respectively, for the cinematographic references.
To the late Douglas Adams, for the Babel Fish reference.
Cycle the Sierra: the five-day cycle event in Northern California's breathtaking Sierra Nevada mountains and forests.
About the Creator
Author based in Kent, England. A writer of fictional short stories in a wide range of genres, he has been a non-fiction writer since the 1980s. Non-fiction subjects include art, history, technology, business, law, and the human condition.
Reader insights
Outstanding
Excellent work. Looking forward to reading more!
Add your insights