Reflection on 4K Reads, AKA "How Writing is a Bit Like Sex"
Wow! How the eff did that happen?
I recently wrote about hitting 3000 reads. It felt like kind of a big deal.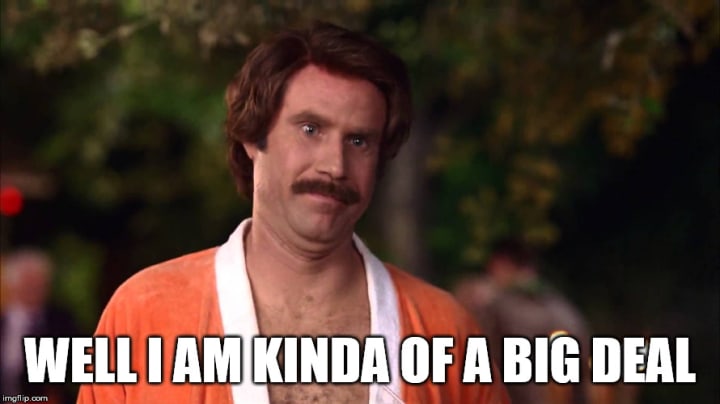 And then, in one month, I got another 1000!
This got me thinking. The first thing I am thinking is,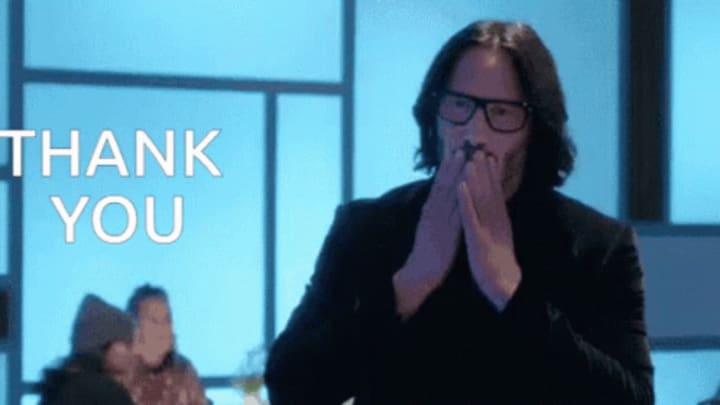 There's a solid bunch of people coming back here and reading my maniacal scribbles, and I could not be more grateful. I hope you know I do my best to appreciate you, respond and reciprocate.
I think I'm seeing a bit of an uptick, partly because I am managing to post more at the moment. I am making hay while the sun shines. I am sure that is making a positive difference.
I'd like to hear about your experience - are you finding the same?
I'm sure at least some of this is down to changes that Vocal have made behind the scenes. These changes seem to be having a positive impact - at least for me.
This seems like a good moment for some self reflection, so here we go. These are some things I've learned about writing.
1. You have a book inside you. Write it. Now.
Put it out in the world. Start now. Do it so that the person you most want to see this accomplishment does actually get to see it. A fool takes time for granted. (Me. I'm the fool.)
2. Be willing to suck.
You cannot get better if you don't suck first. So suck. Perfectionism is your enemy.
3. Drop what you're doing and jot that idea down somewhere safe.
Quick! Before it escapes!
A line that always stayed with me from The Mists of Avalon is,
The Goddess does not shower her gifts on those who reject them.
Here is another way to look at it: Noticing when inspiration strikes seems to leave you receptive to the same happening again. Writing down the idea, honouring and nurturing it - this not only preserves this idea but it makes ten more likely that ten more ideas will follow before too long.
It doesn't matter what genre, whether it's fiction or non-fiction. It might be a concept, a prompt, a character. Just write it down. Do something with it, or let it percolate and come back to it later. Do nothing at all? Most of them will slip away and the fountain will start to dry up.
All of which leads me to...
4. Writing can be a bit like sex. Sometimes the mood just takes you, and you can capitalise on that, or you can let it go cold and then have to laboriously warm it up again later. Fun, playful, spontaneous and hurriedly over the kitchen counter is worth five dutiful and dull I'd-rather-be-doing-literally-anything-else. So maybe don't just scribble down that little seed of an idea - treat writing with some urgency. Grab something to write with and something to write on and see where this mad adventure takes you right now.
Seize it - the moment, the pen, the idea, the- - and get naked.
5. Adjectives are like salt.
I've said this before. You definitely need some, but don't overdo it.
6. Absolutely godawful stuff gets published.
I grew up thinking that such a thing was beyond almost all of us, that only the very best could make it. Not so. Some of it comes down to craft, and some down to luck. Zeitgeist. Who you know. There's some wonderful works out there, and also some stuff which I wouldn't show to a beta reader. This is both wonderful and heinous at the same time. My writing is objectively better than some of the stuff out there. Yours is as well.
7. Non-fiction works don't get fact checked.
Or if they do, it's certainly not stringent. Mad isn't it? You can read things in print that are just outright false. I think a lot of us have this idea, on some level, that "they" wouldn't let that happen. The printed word is sacrosanct. It must be true.
Ah, my sweet summer child.
+++++++
Thank you for reading! Please comment so I can reciprocate. Don't be a stranger 😁
About the Creator
Flexing the writing muscle.
Never so naked as I am on a page. Subscribe for "nudes".
I'm also Twitter if you'd like to connect elsewhere.
I value feedback, and reciprocate reads and comments.
Also writing under the name S.E. Holz
Reader insights
Outstanding
Excellent work. Looking forward to reading more!
Top insight
Expert insights and opinions

Arguments were carefully researched and presented
Add your insights