I Made It to 100*
*100 stories on Vocal
This story has been sitting in my drafts for a while. I was nervous about boring people with a clip show of my Vocal portfolio. I've seen many of these Vocal milestone pieces on the platform and I figure, why not? I'll just spice it up with my signature wit and optimism.
Today is my 42nd birthday. I took the day off to sit here in Panera Bread with my laptop and pretend to be a (full time) writer. Now that I am approaching middle age, the pressure to follow my dreams has evolved into a gentler form of self motivation. Pressure has the tendency to crush. These days I favor progress over perfection. I am not a failure for taking it slow. Success has many definitions. My day job feeds my family and writing feeds my soul.
My experiences as an actor right out of college and as a stand up comic in my twenties, taught me just how hard it can be. You really have to want it! Suffer for your art! That said, it is never too late to achieve your dreams. I still have hope. Listen to these wise words from a fellow Leslie...
I began my Vocal journey in June of 2021. I joined to participate in the 'Doomsday Diary Challenge.' Submitting that first piece was a real rush of adrenaline. After that, I was hooked!
I love the frequency and diversity of the challenges presented by the Vocal team. They often inspire me to branch out of my comfort zone and learn something new. I am not the most prolific creator or consumer on Vocal, but I try. My full time job and personal responsibilities only allow me to indulge in my writing habit a few times a month. Kudos to anyone who can manage to write every day. I admire your dedication.
I was curious about how my body of work is spread out among the vocal communities, so I decided to nerd out and create this little pie chart. I limited the data to only communities where I have at least 2 stories. I was not surprised to find fiction and poetry comprising more than half.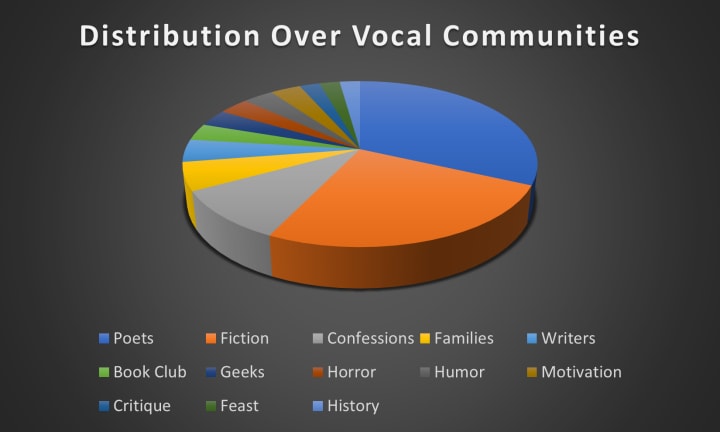 I also have one story each in Chapters, Filthy, Lifehack, Longevity, Men, Proof, Psyche, The Swamp, and Wander. I guess I'll try anything once!
Of course, not every idea makes it to the publishing phase. I've had some dumb ones that got deleted without remorse and others that linger in my drafts for one reason or another. Here are some examples.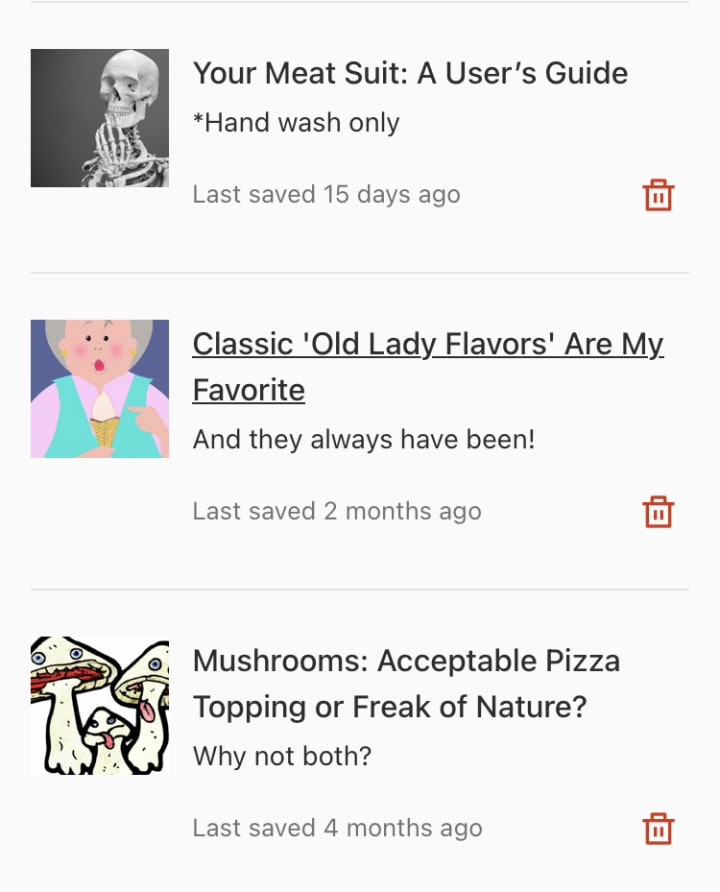 *Note to would-be plagiarizers - please don't steal my ideas. Vocal Neighborhood Watch will eat you for breakfast and make a stylish, yet practical bookshelf with your bones!
Sometimes I involve my daughter in the creative process. She is whip smart and loves to read. She is one of my best beta readers. We even collaborated on this interview. That was so much fun, I also interviewed my husband about his career as a tour guide.
This Spring I wrote a few articles about the joys and horrors of American processed foods that I am pretty proud of. There's one about chicken nuggets and one about American cheese. If inspiration strikes again, I could make it a series. I am open to suggestions.
I am so glad I found Vocal. I recommend it to any new writers interested in getting their feet wet. The challenges are fun and the community here is very encouraging. I know my writing has value and I plan on continuing. Some day, when my life slows down a bit, I might even try NaNoWriMo.
Shout out to my Vocal buddy, Donna Renee and all the other talented, hard working folks out there writing novels this month!
Reader insights
Outstanding
Excellent work. Looking forward to reading more!
Add your insights