The Humble Chicken Nugget
A Love Letter to an American Favorite
You are the hot dog of poultry, a breaded mystery meat concoction of dubious origins. Go ahead and keep your secrets, you crunchy little minx! I respect your modified food starch and mechanically separated je ne sais quoi. I honor your likeability and versatility. You are convenient and cheap and available everywhere. You are slowly killing us all, but I'm powerless to resist you.
I keep a huge Costco sized bag of you in the freezer for when time is short, or indecision leads to throwing you into the air fryer at the last second and eating you hunched over the sink. As convenience foods go, you are my rock. And sometimes you feel like a rock in my stomach, but I forgive you.
You can be dressed up, thrown into orange sauce, and served alongside rice and veggies as the poor man's 'orange chicken'. If I'm feeling Italian, I can cloak you in mozzarella, douse you in marinara and dub you 'nug parm.' You can even adorn my salad.
If you don't mind my saying, your vegan and gluten free versions are also surprisingly good. You are something everyone can enjoy. Lunch, dinner, or a midnight snack, you are always appropriate. Nobody's too good for chicken nuggets. You remind adults of their childhood, and you remind children of dinosaurs.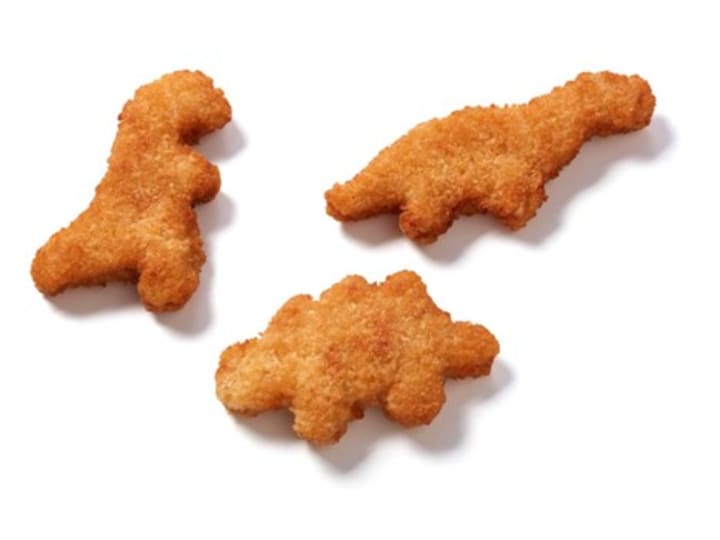 I see you getting jealous of your sexier cousin the 'chicken finger,' but don't fret, my stubby little pal. You are far less expensive, and in an economy like this, that's much easier to swallow.
Culinary experts will try to embarrass you. I remember your appearance on Jamie Oliver's Food Revolution. He said you were made from the undesirable parts of the chicken. But we know the meaning of 'waste not, want not'. The children were not fooled by his virtue signaling and rhetoric. Meat is meat. Keep slaying in that honey mustard, queen!
Check out this YouTube segment by Dan Olsen @foldingideas. Here's a guy who knows what I'm talking about. He does an excellent job of exposing Oliver's classist views.
There are some real ethical concerns with the way convenience foods like you are produced. I'd get into it, but I don't want to bum you out. Let's just say that ethical consumption is virtually impossible in our society, especially for the middle to lower class consumer. I'm sure we'd all prefer to eat the finest whole grain fair trade organic free range grub, but most of us have to settle for the cheap stuff. And that's where you come in.
For health reasons, you really are, as Cookie Monster would say, 'a sometimes food.' I wouldn't eat you for every meal, but you are always there when I need you. You are portable and go with a variety of sauces. Picky eaters adore you for your mild flavor and consistency. Parents love you for the moments of peace you provide when their toddlers eat you without a fuss.
You are the cornerstone of this ragged American diet. Most of us are barely holding it together financially, physically, mentally, emotionally and here you are this greasy golden beacon of comfort to soothe our weary souls. Now, if you'll excuse me, it's time to eat my nuggets in the bathtub while I sob.
Here are some chicken nugget fun facts:
The chicken nugget was invented not by a chef, but by a food scientist professor at Cornell University. Yum, that's tasty science!
The first chicken nuggets were called 'chicken crispies.' That's pretty cute. I wonder why they changed it.
Chicken nuggets first hit the market in the 1950's, but it wasn't until 1983 that McDonald's started selling their version, the McNugget. Why did it take them 30 years?
U.K. Competitive eater, Leah Shutkever currently holds the world record for most chicken nuggets consumed in 60 seconds, the equivalent of 19 McDonald's McNuggets. I'm sure Mummy and Daddy are very proud.
The world's largest chicken nugget weighed 51 pounds. It was made by Empire Kosher and unveiled at Kosherfest in Secaucus, New Jersey in 2013. Mazel tov!
If you liked this article you might also enjoy….
Sources:
https://en.wikipedia.org/wiki/Chicken_nugget
https://en.wikipedia.org/wiki/Chicken_McNuggets
https://www.foxla.com/news/woman-breaks-world-record-for-most-chicken-nuggets-eaten-in-1-minute
Reader insights
Outstanding
Excellent work. Looking forward to reading more!
Top insights
Expert insights and opinions

Arguments were carefully researched and presented

Easy to read and follow

Well-structured & engaging content

On-point and relevant

Writing reflected the title & theme
Masterful proofreading

Zero grammar & spelling mistakes

Eye opening

Niche topic & fresh perspectives

Excellent storytelling

Original narrative & well developed characters

Heartfelt and relatable

The story invoked strong personal emotions
Add your insights