Introducing the New Article Series: "The Ugly Truth About Fat" (working title)
An introduction to and outline of my up-and-coming, work-in-progress article series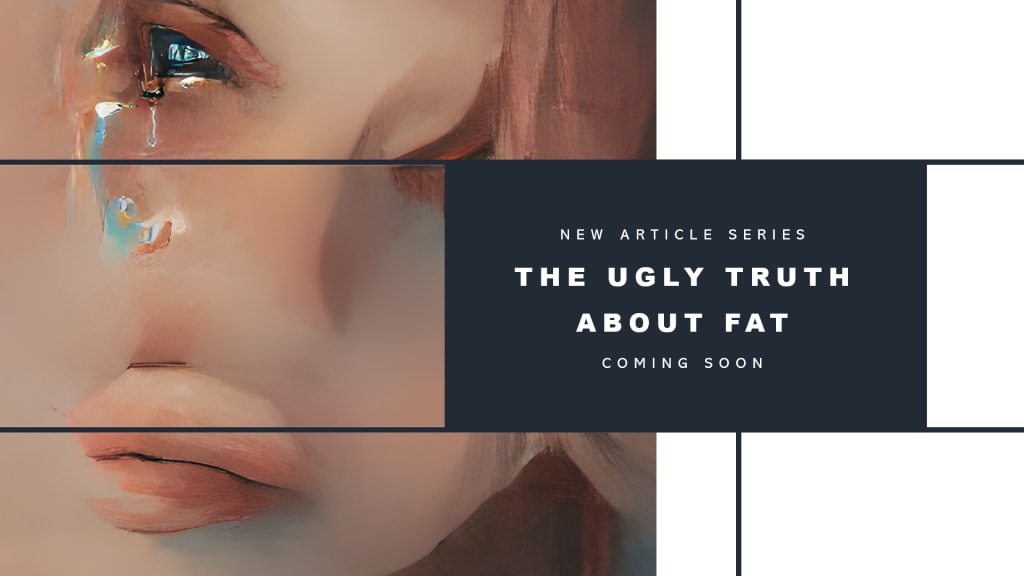 Artwork © Lena Folkert
Lately, I've been in a particularly deep depression and shame spiral. There are many causes and many things that are worsening the situation, but somehow, in my mind, everything that goes badly in my life seems invariably tied into my weight.
I know that there is so much more complexity to the situation and to myself than this, but really, it goes back so far and runs so deep, that my lifelong battle with my weight and health has been a foundational stressor in my life.
The strangest part is that in my mind, I'm like this gorgeous, funny, smart, outgoing, incredibly awesome girl. But then I look in the mirror or see a photo of myself (or try to squeeze into jeans), and I'm like, "oh yeah... I'm Shamu!"
There are so many complexities to the weight issue for all of us, but the thing that I find the most unbearably infuriating is the general consensus by both the medical professionals and society and just... everyone... that fat people are all either too lazy to work out and eat healthy, too stupid, or too slovenly... yadda, yadda, yadda!
Really, there are SO MANY causes for, symptoms of, and just absolute, miserable, full onslaught BATTLES being fought by those who are overweight that it's just ridiculous at this point the stigmas and pre- and mis- conceptions of those who are "fat." (GOD I HATE THAT WORD SO MUCH!)
A few months back I read an article on Medium by someone who I will not name... but you can easily find it from the title which I will totally reveal. (You choose to write on a public platform, you choose to be debated and named, in my opinion--as I'm sure this will catch a few mixed emotions/reactions).
The title of this article was truly well crafted. Totally Bait-clicky! Wonderfully catchy. Clever. Enticing. Simply... It POPPED! And it immediately pissed me off.
"I changed my mind! She doesn't deserve the added traffic to her article"
Sorry. Not sorry. But it sure popped! And paired with it... a photo of an obese woman eating donuts, chips, burgers… What a picture that author painted! SO EFFECTIVE. SO ATTENTION GRABBING.
SO INCREDIBLY NARROW AND OFFENSIVE!
I didn't have to read the article to know I would wholeheartedly disagree with the writer's opinions within. Notice I used the word opinion? -- the author seemed to think themselves a subject-matter-expert! And that's really one of the main, foundational problems with the societal aspect of obesity. Everyone is so full of opinions. And they regularly broadcast these opinions as fact. Boy, there are a lot of subject-matter-experts in this area!
Well, as a lifelong battler of obesity, as well as an avid student of the western, eastern, holistic, medical, internal, homeopathic, scientific, practical, and simply logical approaches to health as a whole, and weight management as a narrow... I consider myself as a "subject-matter-expert"--one who while quite biased, is very honest and objective in my analysis of the subject.
The writer of this particular article highlighted the almost willing, actually, blind determination of those who are obese to do it to themselves, despite society's best efforts to provide wisdom, training, and healthy standards. One of the sources of "positive" information and training was America's school lunches.
Well, excuse me while I repeat my initial reaction.
Wait... that doesn't cut it.... Hold on while I consult Giphy for a better one...
Hmmm... better, but still not quite right... hold on one more second, friends....
Ahhhh, leave it to my sugar baby, Johnny C to pull it off just right. Shock, disgust, absolute... "WTF, over!?"
So, here's the thing, and for you UK and abroad friends and readers, maybe this is not that clear, because let's face it... American School Lunches Are Absolutely The Most Ridiculously Unhealthy Crap You Could Give Your Kids!!!
Now, I did promise to be biased but honest, so here's the deal. Yes. The school system, the FDA, the USDA, the government, nutritionists, blah, blah, blah... all worked to get the school lunches all balanced nutritionally and etc.
Okay, fine. But does that mean I'm supposed to immediately think that they're actually healthy?
Do I need to go into the things that the government and the FDA and etc. approve on the regular?
Do I need to address the influence of business deals, corporations, politics, and etc. on these decisions?
GOSH, I HOPE NOT!
PEOPLE, This food is EXACTLY what began my weight gain journey. Pizzas and margarine soaked corn on Fridays. Soy, pre-shaped burgers and frozen french fries on Tuesdays, and Nacho Mondays... THIS IS NOT WELL-BALANCED, NUTRITIONAL FOOD! And the SODIUM!
I still remember the flavor. The pre-digested egg product for breakfast. The chili dogs and tater tots. The milk in a freaking pouch...
In the words of Joey Tribiani, "PEOPLE, PEOPLE, PEOPLE!"
So, this is just one of the things that triggered me in that article. And the whole, "avail yourselves to the information and stop being lazy and ignorant" thing...
Well, let me just pause for a second to take a deep breath. And picture your death... (No. Wait. Lena. Inhale love. Exhale hate. Inhale, exhale.--Screw that noise.)
Once again, I refer you to Joey's deep wisdom...VA FA NAPOLI! ( I'm on a "Friends" kick lately--my cozy show!)
Okay, so you get the gist of the "article" this person wrote. Now, why do I still months later get so worked up?
And what does this infuriating article have to do with my new series?
And why do I feel the need to introduce this series before it's even written?
Because THIS has been my whole life. The assumptions, the judgments, the shame forced upon me by everyone... none more than myself...
I'm simply SO tired of the lies, the hate, the ignorance, and the STIGMA related to those who are "fat."
A few days ago, the awesome S.A. Crawford published her well-deserved top story, PCOS and Me (read it below):
This article is literally so spot on... I cried. I had to read it in parts. And then, I totally word vomited all over the comment section. It's like... "YES! YOU GET ME!!!!"
But it's also like,
"YES!! PEOPLE EFFING SUCK!!!"
Her article, her bravery, and her honesty inspired me to write about the one thing that impacts me and my writing and my just... everything... the most --my weight. My image. My health. My demon.
And then I started like thought dumping on myself... SO many things to write about. The dam was opened. I couldn't hold it in. All the emotions, the thoughts, the opinions, the insights I have into this struggle. This lifelong battle for my health and happiness. For my life.
So, I started all these articles in my head. It was so unorganized. So I did something that I as a writer NEVER do...
I wrote an outline. I decided that instead of attempting to cram all of the stuff into one article and attempt to keep myself reigned in, I would start a series. A series all about... well, the word I hate... FAT!
So, I'm actually including that outline below. This is what is to come. It's a work in progress. As is the name. But I think it's important.
No.
I know it's important.
I will do another thing I never do...
I will take my time with the articles. I will not word vomit them. But I will also pour myself into them. Because this is a battle that has formed my very essence. And I know there are others who need to hear it. Like I needed to hear it from S.A. Crawford.
And the last thing I will do that I NEVER EVER EVER EVER NEVER DO!:
I'm inviting your open feedback, input, insights, ideas, and (exercise caution) your debates about the subject.
Because open discussion (when controlled) is healthy. And it is the only way to change people's mis/pre-conceptions!
So, here is the very rough outline: (note: I forgot and will be adding two bullet points beneath the "things we never talk about section: "Financial" & "Hygiene")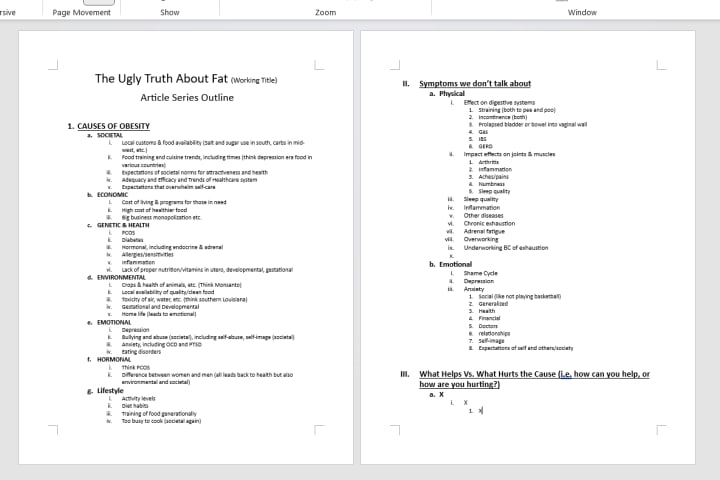 So, if you or someone you know suffers from obesity or health issues, if you're from America or anywhere else that the healthcare system is just exhausting and frustrating to no end, or if you are simply curious what it's ACTUALLY like to BE the fat person...
And feel free to add in the comments section things you'd like to see discussed in this article series! OR share your similar stories from Vocal!

Let's all fight the stigmas of obesity and health issues. (Especially for women... but everyone)
Let the Discussion BEGIN!!
About the Creator
Alaskan Grown Freelance Writer 🤍 Lover of Prose
Former Deckhand & Barista 🤍 Always a Pleaser & Eggshell-Walker
Lifelong Animal Lover & Whisperer 🤍 Ever the Student & Seeker
Traveler 🤍 Dreamer 🤍 Wanderer
Happily Lost 🤍 Luckily in Love
Reader insights
Outstanding
Excellent work. Looking forward to reading more!
Top insights
Expert insights and opinions

Arguments were carefully researched and presented

Heartfelt and relatable

The story invoked strong personal emotions
Add your insights