Vocal Bonus Leaderboard: 10/4/2023
Celebrating creativity, engagement, and community building on Vocal.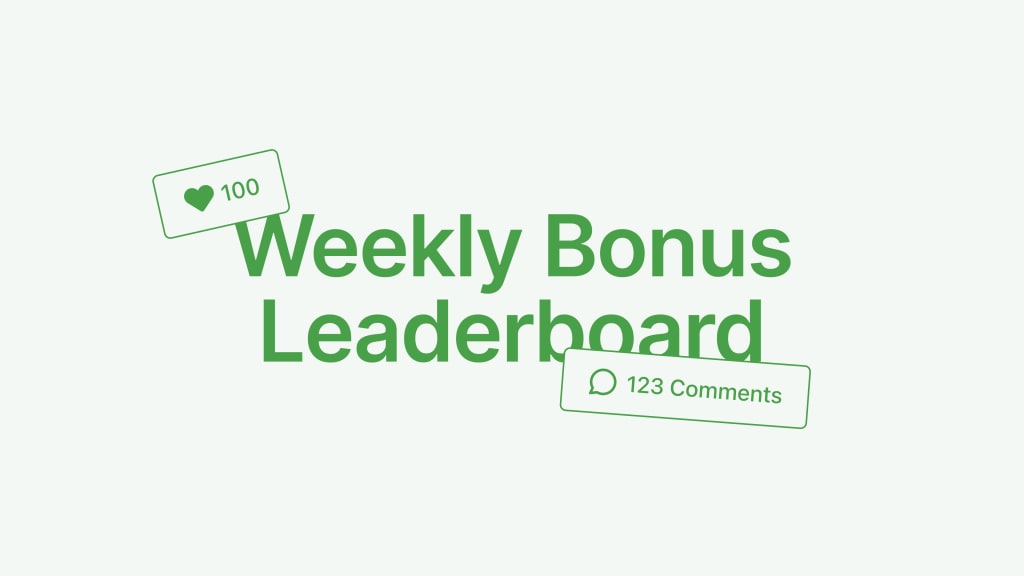 Join the party as we roll into the another week of the Vocal Bonus Leaderboards! 🎉 Let's celebrate the amazing creators who've made a big splash on Vocal this past week.
These talented creators have shown endless drive, creating stories that go beyond the everyday and draw readers into their exciting worlds. Their active involvement in our community has built strong connections and helped Vocal grow and thrive. As always, each winner will receive a well-deserved Bonus, showing our appreciation for their hard work and creativity.
And the winners are...
Most Discussed Stories this Week
We value meaningful discussions and rewarded the top three creators who generated the most comments on their weekly published stories, promoting content that sparks engaging dialogues and resonates with their audience.
🏆 Winners
🥇 First Place ($20 Bonus): Donna Renee for Meet-cute at the Corner Table

🥈 Second Place ($10 Bonus): Mackenzie Davis for Oxygenated [Part 2]

🥉 Third Place ($5 Bonus): Paul Stewart for Talk is Cheap, Silence is Golden
🌟 Honorable Mentions
Dana Crandell for Well, Whadaya Know - the Big Five-Oh (Oh, Oh)

Kristen Balyeat for Dance

J. S. Wade for Twas a Cold Winter Eve

L.C. Schäfer for Couch to 5k Reads

Veronica Coldiron for "Just Not Good Enough"
Honorable mentions will receive a $3 Bonus.
Popular Stories with the Most Likes this Week
Likes, the resounding applause 👏 of our community, serve as a powerful testament to the indescribable magic that emanates from their words. These exceptional creators have woven tales that have not only captured hearts but ignited a symphony of appreciation and connection on Vocal.
🏆 Winners
🥇 First Place ($20 Bonus): The Writing Witch ✨🌗 (Joelle) for misunderstood (sleeping beauty)

🥈 Second Place ($10 Bonus): Lamar Wiggins for Ebony Winter

🥉 Third Place ($5 Bonus): Georgia Jones for The feminine urge
Most Subscribed to Creators this Week
Building a loyal and engaged audience is a testament to a creator's impact, and these creators have demonstrated their ability to attract the highest number of new free subscribers within the weekly timeframe.
🏆 Winners
🥇 First Place ($20 Bonus): M. Fritz Wunderli

🥈 Second Place ($10 Bonus): Daniel Falonipe

🥉 Third Place ($5 Bonus): Hank Moody
Most Supportive Commenters
We value creators who go the extra mile to engage with others, leaving a trail of thoughtful and constructive comments in their wake. These creators have demonstrated an unwavering commitment to fostering a vibrant and supportive community.
🏆 Winners
🥇 First Place ($20 Bonus): Dharrsheena Raja Segarran

🥈 Second Place ($10 Bonus): Babs Iverson

🥉 Third Place ($5 Bonus): Grz Colm
A massive thank you to all of the winners and contributors this week on Vocal. Your ongoing support and valuable contributions to our thriving community are deeply appreciated. As we continue our leaderboard journey, your feedback is invaluable to help us fine-tune our process and recognize our standout creators. Feel free to share your thoughts in the comments below.
All Bonus winners will receive their Bonuses in their Vocal Wallets within 72 hours.
Reader insights
Be the first to share your insights about this piece.
Add your insights