Creator Spotlight: People! Just say Something!
"There is no work when you dedicate your time to the things you love with the people you love." -David Wiczynski, People! Just say Something!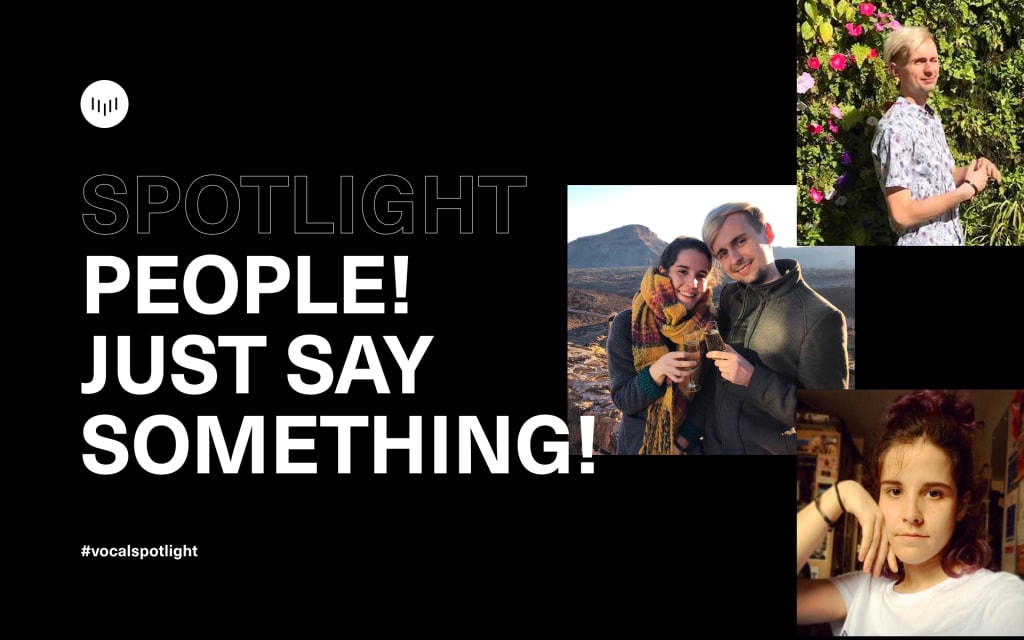 People! Just say Something! is a quirky, collaborative writing project created by writers, artists, and partners Dawid (David) Wiczynski and Atlas. The driven Londoners cover a wide variety of topics on Vocal, such as art, history, travel, and life in general. Their collective's name lends itself perfectly to their subject matter; because, as long as they continue creating, they stay on-brand. With over 70 stories published in under a year, it's safe to say David and Atlas practice what they preach.
People! Just say Something! has placed in two Vocal challenges to date. First, they took home the bronze in the Vocal+ exclusive "Solo Trip" Challenge with their piece "The Euro-trip of a Lifetime for my Little Sister." They didn't have to wait long for their next accolade, as they wowed the judges of the Vocal+ exclusive "Guilty Pleasure Binge" Challenge with their piece "How I Met the Show about Meeting Your Mother." Considering their current rate of publication and ever-increasing popularity on Vocal, it won't be long until a third ribbon situates itself atop their Author page.
David and Atlas's approach to creating on Vocal goes to show that the road to success looks different for everyone. That is, you don't have to take on the creative world alone. Be courageous enough to experiment with other creator styles and formats, and be persistent enough to see where the experimentation takes you.
We're proud to feature People! Just say Something! in this #VocalSpotlight. Enjoy!
On Their Backgrounds and Interests:
My name is Dawid Wiczynski, but almost everyone knows me as David. Only my family call me Dawid, and even then, they tend to switch between the two. I am a 23-year-old artist, currently living in London, England, where I live with my partner and two close friends. We are all part of an artistic theatre collective where we create contemporary theatre pieces and visual art. I have always been a traveller and tend not to spend long periods of my life in one place.
Before London, I studied in Manchester, UK, Guimaraes, Portugal, and York, UK, before settling in the capital. Travelling is in my blood, and it has led me to explore countless destinations across Europe and beyond. I have now decided to finally settle in London for some time, allowing myself to form connections, work, and establish myself as a working artist. However, this is not permanent. I know that my wanderlust will take me to some fantastic places, and I cannot wait!
My name is Atlas, and I'm also a 23-year-old artist living in London. My parents and I came to the UK in 2001 after immigrating from Botswana, a country in southern Africa. I grew up in a secluded hamlet in the middle of nowhere, building dens and running wild in the surrounding woods. I always loved painting, drawing and spend a great deal of my time developing these skills alongside my schoolwork. After spending my childhood in a relatively isolated part of the UK, I moved away to study contemporary theatre at Manchester Metropolitan University. I had no idea what I wanted to do, but I knew that I enjoyed making theatre, so I thought, "Why not give it a go?"
Fast-forward four years, and I still hold a love for theatre and writing, but I find myself wanting to create more artwork and illustrations at the same time. Another more recent acquired hobby I enjoy is gardening; I love to care for our houseplants! Before the pandemic, we had maybe five or so plants, and now we find ourselves looking for space for our 30+ plants! If I had things my way, we would be living in our own personal jungle!
On Their Evolving Writing Styles:
Writing is something we both love to do; however, we find different genres more enticing than others.
David: As I come from a more research-based background, I tend to fall into an academic format most of the time. On the other side, I keep diaries of my travels and enjoy a more personal, one-to-one connection between the reader and me. It was in University where I began exploring different forms of creating art in various fields and developed my love for archiving our projects. This constant gathering of information has taught me how to present my notes in a readable format, which I soon began to adapt into a blog-like structure.
Atlas: I started writing creatively in my early teens, developing wild narratives and exploring the boundaries of my imagination. Having written a series of short stories, a play, and even began writing a novel, it was a means of expressing all the crazy stories I had playing out inside my head. Alongside the writing, I enjoy sketching out characters and planning out details of different storylines.
Before starting our Vocal articles, while planning the details and outline for a fantasy novel, I did not feel as though I was skilled enough to convey such complex ideas on paper and decided to put the actual writing on the back burner while I structured the world I was creating. When David told me that he wanted to start writing stories for a site called Vocal, I decided to join to improve my technical, descriptive writing so that I could head into writing my novel with more confidence. Looking back at how I would write before starting People! Just Say Something!, compared to the quality of my writing now, I can say that it has developed to a standard that I find myself comfortable writing in.
On How They Met:
We met at university; technically, we met at the same audition but had not paid much attention to each other until we met again the following September during "Freshers' Week." We became acquainted with each other in the midst of a loud, sticky university bar. Although it may not seem like the most romantic origin story, it was definitely exciting.
The two of us bonded over our experiences of growing up in Britain as immigrants and our love for Pokemon! We had such a great time that we decided to keep seeing each other until eventually we became a couple! We met at a time in our lives where we were both beginning to find out who we are and what we want from life, so it has been amazing to discover these answers together.
On the Formation of "People! Just say Something!":
David: As strange as it may sound, the idea for People! Just Say Something! came to me in a dream where I saw the red, white and black font and the logo alongside various pieces of writing, each talking about different topics. The idea brewed in my mind for a couple of months; however, I never found the time to begin. There was always something happening in my life that deprived the project of my time and energy.
Then, the pandemic struck. Under the instruction of the UK government, Atlas and I entered lockdown at her parents' home in Ludlow, a lovely, peaceful village in Shropshire, UK. This gave me the peace of mind to try out new projects, and People! Just Say Something! was the first in line. I needed an outlet to release the excess energy and adapt to a slower work ethic. As Atlas had much more experience in writing for an audience than I did, I asked if she would assist me on this journey. Before we knew it, we were producing six stories a week! This was a considerable task that kept us busy throughout the beginning of the pandemic, so there was always something to do. We soon found that this was not a healthy work balance for us, so even now, we are trying to find a style of working that suits us while allowing the time for other projects to blossom.
After a month, we sat down and found that we would love to work on multiple projects simultaneously, both individually and in collaboration. The support Atlas gave me to get People! Just Say Something! to where it is now was outstanding, and I know that we would not be here without each other's support. This is why we created our parent company AtlasPolo so that People! Just Say Something! doesn't take all of our time, just like our previous work did before the pandemic. People! Just Say Something! will forever be our baby and the beginning of something much bigger than we thought.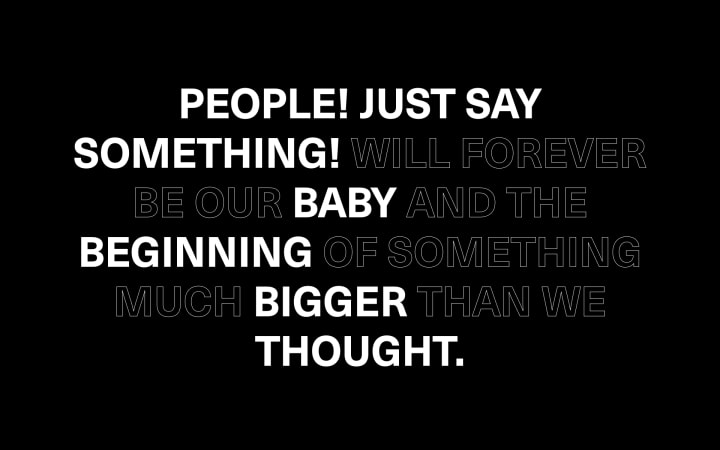 On Their Parent Company, AtlasPolo:
Atlas: I have never experienced working for myself, let alone with my partner. I always thought that you either needed a degree in business, or to collaborate with someone who did, to even think about starting a business. After finding out that all the information I needed to start our own business was online, suddenly the idea of working for myself did not seem so out of reach. Although, for a long time, I believed that if I wanted to achieve anything, I had to do it alone; otherwise, it would not count. Perhaps it was a by-product of Imposter Syndrome, but it took beginning to develop this organisation for me to understand that even joint achievements are valid.
While working on People! Just say Something! We realised that there are other projects we want to begin that did not necessarily fall in line with blogging. Some we wanted to pursue individually, some we wanted to establish together. We decided that whatever we chose to create, we would support each other in some way or another. From this, we established the concept of AtlasPolo, a parent company to the ventures we have already established (PJSS) and projects we have yet to initiate.
On What They Like to Write About The Most:
The great thing about People! Just Say Something! is right in the title; we can write about anything! However, there are specific topics that we prefer to explore more than the other.
David: I prefer to write about art, travelling, history, and my personal experiences. Despite my preferences, I tend to stay away from restricting myself to a handful of topics. The world is my oyster. I think that narrowing yourself to a set style of writing is restrictive. Instead, I like to dabble in a variety of styles and topics. This way, I never run out of ideas, nor do I get tired of posting the same type of content. It keeps the process fresh.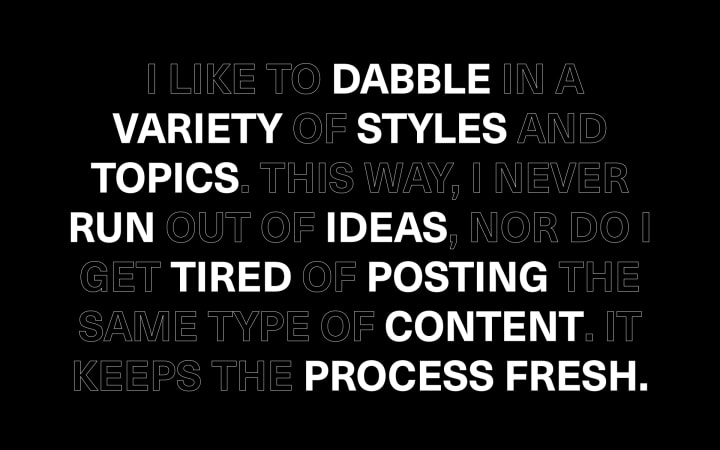 Atlas: I enjoy writing about my hobbies since they are the topics that interest me. I like writing about the arts because it often encourages me to pick up a paintbrush or sit down at my computer and develop my novel. Researching about obscure historical facts is also something I love writing about. This is because I find that many people in our generation feel somewhat disconnected from history and are only aware of the "big events."
On Sourcing the Topics They Cover:
The best way to find topic ideas is to let them come naturally. Whenever we work independently, we bring back new, exciting information when we update our schedule. We keep an archive of various ideas, photos and even words to bring to the table. Also, we think of topics at the most random of times.
More often than not, the topics we write about are found during our conversations! We are always discussing current affairs and sharing any obscure knowledge we find with each other. There have been many times where we find ourselves saying, "This could be a story!" and note down the topic for further research. Some of our stories are even inspired by the social media content we consume daily, for example, our most popular blog, "Why does everything taste like chicken?" was inspired by a short TikTok video that simply stated that frog's legs tasted like chicken in a comedic manner. Anything can be a story if you find a point of interest, and as long as you keep your eyes and ears open, you will never run out of ideas.
On Creating in a Collaborative Project:
David: As writers, there are times when you will not know how to move on with a project. Working together gives our work a second pair of eyes. I trust Atlas' judgement and take her advice on board. There are always mistakes that I will miss or minor changes that improve the work drastically. Whenever morale falls, we motivate each other to meet deadlines and keep our high work ethic. There is no work when you dedicate your time to the things you love with the people you love.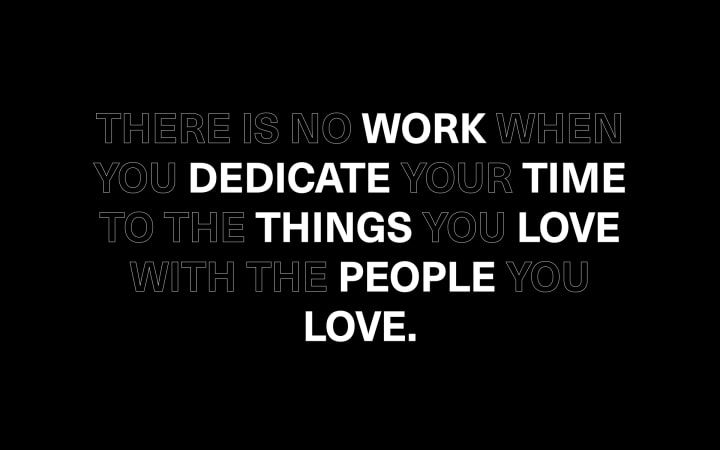 Atlas: There's always a fresh perspective to take a look at the word document that the other has been staring at for the last four hours. We motivate each other to do better and work harder, and I believe that David brings the best out of me, not only in my writing and artwork, but he brings the best out of me as a person.
On Their Creative Process:
The most important part of our creative process is our work schedule. We found that we create our best work in the early mornings. This is why our workday begins at 5am and finishes at 6pm with breaks in between. Our time is not entirely dedicated to our artwork. We make sure that we set aside time for exercise, cooking together, reading, and learning new languages.
We reserve just over four hours for Vocal writing a day, every day, from Monday to Saturday. The key is to do various tasks so that the tedious work gets shadowed by the fun. That way, hours fly, and we complete multiple tasks throughout the day, all while spending time with each other.
Working from home and living in a flatshare means that we spend a lot of time in our room, which we have turned into a workspace and a living space. We must have that separation, so we don't work on our laptops in bed but ensure that we work at our desks. It provides a disconnect from work and leisure that keeps our minds fresh and engaged.
On Who/What Inspires Them To Create:
Inspiration isn't hard to find when your significant other is an artist with their own unique taste and style. If we ever need to be inspired, all we need to do is shadow what the other is working on, ask questions about their project, and listen. There is bound to be something that the other can take back and use in their own way.
Also, this is the exact reason why we enjoy working on multiple projects at a time. If we both get artist block, the best thing is to leave it aside for some time and focus on something else. As long as we have a notepad and pen near us, ideas will come at some point, and we can note them down before returning to the project at hand.
We also find inspiration in the strangest of places; having our phones with us all the time allows for us to take all sorts of photos that we often refer back to later to reignite that motivation. For much of our work, the photos we take act as stimuli to begin our creative process. It's common that one photo will be reused for multiple purposes since so much can be interpreted from a single image. RECYCLE YOUR PHOTOS!
On Goals for People! Just say Something!:
For the short term, I think finding the perfect uploading balance is currently our top priority. We love the high quantity of stories we post; however, these take time and can lead to a reduction in quality. We need to experiment with our upload patterns as it seems that they change depending on the time of the year. Also, we want to begin a couple of writing series allowing us to explore various topics. We do not want to give too much away, but tailored content is soon to come!
Our own personal website would be fantastic for archiving our work and promoting future projects in the long term. Also, adding other formats into our writing, such as audio and video, would significantly improve our work.
We would also love to begin livestreaming to understand our audience better and connect with other people. However, the ultimate goal is to become self-sustained from our work, create our art and be our own bosses. To create freely and be happy; that is our goal.
On How Becoming Vocal Creators Helped to Develop Their Online Presence:
Social media has always been a struggle for us since we tend to not be as active as others our age. Having a platform to express ourselves and build an archive of ideas for future projects is an excellent tool for us.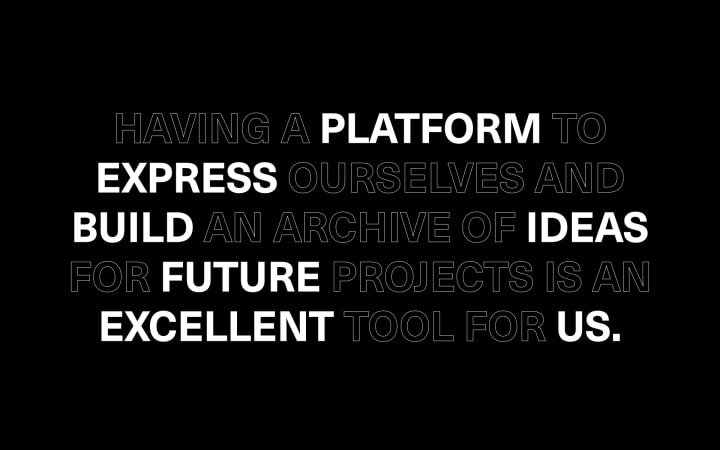 It is encouraging to be a part of a community of like-minded creatives as it motivates us to do better and improve our web presence. It has inspired us to move past the taboo of 'destructive, unsocial social media usage' and see it as something that can help us and our careers.
Join David, Atlas, and Over 20,000 Other Creators and Become a Vocal+ Member Today
On Their Favorite Stories They've Published on Vocal:
David: Without a doubt, my favourite story that I posted is The Euro-trip of a Lifetime for my Little Sister. Not only was it my first ever entry to a Vocal Challenge, but it was also my first win on the platform. As it was dedicated to my little sister concerning a topic that I love, I found that I could write forever. I wrote the story during the UK's first strict lockdown, which stopped me from travelling and seeing my family and later preventing me from spending both Christmas and my birthday with them. I am happy to say that I am writing this at my family home, ready to celebrate my sister's birthday with the people I love. Every time I see the badge on our Vocal page, I remember how hard it was at the beginning before it got better and how important family is. It will forever be my favourite story.
Atlas: I would have to say that my favourite story is 20201 is cat year yes? because I had so much fun writing it! It encompassed our cat's eccentric personality and sense of grandeur in a fun, absurdist piece of writing! It was one of the only posts I had written where I did not care about how it would be received or how well it would do statistically.
Don't think about it—first thing that comes to mind:
What is one thing you couldn't live without?
David: My Backpack
Atlas: My cat
Favorite Musical Artist at the moment?
David: Tame Impala
Atlas: Lil Nas X
Favorite Album of all time?
David: Invaders Must Die by The Prodigy
Atlas: Bambi by Hippo Campus
Favorite Movie of all time?
David: Trainspotting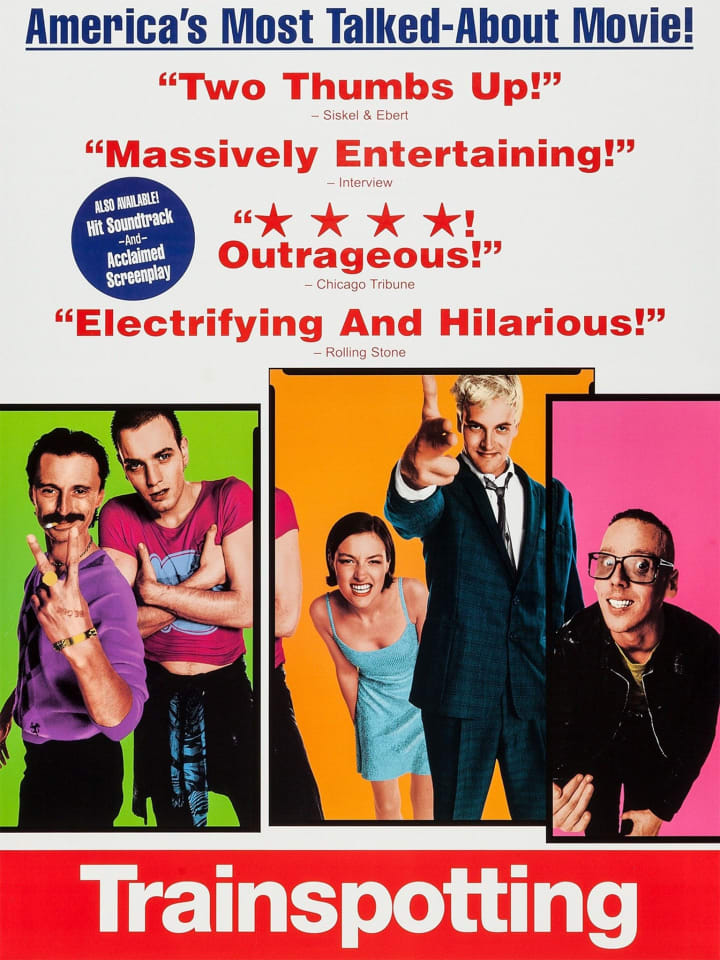 Atlas: Spirited Away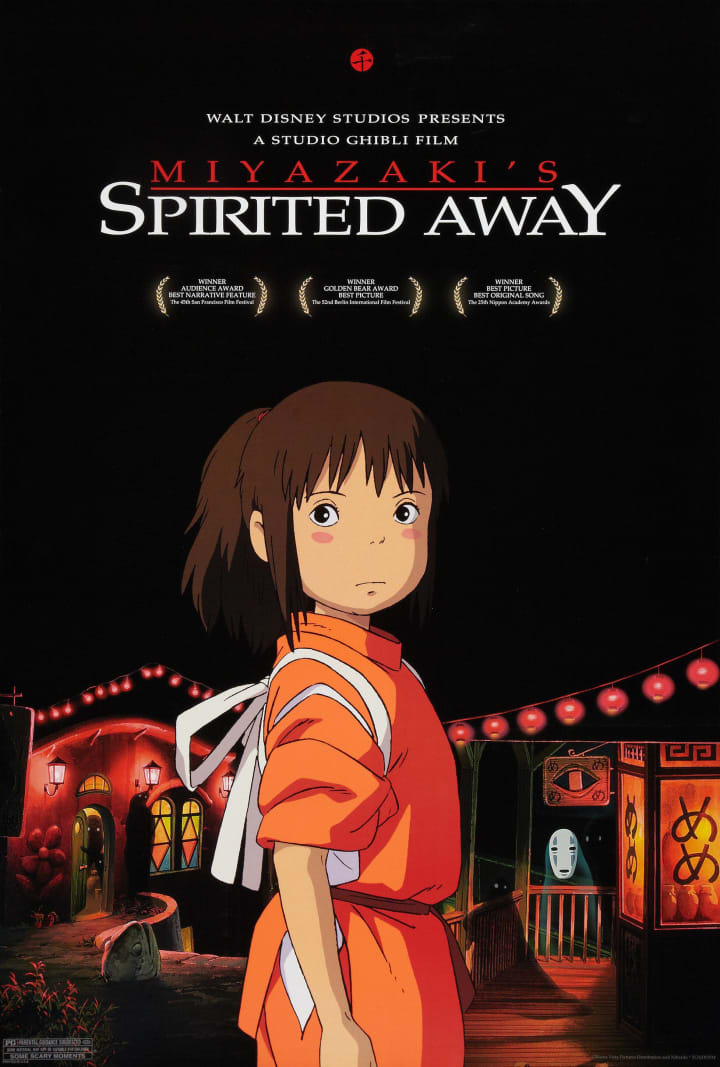 Cats or dogs?
David: Dogs
Atlas: Cats
Favorite travel destination?
Both: Amsterdam
Day or Night?
Both: Night
Favorite local restaurant?
Both: Bone Daddies
What's your go-to late night snack?
David: Frankfurter and Polish Mayonnaise (Yes, there is a difference.)
Atlas: Fruit
What are you currently binge watching?
Both: Parks & Recreation
What are you currently reading?
David: Deep Work by Cal Newport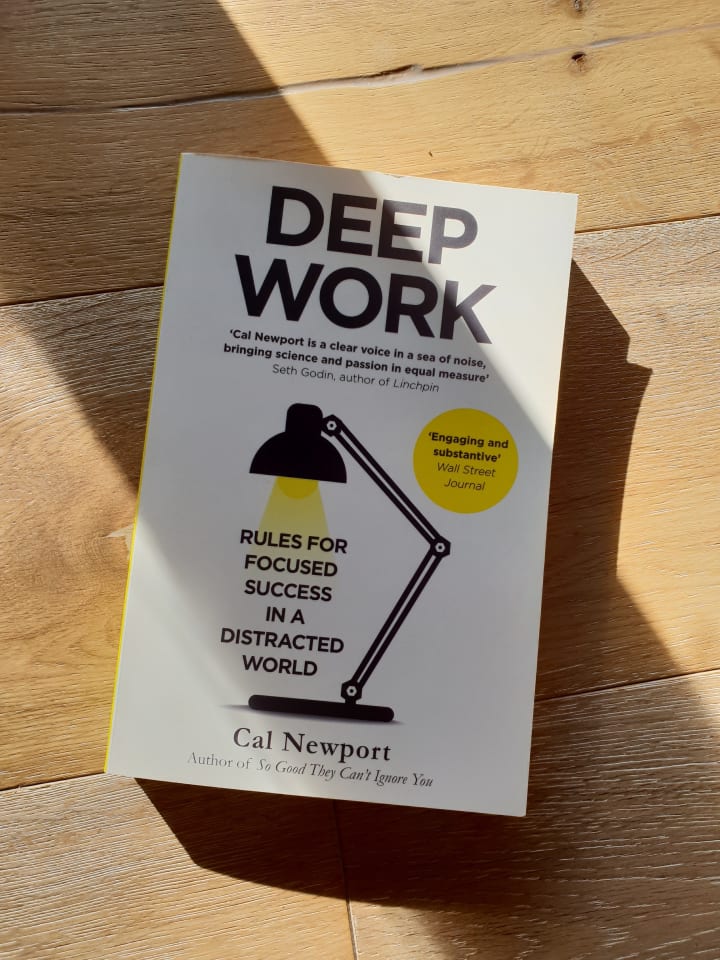 Atlas: Catch 22 by Joseph Heller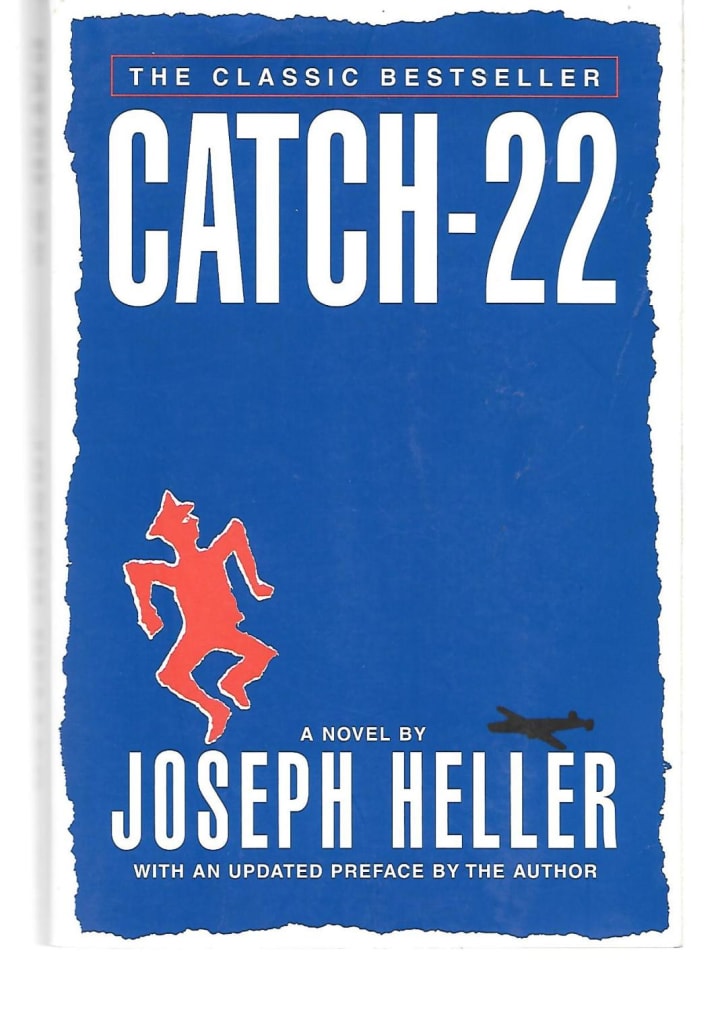 If you could speak a new language, what would it be and why?
David: Latin, so that I can learn other languages a lot easier.
Atlas: Polish, so that I could speak to my partner's family more easily.
Favorite Artist?
David: Francis Picabia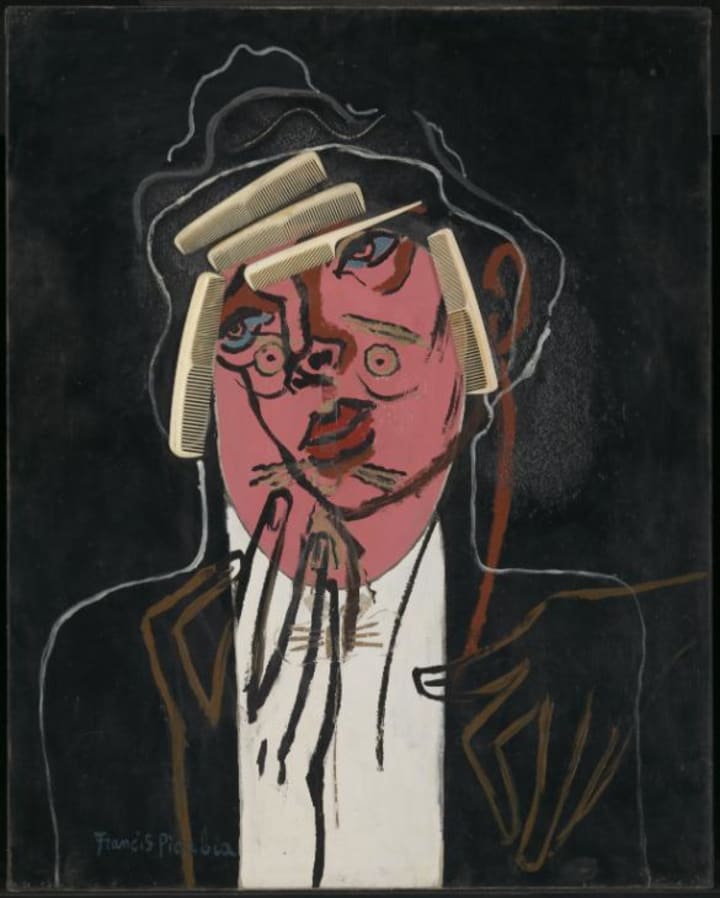 Atlas: Vincent van Gogh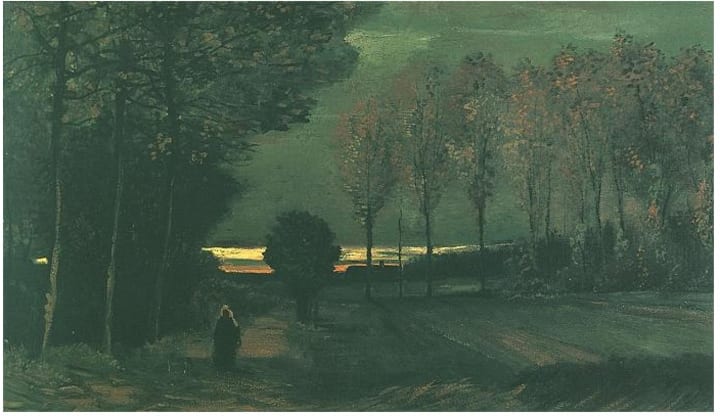 Favorite story you read on Vocal by another creator?
David: Was Shakespeare High This Whole Time? by Shamar
Atlas: 8 Ways to Spice Up Your Insomnia by Outrageous Optimism
Closing
Thanks for taking the time to talk with us, David and Atlas! Artistic collaboration is a beautiful thing—you two have made this perfectly evident by your captivating, extensive gallery of work. We genuinely cannot wait to see what the future holds for People! Just say Something! and AtlasPolo! Keep up the amazing work—we'll be following along through every step of the way.
Vocal Creators, if you find yourself in a constant battle with writer's block, or you feel generally uninspired at times, look to David and Atlas for direction. Establishing or joining a collaborative project might be the catalyst that pushes your creative journey to new heights! Start the conversation, and don't decide where it ends. At the end of the day, people, just say something.
A quote from Atlas's favorite artist:
What would life be if we had no courage to attempt anything?

- Vincent van Gogh
If you love People! Just say Something! as much as we do, be sure to frequent their author page here on Vocal, and follow them on Twitter and Facebook.
Thanks again, David and Atlas!
About the Creator
Vocal Spotlight aims to highlight standout creators who are changing the world one story at a time. We're getting to know the storytellers who inspire us the most, and we can't wait for you to meet them.
Reader insights
Be the first to share your insights about this piece.
Add your insights