Announcing the Vocal+ Fiction Awards Challenge WINNERS
The Vocal Team is ready to announce the 25 Grand Prize winners of the Vocal+ Fiction Awards.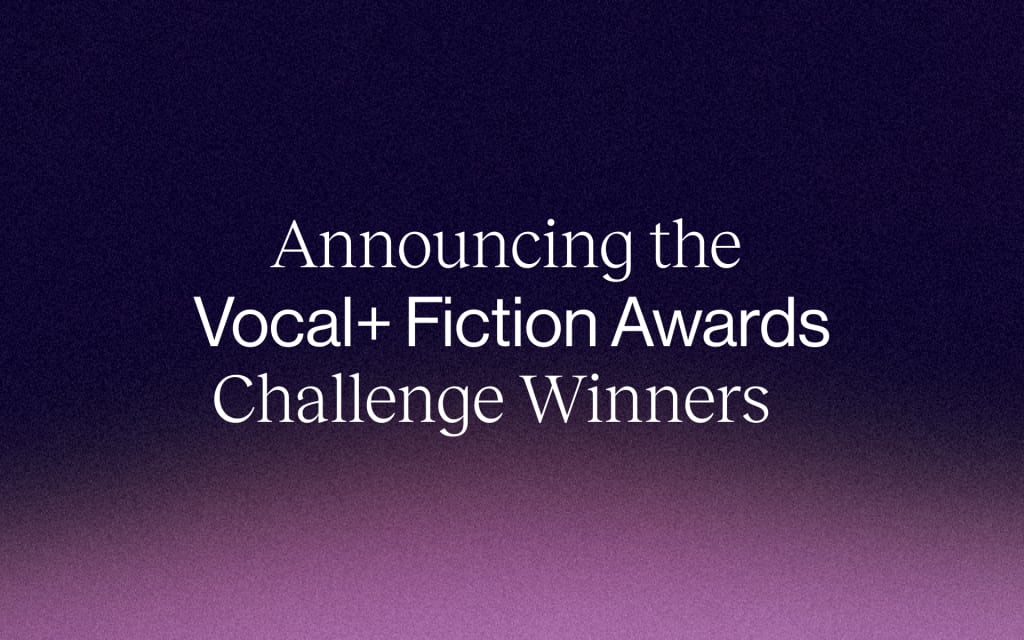 February 25, 2022. We've had this date circled on our calendar for a long time.
Leading up to this date, we've read more than 13,000 stories submitted to the Vocal+ Fiction Awards. We've had more than 13,000 meetings (not really, but it feels like it) to narrow that list down to 1,025 incredible finalists. Our team of curators and Judges, led by Vocal's Lead Editorial Innovator and our Content Specialists, have been reading, re-reading, and carefully considering all of these finalists.
Now, 25 winners will take home the Grand Prizes: $5,000 and a spot in Vocal's first book of short stories. The time has come. We've made our decisions. We've contacted our 25 winners. We've signed 25 Publishing Agreements, and now we're ready to celebrate! Without further ado, and in no particular order, here are the 25 stories that will comprise the first-ever Vocal anthology of short stories.
Congratulations, truly, to all the winners.
The Winners
"Pareidolia" by Conor Marko
Someone should help her. Not that it will make a difference if anyone does. On this lonely stretch of mountain highway, during the early stages of a snowstorm, there are likely no witnesses that will stumble upon this scene anytime soon. Except you.
Creator bio: Conor Emerson Marko is a writer and musician based in Hamilton, Ontario, Canada, and is heavily influenced by the many unique and vibrant personalities he has encountered during his time there. A graduate of the Chemical Engineering and Bioengineering program at McMaster University, he is fascinated by the inner workings of the human body and mind, seeking to express them through artistic media. His first publication, "Pareidolia", explores not only how influential our mind's perceptions of events are, but how fragile as well. He also releases and performs music under the stage name Harrower.
"Fake Meat" by Madoka Mori
It was this uncertainty which led him to wonder about the Alzheimer's in the first place - a lack of confidence in what he was saying, an absence of trust in the very words he used. Did these words mean exactly what he thought they did?
Creator bio: Madoka Mori grew up in Singapore, South Africa, and the UK, which is pretty wild when you think about it. Having received her degree in Comparative Literature quite a while ago, she is relieved to finally put it to some sort of vague use by writing fiction. She enjoys reading, cooking, and going for walks - causing frequent comparison to hobbits - and dislikes corporate culture, packs of suspect youths, and talking about herself in the third person.
"Lifted" by Patti Larson
The sign over the door reads "Curious" and makes her skin itch. In a good way. Chances are the place behind the dirty windows, with the thick curtains holding back the light and the half-peeled name sticker above eye level is the perfect place to alleviate her crushing boredom.
Creator bio: Patti Larsen is an international, multiple-award-winning writer with a passion for the voices in her head. Now with over 160 titles in happy publication—and many more pending, making sleep impossible—she lives in beautiful Prince Edward Island, Canada, with her pug overlord and overlady, four chonky cats and Gypsy Vanner princeling, Fynn. You can find her at https://pattilarsen.com/home, on stage with her improv troupe, Side Hustle, or at the beach.
"The Blonde" by Bebe King Nicholson
She would be framed like a person in a moving camera by the window she pried open every evening, and she would grow more visible as the hot summer sun flared crimson and waned. When it was pitch dark, she would be perfectly illuminated by the apartment's yellow square of light.
Creator bio: Bebe Nicholson began her writing career as a reporter and newspaper editor after graduating from the University of North Carolina School of Journalism. She has published three books, writes on Vocal, News Break and Medium, and her freelance articles have appeared in Chicken Soup for the Soul, along with a variety of newspapers and magazines. Her other careers include flight attendant, retail manager, nonprofit director, and Mom. She and her partner divide their time between Georgia and South Carolina. When she isn't writing, she is volunteering or spending time with her 12 grandchildren.
"Bull" by Jacqueline Garrahan
Those antlers mounted there, with the bullet puncture between the skull's eye sockets, are familiar. I must decline your invitation. You see, I went out hunting once already, twenty three years ago.
Creator bio: Jacqueline Garrahan is a Boston Proper defector now settled in Santa Cruz who, at the time of this composition, has inherited fleas from Houdini, her hypothesized rottweiler/pomeranian mix. During the workweek, she builds software at the SLAC National Accelerator Laboratory, supporting modeling efforts for accelerator physics. She has two eyes, two ears, four less permanent teeth than the average adult, and one tattoo of a roller-skating sheet ghost on her left ankle. Just like her mother, Jacqueline maintains a stringent catch-and-release policy for household spiders (but not for fleas). This is her first publication.
"Libellule" by Eloide Hollant
Realize she's been living vicariously through you this whole time, that she still tries to, but you're too different now. She doesn't recognize you. It's a weird feeling.
Creator bio: Elodie Hollant is an aspiring writer pursuing their BFA at Pratt Institute. They're from Haiti and travel frequently between Port-au-Prince, Fort Lauderdale, and Brooklyn to visit their family, shoot film photography, and eat French pastries. Their interest in writing began when they were just six years old when their mother read a chapter of Charlotte's Web to them each night before bed. E.B White's ability to foster sadness in baby Elodie (who was, and still is, terrified of spiders) toward a dying Charlotte inspired them, even at such a young age, to explore different relationship dynamics and express all the emotions they've ever felt.
"Exit Wound" by Rachel Pollock
Foolish flesh. Fear is built into their DNA. Living in the country I can't help but think. If our animals had enough brains to realize who ought to be scared, you wouldn't see another one run in your lifetime.
Creator bio: R. R. Pollock (Rachel Rebecca Pollock), eclectic writer, teacher, and performer, is an on-again poet, playwright, and folklife storyteller. Available plays include: Remember How He Told You and the one-woman show Journey to Long Nose that premiered at the Capital Fringe Festival in Washington, D.C. Pollock, Assistant Professor of Communication, Media and Theatre, serves as the Director of Forensics, competitive public speaking, performance, and debate at Muskingum University in New Concord, Ohio. She is also the Artistic Director of BiGFiSHFOLKLiFE at bigfishfolklife.org, a non-profit religious organization in New Concord, Ohio to provide worship, performance, and retreat opportunities for artists.
"Path of Least Resistance" by Bernard Bleske
At the time, Keith and I lived in a downtown two bedroom, under the constant press of traffic, working factory and service jobs to pay the rent and buy the beer and all that lazy nothingness. A couple of college dropouts waiting for something to happen to us.
Creator bio: Bernie Bleske currently attempts to teach his 5th grade students how to take standardized exams and write standardized essays for the Florida public school system. This involves a lot of yelling. The son of a US State Department diplomat, he grew up internationally, tried college in Wisconsin, finished college a decade later in Virginia, and somehow ended up teaching high school English in America and abroad. Some years in Pakistan, Dubai, and Colombia later, he and his wife landed in Key West, Florida, where he found the time to start publishing short stories on Vocal.
"Fresh Off The Boat" by Kelson Hayes
Out of the group of thirty he'd started with, only seven of the original caravan remained; the rest had either died or parted ways, though they met new faces along the way between all the changeovers they'd made.
Creator bio: Kelson Hayes is a British-American author and philosopher, born on 19 October 1994 in Bedford, England. He is most notably the author of The Art of Not Thinking, but his other work is predominantly centered around his fantasy books comprising the Aerbon Series, part of the greater Saga of Urea.
"The Envious Flood" by Steve Hanson
And there's Muriel, head cast in the breeze, fifty years ago in my '54 Chevy convertible, sticking her tongue out, and I asked her what she's doing and she says "I want to taste the fog," and I just leave it at that.
Creator bio: Steve Hanson is an author, aspiring screenwriter, and cognitive scientist in training whose work draws from a number of different sources in both literary and genre fiction. Some of Steve's major influences include "literary" authors such as Vladimir Nabokov, Thomas Pynchon, Denis Johnson, and Jorge Luis Borges. In addition to his burgeoning writing career, Steve is pursuing a Ph.D. in cognitive science, with a focus on the intersection of human cognition and language. A native of Pittsburgh, Pennsylvania, Steve currently divides his time between Vienna, Austria and Washington, DC.
"Mistress of the House of Books" by Matthew Daniels
She approached the service desk. More inevitable than slow, her stride was like the world gliding beneath her. It was a progression of will instead of movement. Not far from bronze, her skin had a caramel tone. Her form had no sheen of sweat, oil, or makeup -- yet it commanded the light.
Creator bio: Matthew Daniels declares that he is from either Newfoundland or Labrador based on how well he's handling the day's weather. He took to writing, especially science fiction and fantasy, as a way to explore the human condition and understand others. Surely people will make sense soon. In the meantime, he has released the novel Diary of Knives and the anthology Interstitches: Worlds Sewn Together. You can find his various works at www.engenbooks.com or on Vocal. He and his partner live in Newfoundland where they are owned by three cats.
"Chop Chop" by AJ Nelson
The knives need sharpening. The entrails of the first tomato squelch, spread across the cutting board, watery carotene phlegm on golden olivewood. I watch the skin stretch and tear, fantasize about a neat, deep cut.
Creator bio: Alissa Jones Nelson grew up in Southern California and has since lived in Spain, the Czech Republic, Japan, Scotland, and Germany. Her first (unpublished) novel was shortlisted for the Dundee International Book Prize. Her short story "Al-Watan" was highly commended in the 2019 Bridport Prize, and "Elsewhere, OK" was a runner-up for the 2017 Berlin Writing Prize. Her work has appeared in the anthologies Home Is Elsewhere, 27 Stories, and the Bridport Prize 2019 Anthology. She lives in Berlin, where she earns her living as an editor and translator.
"Heat Stress" by Claire Ibarra
The dark reds, yellows and oranges of the surrounding desert merged into a single flame, and Kiran felt like the hot winds were incinerating her spirit. It was a cleansing baptism of fire, turning her insides into dry ash.
Creator bio: Claire Ibarra is the author of Fragile Saints, a novel published by Adelaide Books in 2021. Claire's poetry chapbook Vortex of Our Affections was published by Finishing Line Press in 2017. She received her MFA in creative writing from Florida International University. She currently lives and teaches creative writing in Colorado.
"Destination" by Kallista Kusumanegara
They say it will be Paradise. Time stops, but it also runs. It's beautiful. It's horrible. It's the worst place you could ever imagine. People are shredded between the teeth of giants and the poor are enslaved by the color green. They are just bones–stuck–screaming from the deepest chasms of the earth. No one can hear them.
Creator bio: A graphic designer by day and a writer by night, Kallista Kusumanegara graduated from the University of Southern California in 2017 with a major in Design and a minor in Advertising. She currently works as a Senior Designer at AUDIENCEX and lives in Los Angeles. Destination is her first published work.
"Apartment Complex" by Vivian R. McInerny
Mom just stared at the numbers clicking off the floors whizzing past. It had taken three years to convince her to sell the old house, and Mom made sure everyone knew that she was miserable about the decision. But it had to be done.
Creator bio: Vivian McInerny is a journalist and writer of fiction. Her short stories appear in several publications including 805 Lit+Art, Buckman, Dunes Review, and Locavore Lit LA, used in Los Angeles high school curriculum. Houghton Mifflin Harcourt published her first children's book in 2021. She's working on a collection of essays about traveling overland from Europe through Iran, Afghanistan and Pakistan to India at age eighteen.
"The Not-Deer" by Chelsea Catherine
The leaves are brittle and dry from a summer that was full of heat and sun but rare showers. Even the trees are burnt. The clouds hang low, obscuring the mountain peaks around us. The whole area is quiet and still in a way I didn't expect it to be.
Creator bio: Chelsea Catherine is a native Vermonter living in St. Petersburg, FL. In 2018, they won the Mary C Mohr nonfiction award through the Southern Indiana Review, and their book "Summer of the Cicadas," won the Quill Prose Award through Red Hen Press, which was published in August of 2020. Most recently, they won an Emerging Artist grant from Creative Pinellas to work on their novel "The Harvest." You can find them at chelseacatherinewriter.com
"The Kneeler" by George Murray
A lesser man might have given up by now, thanked his good luck for leaving him with two good knees and a skull unmarred by bullet holes before settling down and getting a real job with a new identity. James is not a lesser man.
Creator bio: George Murray was born and raised in Connecticut before heading off to Ithaca College in Ithaca, New York. After graduating in 2020 he moved to Maine, and then later to Los Angeles where he currently resides. George spends much of his free time reading, playing video games, and going on walks. He has a lifelong passion for writing, in particular short stories about deeply flawed individuals. The Kneeler is George's first published work, but you can also find him online as the host of The Content Button comedy podcast, where he and his friends lampoon popular television shows.
"Waiting Room" by Erin Shea
No, this was simply another Adam Sandler. One who's probably really good at his job and hates how his name alone will always place him as a runner-up. A less-than.
Creator bio: Erin Shea hails from Wolcott, Connecticut, where she resides with her family and beloved cat, Bandit. She is currently a full-time student pursuing a Bachelor of Arts in English. Since childhood, Erin has dreamed of becoming an author. One of her earliest memories is attempting to pen an entire novel by hand. Outside of reading and writing, she enjoys yoga, baking, and curating hyperspecific playlists on Spotify. After being diagnosed with a chronic illness in 2021, she has gained an interest in exploring herbal and holistic medicine to foster healing in her life. "Waiting Room" is her first published work.
"Twenty Miles South of Macon" by Melissa Wozniak
A tomato, she said, should taste like something. Trailing vines. Summer rain. These things taste like the tears of the Mexican kid that picked them, and life is not worth living when you've reached the point of eating like this.
Creator bio: Melissa Wozniak's words and photography come from chapters spent in Africa, Asia, and currently New York. They have appeared in publications including Playboy, Inked, and Nashville Scene. She has created art with Syrian refugees in Berlin, collected alms with monks in Myanmar, danced with Rastas in a South African squatter camp, and once, in Nepal, had a cross-bearing baba perform a ritual to return lost love that involved holy water and a stick of butter, but she stopped him when it got too weird. Visit her online at www.worldwidewoz.com
"The Reunion" by Meg Anderson
It was boorish. Lewd, even. Oakley bristled as she watched him fondle the cheese knife, then lick it clean. This was a galvanising moment, like she needed one. She was taking him down. She felt good about it.
Creator bio: Megan Anderson is a recovering journalist. Her feature writing has appeared in newspapers and magazines in Australia, the USA and the UK. Recently, she's been writing flash. Her short fiction has appeared in Reflex Fiction Quarterly and the 2022 Bath Flash Fiction anthology. She was shortlisted in the 2021 Bridport Prize. Megan also makes art under the guise of Hangdog Art, which sometimes sneaks into her fiction. Like that time she wrote and illustrated Word of Dog, a book about humanity (according to canines). She jots something down most days, usually in cafes around Fremantle, Australia.
"Burden of Proof" by Scott Hardy
For a moment, I'm flooded by the temptation of further sleep and lean slowly into the pillow's magnetic pull. But then her hand shoots out like a severed zombie limb and grabs my wrist. Now I'm awake.
Creator bio: Scott Hardy is a singer-songwriter, writer, and catering chef. He writes screenplays, short fiction, long-form journalism, and nonfiction essays on culture, environment, food, history, psychology, and philosophy. He attempts to portray the zeitgeist in all its conflicts and ambiguities, and he believes that a good dose of humor that humanizes and satirizes the extremes has to be part of the antidote to polarized discussions. He lives in North Vancouver, Canada, with his wife and a miniature dachshund.
"The Ghosts in West Texas" by Andie Ngeleka
A narrow dirt path leads to cracked front steps at the foot of the door. This is supposed to be where they feel safe, in this giant coffin shaped to look like a house. They walk in; Shelly holding on tightly to a leather jacket that had sat heating up in the back of Donnie's truck as they drove up.
Creator bio: Andie Ngeleka is lesbian writer, comedian and filmmaker based in Los Angeles. Ngeleka was born in The Democratic Republic of Congo, briefly lived in South Africa and then Orlando, Florida before becoming the first person ever to move to Los Angeles to become an artist while attending community college. Her writing has appeared in Gay Magazine, Fifty Fifty The Magazine, Into More, Points In Case, and HopeIRL. After being rejected from their journalism school twice, she studied Cinema and Media Studies at USC School of Cinematic Arts. She is a recipient of 10011 NYC's Black Artist Grant.
"SEARCHER" by Daniel D'Agustino
Annoyed that the deactivated tubes down his throat prevented him from saying something crude, Adam raised his eyebrows in acknowledgement, signaling to the ship through the glass porthole in the tube.
Creator bio: Daniel D'Agustino is an author, singer-songwriter and forensic accountant based in Brooklyn, New York. Daniel has been writing short stories, songs and poetry since childhood and enjoys the escape that crafting compelling science fiction can offer. Daniel's work explores the intersectionality of mainstream issues surrounding politics, identity, philosophy, theology and technology, while framing them in an interstellar context in which humanity's search for meaning is constantly called into question. Daniel is heavily influenced by science fiction greats like Kim Stanley Robinson, Dan Simmons, and Frank Herbert. He hopes readers will enjoy his stories as much as he did theirs.
"Going Fishing" by Lucas Diaz-Medina
Johntee turned away from his brother and began walking alongside the four-lane asphalt highway that led south to New Domangue. He stuck his thumb out toward the oncoming traffic as he'd seen movie characters do on TV and shouted to his brother to catch up. They were going to get there, Johntee thought, no matter what.
Creator bio: Lucas Diaz-Medina is a Dominican immigrant who lives in New Orleans with his wife and two children. He started developing his craft in the early 90s, earning his MFA in creative writing from the University of New Orleans. He's been a service worker, war medic, ER tech, pro fundraiser, nonprofit leader, city bureaucrat, and recently a PhD candidate in sociology. Most of his short stories explore life in 1980s and 90s New Domangue, a fictional town south of New Orleans where descendants of European, African, Caribbean, Indigenous, and Asian people struggle to make sense of their lives and their world.
"Girl Wants a Cigarette" by Sophia D'Urso
As Emma rolled the cigarette between her thumb and forefinger, Emma asked God to grant her a passerby with a lighter as she walked towards the subway station. The prayer was left ungranted.
Creator bio: Sophia D'Urso is an NYC-based content writer and recent graduate of Barnard College, where they majored in English with a concentration in Creative Writing. Sophia has worked as a consumer marketer and writer for years at various brands within the beauty, media, and events industries. When not at work, they love to read and write short stories—on weekends, you'll likely find them in a coffee shop, oat latte in hand, hunched over the same copy of Shirley Jackson's The Lottery and Other Stories that they've been trying to finish for the past year.
Reader insights
Outstanding
Excellent work. Looking forward to reading more!
Top insights
Excellent storytelling

Original narrative & well developed characters

Eye opening

Niche topic & fresh perspectives
Add your insights