Meet the Vocal Challenge Judges
Creators supporting Creators: Get to know Vocal's in-house panel of all-star Challenge Judges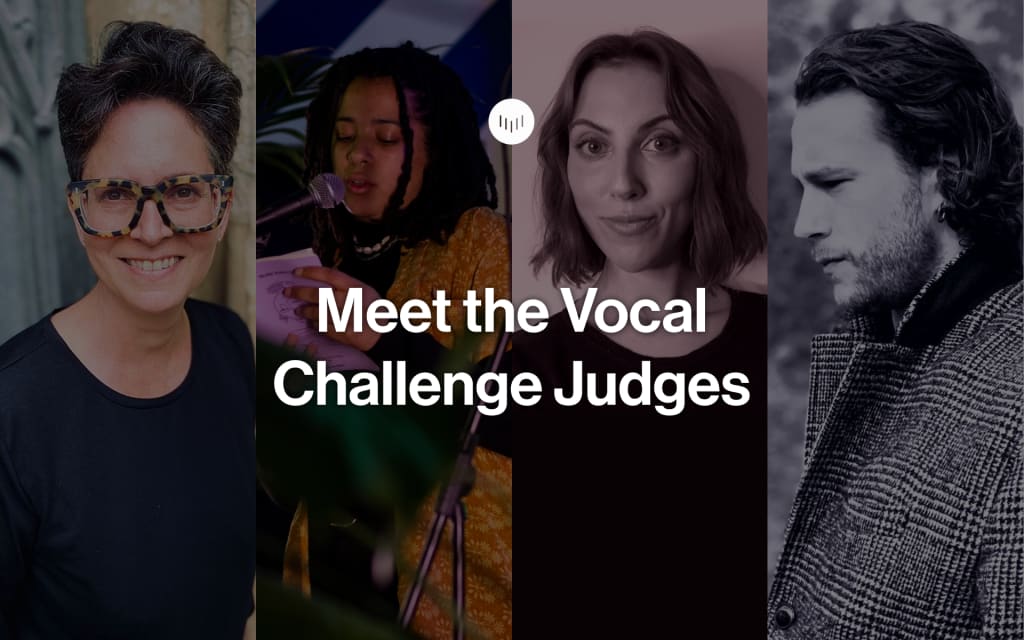 Since the launch of Challenges on January 21st, 2020, Vocal Creators from around the world have enjoyed over 125 opportunities (and counting) to turn their creativity into cash, rewards, and prestige. Through stories involving little black books, night owls, dystopian societies, and even just life as we know it, we've become extremely close with the ever-growing creative community on Vocal.
It's been an absolute privilege getting to know our creators through their work, and it's only getting better. Today, shortly after the two-year anniversary of our very first Challenge, we'd like to give our creators the opportunity to get to know us a little better as well. While we often have Guest Judges who lend their expertise to our decisions, we have a recurrent team of in-house Judges who have extensive experience in short stories, novels, poetry, and more. It's our pleasure to spotlight our team of Creators supporting Creators, a.k.a. our esteemed panel of in-house Vocal Challenge Judges.
Erica Wagner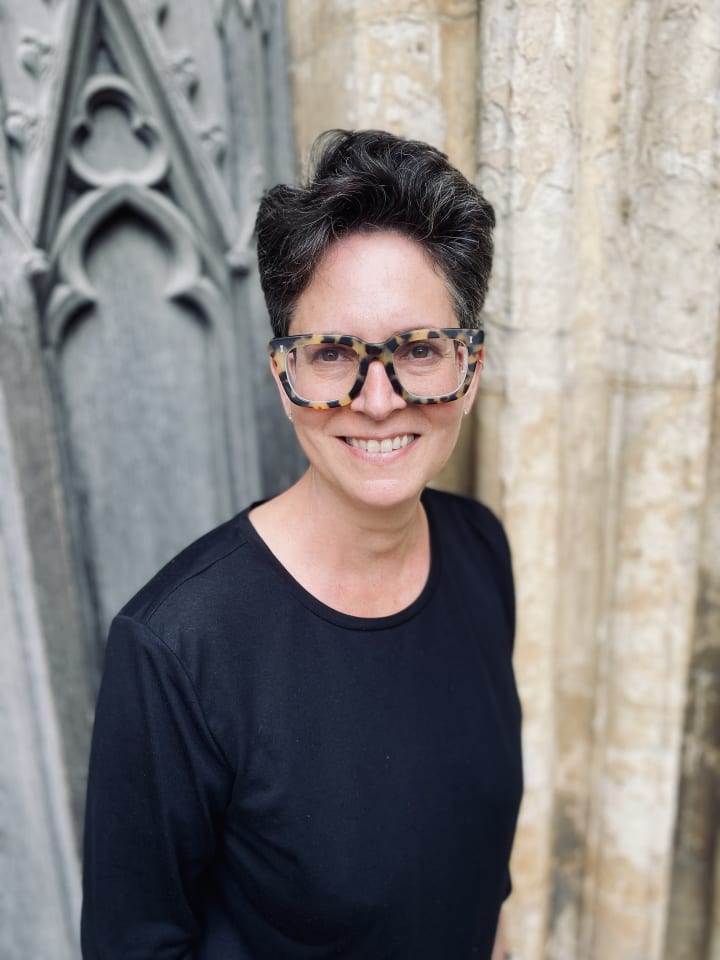 Lead Editorial Innovator at Vocal/Creatd, Inc., Author, Critic, Booker Prize Judge, Former Literary Editor of The Times of London
On Her Family Business, Education, and Career:
When I was growing up, my parents had an interesting job. They answered all the fan mail for Jim Henson's Muppets; this was at the time when The Muppet Show first became a big hit. I used to help my folks to earn my pocket money! People wrote letters — this was in the days before email, before websites, they wrote actual letters on actual paper and put stamps on them and sent them through the mail — from all over the world to communicate their love for the Muppets; to tell stories about what the Muppets meant to them. My parents wrote back.
I've had a good education, and I've always loved to read. I went on to get a master's degree in Creative Writing, to publish many books, to be literary editor of The Times of London, to teach. But as I get older I think that experience, of being able to see and feel people all over the world expressing themselves in response to real creativity is what made me a writer. And of course, if you're a writer, you're a reader, first and foremost. I draw a clear line between those early days and where I am now.
On Her Proudest Achievement to Date:
I like to exercise my imagination in many ways. I don't believe in boundaries between different "kinds" of culture, between the sciences and the arts. I suppose my proudest personal achievement is my latest book, Chief Engineer: Washington Roebling, The Man Who Built the Brooklyn Bridge.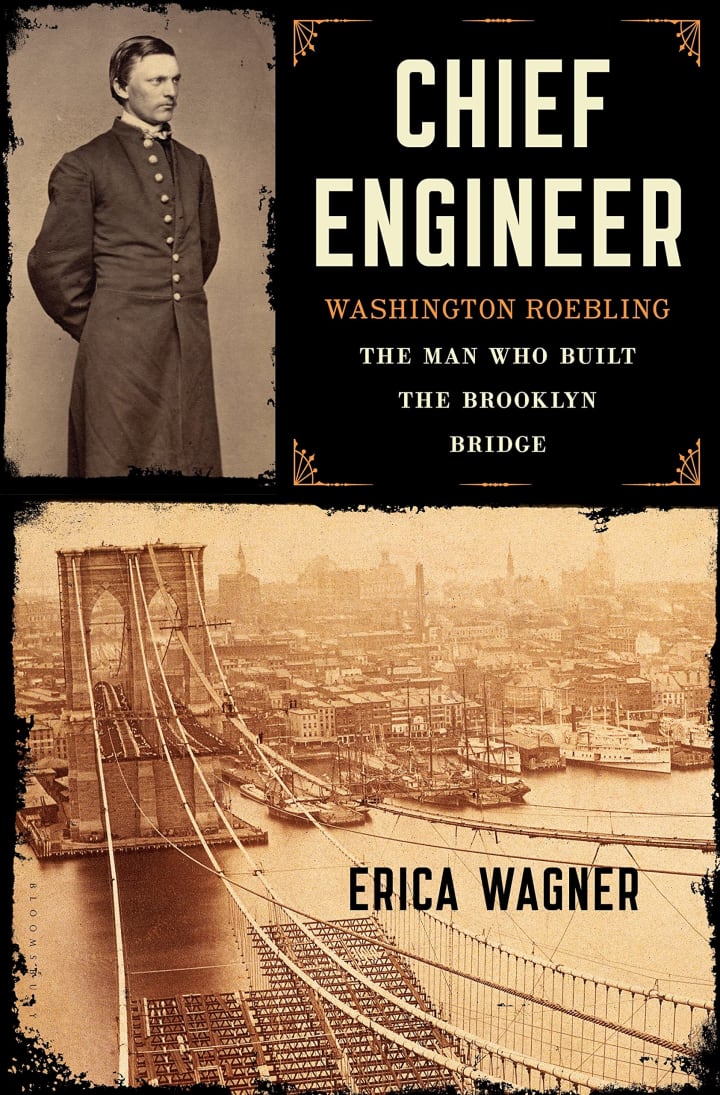 It was a book I wanted to write since I was sixteen years old. I'm a lot older than that now! So I understand the stick-to-it-iveness that so many of our Creators demonstrate in their work. But although it's a non-fiction book (and I write fiction too!) I had to go back to the 19th century, to enter the mind and heart of a great engineer. I did a great deal of research of course: but I also used my spirit. When I judge Vocal Challenges I'm trying to assess what each writer is trying to achieve by their own lights. Who is this writer? What does this story wish to achieve? I don't have a set standard for the work I'm reading. I want to consider each piece of work on its own merits.
On Keeping an Open Mind Through Challenges:
What I love about judging Vocal Challenges — and what I love about Vocal overall — is the variety of voices we hear from. There are so many different communities. There are so many different ways Creators find to express themselves — and it's not always in writing. We see playlists, visual art, video, sometimes a mix of forms. This is so exciting! Readers and critics must always keep an open mind; sure, there are "kinds" of writing I think I like, but I try to be a little suspicious of that desire for familiarity. Readers say to writers: show me something I didn't know. That's what we love.
On The Disguised Value of Rejection:
I've had work rejected. I still send my work out to magazines to see whether editors will take what I've pitched. No, it's never the best feeling when you hear "this is not for us." But that's the game. To some extent writing is always going to be about taste, and even about timing. So there's that. But sometimes you get a critique and it really stings… and you know what? I've discovered that usually means the critic is onto something, has spotted your weakness. You know it… but aren't quite ready to admit it. Ouch. But if you can take a deep breath, calm down, you'll return to your work and it will be the better for it. I've discovered that there are no wrong turns. There are only new paths.
Olivia Douglass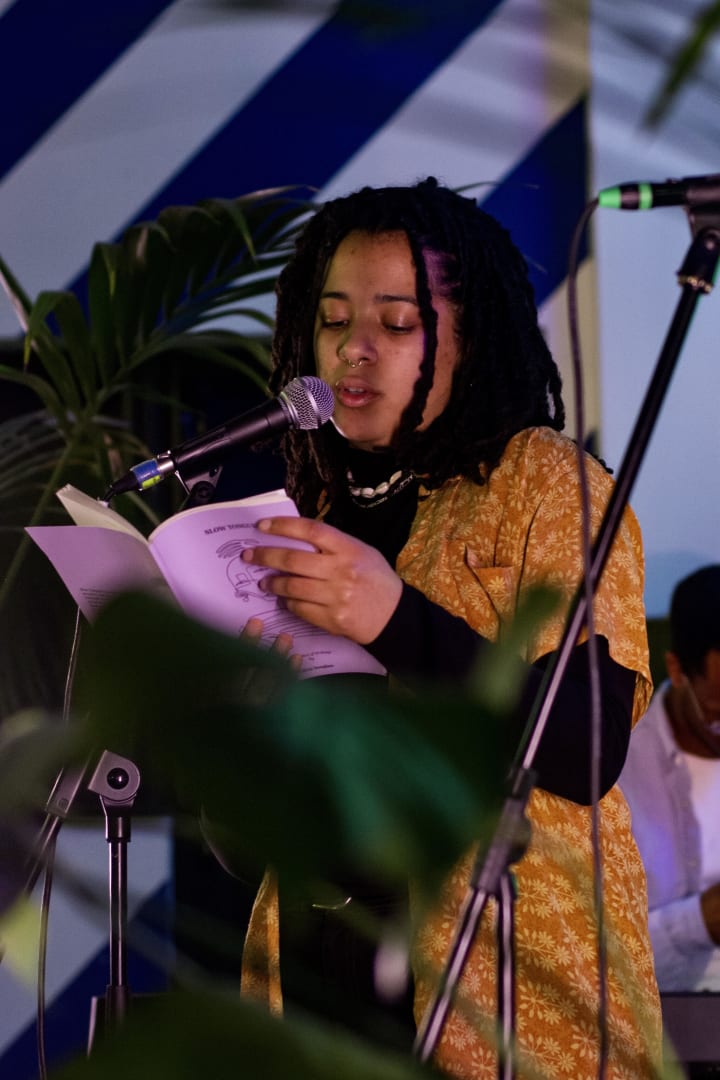 Content Specialist at Vocal/Creatd Inc., Author, Poet, and Curator
On Their Education, Industry Experiences, and Artistic Concentrations:
I am a British-Nigerian writer and poet based in London. I graduated from Goldsmiths University with a BA in English Literature & Creative Writing in 2018. Later that year, I published a poetry pamphlet called "Slow Tongue," a verse/lyric essay hybrid that examines race, sexuality and the relationship between Black women artists. Written in response to the writing of M.NourbeSe Philip's, the work has reached the UK and international readers.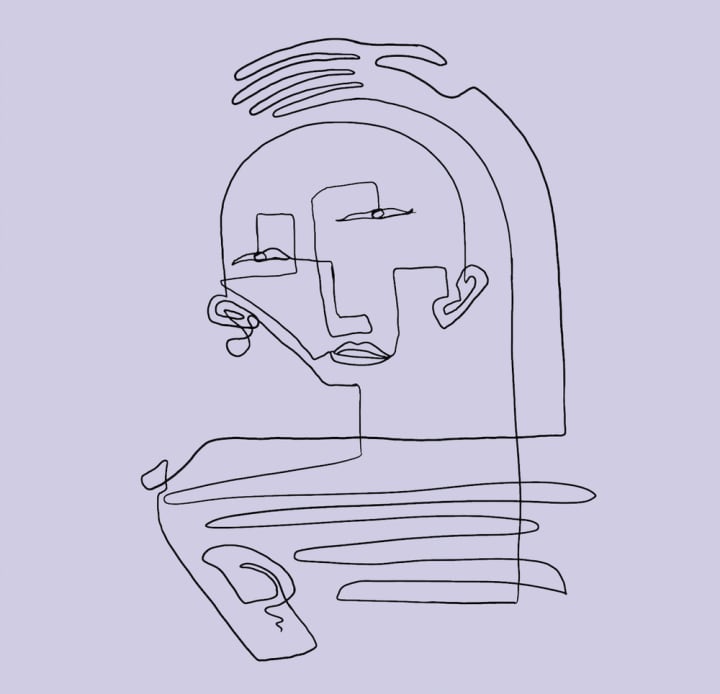 My poetry is concerned with how the written and spoken word has decolonized meaning-making and image-creating potential. This potential offers us space to project alternative understanding onto our realities, away from colonial frameworks and towards more liberating experiences. I am particularly interested in how language and narrative are constructed in alternate assemblages, to lose traditional bearings and find new ways to make meaning and sense.
I have been commissioned by National Poetry Library (London), Galaria Duarte Sequeira (Portugal), held residencies with Talawa Theatre Company and Theatre Peckham, alongside curating literary events for venues including the Institute of Contemporary Arts, Young Vic and Southbank Centre. I have also mentored and edited other writers through developing work in Poetry, Fiction and Screenwriting.
Currently, I am working on a debut poetry collection, developing scripted drama for TV and researching for a novel. Each of these works are centered in an exploration of the Black-British queer experience.
On Tying Their Proudest Achievements to Vocal Challenges:
Self-Publishing "Slow Tongue" enabled me to build confidence in myself as a writer, and to have an intimate, communicative, relationship with my readers. The experience required me to be self-assured, to hear my own voice and to understand the ways in which my writing is distinct. This clarity has been fundamental to my growth as a writer. As I continue to work with press, publishers and organizations, I am able to maintain a sense of authenticity linked directly to the vision articulated in "Slow Tongue." In turn, I can also recognize authenticity in the work of other writers.
This month will see the launch of Strange Echoes, a six-day convening celebrating the life, work and influence of poet and writer M. NourbeSe Philip. Curated by me and taking place the the Institute of Contemporary Arts (London), Strange Echoes positions Philip's work as a call to which artists respond in creative forms spanning from poetry to installation, film and music. New and existing readers are invited to engage deeply with Philip's work and observe her influence on Black experimental writing in Britain today. As the curator of this program, I have taken an interdisciplinary approach to activating creative, literary responses. When judging Vocal Challenges, I bring this open-mindedness with me, I am looking for innovative writing that may cross boundaries and surprise the reader.
I am currently undertaking a Masters Degree at the University of Oxford. In this program, I attend extensive residencies in which I am able to study across multiple writing genres in depth. During the time I have been studying, I have written screenplays, short-stories and poetry, and written critical essays on verse-drama, narrative non-fiction and cross-genre literature. This critical and creative engagement with a vast range of writing enables me to approach Vocal Challenges with a good knowledge and a sound ear for well-crafted stories and original writing across genres.
On Re-Inventing Old Narratives to Create New Literature:
It is rare that we fall upon entirely original ideas as writers, instead it's our responsibility to find ways to make an idea feel new, to add new perspective, voice and thought to our stories. To do this, we have to resist telling the story as it is often told, and tell it in a way that makes the reader reconsider the narrative. In my own writing, I aim to do this by writing across genres and resisting the structures of my language, in order to reconsider the literary cannon and the gaps in its archive.
When judging work, a story stands out when I recognize that I am being shown an old thing in a new way, and therefore being pushed to think differently to engage with new possibility. New literature finds a way to articulate the space between the noise of what we have been told throughout time, and the silence of the ways it could be otherwise.
On Good Stories vs. Great Stories vs. Winning Stories:
A good story is one where the character/s or voice feels fully embodied. Too often writers can abandon their characters/voice and get lost in the direction of the plot or statement of themes. Instead of vacant characters who exist to perform a series of events, I am drawn to stories that are driven by complex and distinct characters. A great story will intrinsically link that character's emotional needs and wants to the world and plot they are situated in. Whether it's the length of a poem or a novel, as writers we are asking people to spend time with us/our characters, so readers need to be able to believe that the character/voice is real, developed, in order to find connection.
Whilst great stories are held together by great characters, a winning story is one which seamlessly transports the reader into a world different from their own, leaving no gaps for disbelief. After reading a winning story, we should feel that there is no other possible way this particular take on a story could have been told.
Maggie Voorhees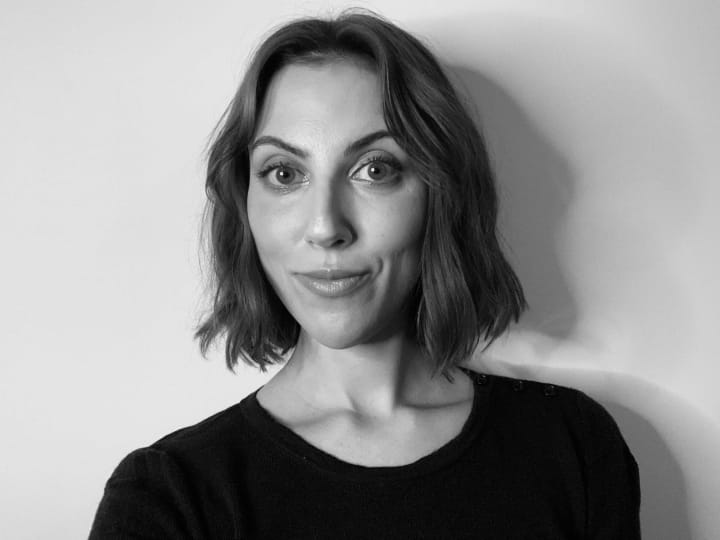 Content Specialist at Vocal/Creatd Inc., Actor, Dramatist, Writer, Set Designer, Video Editor
On Her Education, Broadway, and Supporting Creators:
I graduated summa cum laude from Columbia University, where I studied political science, literature, and creative writing. I was in an accelerated program with Columbia's School of International Affairs, which allowed me to take graduate-level courses my senior year of college. My academic graduate work focused on technology, media, and communications.
Upon completing my bachelor's degree, I worked as a writing teacher, copy editor, and ghostwriter. These "side hustles," as my fiancé lovingly called them, paid the bills while I focused on my true passion — playwriting. I was fortunate to attend a writing workshop with a Broadway playwright who became a mentor, helping me discover and develop my writing technique and style.
My plays have been performed in workshops, readings and festivals throughout the city. (I should mention that I write under a pen name, Maggie Brill). In February 2020, my short play won a prestigious festival and was scheduled for an off-Broadway run that summer. Unfortunately, like so many creatives, I had to put those plans on hold due to the pandemic.
The pandemic allowed me to slow down and reevaluate my "side hustles." I realized that a great deal of my success in writing stemmed directly from the help I received along the way. I felt very fortunate to have such an incredible support system and network of creatives in my corner. As a result, I wanted to find a position that would allow me to elevate the work and voices of other creators—to "pay it forward." Working on the Curation Team at Vocal has allowed me to do just that.
I love that these Challenges allow the Vocal community to celebrate so many unique voices. I feel so fortunate to spend my days immersing myself in the incredible characters and stories that the creators at Vocal dream up!
On Finding Pride in Sharing Her Work:
Writing can be a very lonely and isolating process. It's also a very personal craft as you are often sharing your most intimate thoughts and feelings with the world. It can be terrifying to submit a piece to a contest, hit publish on a Vocal story, or even send a draft of something you're working on to a loved one. Of course, it's completely natural to fear the judgment of others when it comes to writing, but that doesn't make it any less daunting!
My proudest achievements have been the moments when I pushed that fear aside and decided to share my work, whether it be with just one person or the entire internet. Acknowledging this fear in myself has enabled me to be an open and supportive judge. I know the courage it took for you to submit your story, which is why I read every single word from beginning to end. Your words deserve to be read and appreciated. Moreover, I am rooting for every creator. I want you to succeed. I want your story to win!
On The Broad Nature of Compelling Storytelling:
The fundamentals of "good" storytelling — although I do hate to use the word good because art is subjective — are the same across all literary genres, whether it be fiction, non-fiction, poetry, playwriting, or any other form of prose. Through my work as a writing teacher and editor, I've found three essential elements of compelling storytelling, which I look for when critiquing any story as a judge at Vocal.
Purpose. Pixar—yes, the people behind Toy Story and Ratatouille—have twenty-two rules of good storytelling, but I feel the most important is purpose. Why does this story need to exist? What does it teach? What's its purpose? Your story's purpose could be to educate, persuade, or offer a fantastical escape for your reader. You could be teaching your reader about empathy or the power of forgiveness, or how to make a bundt cake! The purpose of your story is the heart of your story, and it's a great guiding light if you ever feel your writing start to get off track.
A definitive arc. Compelling storytelling demands a beginning, middle, and end. That doesn't necessarily mean that every story has to be wrapped up perfectly with a bow. Some of the most riveting stories I've read on Vocal have had a few loose threads or lingering questions. However, a story — whether fiction, non-fiction, or even poetry — needs to feel like a complete journey to allow your reader to feel some form of satisfaction or catharsis.
Clarity. Spelling and grammatical errors happen — we're all human. However, some stories with incredibly compelling narratives don't make the shortlist due to excessive grammatical and spelling mistakes that cause the narrative to lack clarity. I always suggest using a digital writing assistant to review your spelling and grammar. I also recommend that writers read their stories out loud to themselves. Hearing your words aloud will often enable you to pinpoint sentences or sections of your story that don't sound as concise as you'd like. Remember, the majority of your favorite articles and pieces of literature were edited countless times before publication. I always urge writers never to submit their first draft! Editing is a necessary part of the writing process and will only benefit your work!
On Her Mindset Around Rejection:
I understand that rejection in any form, including not winning a Vocal Challenge, can feel insurmountable. Writing demands that we share the most intimate parts of ourselves with others, and it can feel soul-crushing when you don't receive the outcome you'd hoped. What's important is that you don't give up! Compelling storytelling demands hard work, passion and a great deal of time. View each challenge as an opportunity to continue to hone and perfect your craft.
As a playwright, I have been rejected more times than not. However, I never view rejection as a missed opportunity, just another chance to do what I love — write! As a judge, I am rooting for every story that comes across my desk to win! So please keep writing and submitting your work!
Paddy Crewe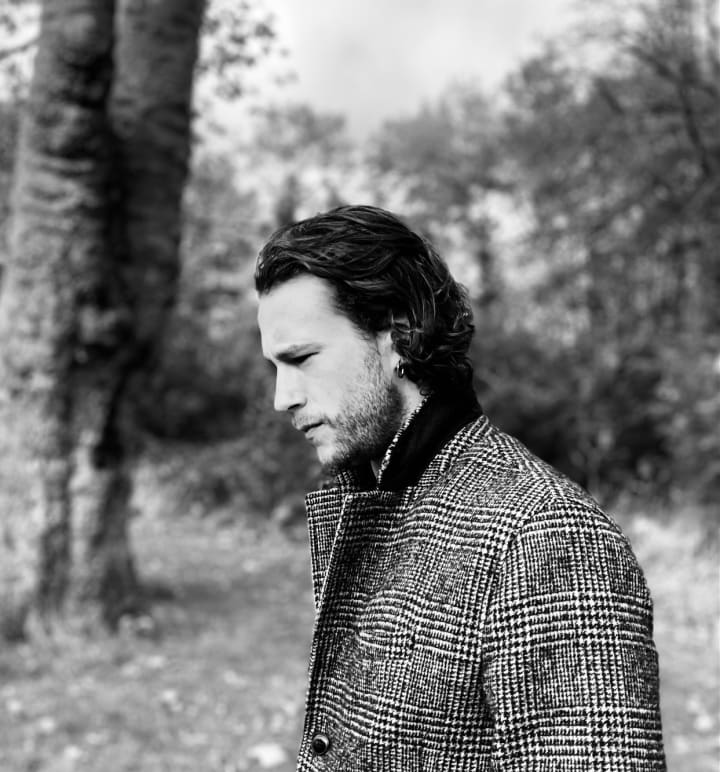 Content Specialist at Vocal/Creatd Inc., Novelist
On Finding Literature and Becoming an Author:
I grew up in a house that really valued reading. Unfortunately, I ignored every bit of encouragement until my final year of school when I read John Steinbeck's Of Mice and Men. It made a big impression on me: the characters, the setting — I'd had no idea reading could be such an immersive experience. From there, I started to take reading seriously, and devoured anything I could get my hands on. In a purely intuitive, non-academic way, I began trying to figure out how books work; I used to copy out paragraphs that I admired and break them down sentence by sentence, reading them aloud to myself to try and measure their rhythm, to learn how to use punctuation as effectively as possible.
A few years later, I went to university in London and completed my degree in English Literature and Creative Writing. It's far from necessary to do any kind of course, but the great benefit — for me, at least — was the amount of time it afforded me to write in earnest. I'd been working full-time, and I'd been struggling to get any real momentum going; but once I had some space to really apply myself, I didn't stop. In my final year, I started my first novel, My Name is Yip, which will be published in May this year in the UK by Doubleday, and in the US in June by Overlook.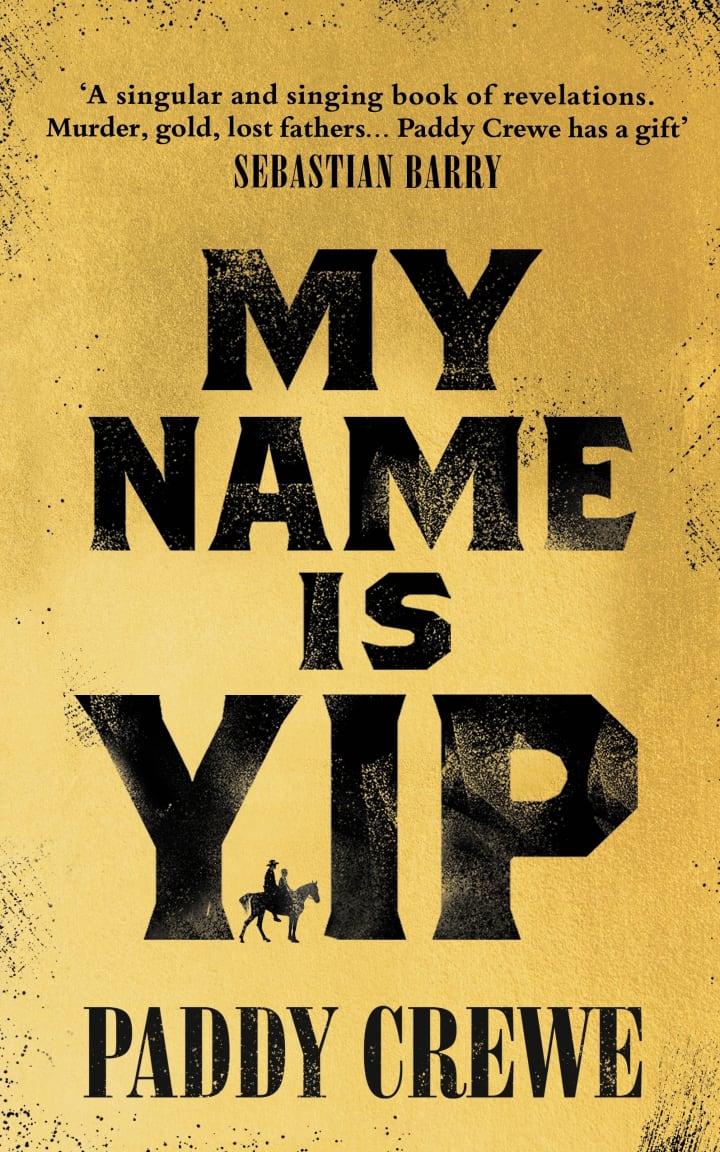 On Discipline and His Greatest Achievement to Date:
Academia and I never really got on. I didn't do badly, but I certainly never excelled. I played a lot of sport when I was younger, so that took up the majority of my time. A lot of people assume that playing sport and writing don't have much in common, but that's far from true. Both take discipline and sacrifice, and both will almost always yield to hard work. Before I start writing, I sometimes feel just like I used to before a big game: if you want to perform to the best of your ability, then you need to prepare yourself mentally.
Professionally and creatively speaking, I suppose I'm most proud of My Name is Yip. It's a book that I think will always mean a lot to me. But as soon as it was finished, I was eager to move away from it; my next book is very, very different. I think that's a writer's job: to finish one thing, and then move onto something that's completely outside of your comfort zone again. If it's not challenging to you, then there's a good chance it's not going to be challenging to the reader in the right ways. The old adage that you should only write what you know is nonsense. Put yourself in somebody else's shoes, and see what you can discover.
On His Sharpened Writer's Eye Post 'Yip':
Compelling storytelling takes a lot of hard work. It's misguided to think that good writing comes from some kind of sustained inspiration, in which words flow effortlessly onto the page, and nothing more needs to be done but stand back and admire the great monument to literature you've created. The reality, of course, is very different. Writing a novel — and going through all the stages — is a real grind. Yes, there are moments when everything seems to fall into place; but for the most part it's repetitive, unglamorous, time-consuming work. I don't mean to put anybody off by saying that — it's also great fun, and there's no reward like finishing something and having a reader enjoy what you've written. But you're dealing very closely with a text that you've written, and that's a relationship that takes some getting used to: you have to learn to distance yourself from it, to tune into other instincts than the ones you used to get the story down. Writing can be a great tool to express yourself, but it's also a great tool to be hard on yourself, too. Look at what you're doing, and really pay attention to what it is you're trying to say. Can it be said better? Can it be made clearer?
Not only does completing a novel help develop your writing, it helps your reading no end. There's something about having seen every step of the process that sharpens your senses, especially when it comes to reading some of the raw talent among Vocal creators. I've come across some writers on Vocal that I think have enormous potential, and it's very exciting for me to be involved in making sure that potential is recognized. It's the sheer depth and variety of voices that make reading some of these stories such a pleasure, and I feel truly privileged to do it.
spotlight
Challenges
About the author
Collaborative, conscious, and committed to content. We're rounding up the best that the Vocal network has to offer.