Unfair game played twice
He met me at the bar. An unspoken challenge.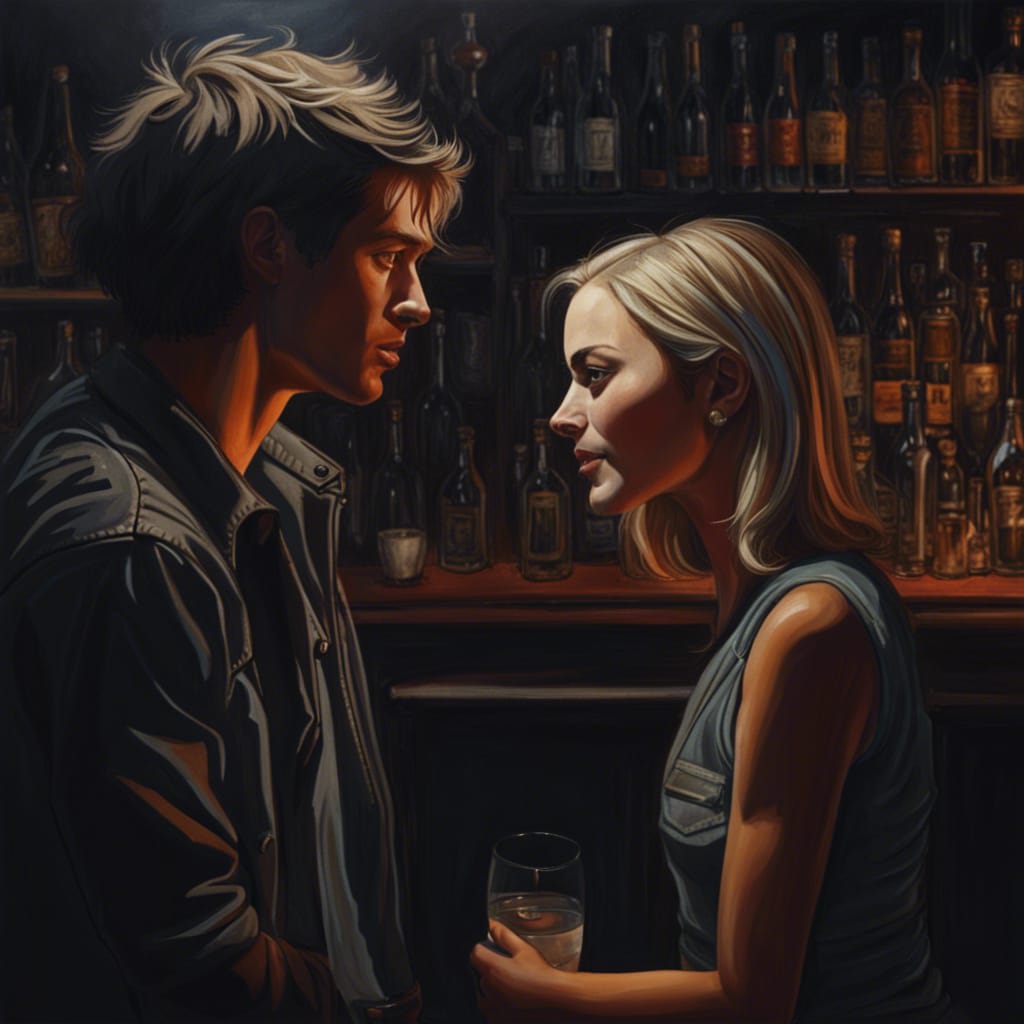 I watched him as he walked into the bar. He was not very tall, not short either, maybe five eight, quite handsome and just a tiny bit rugged in a tortured sort of way. He looked around, weighing the room, I could tell he was trouble with a capital T. His uncertain demeanor, his mode of dress completely gave away the fact that he did not come here often, did not get out much, was my initial intuitive inner thought.
His dark greyish hair was cut in a devil may care, whimsical style, wisps of hair hung over his eyes. The clothing was well cut and fitted well, it had the fine lines of tailored gentry, not store bought. Yet they were a bit outdated, like he had not been fitted for a long time. Something had been distracting him, or maybe money had become an issue of late.
The dancefloor was neon lit. Dark and light juxtaposed themselves betwixt the gyrating, twirling ever moving partially clad figures of the swaying bodies. It was impossible to pinpoint any person specifically in the continuous back and forth of writhing forms.
His eyes surveyed the room, they stopped for a few moments on each female form, then they moved on to the next, and the next. I saw him when he surreptitiously removed something from his left ring finger. Ah! His wedding ring, I thought to myself, smiling at the luck of some woman somewhere. But not tonight, tonight he planned to cross over that line of "till death do us part". I got to wondering about what had happened to push him to taking, what seemed for him, a really drastic step.
Those dark troubled eyes moved to the bartender and the generous array of many shaped offerings of alcoholic beverages. He licked his lips like a parched man long lost in the desert, one who had not had a drink for many days. He touched the pocket of that guilty ring which he had just placed there.
He still loves her. I thought to myself. For that guilt was eating away at his heart and his conscience. If he stepped over that line tonight, he would live to regret it.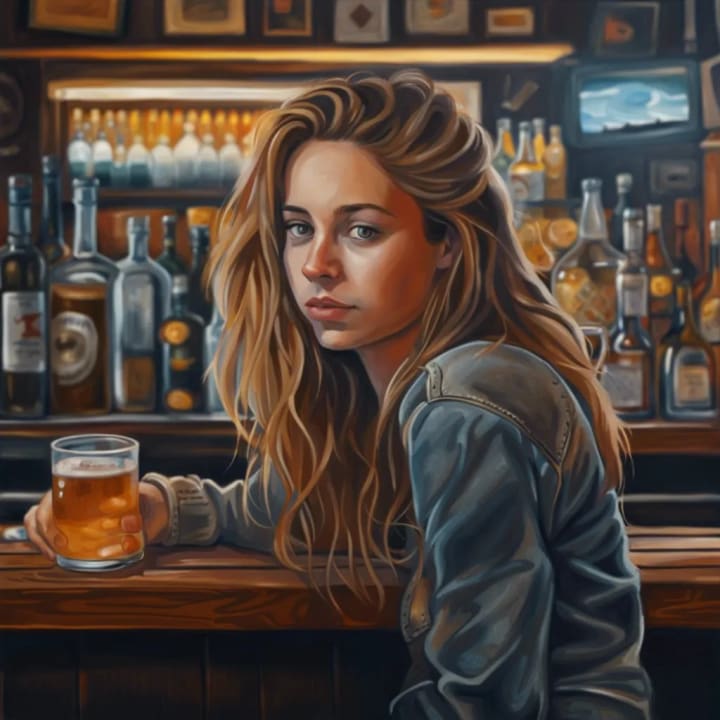 The eyes kept on moving again, to the women, until they alit upon me. His eyes lingered, moved on and came back to me. I was not now directly looking in his direction, his form was framed in the large mirror atop the counter of the bar. I know that he had seen me when I turned around though, he knew that I had been watching him.
He now walked purposefully in my direction, I got up to leave as he approached. We both stood facing each other, both actions fully synchronized to coincide at the same moment with each other's movements. He smelled like expensively blended old cologne.
Suddenly his face swiveled to the entrance. Love instinct can be so strong, kind of like the highly evolved sensory system of a bloodhound. Agony registered upon his face. She had walked in with 'him', she clung tightly to his arm, as she kept her face riveted to the floor. Yet he knew her by the elegant arch of her back, the way she touched her ear when uncertainty overcame her. Unconsciously, he grabbed my arm as grief overcame him.
Gently, I touched him arm, bringing his attention back to the present situation. I smiled at him, nodding in the direction of the couple by the door. I looked at him meaningfully, then nodded again in the general area in which they were slowly meandering towards the bar. He got my drift, smiled back, a tight fear induced smile, debatable, unsure, yet grimly determined.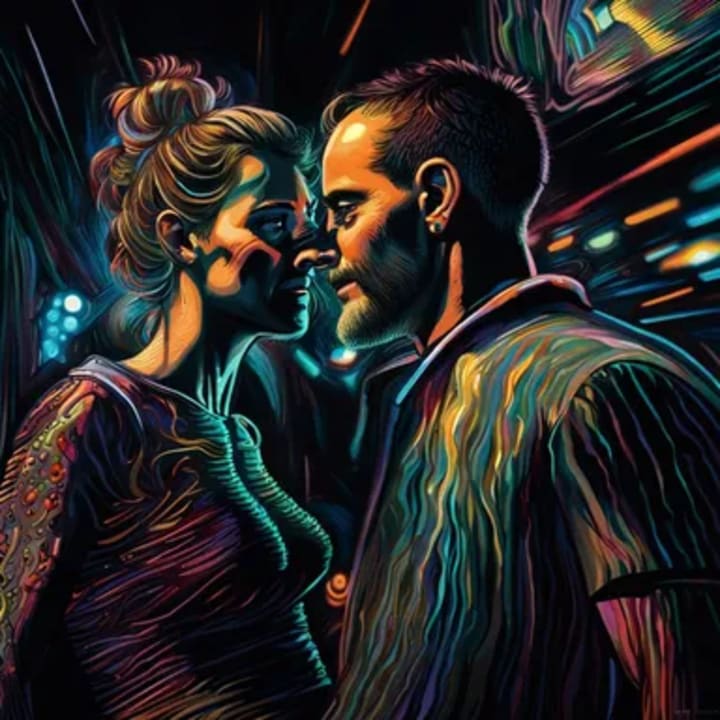 He hurried over to her, wading uncerimoniously through the crowded bar. She did not see him as her eyes were still downcast, as if wishing she were somewhere else, anywhere else but here.
He stood for a moment, then touched her arm uncertainly. She looked up, 'he' looked at her, then at him. He reached for her hand. She let go of 'him' and took his outstretched hand without hesitation
He turned for a moment to nod imperceptibly in my direction, I nodded back, smiling, before they both walked hurriedly out of the bar, into the cool night to try to work on the rest of their lives.
I walked over to the other rather perplexed 'he', as he stood lost and forlorn, wondering what had just transpired. I motioned towards the bar. He too nodded, walking behind me in a dazed fog.
Maybe we could keep each other's company and wile away the night in quiet contemplation of a near disaster averted by fortune's lucky chanced encounters.
.............................................................................
Images created by NightCafe Studios.
About the Creator
(Uk based) I Exist within moments, driven by whims and fancies, a free spirited dreamer. I Run wild with the wind.
Reader insights
Outstanding
Excellent work. Looking forward to reading more!
Top insights
Compelling and original writing

Creative use of language & vocab

Easy to read and follow

Well-structured & engaging content

Excellent storytelling

Original narrative & well developed characters
Eye opening

Niche topic & fresh perspectives

On-point and relevant

Writing reflected the title & theme
Add your insights