To be one with yourself.
My struggle with feeling like I was free to be me.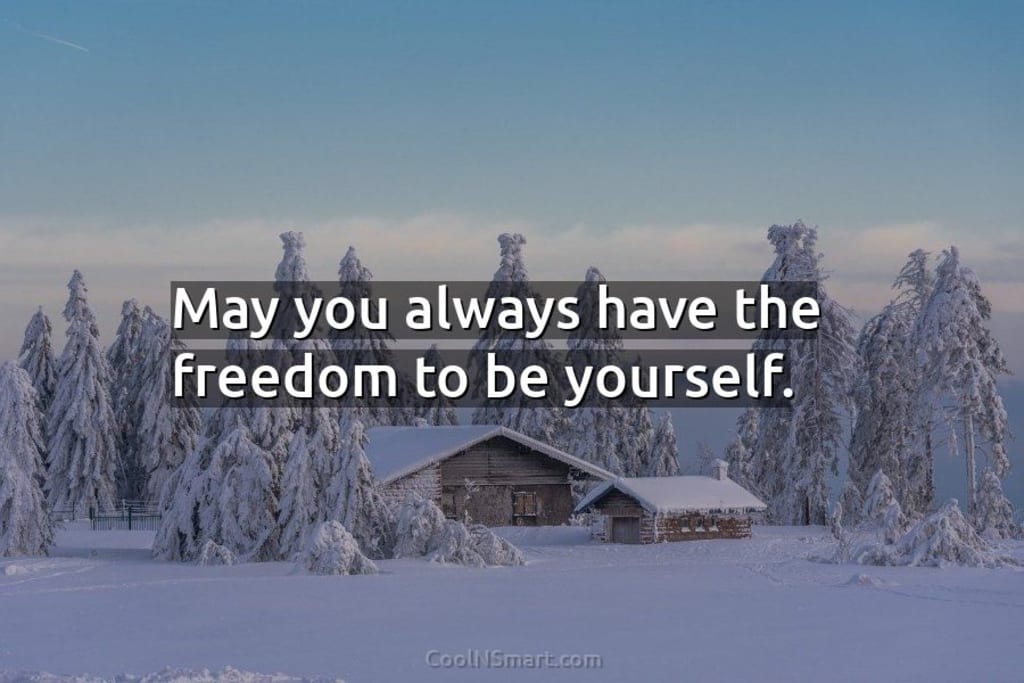 Freedom. It's often used to indicate privileges or rights we get in a particular social construct. We often forget that freedom can also hold significance in our personal lives as well.
Being the youngest child means looking up to your older sibling with admiration... well most of the time. What happens when that admiration gets abused by others? I've always looked at my brother as if he hung the stars that twinkled in the sky. He has been my friend, my protector, and my comedic relief for nearly 27 years. At the same time, he was everything I wasn't. He was smart as a whip and artistic. By the time he was in middle school, he could look at a picture and draw it from just sight. He was also a straight-A honor student. While I was smart and made good grades there were classes that I struggled with more so than he did like math and science. Also, my artistic abilities manifested in music notes and not sketches. He never compared us though. He has always encouraged me to be myself and see my own strengths. When it came to others... sometimes they expected me to be a little more like him and a little less like me. Whether that was our family or teachers we had in common. I had a hard time getting people to see Katie for who she was.
My mom being a single parent worked hard for both of us to be able to have perks in life that she didn't have. It was never about supporting us differently or favoring one over the other. That being said after my brother was diagnosed with an eye disease my mom had to give him a little more attention. A fact that never actually bothered me. However, I knew deep down that there was a little more fight to see him succeed because he'd be doing it against scary odds. When it came time for college my mom stopped at nothing to make sure he got to that point. Between making sure he didn't go blind and making sure he got to ACT testing and college tours... she did what she had to. Helping him move into his college dorm and seeing this life he'd be living made me even more excited to experience the same thing. However, when it was my turn that excitement and fight wasn't there. I applied to my schools, studied for my ACTs, worked hard on my flute skills, and made sure I passed my classes. I got accepted right away by the college I wanted to go to, but my mom's reaction was shocking. "Don't you think it would be better if you went to a community college first... because you aren't great at math?", was the response I got. I had even thought about that and took a college-level math class my senior year so I wouldn't have to take math in college. I gave up on having that experience she so willfully helped my brother achieve. I felt like no one believed in me the way they believed in my brother. To this day my brother tells me that he wished he had known that. That he would have advocated for giving me that freedom to grow.
On top of the family dynamic, dealing with school wasn't easy for me either. Being an honor student who followed the footsteps of an honor student made it hard to be seen. Any teachers I shared with him, with the exception being our German teacher, often assumed that because my brother was who he was I was going to be a direct copy. Now, most would just make one remark every so often, but my pre-AP biology teacher took my brother's success and my struggles as an excuse to ridicule me for the entirety of that year. If I didn't ace a test he would make remarks about how my brother could make A's without trying. It was very difficult to even learn and focus in that class. Science had been something that I enjoyed even if chemistry got a little confusing for me due to the math, but for once I hated it. After biology, I took pre-AP chemistry, and while it wasn't the same experience it was still rather similar. From that point on I chose to not take any more honor classes in science. I found solace in AP English and History because if I succeeded then it was my success and it wasn't getting compared to my brother who didn't take honor classes in those subjects. I didn't take art despite my love for painting because I was afraid I'd endure the same pressure. My German teacher was the only teacher to appreciate us both together and as our own people. She appreciated that we had similar work ethics and attitudes. We were both respectful and kind. She also acknowledged that we were different too. He was quieter compared to me, but he worked hard and was a joy to have as a student, whereas I was more interactive and would often help her with organization and club activities outside of my class period. As a teacher, she valued us both but she was one of the only few to do that.
I dealt with similar pressures in Band only this time I was getting compared to people I wasn't related to. Because of years of being compared to my brother my self-confidence never grew properly. Because of that, I endured countless emotional abuse from my main band director without any fight. He'd often compare me to other flute players or make degrading comments. He'd listen to the other students if they were trying to slander my name going so far as to wrongfully accuse me of trying to sabotage a 9th grader's success. Now common sense says that no respectful senior is going to mess with a junior high student but to him, it didn't matter what I said. Even though I had done nothing wrong I was still yelled at. Eventually, it got back to me that a few fellow high school flute players had spread that rumor to mess with me and since they were his favorites he listened.
So when I hear the word freedom I think about the freedoms we get as US citizens. I think about how hard Martin Luther King Jr. fought for equality when it came to who got those freedoms. I think about the women's rights movement. I think about the privileges I get as an American that people in other countries dream about. However, we often forget that we can still be trapped in the life we live. Without the freedom to grow and become a stronger person. Because people saw me as just my brother's little sister I lost sight of who I was. I didn't feel like I had the freedom to be heard or even seen. Which only allowed me to become prey to similar treatment elsewhere. It's only been recently and with the encouragement of my brother that I've been able to embrace what makes me... unique. I've branched out, found interests in fields that I truly enjoy being a part of, and I started streaming on Twitch. I've always loved my brother and have admired him for the person he is. He's still one of my best friends. His support and aid have given me the strength and the necessary tools to be true to who I am. For once I feel like I'm free to be Katie and to accomplish goals as such. I no longer feel as trapped. My gateway ended up being a computer that my brother actually helped me build, and when I chose to embrace that I was able to allow people to see me for who I was. That's a freedom I'll never take for granted.
About the Creator
Hi, I'm Katie. I'm a 27-year-old musician with a passion for writing and streaming. Aside from writing on Vocal, I stream on twitch. I play a variety of games. In May of 2021, I lost my dearest grandfather and it's forever changed me.
Reader insights
Be the first to share your insights about this piece.
Add your insights