Mental Health; A losing battle?
Professional Wrestler Ryan Smile passes away aged 31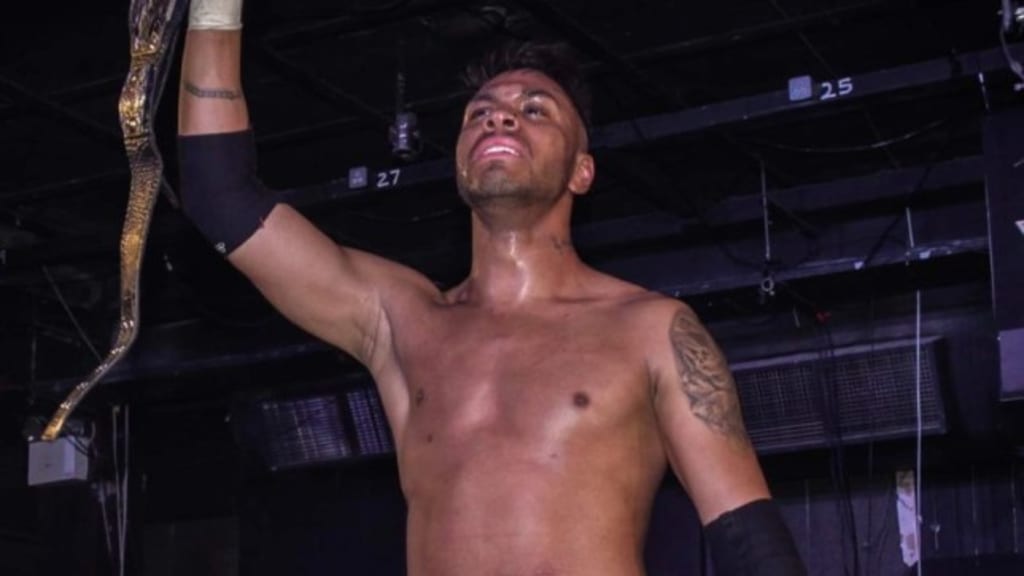 Former RevPro and OTT champion Ryan Smile
It comes with a heavy heart, to report the death of a man so young whose life was full of such ambition and potential.
On Wednesday October 15th, it was reported to my partner that a former work colleague and acquittance had sadly passed away at the young age of 31.
Ryan Smile, from Birmingham England, had a colourful career in professional wrestling, throughout a career that spanned over 10 years. He made his wrestling debut back in 2006 and had made many lifelong friends along the way.
The exact cause of his death has not been released by his family at the time of writing; however, there are several articles circling online that suggest Smile had sadly lost his battle with mental health.
Ryan had not hidden his fight with depression over the years, sharing his demons in an interview back in 2014 with Eye on Wrestling:
"I've suffered with depression since the age of 15, and 10 years later I'm still a sufferer of depression. Sometimes it's worse than others, but my childhood has played a major part on why I'm still not completely over the illness. I sought help many times, took me till I was 19 to realise I was severely depressed and I did seek help."
Although it is not yet confirmed to be mental health that contributed towards Smiles death, the rumours surrounding his death; and it being so close to someone I love, has made it almost impossible for me not to write this article to raise awareness of the affects of mental health.
When I was only 16 years old, I had my own traumatic experience with the detrimental fallout that depression can cause. A good friend of mine who was only 17 at the time, unfortunately took her own life in the foyer that we lived in together at the time. We had been out the night before, laughing, joking and generally acting like any typical teenage girl; only she seemed different, passive. For a long time I contributed my lack of understanding and blindness to her depression as a contribution towards her death. Only after several years of battling with mental health myself, did I begin to realise the truth that surrounded the illness.
Depression can creep up on even the happiest of us. Sometimes because we have had a traumatic childhood and sometimes if we have had the greatest childhood. Mental health does not discriminate against age, sex, intellect or even the upbringing of an individual. Depression can happen to any of us and although the love and support of family and friends around us can definitely help us to fight against the daily struggles that mental health gives us. Ultimately, it's up to us to figure out our own way to be happy and to gain that emotional strength again.
Some people choose fitness to gain mental strength again, some people choose therapy, some people choose antidepressants and some people simply surround themselves with loved ones. I found that working hard, loving everyone close like it was the last day with them and especially writing helped me pull through after years of feeling lost inside my own head.
I still have days now where I struggle to shake the agitation or the dark feeling that flashes over me. But, nowadays it becomes easier to deal with the creeping depression that I believe we all have or can experience at some point in our lives.
Unfortunately for some, that is not the case and in many instances that dark feeling only grows.
So that leaves the question; are we losing the battle against mental health?
Although women attempt suicide twice as much as men, on average, 76% of suicides are sadly male.
Men are far more likely to have time off work due to physical problems but only 1 in 5 men are likely have time off work due to depression or anxiety.
in 2014 there were 6122 suicides in the UK alone, 76% of those were males.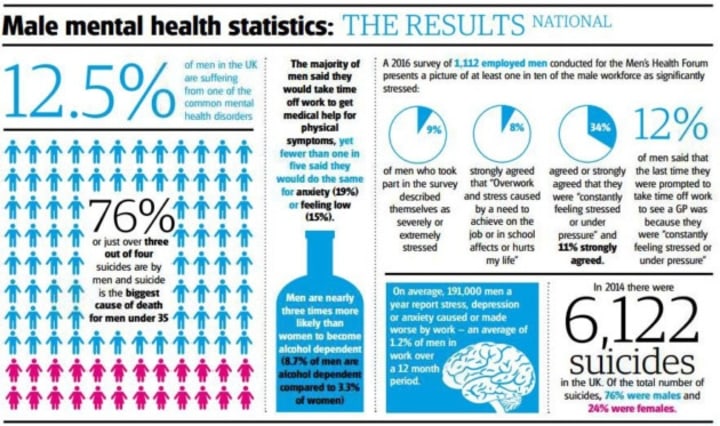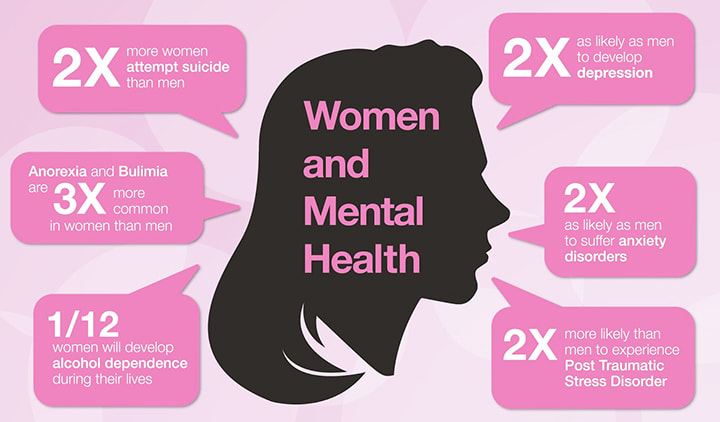 It is important that we as humanity keep raising awareness of mental health issues everyday to help save even one person. That's one less family that has to suffer due to this devastating illness.
Suicide causes detrimental problems for more than just the sufferer of mental health. The families that surround these individuals are left forever wondering what more they could have done.
So while the statistics say an average of 6000+ people take their own lives every year, the real figure would be in the tens and thousands of those affected by the shadows left behind.
Lets talk about our issues now. Be it with a loved one, a work colleague or even a stranger, don't let depression win. We will continue to fight it everyday if we educate ourselves, steer away our ignorance and most importantly learn to listen in a world that is always talking.
My condolences are with the family of Ryan Smile at this time and if confirmed at a later date (than writing this article) that mental health was the issue, I hope his memory of achievements and ambition help him to live on through them.