Beyond the Blues
Depression; It's different for everyone
What it's like for me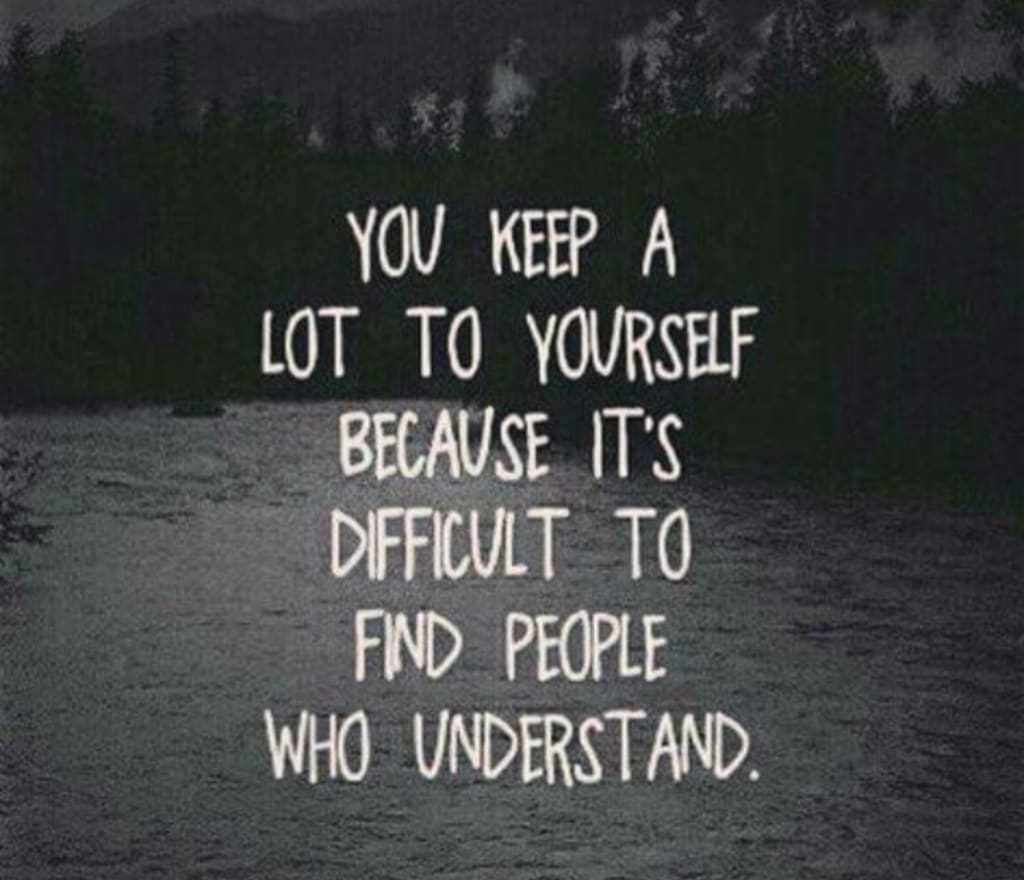 Depression, it's commonly known as the feeling of constant sadness. This is true. However, there is more to it than just sadness. At least for me there is. Some people can agree to this as well. Sometimes it can be hard to tell if someone you love is depressed because they really don't let it show. Depression for me is a roller coaster. One minute I can be the happiest girl in the world, and then...at the snap of a finger, at the drop of a pen, it's all gone. I get these thoughts in my head, someone of you might get them too. You know, the ones that tell you that you are worthless even when you do everything in your power to make everyone around you feel good even at the expense of your own happiness. Or how about the ones that tell you that everyone, including the ones who need you the most, would be better off without you. Yeah, those thoughts, along with so many more. Depression can be hard to explain to people who don't understand. But I'm going to give it a shot here because sometimes when I talk about it, it relieves some of the dread I constantly feel. It's a subject that is very delicate but also super important to talk about.
For me, depression feels like drowning. It feels like your screaming at the top of your lungs but no one can hear you. It feels like you are standing in a room full of people but you're the only one there. It's suffocating but you're still breathing. Your brain constantly telling you lies and forcing you to believe them, like everyone hates you, you're too uptight, you're no fun, you stress everyone out, you really should just crawl into a hole and never come out. You are always thinking that you aren't good enough. The most important things and people to you seem like they could have someone so much better and that you don't deserve to be happy. It comes in waves so you are never quite expecting it, and you only ever notice that its begun when it has gotten too bad to drag yourself out of. You cant talk to anyone about it because all they ever say is you're taking things too seriously, you're being over dramatic, you just need to calm down, etc.. they dont understand that it isnt that easy and you try but you cant control the things that your brain makes you believe. You constantly feel like no one cares or wants you around. When someone locks you out of a room, no matter what the reason, you feel like it's because of you and the way you are.
I get too real sometimes, but I cant help it. I yell sometimes, but who doesn't? I let things get to me even though I try not too. And I love and protect the people and things that are mine, even when I know it annoys them. I've been told whole life that people dont tell me things because of how I react. I could tell you my depression is random, but it isn't. I have a very long and traumatic past. I have my reasons. Sometimes I just wish I could be normal.
If you can relate with these feelings and want me to keep being real, send me a tip. Thanks for reading guys.