Best Teas for Stress and Depression
Allow these teas for stress and depression to improve your mental health, one cup at a time.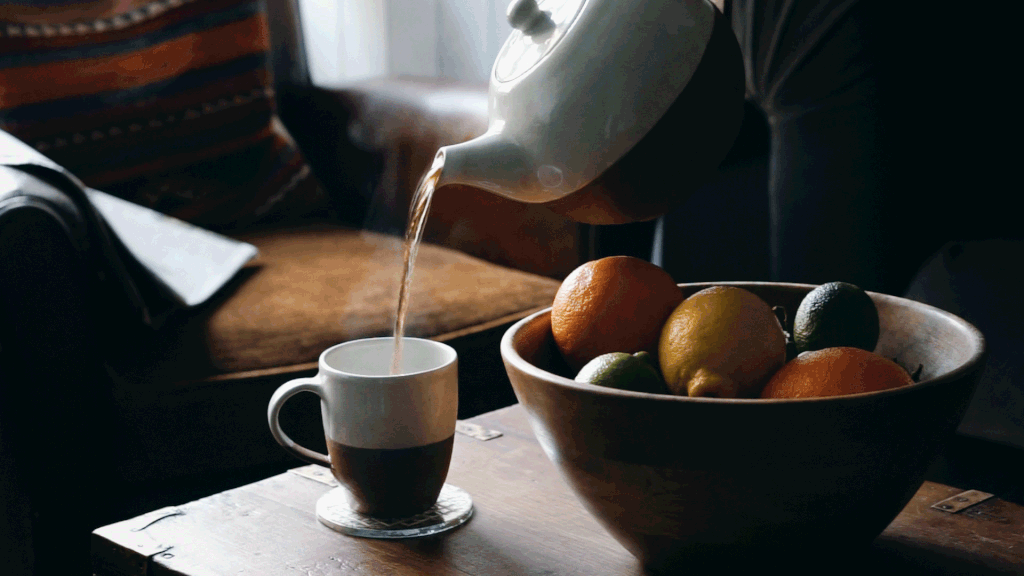 How does tea calm me down?
Whether you're looking for a remedy to soothe your depression or stress, tea can certainly help. This is because tea can relax you in two ways: with the actual ingredients of the tea, and the act of drinking tea.
Let's start with the less talked about way tea can calm you. The ritual of putting the kettle on, boiling your water, and slowly sipping on your warm tea can relax your body and mind. Turning this into a habit will help make your mornings less stressful, and help you get to bed feeling more at ease.
Tea can also aid in reducing stress and depression symptoms because of the ingredients in the tea. Obviously, depending on the tea that you choose to drink, this will alter the way that you feel, and the way that your body reacts to the ingredients. Most teas that are created for stress and depression have relaxants in their ingredients. These are not always meant to put you to sleep, but rather to calm your thoughts and your body as a whole. However, they also can work as a sleep aid before bed.
With this in mind, we have come up with a list of 10 of the best teas for stress and depression. From the obvious, with chamomile tea, to something a bit less traditional, with lemon balm tea, you'll be surprised how much of a difference one cup a day will make in your life. No matter how tough your depression and stress may be, there are always opportunities to make things a little bit easier.
You might find that when researching teas for really any issue you might be having, peppermint comes up. This isn't a mistake, we promise. Peppermint can be used to combat a lot of issues, especially when it comes to mental health and relaxation. And holding the number one spot for teas for stress and depression, peppermint tea is a natural hybrid of water, mint, and spearmint.
Most importantly, the peppermint leaf has a high menthol concentration. Menthol helps the muscles to relax, thus reminding your mind to do the same. This is a perfect night time tea to help ease your body into relaxation mode. For people who have high-stress levels, this same menthol concentration will help to relieve this. Peppermint can be made into an essential oil as well, which has many uses.
And for depressed people who have a hard time sleeping and are suffering from stomach issues, peppermint can help this as well. As an added bonus, peppermint is also rich in enzymes, which will help to strengthen the immune system and eliminate consistent headaches or migraines, which could also be caused by stress and depression.
Lemon balm is most known for its anti-anxiety and memory boosting properties. As a great herb to be used in tea, this is found in the mint family and has a lot of benefits to better your body and clear your mind.
Some of these benefits are reducing stress, improving appetite, and easing discomfort or pain. This can also be used for those who suffer from depression, and the symptoms that come with this mental illness, such as a lack of motivation and stomach pain.
Plus, because it is a cognitive enhancer, you will notice your processing speed and memory improving, keeping you alert throughout the day. This tea can also help with nerves and irritability. Among the best teas for stress and depression, lemon balm tea stands out.
Ashwagandha tea is not your typical choice when it comes to teas for stress and depression. However, it is an extremely underrated method for relaxation. Ashwagandha is often used in Ayurvedic medicine, mostly for anxiety.
Though their sister plant, Withania, is a member of the nightshade plant family, this does not mean that it will cause any inflammation. Used as a tool in medicine for over 4,000 years, Ashwagandha has just recently been picked up by modern researchers. Research has revealed that the body will maintain homeostasis while taking this tea in overwhelming situations. This tea is mostly used for reducing cortisol levels in those who suffer from stress.
We're sure you've heard of chamomile tea as one of the best teas for stress and depression, and pretty much anything related. Chamomile tea has the great benefits of relaxing your muscles and reducing irritability. And we all know how irritable we can become when stressed or down.
It is also very strongly tied to reducing nervousness, and is often used to treat or lessen symptoms. However, be careful with this one, because it might make you a bit drowsy due to its contribution to better sleep. It is a great tea to drink before bed, of course, and will result in a much sounder sleep, all night long. This makes it one of our top choices for teas for anxiety and insomnia as well.
Passion flower tea is derived from the roots and leaves of the passion fruit plant. Used for centuries for its medicinal properties, passion flower tea is an age-old method for calming the body and the mind. In recent studies, it has been proven to improve sleep quality and calm patients of their anxieties.
This tea is also suggested to those who have a generalized anxiety disorder, stress, or depression, as it may be more effective than traditional pharmaceuticals for some (though of course always consult your doctor). It is also filled with anti-inflammatory properties and cortisol reducing compounds.
Next, among the best teas for stress and depression, Rosemary is most known for its use for headaches and stress. Used for centuries in both teas and cooking, like rosemary and grapefruit shortbread, rosemary has a huge effect on our mood, which is why it is also geared toward depressed people.
Rosemary has natural plant chemicals that can be used to improve our breathing, blood-brain barrier, and overall brain activity and behavior. This is attested to the mood changes and stress diminishing. Rosemary has also been proven to improve memory just by smelling the scent. Plus, it can improve productivity and effectiveness in your lifestyle after continuous use.
Lavender tea is also another one of those all-purpose teas that can truly fix anything. However, when it comes to stress, this should be at your fingertips at all times. If you live a stressful life, or just can't seem to cope with your depression lately, lavender tea is a perfect decompressor.
Lavender is most known for its calming properties, in all forms. From essential oils for stress to a simple hint of lavender in tea, you'll notice the difference in your mindset. With antioxidants, but without caffeine, lavender can also calm digestive problems that can be caused by stress for many.
This tea is also mixed with honey, which is personally a favorite of mine. I can drink the tea without being too overwhelmed by the taste of lavender, while still reaping the benefits.
Ginseng tea might not be the most talked about tea to combat stress, but it has been used for years. Among the best teas for stress and depression, Ginseng is made from the ginseng root, which is a staple item in the Asian healing tradition. Used in Asian culture, it is most known for boosting energy and improving circulation. Yes, this is much different than the teas we have previously talked about, but it works for many reasons.
A lot of the time, depressed people need a tool like this to help motivate them to get out of bed, or just to continue on throughout their day. This is also true for stress, and how it can become overwhelming. As your circulation is improved and your energy is restored, you finally have a new grasp on your day, thanks to this tea. It can also combat fatigue and increase vitality. So just because you've never heard of it before, doesn't mean you shouldn't give it a shot.
Valerian tea is made from the valerian root. It is also referred to as granddaddy of medicinal teas and is most known for its drowsy, relaxing properties that help with over-stressing.
Though it can be used to treat insomnia, due to its calming properties, it also works extremely well for stress and depression. It allows you to trick your mind into thinking that you are relaxed because it will physically relax your muscles. This will, of course, result in a good night's sleep, and lowered cortisol and inflammation. What more could you ask for?
Tulsi tea concludes the best teas for stress and depression. Tulsi is known to be a "holy basil" used for centuries to mend the overall well being of a person. But instead of telling you that it will fix everything, tulsi tea today is known most for its mood balancing abilities and as an anxiety symptom reliever. It is also an energizing tea that can help boost your motivation.
The cool thing about tulsi is that is can be combined with other teas that we have touched on, like lemon balm tea. Best used to support adrenal function and calm your stresses, this is a definite go-to for those who suffer from depression and stress.