Truly Hard Seltzer Review
I bought this beverage by mistake, and I am not sorry that I did.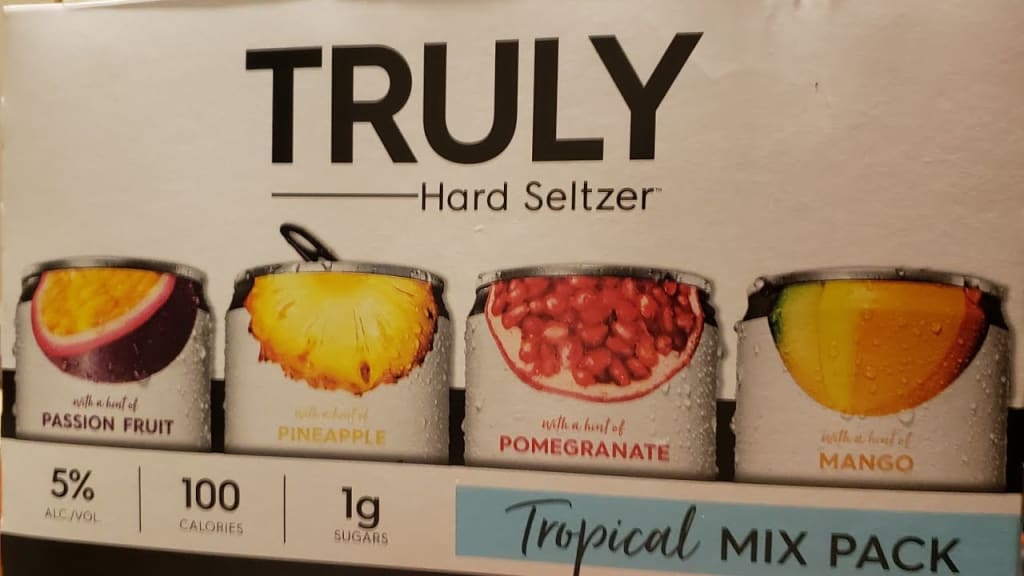 I am always looking for new things in the grocery store to drink. It was Super Bowl LIV weekend and there was no shortage of beverages in the store. They were stacked in the aisles in areas that were not even related to beverages. When I saw cartons of Truly Hard Seltzer in the middle of an aisle, I was impressed with the beautiful slick cans. I put a carton of 12 in my shopping basket without looking at the price.
When I was checking out, the cashier told me it was more expensive because it was not just seltzer, but it was an alcoholic product known as "hard seltzer." She asked I wanted to put the carton back, but I told her I still wanted it. After all, I had pushed the heavy basket throughout the store with the carton in it while I shopped for other items.
Researching Hard Seltzers
As soon as I got home I did my research about hard seltzers and discovered a great deal about them. Of course, it was confirmed that hard seltzers do contain 5 percent alcohol. I neglected to see that when I selected a carton of Truly.
My research gave me valuable information about hard seltzers and about Truly. I read that Truly is one of the best to consume. I was glad I had bought one of the best without knowing that.
What Is a Hard Seltzer?
Hard seltzer is also known by spiked seltzer or hard sparkling water. It is an alcoholic beverage containing carbonated water, alcohol, and various fruit flavors. Each can contains 5 percent alcohol, 100 calories, only 1 gram of sugar and 2 grams of carbohydrates. The hard seltzer is also gluten-free. As you can see, the contents are very low. Truly has 13 different flavors, and each carton contains a mixture of four of them.
Even though I discovered hard seltzers by accident, the beverage has been around since 2016 and rose to its peak in popularity in 2018 in the United States. It is a billion-dollar business with sales expected to be about $2.5 billion by 2021.
About Truly Hard Seltzer
The makers of Truly hard seltzer said they were tired of drinking the same beverages without enjoying them. They wanted something refreshingly different with all the flavor without all the calories, sugars and carbohydrates. They wanted to get away from the boozy cocktails, bottled wines, and bloaty beers. Therefore, they settled on a simple beverage with natural ingredients and hints of fruit without artificial flavors or sweeteners. The company is delighted with the results of their creation that is ideal for bars, cookouts, beach parties, tailgate parties, or just relaxing at home.
The Truly innovation team spent nearly 1,500 hours testing more than 130 recipes and conducted tastings with about 2,000 hard seltzer drinkers in major cities such as Boston, Chicago, and Dallas. Consumers approved of Truly based on its fruity aroma that didn't leave a bitter taste like some of its competitors.
Truly comes in four different cartons with various flavors. I bought the tropical mixed pack of 3 slim cans each of passion fruit, watermelon & kiwi, pineapple, and mango. Available is a berry mixed pack with black cherry, wild berry, blueberry & acai, and raspberry. There is a citrus mixed pack with orange, lime, grapefruit, and lemon. If you like sweet passion fruit, there is a fourth carton with tropical peach, coconut, pineapple, and mango.
Consumers do not have to purchase a carton of 12 cans. They can purchase individual cans until they find the ones they like. However, it is more costly to purchase a single can.
Truly is the second-largest producer of hard seltzers. The brand comes behind Mark Anthony Brands' White Claw, which accounts for around 56 percent of the market share.
My Verdict
I purchased Truly Hard Seltzer by mistake thinking it was just another seltzer water. After drinking it, I realized it is not just another seltzer drink. It is delicious and refreshing with not a lot of calories, sugars, or carbohydrates. Now that I know what it is and what it tastes like, I will purchase it again. After all, there are other flavors to try.