Beginner Bartender
Budget Friendly Champagne Cocktails for Summer
Yes, it's possible to learn how to make the perfect champagne cocktail for summer that impresses and stays within budget.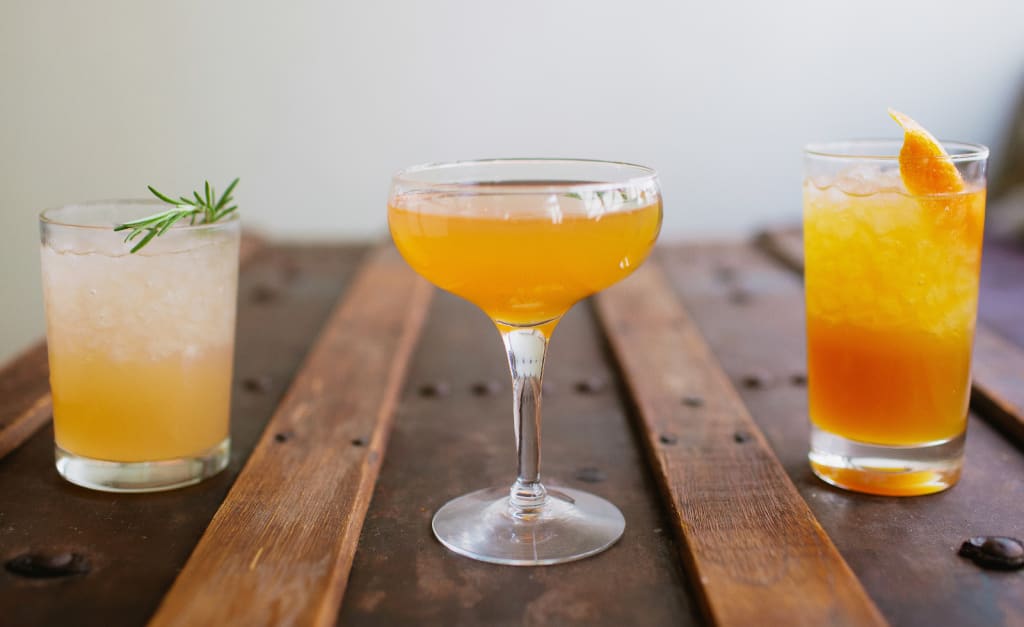 Champagne is often considered to be the pinnacle of class. It's the token drink of major celebrations and pairs well with almost anything you could want to serve up — including other drinks.
Champagne's ability to pair with anything has long been noted, and because it used to be very expensive, it used to be somewhat taboo to consider mixing champagne with any other drink. After all, it's assumed that you'd want to enjoy the full flavors and aromas of champagne.
However, people eventually realized that there are only so many occasions when you can drink champagne straight. They also realized it's possible to get good yet cheap champagne. So, while there was a time when champagne was verboten in the cocktail world, this time has passed.
The best part about champagne cocktails is that most of them taste great and are rather easy to make. Moreover, they tend to be guiltless indulgences. Here are some of the most refreshing and budget friendly champagne cocktails you can try today, just in time for summer
Bellini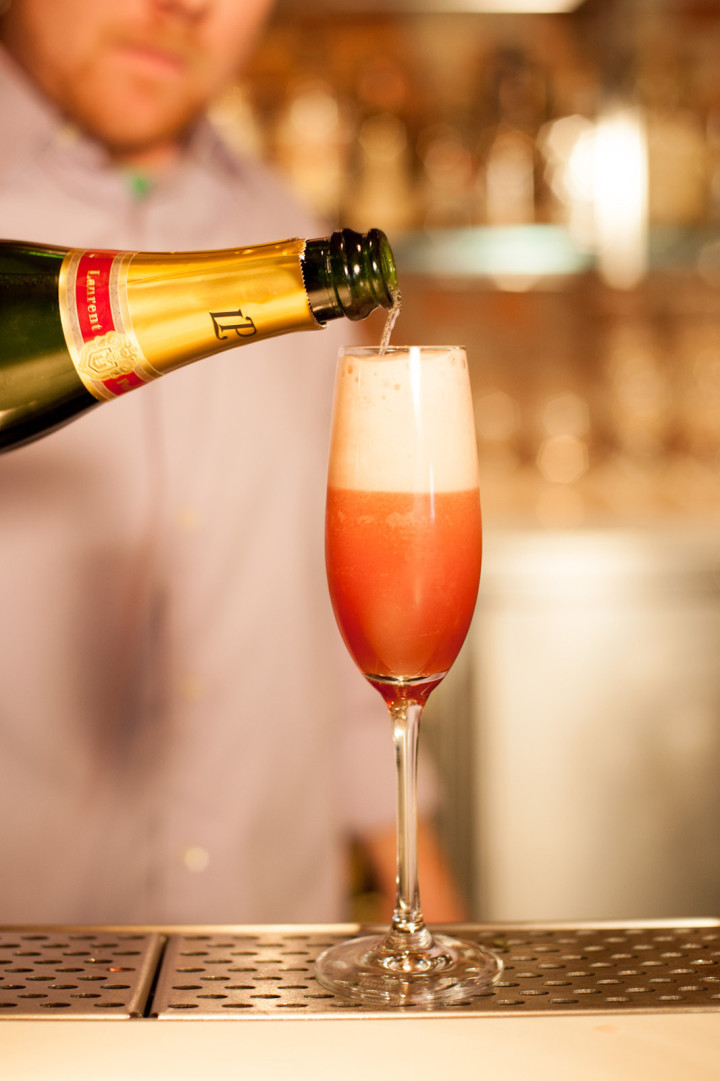 Bellinis are one of the most popular drinks on upscale brunch menus today, and it's obvious why. Bellinis are sweet, tart, and fruity — without having a cloying, syrupy taste to them. On that sticky hot summer day, this drink has just the right amount of crisp to freshen you right up.
Here's how to make a classic Bellini...
Ingredients:
2 ounces peach puree
4 ounces dry champagne
Mixing Instructions:
Mix well.
Serve with an optional fruit garnish.
In this case, champagne actually helps water down the thickness of pureed peach — and also balances out the tartness of it, too.
What really makes the Bellini one of the best cocktails out there is the fact that it can be quickly scaled into a big batch recipe. As long as you keep two parts champagne to one part puree, you will have a great pitcher of Bellini cocktails waiting for guests. This can also help you stay on budget, opting for a family style bar rather than single serve, at your next summer luncheon.
Mimosa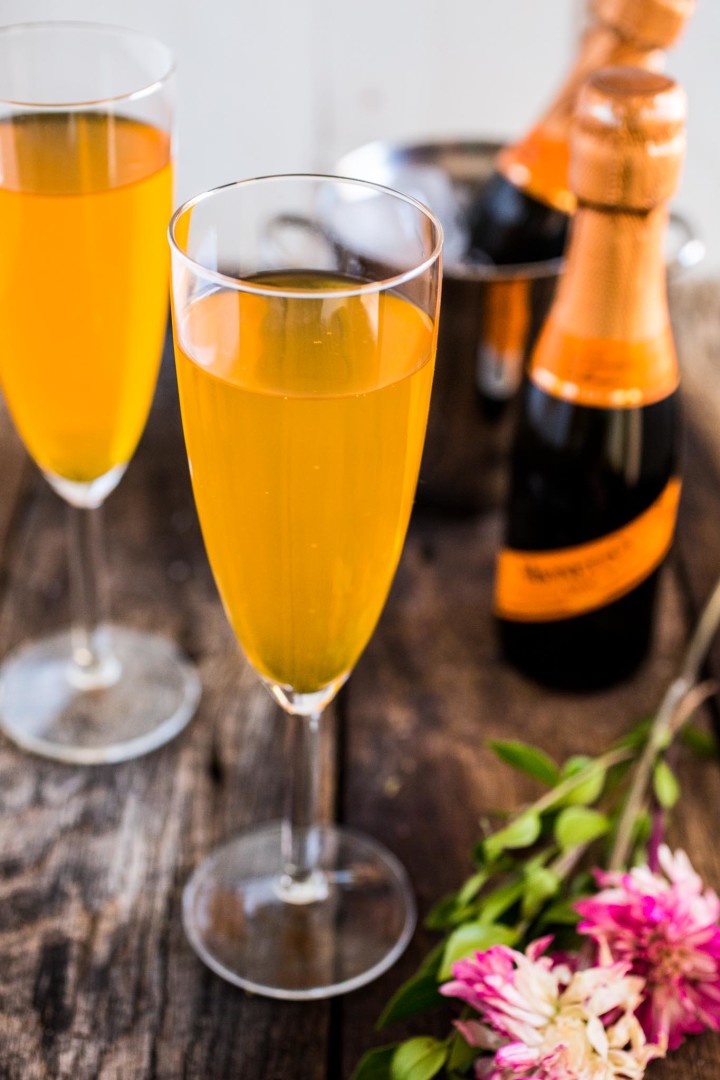 Speaking of brunch cocktails, let's talk about one of the most famous champagne cocktails ever invented — the Mimosa. This simple mixed drink isn't just one of the best-tasting yet easy summer champagne cocktails; it invented the idea of brunch cocktails altogether.
Much like Bellinis, Mimosas only need two ingredients and can be scaled up into a big batch cocktail that's perfect for parties. Here's how you can mix your own Mimosa...
Ingredients:
3 ounces champagne
3 ounces orange juice
Mixing Instructions:
Mix well.
Serve with an orange slice garnish.
In terms of cost-effective, make-ahead cocktails, you really can't do better than Mimosas. They scale up to any proportion and require minimal skills to make — but they taste incredible.
Glitter Cranberry Mimosas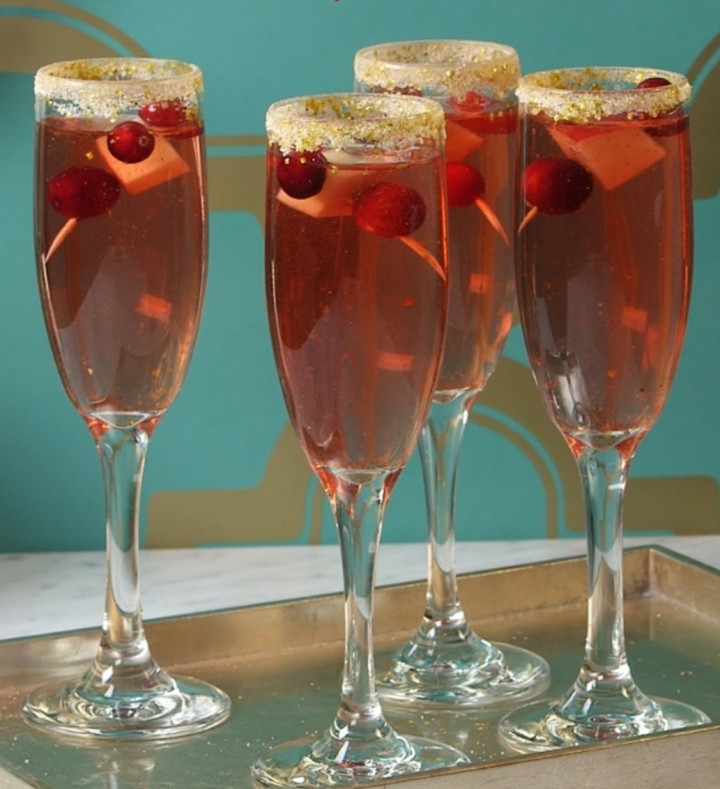 Much like a standard basic Mimosa, the Glitter Cranberry Mimosa is an animal that looks impressive but is a cinch to make. However, unlike a typical Mimosa, this is actually a cocktail that can only really be made in larger batches. And while the faux glitter and garnishes make it look sophisticated, in reality, this cocktail won't cost you much more than a basic mimosa would by using your favorite store brand cranberry juice and a cheaper dry champagne.
Here's how you can whip up a batch of this instant hit....
Ingredients:
1 bottle dry champagne
1 cup vodka
1 cup cranberry juice
1 pinch cinnamon sugar
Edible glitter
Cranberries
Mixing Instructions:
Put the cranberries in the freezer, and let chill.
Grab champagne flutes and rim them using edible glitter.
Mix the dry champagne, vodka, cranberry juice, and cinnamon sugar in a large pitcher.
Serve the cocktail in the rimmed champagne glasses, and use cranberries as "ice cubes" to keep the cocktails chilled.
Obviously, this is one of those easy summer champagne cocktails that looks amazing and Pinterest-ready. However, it also packs a very powerful punch — so drink wisely.
Tickled Pink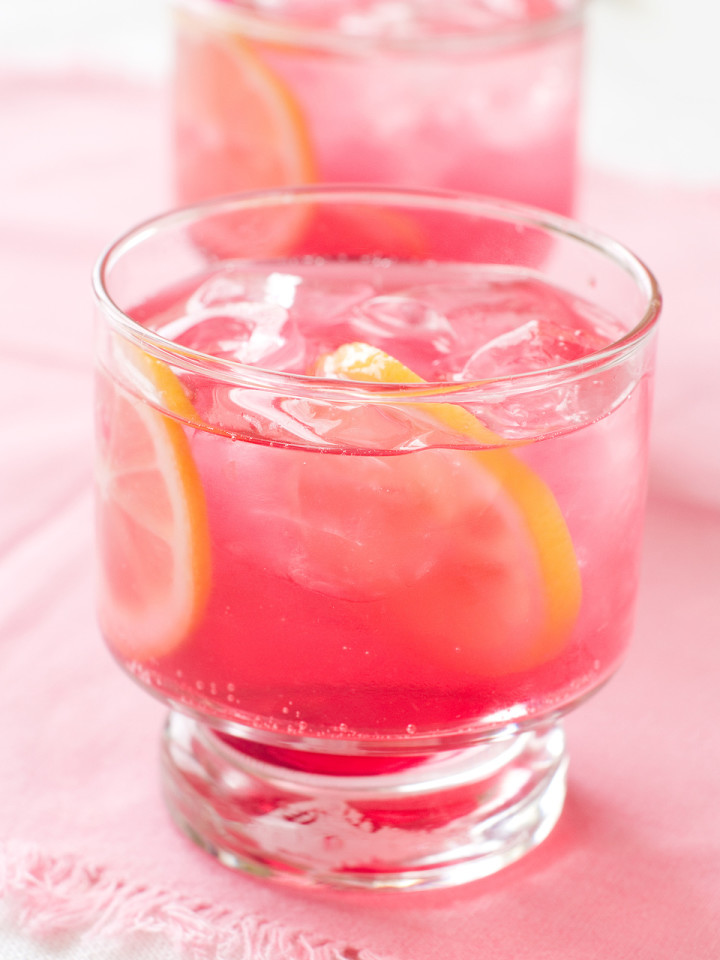 Tickled Pinks are the type of cocktails that were basically invented to look cute, but still taste good enough to make a man's man tempted to drink one. They're light pink in color, have about the same alcoholic effects as a glass of bubbly, but impart a slightly tart flavor. The tart pomegranate allows you to opt for a cheaper champagne without sacrificing any taste.
In many ways, Mimosas, Bellinis, and Tickled Pinks all are in the same kind of family — at least in terms of the different kinds of champagne cocktails out there that work best for summer shin digs. Tickled Pinks are best made in large batches and served immediately.
Here's how you can get Tickled Pink at your next party...
Ingredients:
4 cups pomegranate juice
1 bottle of champagne
Mixing Instructions:
Add both ingredients into a large pitcher.
Serve.
Cotton Candy Champagne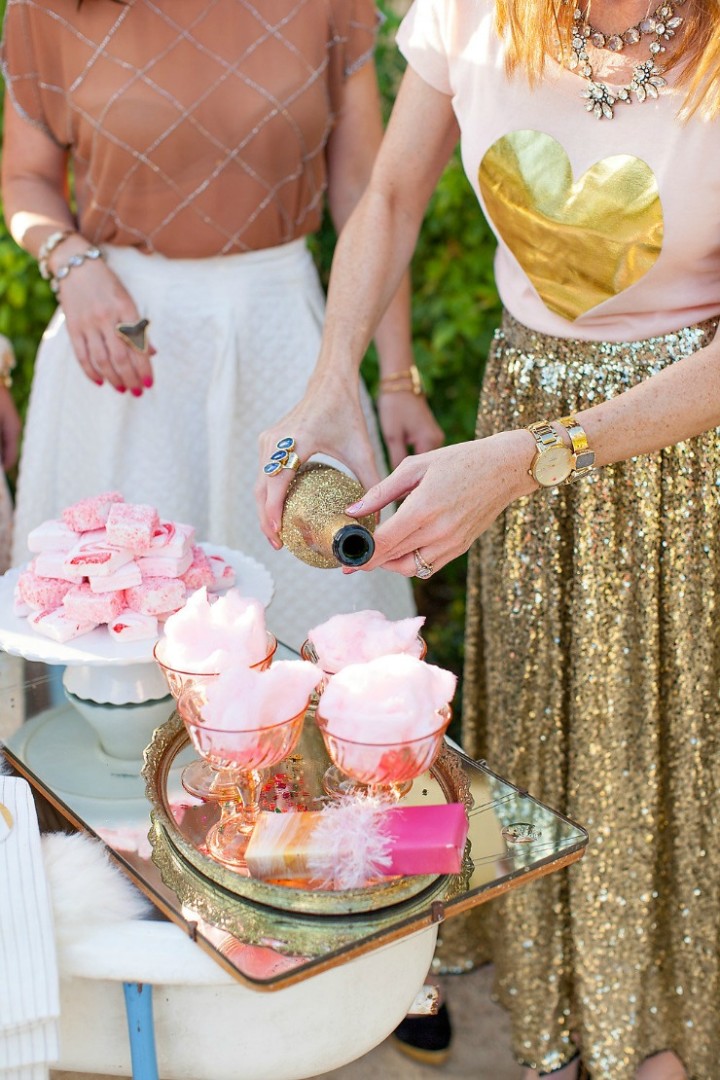 Some of the most beautifully easy champagne cocktails you can make don't even need two liquids to create. Cotton Candy Champagne is a perfect example of this — and it's always a smash hit with people who are fans of good presentations and candy lovers.
There are two ways that you can make a Cotton Candy Champagne cocktail, and both are equally adorable. Here's how you can make this sweet twist on a champagne treat.
Ingredients:
A poof of cotton candy
Champagne
Mixing Instructions:
Grab the poof of cotton candy, and put it at the bottom of the glass. Pour the champagne over it, and serve.
Or...
Fill a glass with champagne, grab the poof of cotton candy, and place the cotton candy onto of the champagne for a "cloud-like" effect.
With Cotton Candy Champagne cocktails, the presentation is a huge aspect of what makes this cocktail so good. So, make sure to get glasses that allow you to see the cotton candy dissolve in full view.
It's not just that it's bubbly and sugary; it's that it's really fun to watch it being made. Therefore, this is a good cocktail to make if you want to have people pay attention to you as a bartender. Stop by your local Costco for a family size bag of cotton candy and you're in budget friendly bartender heaven. Just make sure to wash your hands afterward, this one can get a little sticky!
The Ghost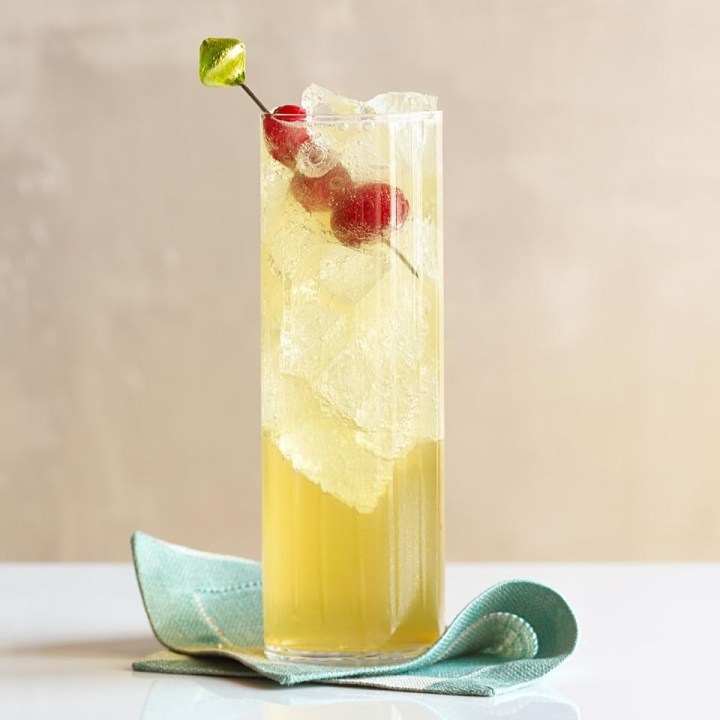 It may sound like a spooky name reserved for a Halloween cocktail, but this is actually one of the most impressively easy summer champagne cocktails you can make. So, don't let the name scare you — this drink is a sweetie!
With its rich melony flavor, The Ghost is a cocktail that works best with tiki-themed parties, fruit salads, and parties that have a strong UV-reactive glowing theme to them. Here's how to get your guests faded by making The Ghost for them. This option may be a little pricier than our other budget friendly options, but still falls within reason. Midori is a great, moderately priced brand that gives you a massive taste for a micro price. Yum.
Ingredients:
1/2 ounce Midori melon liqueur
5 ounces dry champagne
Mixing Instructions:
Pour the Midori into the bottom of a glass.
Pour the champagne on top of the Midori, and stir gently.
Serve.
Strawberry Lime Champagne Punch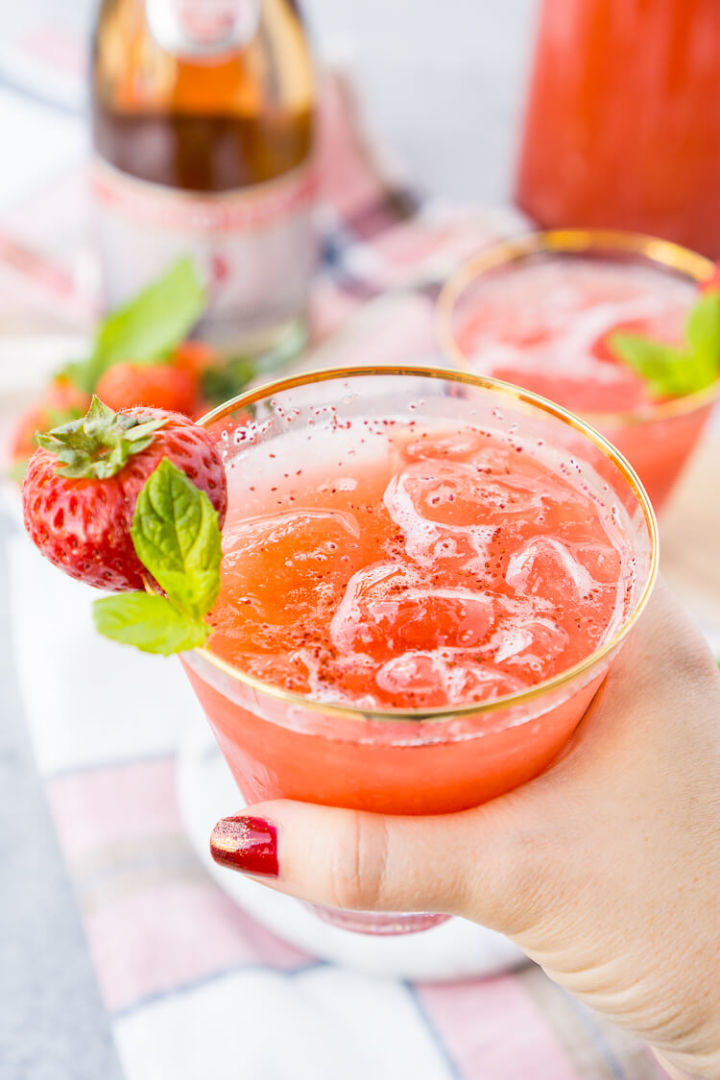 If you're looking for a cheap summer champagne cocktail that is light in flavor, workload, and calories, this is it. Clocking in at only 74 calories per serving, Strawberry Lime Champagne Punch is a three-ingredient treat that will make your tastebuds and waistline happy.
Like many of the cocktails out there, this is a punch that is best made ahead of time and in shareable quantities. Here's how you can make this awesome summertime treat.
Ingredients:
3 tablespoons strawberry puree
1/2 tablespoon lime juice
1/2 cup prosecco
Mixing instructions:
Mix the puree and lime juice together, and put the combination at the bottom of a champagne flute.
Top with prosecco and serve.
To scale this up, make (or buy) more strawberry puree. It's okay to be fancy sometimes...
Barbotage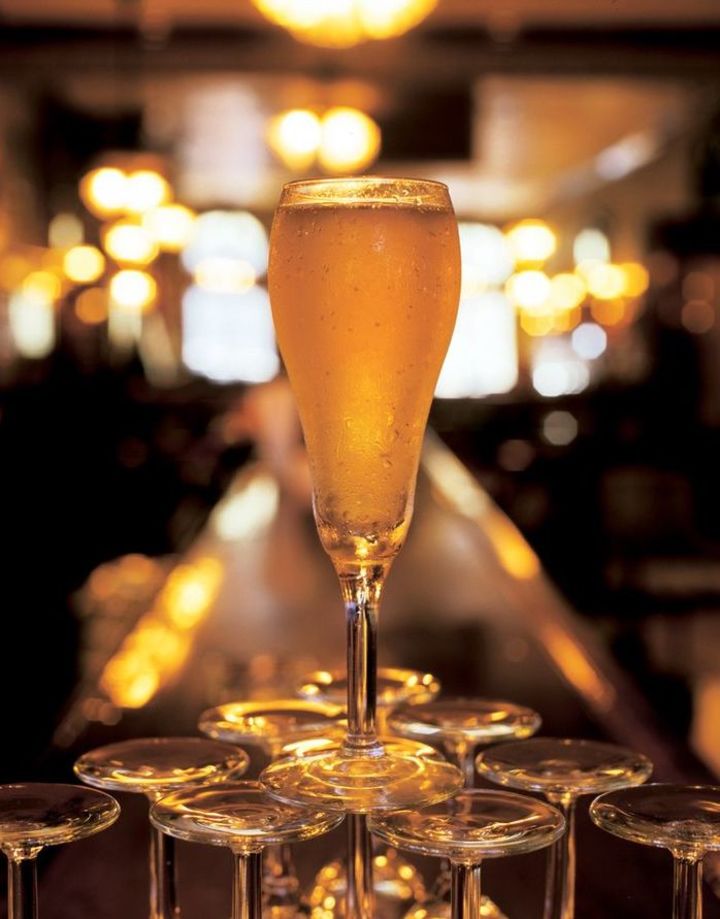 Barbotages are deceptive cocktails that don't actually look like champagne cocktails at all. Though they may look like regular bubbly, make no mistake about it — it's Barbotage!
Fans who love a strong drink with a little bit of fizz will enjoy this one. Here's how you can add a little Barbotage your next party and make sure your guests won't crash into boredom.
Ingredients:
1/2 ounce cognac
1 teaspoon Grand Mariner
4 ounces Brut champagne
Mixing Instructions:
Pour cognac and Grand Mariner into the bottom of a champagne flute.
Top with champagne, and serve.