9 Cannabis oils that will make your life better.
3 to get you by, 3 to get you high, and 3 to help you relax.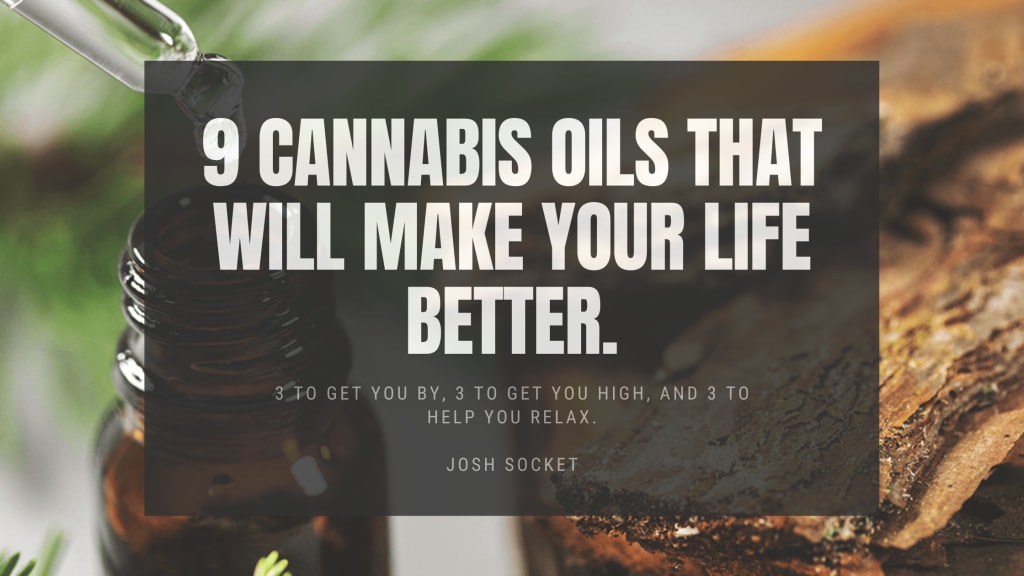 I talk too much about smoking joints.
I've spent entirely too much time writing about flower, joints and vape products. Which is why I felt like I needed to write about Cannabis oil. If you've had these questions:
• What is cannabis oil?
• How is cannabis oil made?
• What is cannabis oil made from?
• How do I use cannabis oil?
• What are the benefits of using cannabis oil instead of smoking or eating it?
Then this is the perfect article for you. I will also recommend 9 different oils by 9 different licensed producers. The products I will show you will vary in price point, ingredients and potency. It may not be comprehensive but I believe there will be something for everyone.
Think of this list as a starting point.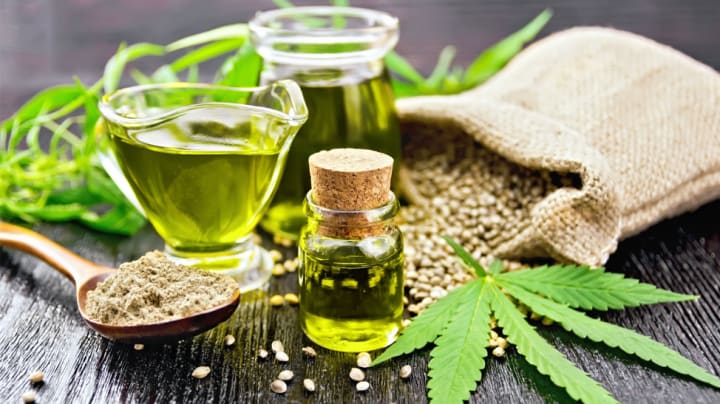 What is cannabis oil?
Cannabis oils or cannabis tinctures are weed products that have gone through a C02 extraction process and then mixed with a food-based carrier oil in order to be diluted for consumption. The C02 extraction process is used to separate the THC, CBD and Terpenes of the plant. Usually in order to isolate and concentrate one of the three.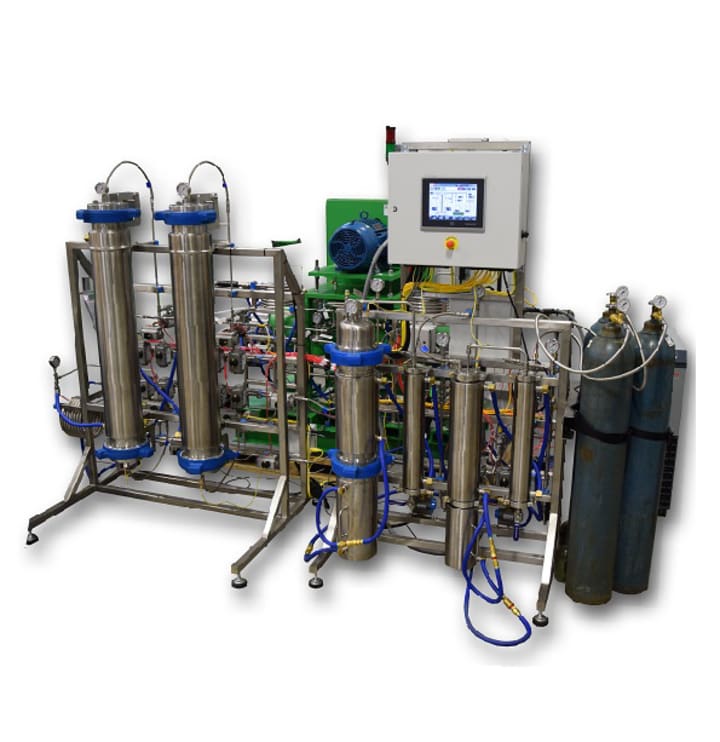 • Medium-chain triglycerides (MCT)
• Extra virgin olive oil
• Ahiflower
• Sunflower
• Hempseed
• Avocado oil
Carrying oils are completely safe for consumption and can even be vegan. They are required in cannabis oil products to dilute the raw cannabis oil. The oils infused with the cannabinoids are the same ones used in our food.
How do I consume cannabis oil?
Speaking of food, there are two ways to consume cannabis oil. You can mix it into your food and eat it similarly to an edible, or you can take it orally. Most tinctures come with a syringe for accurate dosing. It tells you how many milliliters you're taking at one time. It is also easy to drop cannabis oil under your tongue without a syringe.
The effects of cannabis are generally personalized. What works for some may not work for others. Two people could experience different effects from the same strain. There are still commonalities between experiences though. A cannabis experience is also dependent on consumption methods.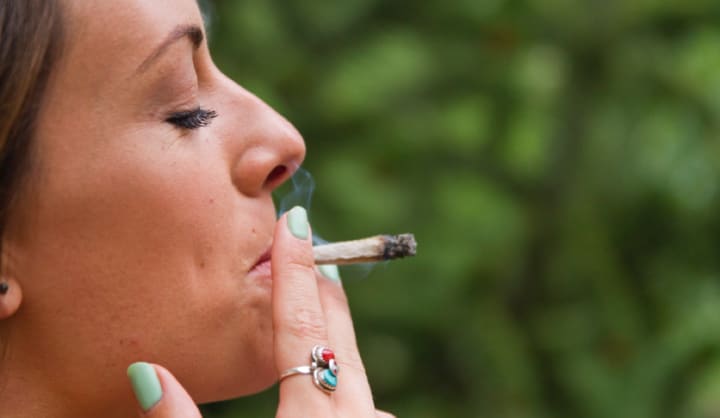 When smoking cannabis:
• The onset of effects is typically 5-10 minutes.
• The effects usually last for 30 minutes to an hour.
• Absorbed through the lungs and sent to the blood stream.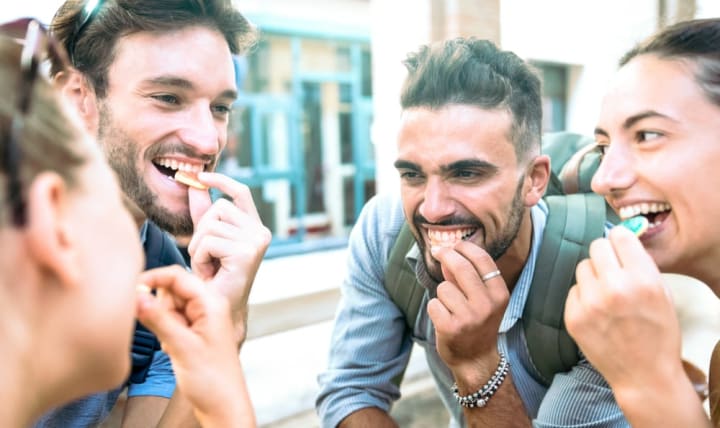 When eating an edible:
• The onset can be anywhere from 40 minutes to 3 hours for the edible to take effect.
• The effects can last up to 9 hours.
• Dissolved in our stomach acid and sent to the blood stream.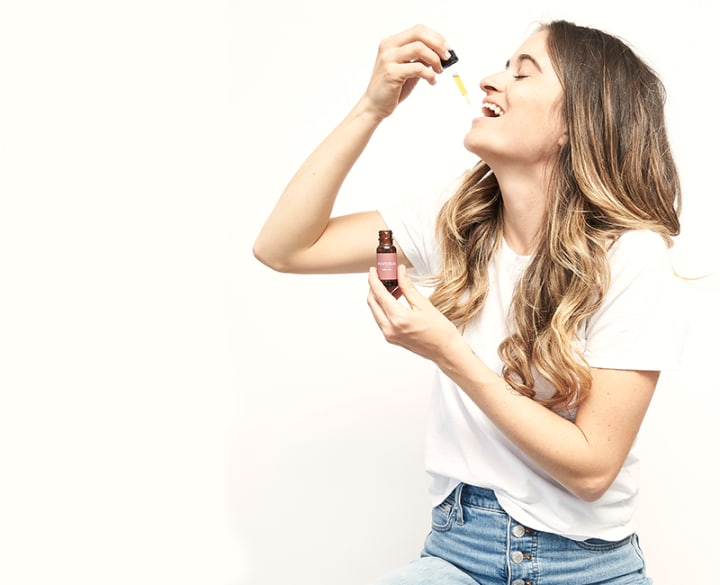 When Ingesting cannabis oil sublingually (under the tongue)"
• The onset time is usually 15-30 minutes.
• The effects can typically last 90-120 minutes.
• Absorbed through the mucus membrane and glands underneath the tongue.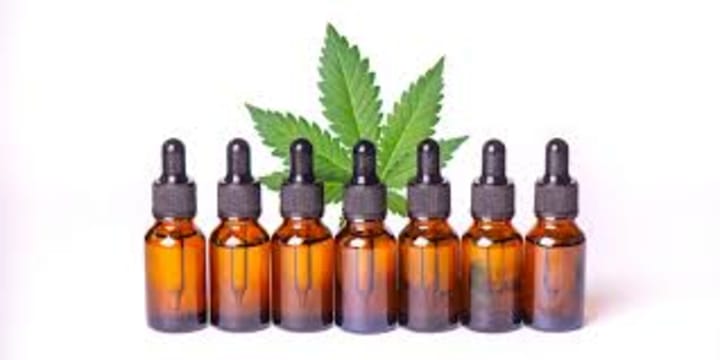 What are the benefits of Cannabis oils instead of smoking or eating my weed?
There are amazing benefits to be had from the cannabis plant. The benefits of CBD are endless and as companies continue to conduct research and development on the plant, we will discover more about the plant. I don't believe we know half of what we should about cannabis.
Of course, not everyone wants to or is capable of smoking. When you smoke a joint or hit from a bong or pipe, you take toxins from the combusted paper (for joints) and plant matter into your lungs. Taking an edible can be scary too, especially when you're not comfortable with dosing and you're just learning about your tolerance. Whether you're looking to be discreet about your consumption and don't want to smell, or you have asthma and can't handle the combusted smoke in your lungs, your reasons are your own. Oils are discreet, safe, and keep your lungs free of toxins.
They're also the easiest to dose. The tinctures will often come with a syringe which allows you to dose down to the milliliter, which is perfect for someone looking for accurate doses.
Why I like tinctures:
Cannabis is a personal and often intent-based experience. To relax, to be able to eat, to reduce pain, to get high, to pass time, to feel creative, to sleep, to eat. Like I said, personal and intent-based. Whether you're looking for a CBD to ease pain or relax, a THC to get high and euphoric, or something balanced to experience something in between, there's something for you on this list. There's variety in the tincture market. This list is meant to reflect that.
Above all else, consumers want choice. They want options and variety. People have palates and can't be expected to agree entirely on anything. There is no product (in any category) that's perfect for anybody. Even the one-size-fits-all model only really fits most. People have the right to consume cannabis and should be able to do so in the manner that they find most convenient. You do you.
I suspect that as the market progresses, there is going to be a division between smokers and non-smokers. It's already starting to happen with cannabis 2.0 products. I think cannabis tinctures will drive the non-smoking market instead of edibles or drinks.
The products:
I chose 9 products; 3 CBD, 3 THC, and 3 Balanced strains. Before I tell you about the products I've picked for you, I have some things I want to tell you first.
• Cannabinoids in cannabis oils (which also includes vape products) are represented in Milligrams per Milliliter (MG/ML).
• When you see a ratio (for example, 1:1, 1:30, 2:1), it's used to express THC: CBD.
• "Full spectrum" means the product's CO2 extraction process preserved the terpene content as well as the THC and CBD from the plant.
CBD oils
1. Redecan CBD Reign Drops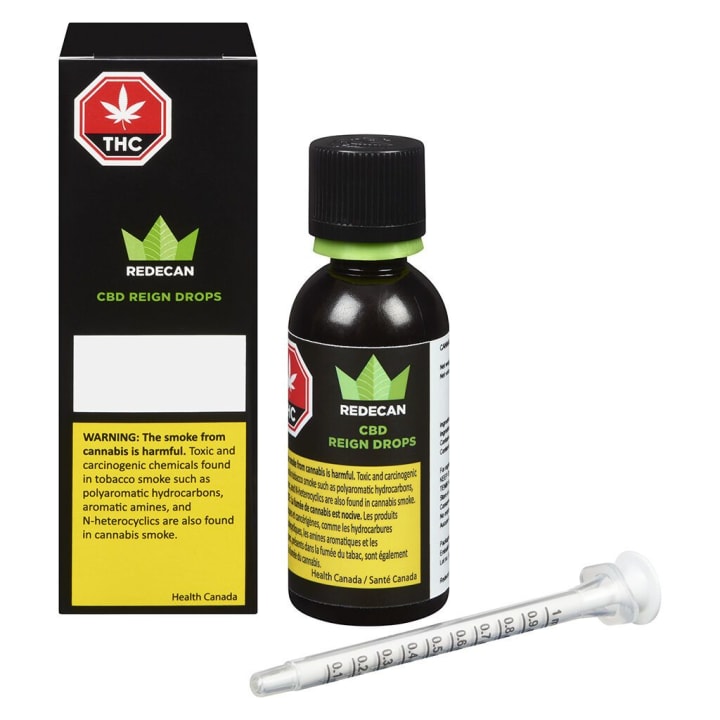 I'm a fan of Redecan. Their low-cost, high-quality products are a personal favorite of mine. The privately-owned Ontario cannabis company with roots in agriculture has a great lineup of cannabis oils. CBD Reign Drops are no different. I actually get them for my dad who has issues with arthritis. If you're looking for a mid to high CBD tincture for a good price, you can't go wrong with Redecan.
Redecan's products come from a blend of trimmings. The trimmings go through C02 extraction process and is then diluted. The carrier oil in Redecan Reign Drops is MCT.
Redecan CBD Reign Drops:
• Has a CBD content of 14-15 mg/ml.
• Is sold for $15.75 per 30 ml bottle.
You can also buy Redecan Reign Drops in a variety of CBD, THC, and Balanced formulas.
2. Pure Sunfarms Pure Sun CBD oil 1:30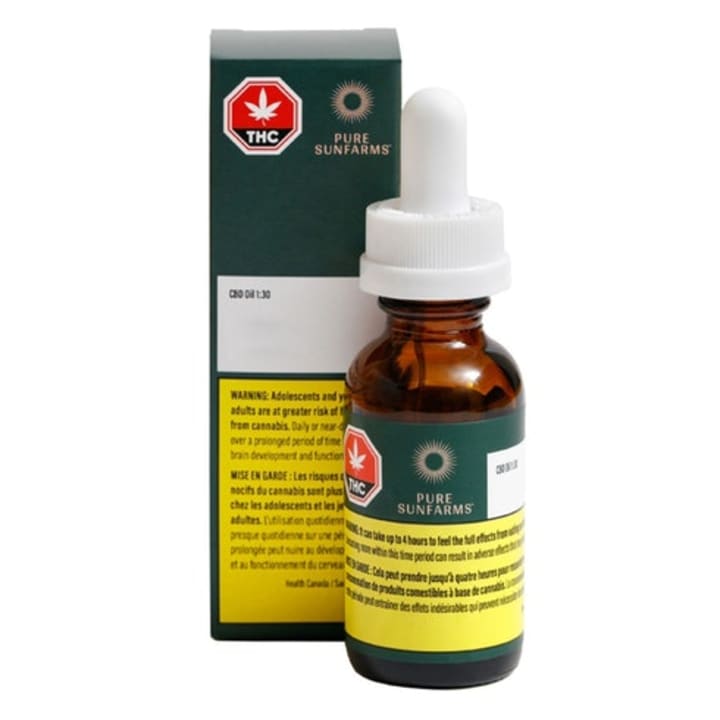 I don't believe you can go wrong with a high CBD cannabis oil. You can take it in low doses and have it still be effective. There's no high from CBD, you get all of the benefits of the plant without the unwanted high. Sure, the high is great, but people who use CBD as a health and wellness product want to be able to function.
Pure Sunfarms has a reputation for being mass-producers of quality, consistent cannabis. Before they grew weed, Pure Sunfarms grew tomatoes, cucumbers and peppers. Regular users of CBD oil to alleviate pain, stress or anxiety should be able to purchase something affordable. Pure Sunfarms has been great about providing these sorts of option for Canadians.
Grown in their Delta facility in BC, Pure Sun CBD oil is directly derived from the Pure Sun CBD strain (formerly Cannatonic). Pure Sun CBD oil is true to its high CBD roots. Pure Sunfarms oils go through a C02 extraction process and is then diluted with MCT.
Pure Sun CBD oil:
• Has 29-32 mg/ml of CBD.
• Is sold for $33.95 per 30 ml bottle.
3. Symbl High CBD oil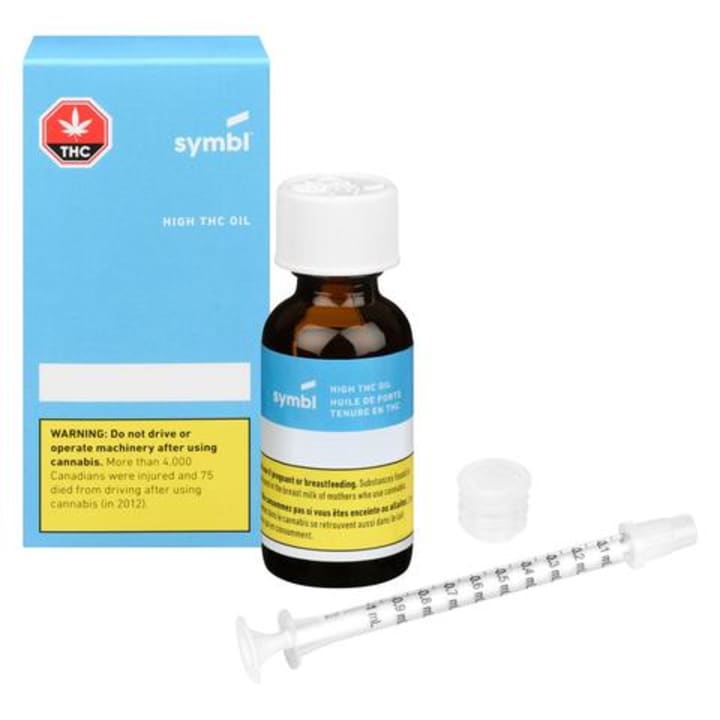 Symbl brand products come Aleafia health. Symbl is Aleafia's first brand in the recreational space. Prior to Symbl, Aleafia was entirely in the medical market. Aleafia has positioned Symbl as a brand for novice and seasonal consumers. The brand is meant to invoke curiosity. If you've ever purchased products from the medical market, or simply researched the medical market, you may also recognize Aleafia health's other brand Emblem.
Symbl keeps their oils strain specific. Once harvested, the plant matter is put through a full-spectrum, supercritical C02 (ethanol-free) extraction process. Once converted to oil, it is diluted with pharmacy-grade MCT oil.
Symbl High CBD oil:
• Contains 18-22 mg/ml of CBD.
• Is sold for $39.95 per 30 ml bottle.
You can also buy Symbl oil in high THC and Balanced formulas.
Balanced oils
4. Dosecann Orange 1:1 oil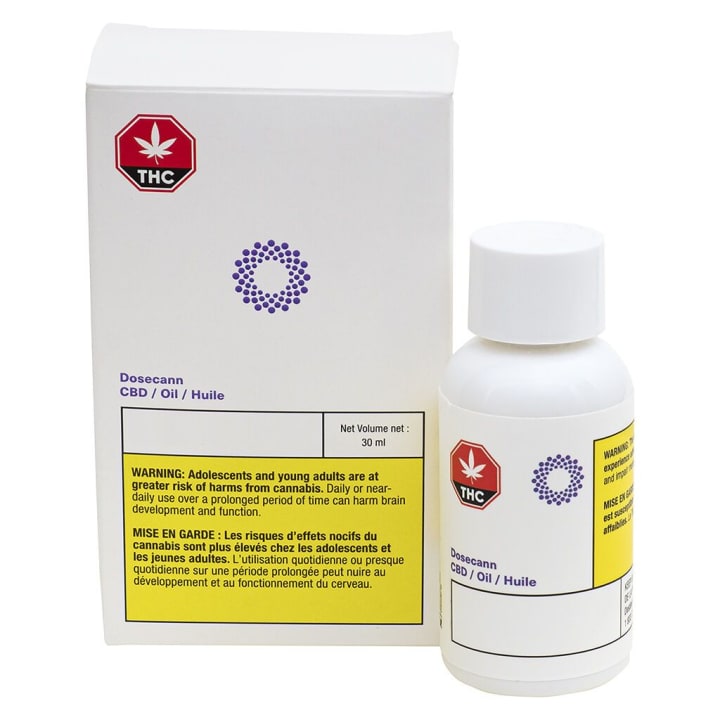 CBD oils give you the benefits of CBD without the effects of THC. CBD will actually counteract the effects the THC, including mitigating negative effects like anxiety and paranoia. This is usually when the THC and CBD are close in content or the CBD is higher in content than the THC.
Dosecann products are cultivated in Charlottetown PEI but Dosecann is a brand held by Auxly cannabis. Other Auxly brands you might recognize include:
• Foray (For new users)
• Robinsons(For connoisseurs)
• Kolab Project (For the arts and culture relevant consumer)
Each one of their brands has a purpose. Dosecann's purpose is to pursue science and advanced research. Dosecann is positioned as a clinical wellness brand built on pillars of quality, efficacy and safety.
Dosecann Orange 1:1 oil is a made with a blend of trimmings. Once the cannabinoids (CBD and THC) have been extracted from the plant, the oil is diluted with Ahiflower seed. Ahiflower is a vegan carrier agent for cannabis oils. Ahiflower is similar to Flaxseed and Fish oil.
Dosecann Orange 1:1 oil:
• Has 9-11 mg/ml of THC and CBD.
• Is sold for $54.95 per 30 ml bottle.
5. Vertical Balanced drops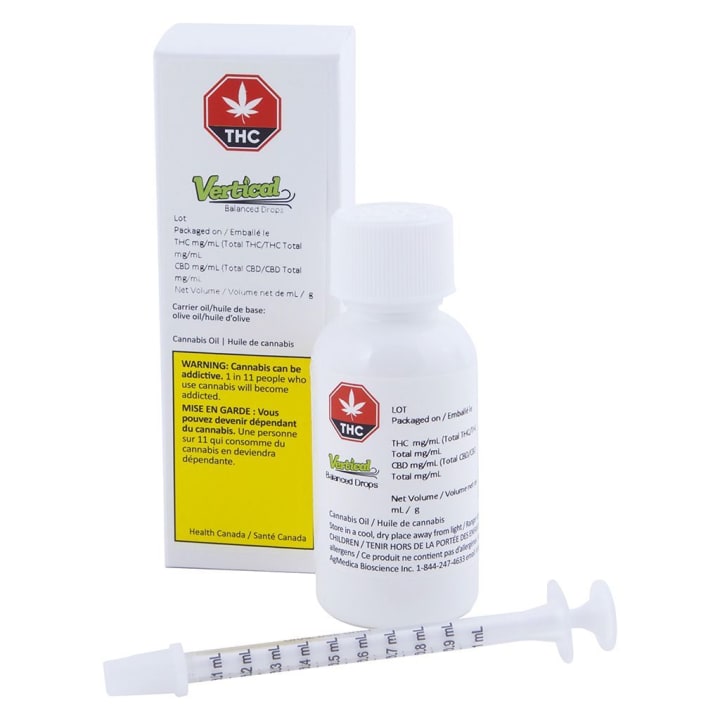 Vertical is a recreational brand by AGmedica. Vertical cannabis is grown in Chatham, Ontario. They strive for consistent, quality cannabis and hold themselves to pharma-grade standards.
Vertical grows all of their cannabis in vertical growing tiers (hence the name). They have rows of plants stacked in shelving units with personalized lights all in these tiny rooms. This is to be able to grow efficiently in a small space. They are capable of controlling the lights, humidity and climate for a large amount of plants due to this system. Vertical's indoor system has been deemed good manufacturing practises compliant.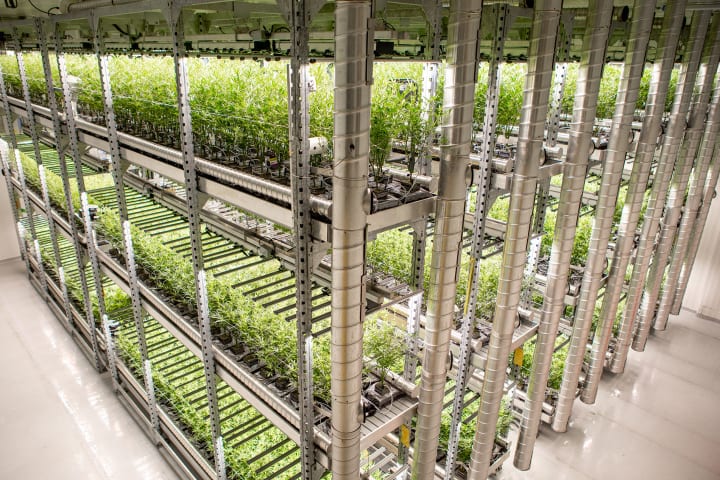 After harvest, the plants are hand-trimmed. The oil is made from a blend of their trimmings. The trimmings are then extracted using a C02 extraction process. The carrier agent used is olive oil.
Vertical Balanced drops:
• Contain 4.5-6.5 mg/ml of THC.
• Contain 6.5-8.6 mg/ml of CBD.
• Are sold for $39.95 per 30 ml bottle.
6. Figr oil no. 1
FIGR is a licensed producer with roots in PEI but also operates in Ontario. FIGR comes from 5 generations (150 years) of farming and agricultural sciences. Much like Redecan and Pure Sunfarms, FIGR comes from farming. I like the companies that come from agriculture. They seem to be the ones with a handle on good manufacturing practises as well as maintaining efficiency and quality while also scaling up their business.
What's stood out to me the most with any FIGR product is their transparency. You can trace any product by the lot number and it will tell you everything you could possible need to know about the plant. FIGR's website you can find out these things about FIGR products you buy:
• Terpene profile.
• Test results with dates for the tests.
• Certificates of inspection.
• Grow info.
I think the level of commitment FIGR puts into their products makes them worth a buy. I don't see too many other cannabis companies with this level of clarity or transparency regarding their products.
FIGR's cannabis oil comes from a blend of FIGR's trimmings. It then goes through a C02 extraction process and the final product is diluted with olive oil as a carrier agent.
FIGR oil No. 1:
• Contains 14-17 mg/ml of both THC and CBD.
• Comes from FIGR's Master Line.
• Is sold for $64.96 per 30 ml bottle.
THC Products
7. Broken Coast THC oil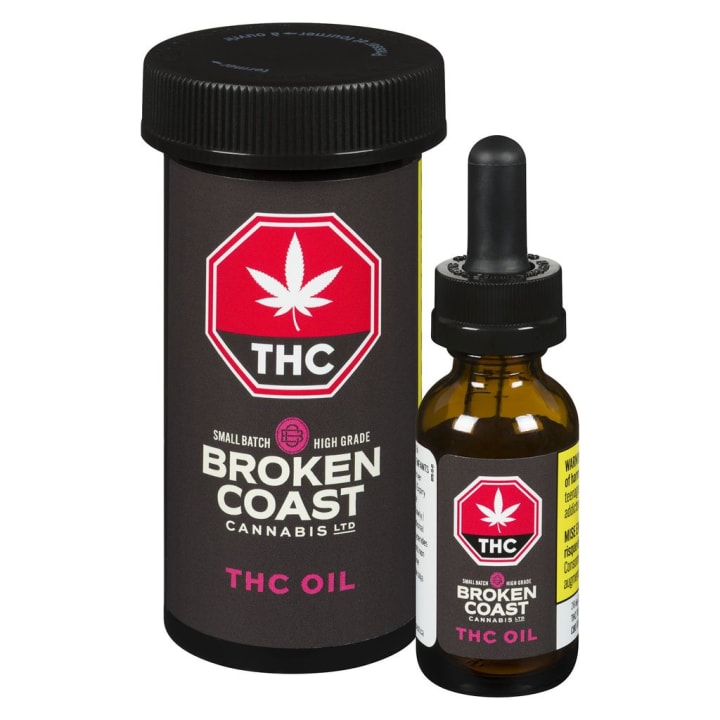 Broken Coast comes from Aphria's family of brands. Broken Coast is small-batch and hand-trimmed. Broken Coast grows their cannabis in Duncan, BC. Aphria has growing facilities all over Canada. So far, the products I have tried from Aphria, I've liked. If you want a nice Sativa, I recommend Jean Guy from Good Supply. I think they have a great value proposition and have been able to build enticing brands around their product.
Aphria's family of brands also include:
• Riff
• Solei
• B!ngo
• P'tite Pof
In the second quarter of 2021, Aphria also acquire TIlray. This means they will also take on Tilray's brands. They will also use Tilray's stock code (TLRY) as the stock code for the new company (Tilray).
Broken Coast THC oil comes from a blend of indoor flower. The plant is extracted using a water-based C02 process. Then the oil is mixed with a non-gmo, non-allergenic MCT oil.
Broken Coast THC oil:
• Has 24-28 mg/ml of THC.
• Is sold for $69.95 per 30 ml bottle.
8. Cove Rise oil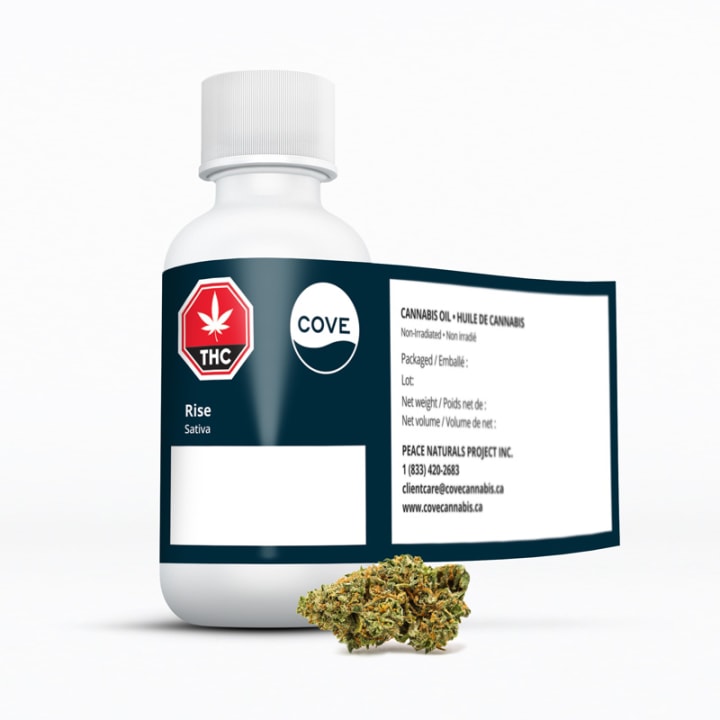 Cove comes from the Cronos Group family of brands. Cronos group is a global cannabis research and development brand with business across five continents. They operate in North America, South America, The Middle East, Asia and Australia.
You might also recognize Cronos Group's other North American Brands:
• Lord Jones (CBD)
• Spinach (recreational)
• Happy Dance (CBD skin care and bath products)
• Peace Naturals (medical)
• Peace+ (recreational)
I like research and development companies. They're the companies that will invent and normalize cannabis products we haven't even dreamt of yet. Some of the concentrates we know and love didn't exist ten years ago. I also like when a company's primary focus is the health and wellness of their consumers. I think that's a segment of the market that needs attention, especially at a time when we're trying to promote cannabis as this great thing for our bodies. If we want cannabis to be seen as a health and wellness brand, we have to treat it that way first.
Cove oil is produced from trimmings, but is kept strain specific. Rise oil comes from a Sativa, its legacy name is Green Crack. Cove uses a secret ethanol-free C02 extraction process. They also use MCT as their carrier.
Cove's Rise oil:
• Contains 18-20 mg/ml of THC.
• is sold for $49.95 per 30 ml bottle.
Cove also carries a CBD oil.
9. Lumina THC oil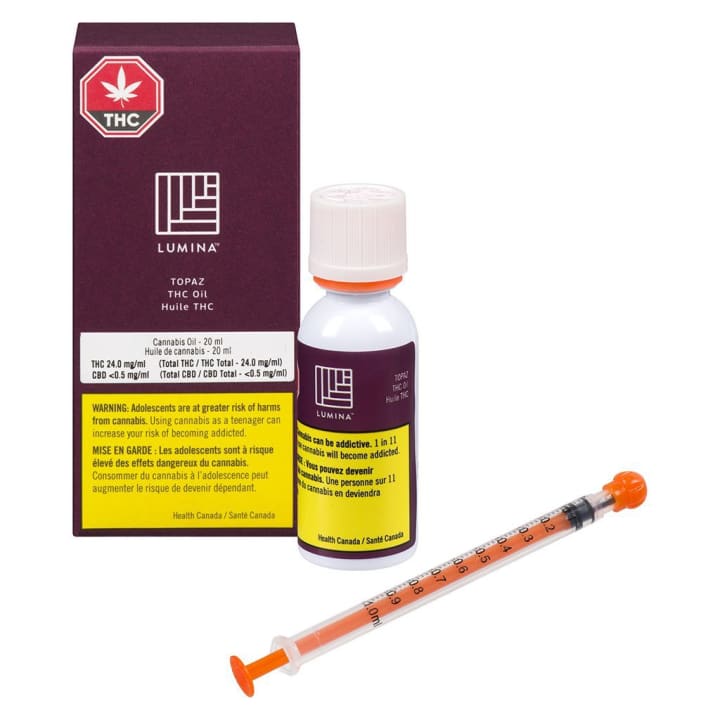 Lumina cannabis is a Vivo Cannabis brand. Grown in Napanee, Ontario, Vivo Cannabis produces premium, small-batch cannabis products. Vivo cannabis is a research and development company. They partner with the University of Guelph and many of their advancements come from students.
Vivo Cannabis' other brands include:
Lumina wellness is positioned as Vivo Cannabis' wellness brand. None of Lumina's wellness products are combustible or inhalable. Meaning you can't light and smoke their products.
Lumina oil starts with plant trimmings, undergoes a C02 extraction process and is then diluted with MCT oil.
Lumina THC oil:
• Contains 23-25 mg/ml of THC.
• Is sold for $49.95 per 20 ml.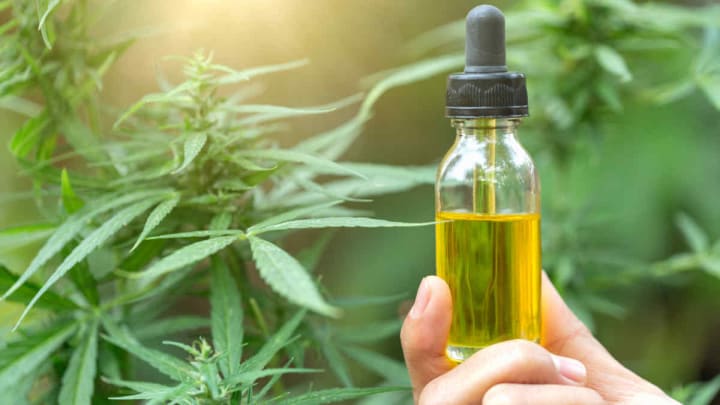 In conclusion:
My list is non-comprehensive. It is comprised of oils from licensed producers I personally like and support. Companies I see potentially having a positive impact on the industry in the future. Take this as merely a giant suggestion and a bit of education on cannabis oils.
To anyone who wants to try cannabis without smoking or taking an edible, cannabis oils are the way to go! Remember, start low and go slow. Don't take too much if you're a newer user. I've just provided you with a variety of products at a variety of potencies and price points. Start here, but don't end here. Continue to be curious and continue to seek out products and don't hesitate to do your research!
In the meantime:
I want to hear from you!
• If you've tried one of these oils, reach out to me and let me know!
• If you have another oil you think I should have talked about, send me a link to the product!
I'm always happy to hear from you! Don't hesitate to email me at :
And If I suckered you in with that title, please don't hesitate to leave a tip! I promise I will spend it on weed.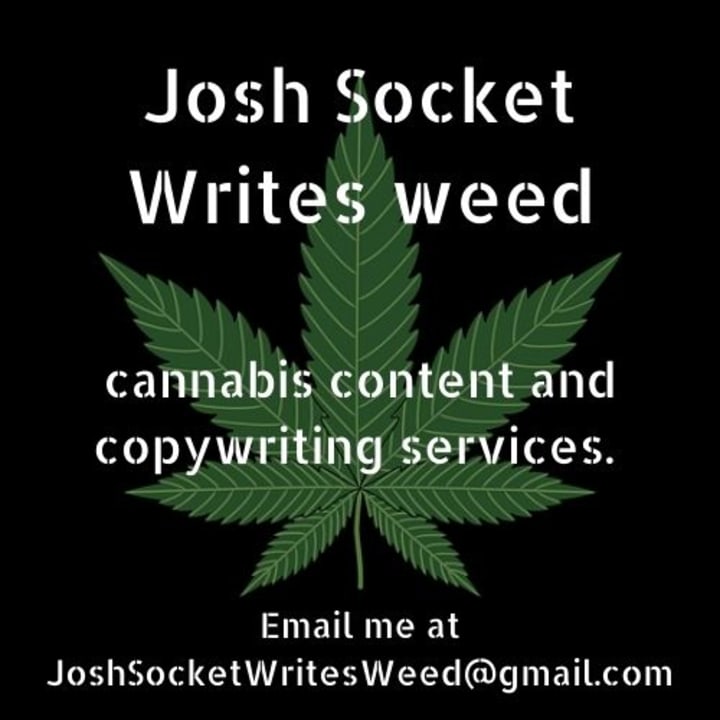 About the Creator
I'm a copywriter. My first thought was to create a library of cannabis information but I've decided to expand my writing.
I used to write for an agency that specialized in merchandising for influencers. Check it out.
Reader insights
Be the first to share your insights about this piece.
Add your insights